HodlBot is a robot that was designed to help traders to index the market, rebalance our crypto portfolios, and create custom portfolios. The presentation includes information about the system and its functionality. So, we decided to check it out to be sure that the system is safe to trade with.
How does HodlBot crypto bot function?
The system has information about its core features introduced in the presentation. So, we decided to unite claims about the bot in the following list.
We have a robot that will open and close orders for us completely automatically.
It can diversify risks working with different coins.
It manages HODL indices for users who want to diversify across the market instead of picking individual coins.
We will be able to decide what coins to trade on what strategy.
It's possible to create an index that is composed of the top N coins.
If the market moves, the robot is going to rebalance our portfolio,
The system can rebalance only coins that we decided to do.
The support can be delivered 24/7.
We have to work on the $200 balance on Kraken or Binance.
It can trade on our account using API keys.
The data gets rewritten according to HMAC SHA-256.
The HODL indices allow to track the performance of the entire cryptocurrency market.
We have the following on Binance: HODL10 (top 10), HODL20 (top 20), HODL30 (top 30).
On Kraken, there's Kraken10 (top 10).
The system rebalances the account with a period of 28 days.
We can change the period range to fit our expectations.
HODL10 uses an exponentially weighted Moving Average indicator of market capitalization.
The system can be backtested if needed.
It works with different rebalancing methods: periodic rebalancing, threshold rebalancing, range rebalancing, volatility-based rebalancing, and active rebalancing.
HodlBot review–positive aspects
The system can provide us with rebalancing our account automatically
It works with popular HODL indices
HodlBot review–negative aspects
We have no information about developers provided
There are no backtest reports or trading results shared
Time in business
The HodlBot, Inc. was created in 2019. We don't know other details about the tem members or their headquarters location.
Reputation
The developers claimed that there's over $50M trading volume, more than 400K transactions, over 10K of happy traders, and over 20K of custom portfolios.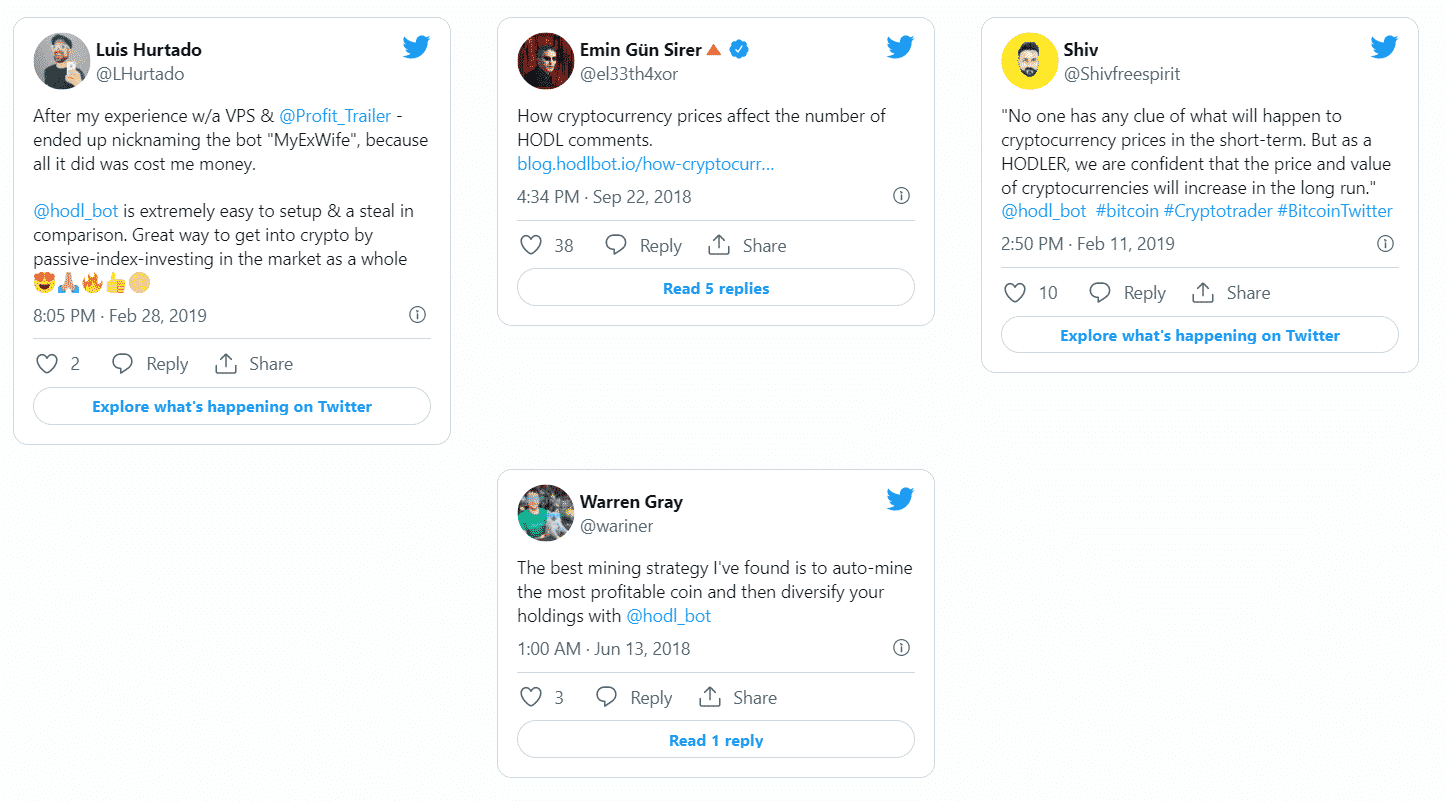 The presentation includes screenshots of positive testimonials that were dated by 2018-2019 years. There are no actual testimonials published. So, it's hard to predict if the system is good to go or not.
Supported exchanges
The system supports trading on Binance, Kraken, KuCoin, and Bittrex exchanges.
UI of HodlBot
The system has a welcome and informative user interface.
Key features of HodlBot
The robot covers us with automated trading.
It can manage our portfolio working with the Hodl indices on the top exchanges.
It receives the most pieces of data from the Moving Average indice.
How to get started on HodlBot?
We have to purchase the system
After downloading, we should customize all parameters
Then, we need to generate API keys and attach it to our account on an exchange
How secure is HodlBot?
The system works with API keys on the market. So, it can trade for us, but it's not allowed to withdraw an account.
Customer support
We can receive support via Telegram. The devs answer questions within several hours and this is acceptable.
Are traders happy with HodlBot?
It's not possible to say this for sure right now, because we don't have actual testimonials written.
Pricing and fees
We can decide what package we want to subscribe to. We can get the most affordable pack for $3 monthly that allows trading on a $500 account. The next one requires $6 monthly for $500-$1000 accounts. The ultimate pack costs $14 and we are allied to trade on an account that is over $1000. Alas, the developers decided not to provide us with a refund policy.
Is a free trial available?
The developers provide us with a 7-day refund policy.
Languages supported
The robot supports only English.
What kinds of traders is HodlBot best suited for?
Developers claimed that the robot can be used by traders with any experience.
Company information
The HodlBot, Inc. was created in 2019. We don't know about other details.