Pionex Infinity Grid trading bot is an advanced version that trades 24/7on multiple cryptocurrency pairs. The algorithm offers a custom set file for you based on the market data collected from the past 30 days. Multiple settings within the bot can be configured according to the trader's risk management and strategy. We will analyze its features and offers to decide if this system is profitable and suitable for investing money.
How does Pionex Infinity GRID Trading Bot crypto bot function?
Pionex Infinity Grid trading bot follows an averaging strategy that buys when the prices are low and sells high. It allows traders to create their algorithm in two options: "AI and manual approach." The platform suggests the settings of the robot-like lower limit and grid profit to help traders with little to no market experience get the most out of it. Investors only have to choose their investment amount and they are good to go.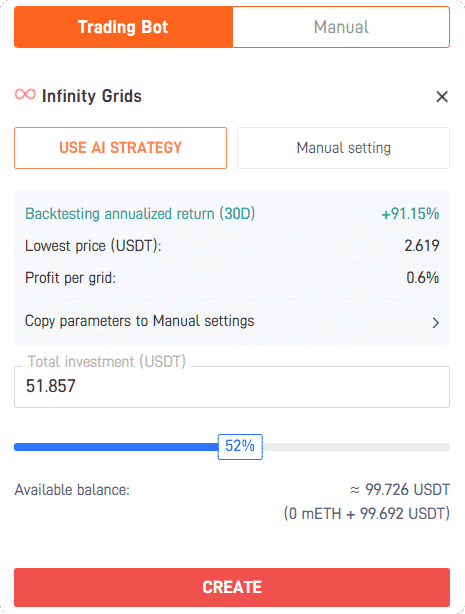 Pionex Infinity GRID Trading Bot review–positive aspects
Pionex offers a variety of free trading bots on its platform
It is easy to configure for all traders
The AI adviser of the platform recommends the best setting for the bot according to market conditions
It is accessible via a mobile phone application on App Store & Google Play
Pionex Infinity GRID Trading Bot review–negative aspects
It does not automatically adjust its perimeters when the prices change
The averaging strategy can be risky when the market is trending

Time in business
Pionex was launched in 2019, and it has been in business for 1052 days.
Reputation
Pionex claims to have top companies as partners, such as Binance, confirm, Circle, etc. Aggregating liquidity from Binance and Huobi the platform performs $100million+ daily trades and over $5B in trading volume.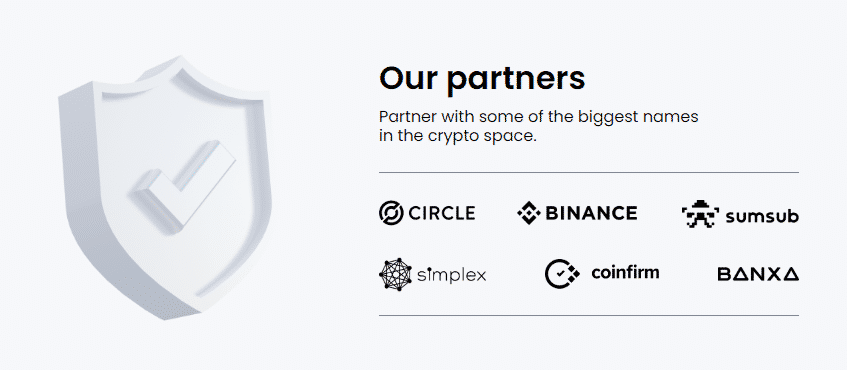 Supported exchanges
Pionex Infinity Grid Trading Bot is available on Pionex exchange.
UI of Pionex Infinity GRID Trading Bot
The user interface of the platform is beginner-friendly and easy to understand. The dashboard includes the crucial tools necessary for trading.
Key features of Pionex Infinity GRID Trading Bot
Pionex Infinity Grid Trading Bot has the following major key points:
The bots scan the market 24/7 and automatically place orders.
Traders can set the perimeters of the bots as they like.
A high liquidity allows for easy fills without any slippage
It has a low trading fee of 0.05%.
How to get started on Pionex Infinity GRID Trading Bot?
Traders can start trading with Pionex Infinity Grid Trading Bot in the following steps:
Create an account on Pionex
Select Infinity Grid Bot from the right side of the dashboard
Choose the AI setting or manually configure the lowest price, profit per grid, and Total investment parameters
Choose your investment amount and the trading pair
Create the bot and start trading

How secure is Pionex Infinity GRID Trading Bot?
Pionex Infinity Grid Trading Bot is a safe and secure algorithm. It uses various measures that provide account protection through two-factor authentication. The company has a US FinCens MSB license, making it a legit and trustworthy system.
Customer support
Customer service at Pionex is available in various forms such as Live chat, email, blogs, tutorials, etc. It has a community of users on different social media sites.

Are traders happy with Pionex Infinity GRID Trading Bot?
To analyze the functionality and performance of the platform, we can look at customer reviews on trusted third-party sites like TrustPilot. It has a rating of 4.2/5, which is excellent. A user wrote that it is the best trading system and saved him from losing his money.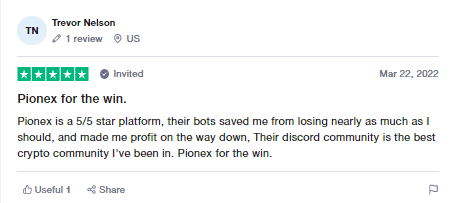 Pricing and fees
All the features and tools of Pionex Infinity Grid Trading Bot are available for free. It charges a fee of 0.05% on trades.

Is a free trial available?
As mentioned above, it is entirely free for all users.
Languages supported
Pionex support multiple languages such as English, Indonesian, Portuguese, Turkish, French, Deutsch, Spanish, Arabic, Chinese, and Russian on the website.

What kinds of traders is Pionex Infinity GRID Trading Bot best suited for?
Pionex Infinity Grid Trading Bot best suits traders who prefer long-term investments. The algorithm can result in good profits when you swing trade the coins.

Company information
The company exists in Singapore that is managed by the BitUniverse team. Larry Toh is the executive director at Pionex, and Robert Morris is the Global chief of compliance.