Golden Million is a Forex expert advisor sold on the MQL5 website. It was launched on 15th November 2021 and is compatible with Metatrader 4 and Metatrader 5 trading platforms. In this Golden Million review, we shall look into things like live trading performance, features, vendor transparency, user reviews, and price. This will help you decide whether it is a worthwhile investment.
Golden Million: to trust or not to trust?
The presentation on the MQL5 product page is a bit too brief and it does not give us a clear idea about how the system works. Instead of explaining the working principle of the robot, the vendor has shared some information about themselves and stated their reason for selling the EA. We only have a short list of recommendations and a couple of screenshots showing the backtesting results. There is no link to live trading results.
Features
This is a fully-automated expert advisor that is available for the price of $999. Compared to other robots on the market, this is quite expensive. There are a couple of rental options for the EA. The 6-months and 1-year rental options cost $499 and $699, respectively.
If you wish to test the performance of the system without investing real money, you can download the demo version. Unfortunately, the vendor does not offer a money-back guarantee. They have expressed the desire to raise the price of the EA in 3-6 months.
This is a robot that trades exclusively in XAU/USD or Gold. The vendor has advised the user to run this robot on the H1 timeframe. You should use a hedging account for this EA and the leverage should be 1:100 or higher. According to the vendor, the robot shows the best results with the IC Markets broker. They also claim that this robot is easy to use and that all the unnecessary parameters have been hidden for easy setup. To run the EA, you need to select the proper risk level.
There is no contact information available on the product page or the vendor's profile. If you are in need of support, you need to message the seller on MQL5.
Unverified trading results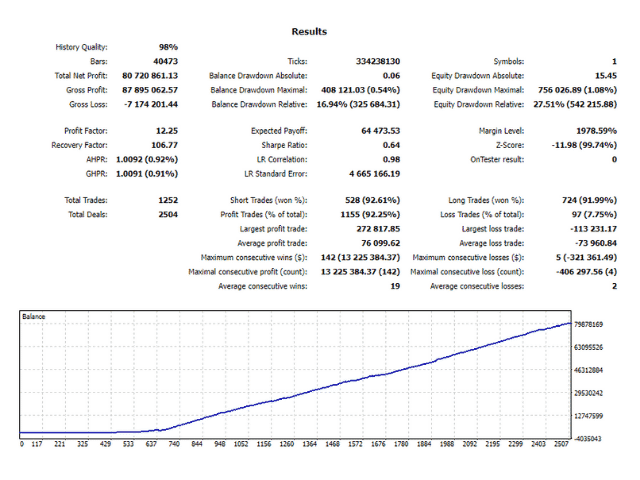 Here we have the results for a backtest conducted with an initial deposit of $1000. During this test, the EA conducted a total of 1252 trades. It won 92.25% of them, generating a total profit of $80720861.13. Compared to most Forex trading systems, the win rate is quite high. The EA also had an extremely high profit factor of 12.25.
For this backtest, Golden Million had a relative equity drawdown of 27.51%. This is a bit higher than normal and is an indication of a high risk of ruin. The average profit and loss were $76099.62 and $73960.84, respectively. There were 142 maximum consecutive wins and 5 maximum consecutive losses.
Unfortunately, there are no verified trading results for this expert advisor. Normally, sellers on MQL5 share the live signals for their systems on the website itself, but we cannot find them for Golden Million. Without trading results, there is no way for us to determine whether the robot can generate profits in the live Forex market. Also, we are not able to compare the historical performance with the live performance to get a clear idea about the trading principle of the system.
Vendor transparency
The developer behind this expert advisor is known as Aleksei Bordak. We don't have any background information on this person, apart from the fact that they are based in Russia. Their MQL5 profile tells us that they have no experience. Apart from Golden Million, they have other EAs such as NewMillion and Index Premium Scalper.
Customer reviews

We were unable to find any reviews for this expert advisor on trusted websites like Forex Peace Army, Trustpilot, Quora, and Myfxbook. It is therefore clear that not many people are currently using this system to conduct live trades. While there are a handful of reviews on the MQL5 website, there is no way for us to determine whether they are authentic or not.