GerFX Density Scalper works with low drawdowns and low profitability. It can take years to pay back our spent money. The presentation looks simple and not informative enough.
GerFX Density Scalper: to trust or not to trust?
We don't think that the system is a good one to trust. The robot is four times overpriced.
Features
The presentation includes some details about what we have to expect from the system that works on our terminal.
It can execute orders for us automatically. We may do nothing in addition.
The developer provides us with proper customized settings files.
The system can be tested on the H1 time frame.
The trading should go on the M5 time frame.
The dev wanted us to be able to lose everything.
The system works with SL on every open order.
"Night scalpers are dependent on good brokerage conditions, like low spread and slippage, which might be worse on large lot sizes."
We can purchase the robot in MT4 and MT5 versions.
The robot is "similar to QuantFlow Scalper but optimized in a few ways to reduce slippage. For example, the entry logic was reduced to make the calculation faster, and the exit is done via take profit orders, which can even lead to positive slippage."
There various parameters can be customized.
It doesn't work with Grid and Martingale.
We can trade the following pairs: EURUSD, GBPUSD, EURCHF, USDCHF, USDCAD, EURCAD, EURAUD, AUDUSD, AUDNZD, AUDCAD, CHFJPY, (experimental: USDJPY, EURJPY, EURGBP, EURNZD, GBPAUD, NZDUSD, NZDCAD).
There are some instructions published in the blog.
"If GMT auto settings are used, the EA will automatically try to detect the GMT offset."
The advisor should be used on a VPS service.
We have to allow our requests for upcoming news.
The system has to be tested with real spreads.
We should skip trading high impact news.

There's a list of parameters revealed.
We should set proper trading hours attentively.
Price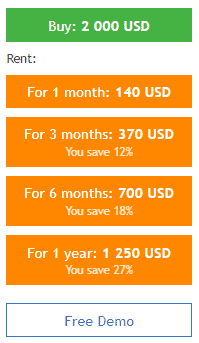 We can purchase the robot for $2000 for a single copy. It's a sky-high price that has no real background for this. There are four rental options available: for a month for $140, for three-month for $370, for half a year for $700, and for $1250 annually. The offer doesn't include refunds.
Verified trading results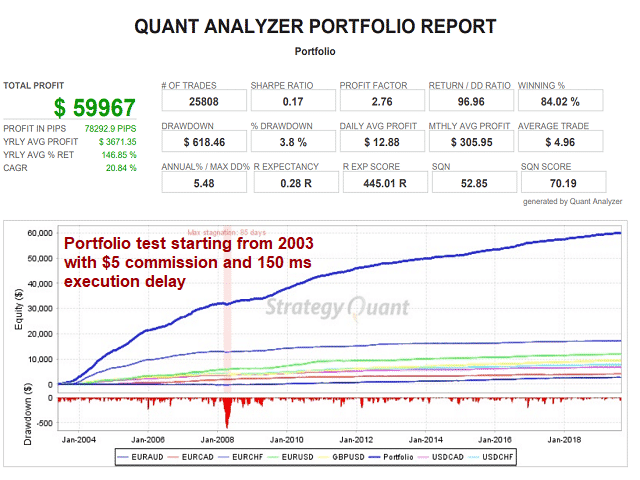 We have a backtest report of all possible cross pairs that was executed on the StrategyQuant platform. The profit factor was 2.76. We have an average win rate, 84.02%. The maximum drawdown was 3.8%. The total profit has amounted to $59,967 or 76,292 pips.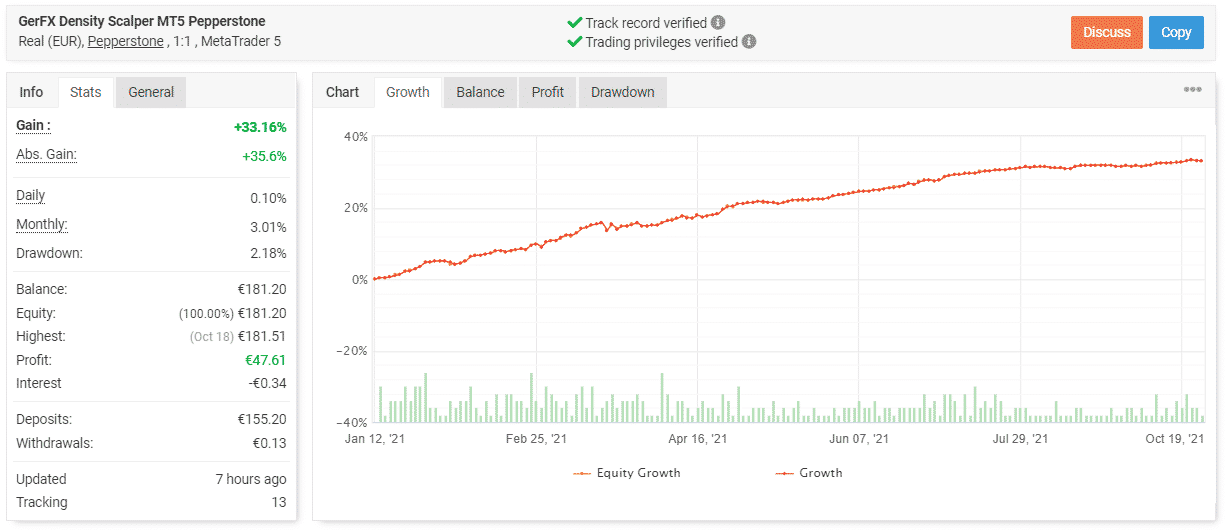 The advisor was set to work on a real EUR account on the Pepperstone broker with 1:1 leverage automatically on MT5. The account has a verified track record and verified trading privileges. It was created on January 12, 2021, deposited at €155.20, and withdrawn at €0.13. Since then, the absolute gain has become 33.16%. An average monthly gain is 3.901%. The maximum drawdown was 2.18%.

It has closed 386 orders with 935.8 pips. An average win is 3.95 pips when an average loss is -3.49 pips. The robot trades with an average trade length of 45 minutes. The profit factor is 2.86.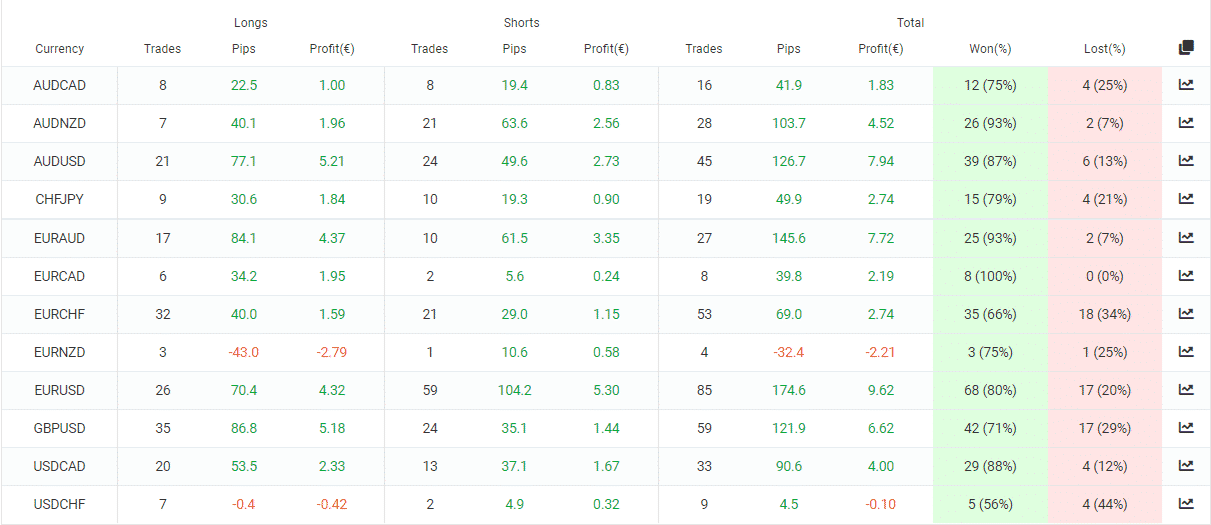 The advisor works with twelve pairs where EURUSD is the most traded with 85 orders and €9.62 profits.

It scalps before and right after midnight.

Wednesday is the best traded day with 85 orders closed.

The system works with low risks to the balance.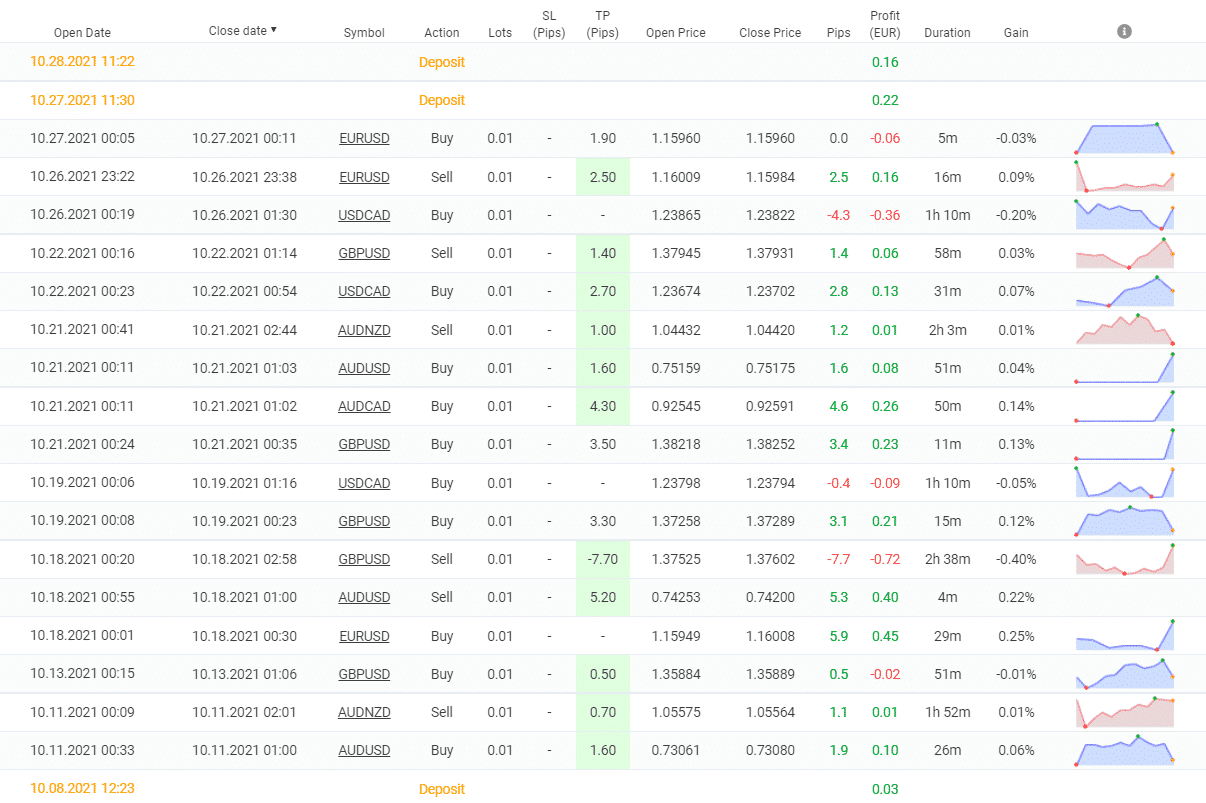 The trailing stop loss is used to close orders. So, no fixed SL levels are applied.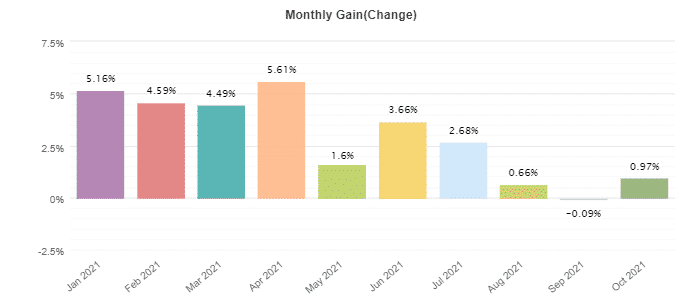 The trading results for the several last months look unpredictable.
Low drawdowns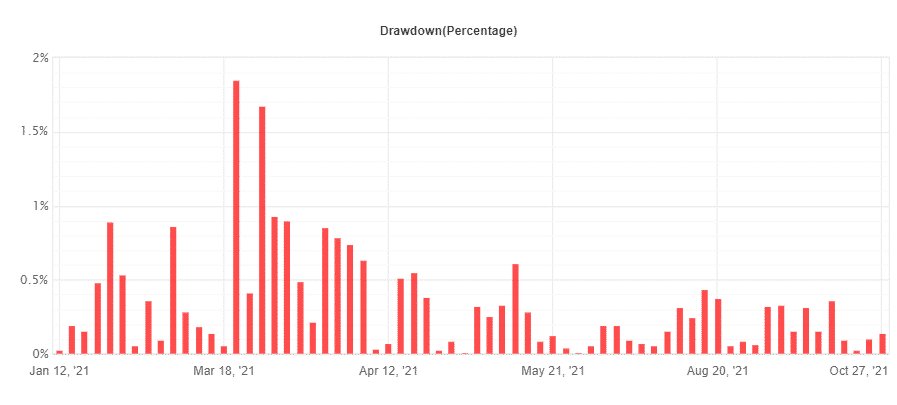 The robot trades with quite low drawdowns.
Vendor transparency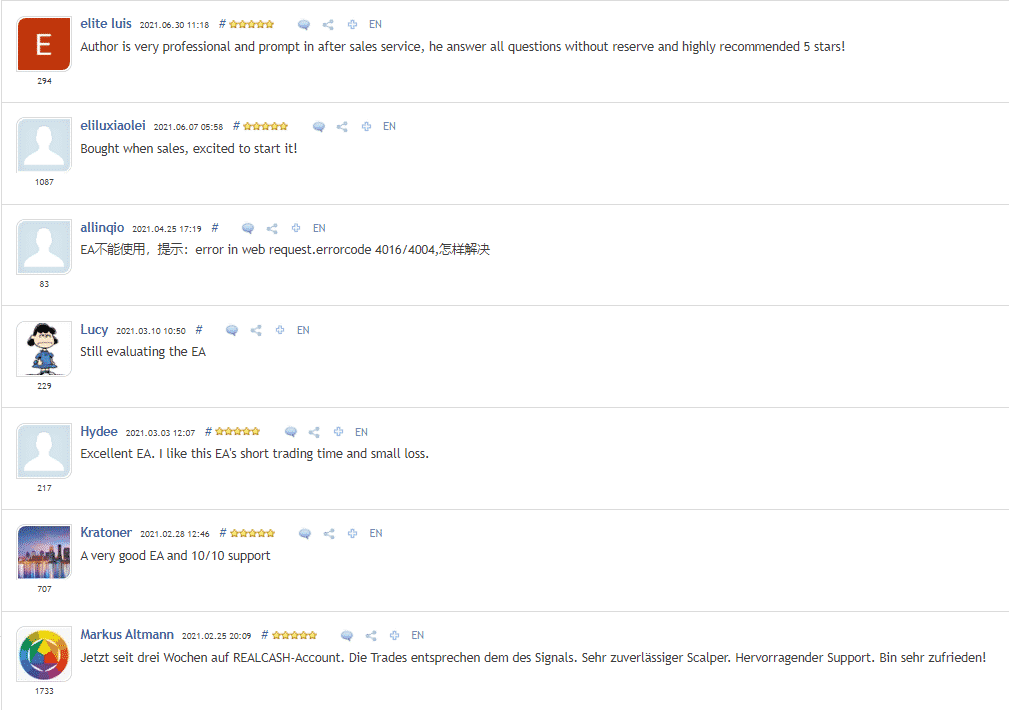 The system has some positive comments about its performance.

The developer is Pul Exler from Germany. He has a 4422 rate and he has over five years of trading experience. The rate is 4.3 based on 19 reviews.