FxProfitSignals is a Forex signal provider that generates buy and sell signals. According to the vendor, the signals are accurate and they help you achieve great results. In this FxProfitSignals review, we will conduct a detailed analysis of the various aspects of this system to determine whether it is truly profitable.
FxProfitSignals: to trust or not to trust?
On the official website, the vendor has listed the main features of the signal provider but hasn't explained any of them in detail. We have a couple of videos where a senior Forex analyst talks about the system and what it involves. There is a contact form for getting in touch with the service team, as well as some screenshots of signal results. These screenshots do not look authentic, and customer testimonials seem to have been manufactured. Thus, at first glance, this doesn't look like a trustworthy signal provider.
Features
From FxProfitSignals, you can get 2 types of Forex trading signals, namely ending orders and market execution. The signals show the exact entry point and are based on technical and fundamental analysis. There is a team of Forex traders working behind the scene to apply various manual strategies in the Forex market. They use technical indicators to generate signals for long and short trades, with each accompanied by profit targets and stop losses.
The vendor recommends using the XM broker with this signal provider. This will get you a $30 welcome bonus, 50% deposit bonus, low spreads, and maximum leverage of 1:888. We think it could be an inconvenience for those who are already signed up with a different brokerage. FXProfitSignals sends you trading signals via email and Telegram messenger.
The vendor has mentioned on the website that the signal provider follows trend following, trend reversal, and counter trend strategies. However, they have provided explanations for any of these. Seasoned traders always look for technical information pertaining to the trading scheme, so simply mentioning the name of the strategies is not enough.
There are VIP and Premium plans for FxProfitSignals. The VIP signals are short term while the Premium signals are long term and are accompanied by analysis. For the 1-month, 3-months, 6-months, and 12-months VIP plans, you need to pay 45 Euro, 90 Euro, 140 Euro, and 210 Euro, respectively. The corresponding Premium plans cost 69 Euro, 149 Euro, 249 Euro, and 359 Euro, respectively.
Here, we must mention that the vendor does not entertain refund requests. A free plan exists for this system, but the details are not available. If you require support, you can contact the service team 24/7 via email.
Unverified trading results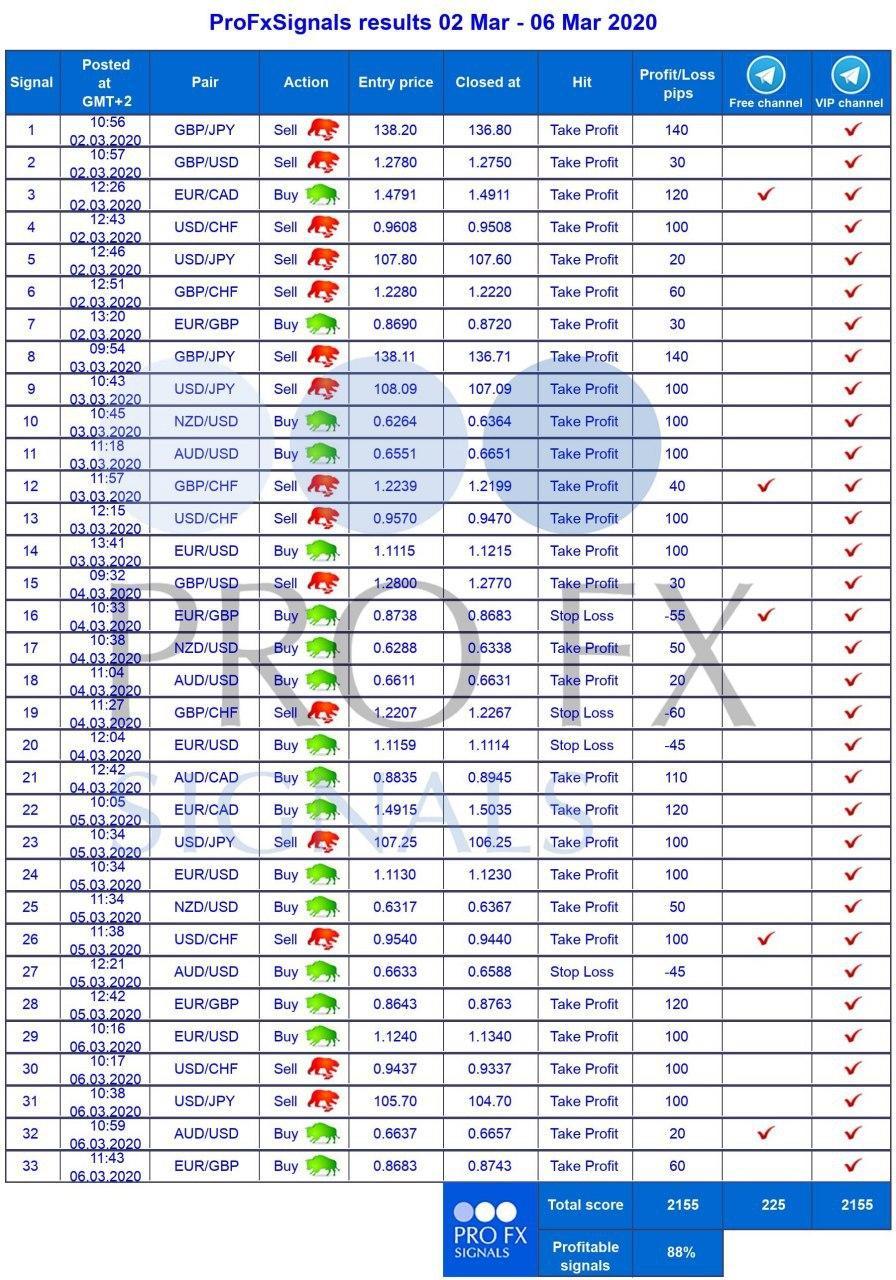 There are no verified trading results for this signal provider, which immediately makes it a risky investment. Every vendor needs to publish the trading results on trusted third-party websites where they cannot manipulate the outcomes. Traders always look for verified trading results, since they reflect the true performance and serve as a mare of authenticity.
On the official website, the vendor has shared the trading results in tabular format. We can see the pairs, entry and exit type, trade type, profit loss, etc. It seems the vendor has cherry-picked some of the trades and shared them here to paint the system as a profitable one.
Vendor transparency
Since there is supposedly a team of traders generating the signals, it is important to make sure they have the required technical knowledge and experience. However, there is little or no information on the official website about this team. Also, we don't know when the company was founded and where its headquarters is located. The stark lack of vendor transparency is quite disappointing, and it is not a sign of a reliable signal provider.
Customer reviews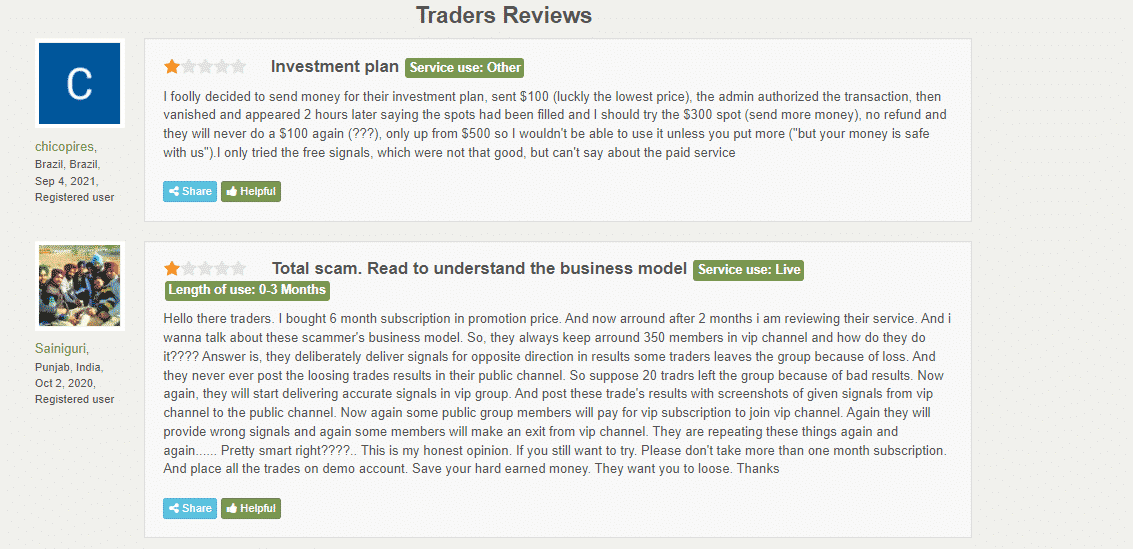 On the Forex Peace Army website, FxProfitSignals has an average rating of 1.198 out of 5. Thus, it is obvious that most people are not satisfied with its performance. One user has claimed that the vendor intentionally delivers signals for the opposite direction and never reveals the losing trading on the public channel. Looking at all the negative reviews, it is obvious that this company is trying to scam traders into paying for losing signals.