FXHUNTER is known for providing traders with a lucrative trading approach since 2008. The website of this Forex expert advisor was registered in 2013, which is a different year from what it claims. It might be that 2008 refers to its backtests. The trading software is based on a subscription. There is a Russian version of this tool's website as well and it has its servers in Germany, though there are no genuine details about its developers.
FXHUNTER: To Trust or Not to Trust?
FXHUNTER claims that it's a new generation grid trading tool that has the principle of "buy cheap, sell high." It accomplishes this by opening positions with the help of built-in indicator signals, which in turn provides precise results. The software collects open orders into baskets (multiple orders) and automatically closes them on reaching the goal, that is, the take-profit level.
These orders are opened using the grid strategy in one direction and are carried out on the fulfillment of certain conditions. But, the developer also claims that it uses hedging, wherein the orders are opened in opposite directions as well, which is not safe. However, you have the option to turn off this setting.
As mentioned above, the EA claims to be functioning since 2008, which is clearly not the case as its website was founded in 2013. And, even if they started backtests from 2008, they should be clear about it, which means their most basic claim is false. Plus, there is no information about the developer. At the outset, these three things make this service pretty unreliable.
Features
The developers of FXHUNTER claim that they use a martingale strategy. Only a small number of developers use this strategy in the Forex market since it's quite risky. In this strategy, the investment amount is increased, even if the price is decreasing, while believing that the price will increase in the future.
This means if the price does not augment in the future, you can lose your money as well as your account. The EA uses an M15 timeframe. It allows you to trade in several currency pairs, including AUD/CAD, AUD/NZD, NZD/USD, NZD/CAD, GBP/USD, GBP/CAD, GBP/AUD, EUR/SGD, and EUR/GBP.
This Forex robot is offered in four different subscription plans. These include:
The one-month plan that will cost you $29
The three-month plan that is priced at $69 (Discount of 20%)
The six-month plan that you can avail at $121 (Discount of 30%)
Unlimited plan for $500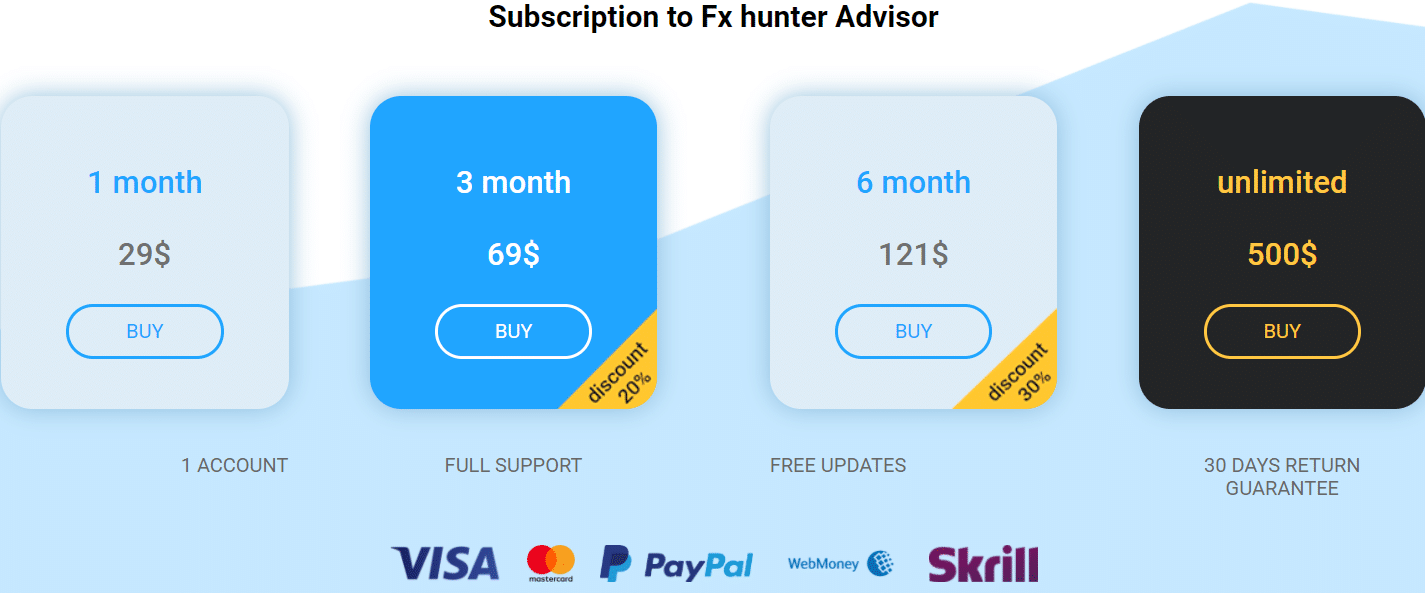 You can opt for the one-month subscription plan first and then based on your experience you can then upgrade your subscription if you like it, which we really doubt. The expert advisor offers you one license, free updates, full support, and a return guarantee of 30 days. In order to contact FXHUNTER, you can email them at [email protected].
Verified Trading Results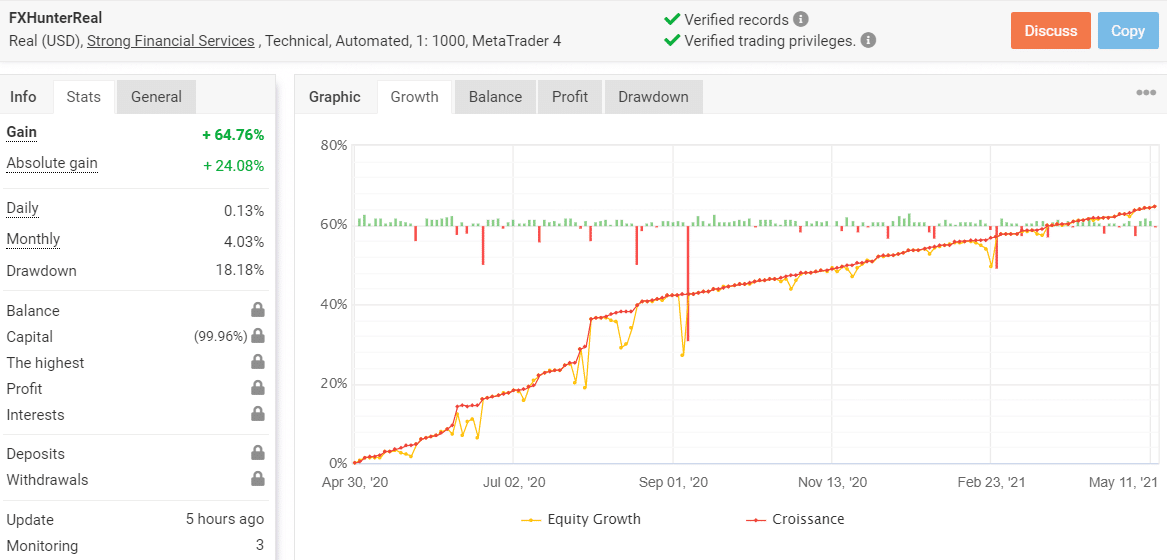 FXHUNTER has verified trading performance on Myfxbook. The official website of the EA provides trading results of its live Real (USD) account. This account was opened on the MT4 platform in April 2020 under Fort Financial Services brokerage.

It has a leverage of 1:1000 and a gain of 64.37% with daily and monthly gains equal to 0.13% and 4.04%, respectively. The account has a drawdown of 18.18%. The vendor has hidden its trading activity, as shown in the screenshot above. This means we cannot scrutinize the software's profit charts and balance, which is a negative point of this EA.

Nevertheless, the EA has won 356 deals out of a total of 514 deals. This account trades six currency pairs, including NZD/CAD, GBP/CAD, EUR/SGD, EUR/GBP, AUD/NZD, and AUD/CAD. Out of these, NZD/CAD, EUR/GBP, and AUD/NZD are traded often with 247, 95, and 89 trades, respectively.
Backtesting results

FXHUNTER provides backtests for six currency pairs on its official site. These include AUD/NZD, NZD/CAD, AUD/CAD, EUR/SGD, EUR/GBP, and GBP/CAD. In the AUD/NZD backtest result, the timeframe is M5 with a 99.90% modeling quality.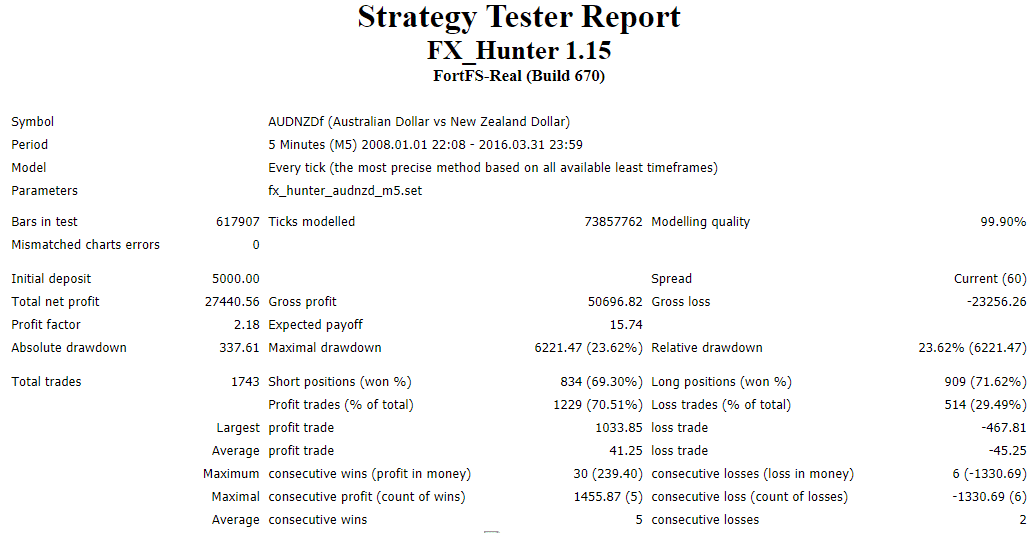 This test began in 2008 and went till 2016. The initial deposit was $5000 and the total net profit was $27440.56. Out of a total of 1743 deals, it won 1229 deals, that is, 70.51%. The maximum drawdown was 23.62% or $6221.47. It lost six times in a row.
Negative reviews from customers

You can find only one FXHUNTER review on the Forexpeacearmy website and that is also negative. It was written in 2018, that is, three years back. In the FXHUNTER review, the user says not to waste your money on this trading tool that has poor customer support service and it might be a scam.