FX Premiere is a signal-providing service that has some other educational programs in addition. The presentation is long and explains well how everything works.
FX Premiere: To Trust or Not to Trust?
Alas, we have no answer that would look true. First, the free channel has lost many subscribers (around 10-13%). We may think they become VIP clients, but usually, this doesn't work like this. The most common case is when free, and VIP channels grow together.
Features
There are many features and explanations we'd like to mention:
There are over fifty sources of signals.
There are gold (XAU/USD) signals that can be delivered apart.
The signals are focused on fifteen currency pairs. Which one we have no idea.
An average signal frequency is 2-15 signals a day.
There are reports in Telegram that unite closed deals.
The subscription can be canceled at any time.
There are PayPal and card payment systems.
The orders are executive orders, so we have to hurry to execute them.
The vendor provides us welcome 24/7 live support.
The signals are delivered having a standard format: Symbol, Direction, Entry Price, Take Profit, and Stop Loss, Risks Advice.
The system can message us when orders should be updated.
There are Gold signals as well.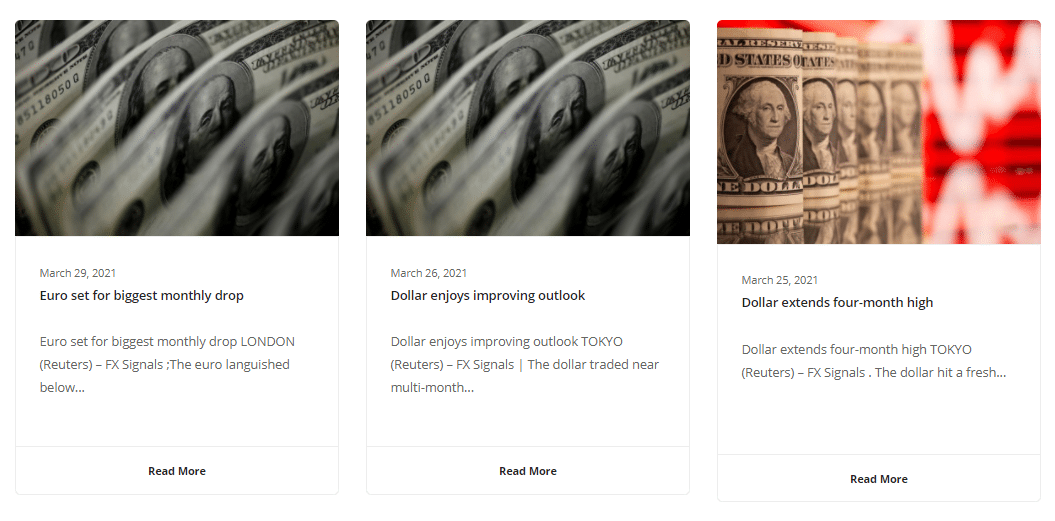 As usual, the company shares free updates, news, trading ideas, and other useful reports.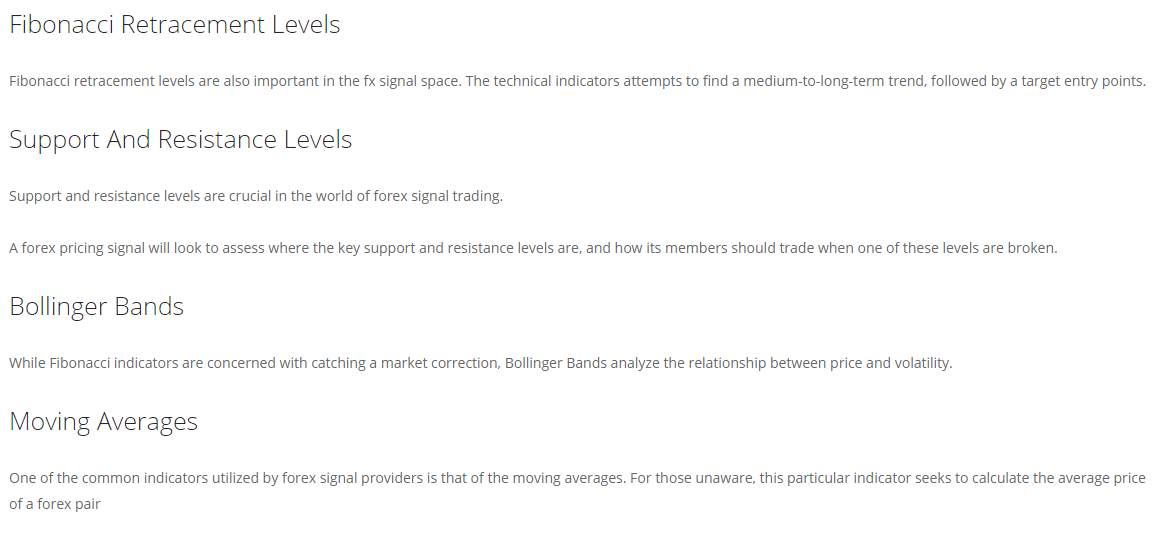 Fibonacci Retracement Levels, Support and Resistance levels, Bollinger Bands, and Moving Averages are used for spotting trades.

The signal takes into account High-Impact news.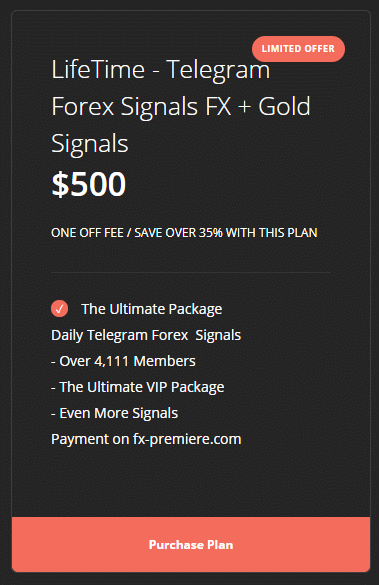 The limited lifetime order is still available. We can purchase it for $500. It allows saving over 35%. It's nonsense because the other packs are subscriptions. They can't be compared with this pack. The package includes access to a VIP Telegram channel with over 4111 members and Even More Signals. The package is delivered without a money-back-guarantee.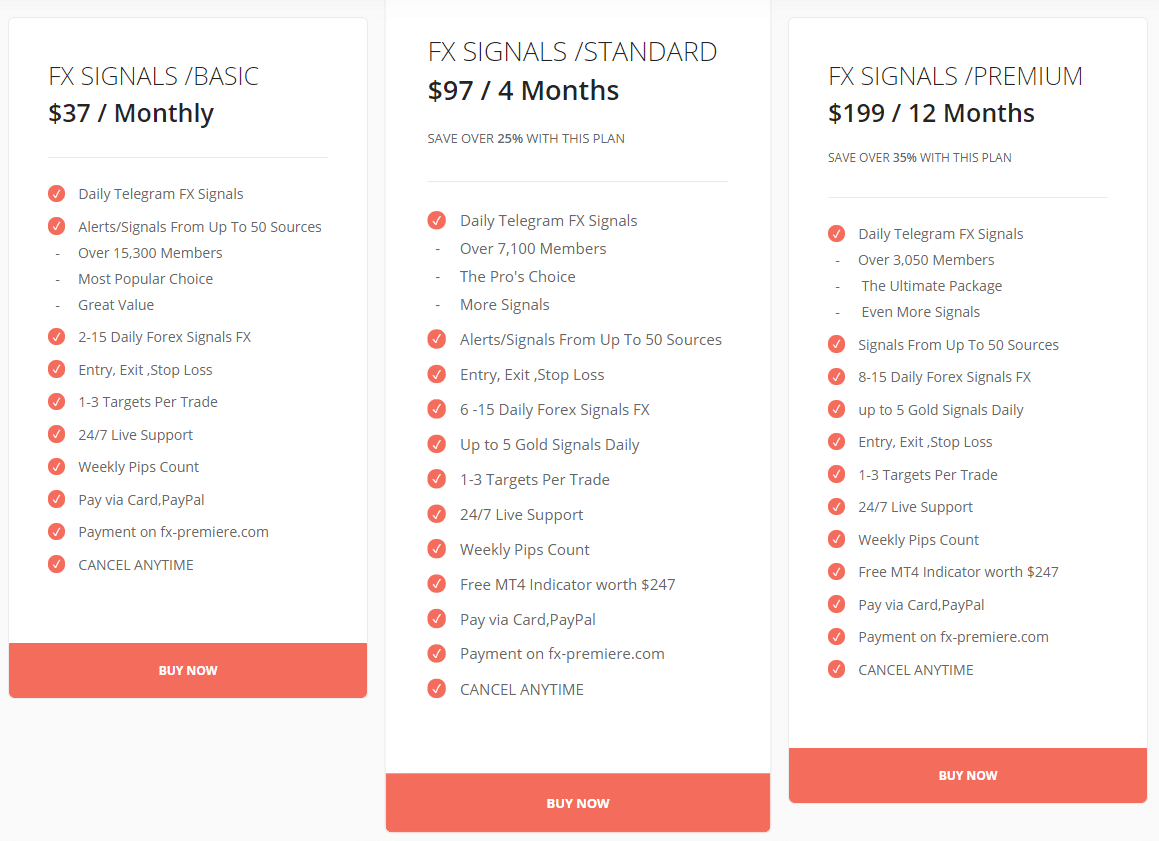 The service is introduced in three packages: Basic, Standard, and Premium. FX Signals Basic subscription costs $47 for a month. It's featured by from 2 to 15 signals daily (1-3 targets per trade). The Standard package costs $97 for four months (25% savings). It includes from 6 to 15 daily signals (1-3 targets per trade). There are up to 5 Gold signals as well. The Premium package costs $199 for an annual subscription (save 35%). It includes from 8 to 15 daily signals (1-3 targets per trade) plus up to 5 Gold signals.

The Gold signals are available apart from the rest for $19.99 a month.
Unverified Trading Results
The developers have no backtest to provide. The main reason is that they don't own a robot or system that would generate the signals. They're delivered from 3rd-party traders and analysts.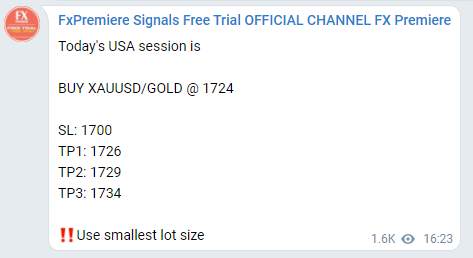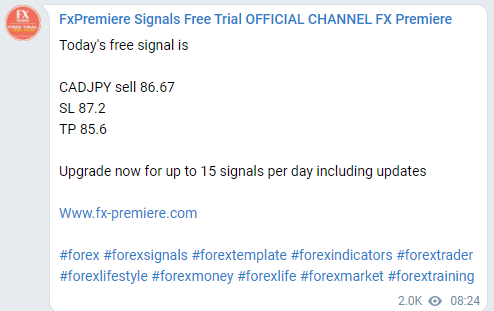 There are several free trade signals a week.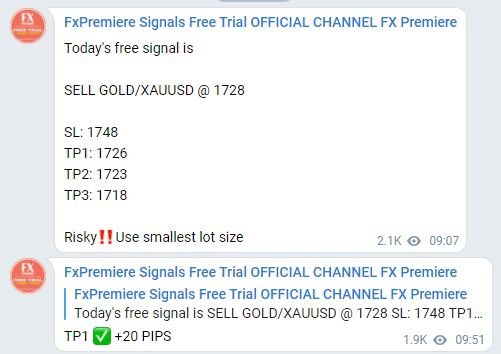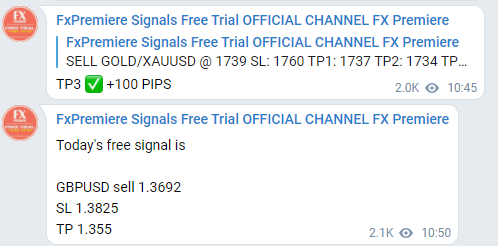 We have some messages with information on how many pips were gained or lost by each trade. From one side, it's good, but from another one it is not. The main reason is the gained pips have never matched truly gained pips on the client account. There are several reasons:
Spreads.
Commissions.
Slippages.
Swaps.
Delays in execution (Entry Point shifting), and so on.
The developers don't trade them on their own account, avoiding risks.
High Drawdowns
We don't know if drawdowns are high because we have no trading results.
Vendor Transparency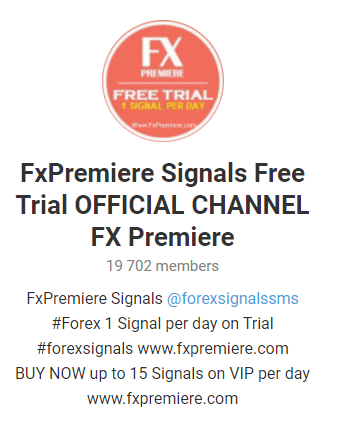 The company runs a big free Telegram community of 19702 members. Alas, the number has decreased from 22500+ members for three months or so. We don't know what's happened.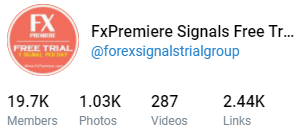 The channel has 1030 photos, 287 videos, and 2440 links.
People feedback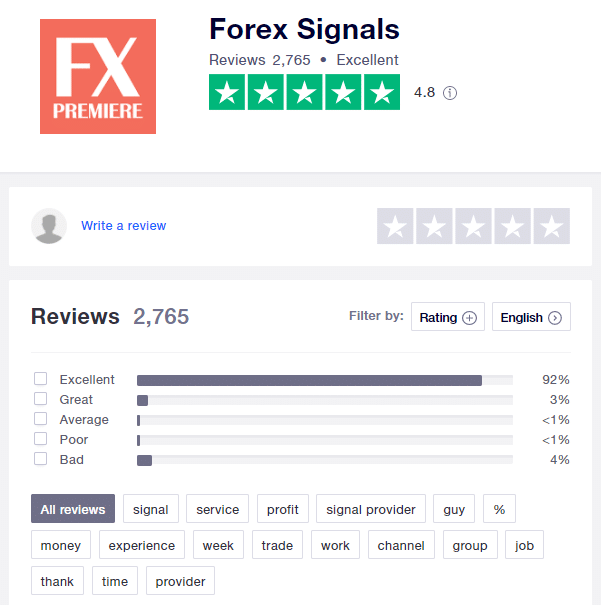 There's a page on Trustpilot of FX Premiere. There were more testimonials than the page has now. Probably, it's because the posts were deleted.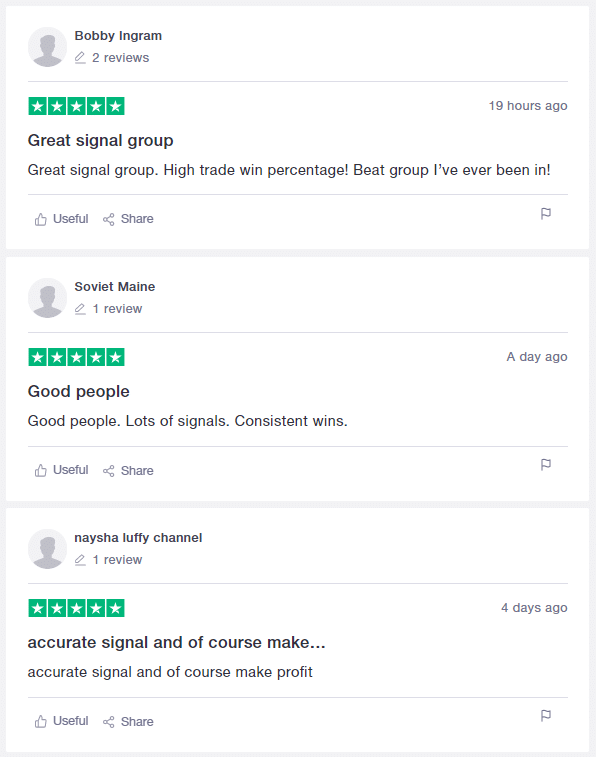 There are many positive reviews from people who have never reviewed anything before.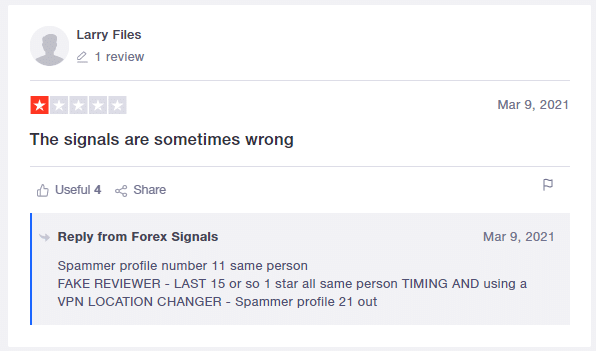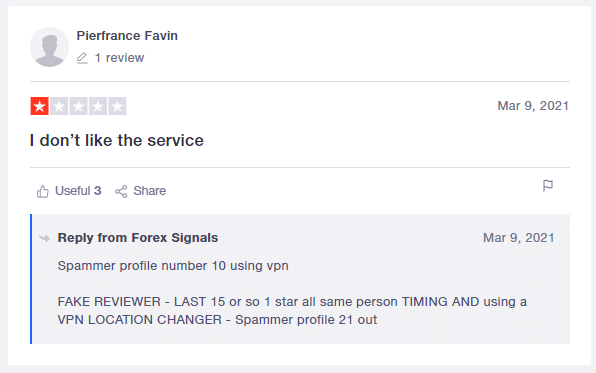 There are several testimonials where the company blamed people for posting negative accounts.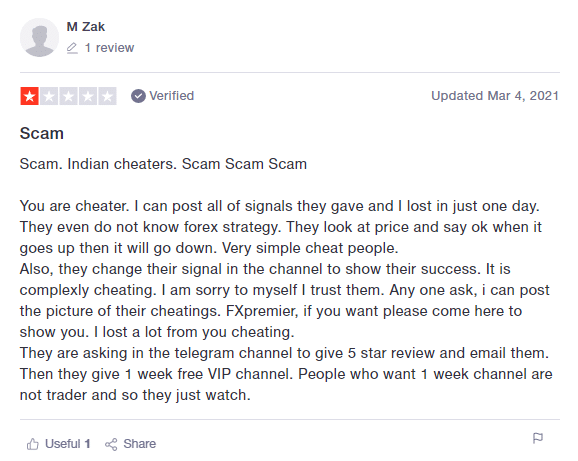 We're not surprised that the vendor asked for writing positive reviews.
Other notes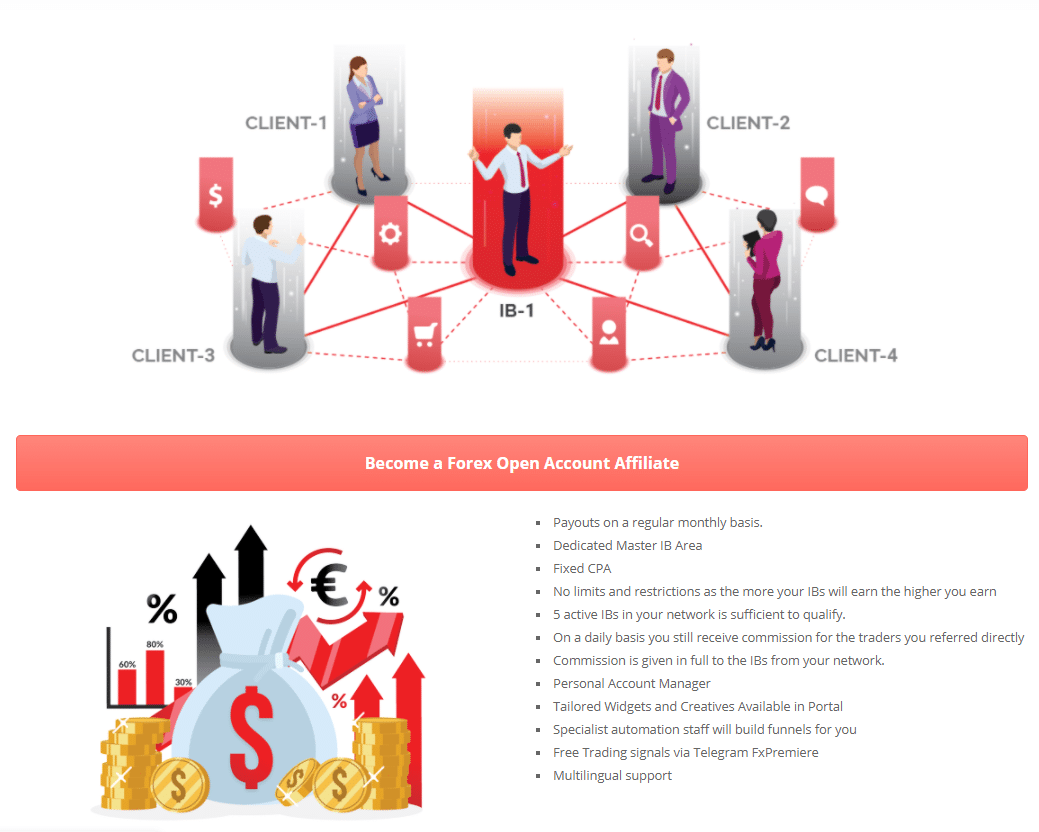 The company offers to everyone who takes part in their affiliate program, starting to make money from inviting people.