Paris MT5 is an EA that uses a dynamic and customizable algorithm with the assurance of 99% profitable trades in backtests. This FX Robot is promoted by developer Ruben Octavio Gonzalez Aviles as an ATS with profitable trade settings and strategy. In this Forex Paris review, we analyze this FX robot and give you a breakdown of what constitutes the EA and whether it is a system you can trust.
Forex Paris: To Trust or Not to Trust?
We have analyzed the various features of Forex Paris EA including the historical backtest data the vendor has provided on the MQL5 site. Our initial conclusion after perusing the different aspects of this FX robot is that it is not an EA you can trust. First, let us look at the important features of this FX advisor.
Features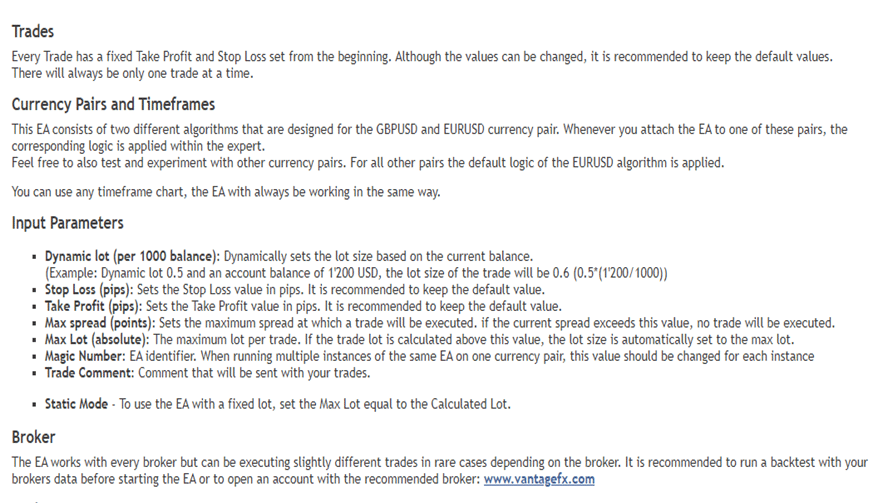 Priced at $349 with a monthly rental option that costs $199, this EA also has a free demo offer. The developer Ruben Octavio Gonzalez Aviles is from Switzerland and has received a rating of 2.2 out of five stars on the MQL5 site. He has published 8 products and 3 signals and has one year of experience in trading. Paris EA is made of two different algorithms which are created to work on the EURUSD and the GBPUSD currency pair.
The setting of this FX robot is such that when you link it to a specific pair, the corresponding algorithm will be used by the software. All trades have fixed TP and SL stops which are recommended by the vendor to be left as such. Any time frame can be used for this EA. Concerning the strategy used the developer mentions that it does not use Martingale, grid, averaging, or smart recovery approaches.
From analyzing the EA, we can see that several important downsides prevent it from becoming a trusted FX EA. Here are the downsides we found:
Poor Trading Results
Negative user feedback
Lack of vendor transparency
Let us elaborate on these points to give you a better insight into the EA.
Poor Trading Results
Although the developer does not post real account trading results, we found a trading result of Paris EA verified by the myfxbook site. Here are screenshots of the trading result: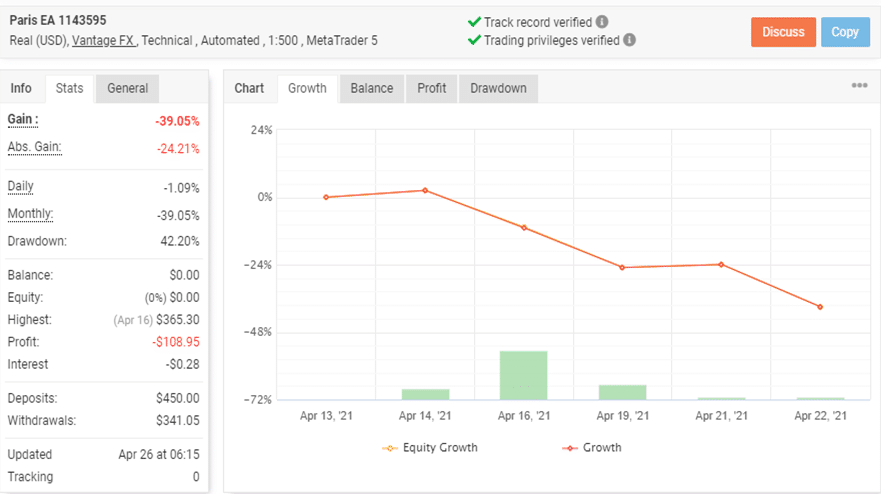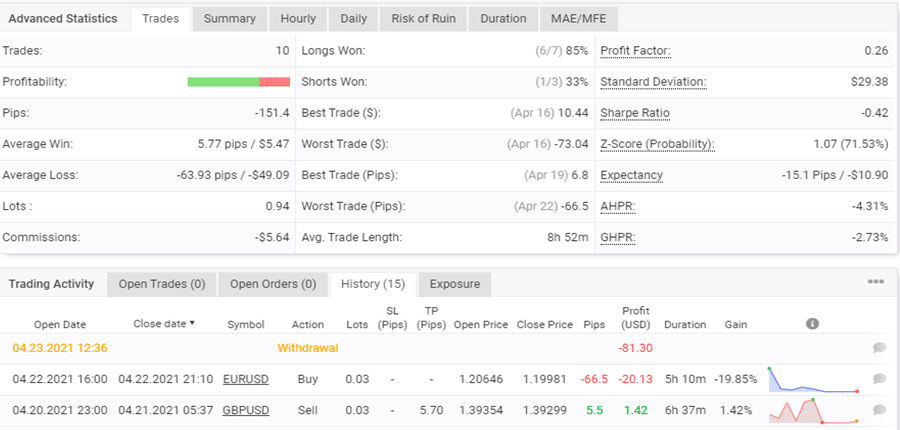 The above screenshots reveal this is a real USD account using the Vantage FX broker (recommended by the developer) and the leverage of 1:500. From the trading stats, we could see the account has suffered a loss of 39.05% and an absolute loss of 24.21%. For deposits of $450, the balance and equity reveal a $0.00 amount. This account has stopped trading in April after a string of losses during the month.
For the duration of around two weeks, 10 trades have been executed with a profit factor of 0.26. The trading history reveals lot sizes ranging from 0.03 up to 0.18. A drawdown value of 42.20% is shown.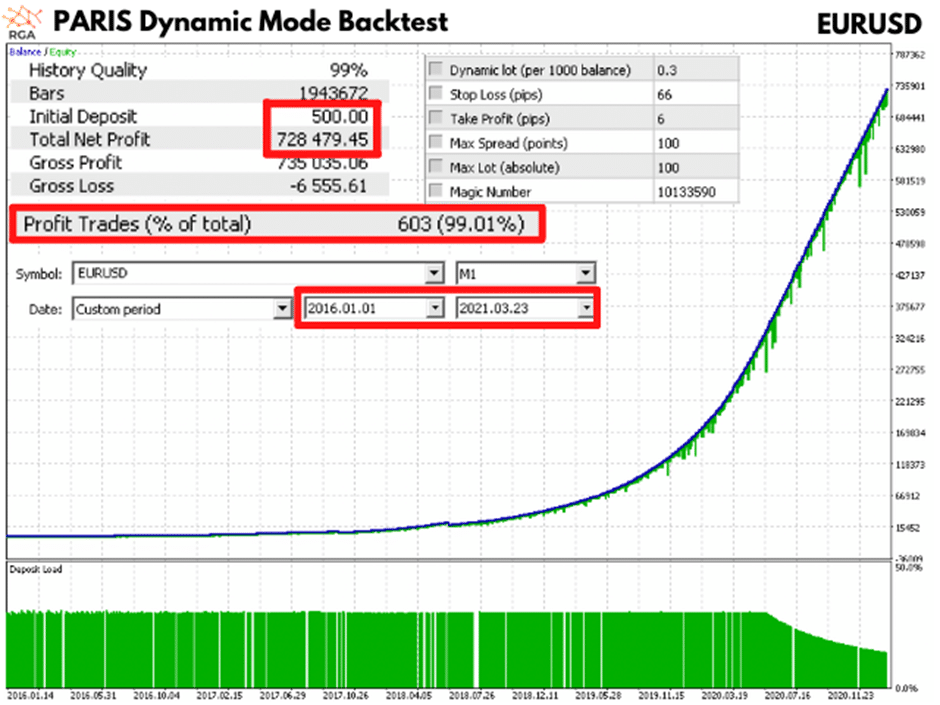 Backtests by the developer show a different result with the account revealing 99.01% profitable trades for an initial deposit of $500 and a total net profit of 728479.45. The backtest done for four years on the M1 timeframe and a modeling quality of 99% do not relate to the real account results.
Negative User Feedback
We found 28 reviews for this EA on the MQL5 site with most of them being negative. Here are a few of the review screenshots.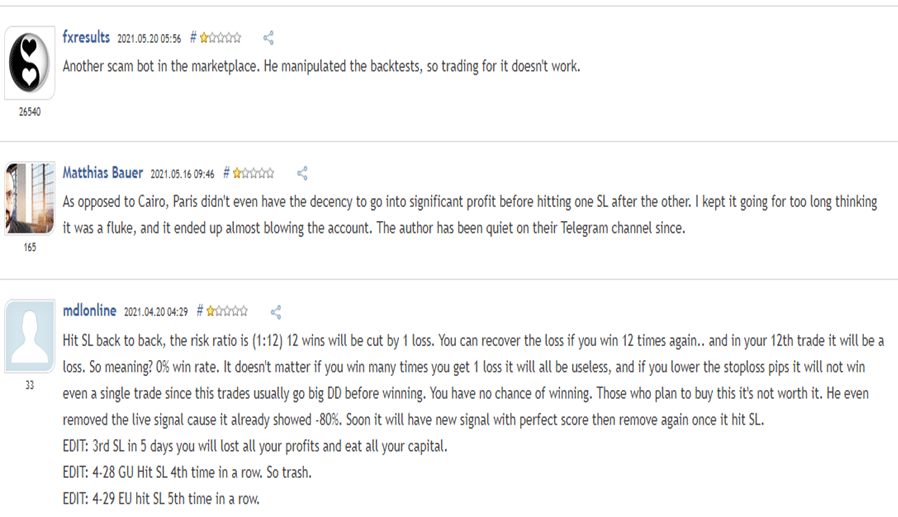 From the reviews, it is clear that this is a scam FX robot with manipulated backtests. More than a few users reveal repeated SL and blowing off their account with this EA. Some of the reviews also mention bad customer support. Other than the Telegram channel account of the developer there are no other means of contacting support for this EA.
Lack Of Vendor Transparency
Besides the developer's profile on the MQL5 site, we could not find much info about the EA. For starters, he is not forthcoming about the strategy used. Instead, there is a vague explanation of using an algorithmic approach and avoiding the high-risk methods like Martingale and grid. With no contact information other than the Telegram link, we find that EA lacks transparency.