Euro Hedge is a Forex robot that was launched on 29th March 2021. It is sold on the MQL5 marketplace and the vendor claims that the EA is able to close partial losing trades. In this Euro Hedge review, we will try to determine whether this is a reliable system or not.
Euro Hedge: to trust or not to trust?
Taking a quick look at the product presentation on MQL5, we can see a dearth of information about the robot. The vendor has listed the EA parameters and provided some recommendations but we don't have a proper explanation for the trading strategy. There are no backtesting results and while the link to a live trading account is provided, the results are not verified by a third party. Thus, we don't think Euro Edge is an EA you can trust.
Features 
This robot uses a combination of anti-martingale, lot martingale, pyramiding, averaging, and hedging. It tries to exit trades as quickly as possible to avoid bearing the brunt of unexpected changes in the market. The vendor recommends using hedging accounts with minimum leverage of 1:500.
You need an adequate free margin for the continuous opening of hedge positions. Thus, the vendor recommends starting with a balance of $5000 and a lot size of 0.01. You can use the robot to trade in multiple pairs like EUR/USD, XAU/USD, and GBP/USD. The vendor also recommends using a VPS with a strong internet connection and a broker with rebates, spreads, requotes, and decent slippage.
Euro Hedge mainly uses three entry methods. The first method involves using minimum waves for entry and maximum waves for stop entry positions. For the second method, it uses waves as support and resistance to determine reversals as entry points. While using the third one, the EA opens buy and sell positions at the same time.
Euro Hedge is available at the price of $349, which is quite expensive compared to the market average. There are a couple of rental options where you can rent the EA for 1-month and 3-month periods at $99 and $199, respectively. The vendor offers a free demo version for testing purposes but unfortunately, there is no money-back guarantee. There is no mention of a customer support team so we can assume that the only way to ask for support is to message the vendor directly on MQL5.
Unverified trading results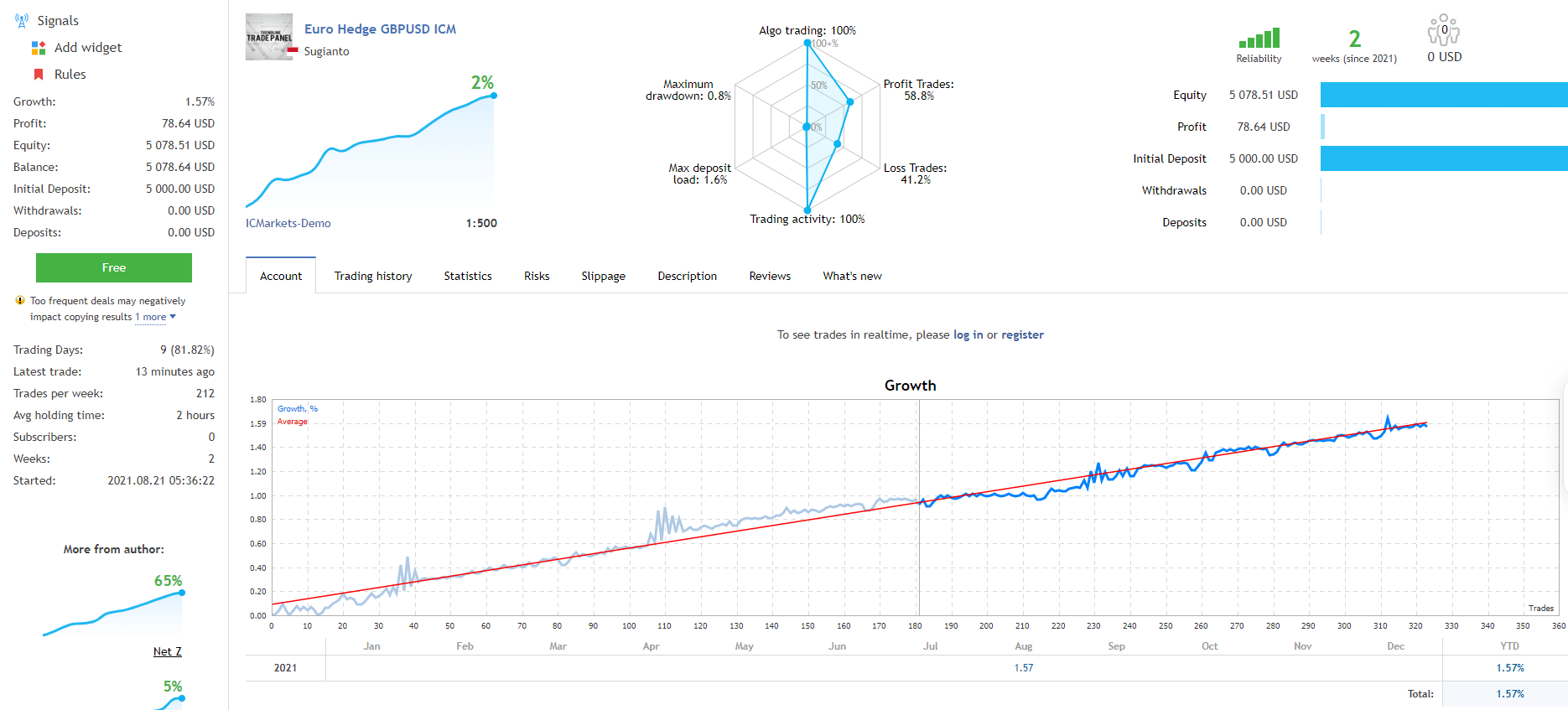 This is a live trading account for Euro Hedge on MQL5 that has been active for only 9 days. In this short time, the EA has placed 323 trades, which tells us that it follows a high-frequency approach. The win rate for this account is 58.82%, which is not too impressive compared to other systems.
At this moment, the total profit generated through this account is $78.64. It is not possible to accurately gauge the EA's profitability because of the short trading history. Most traders look for results that are verified by third-party websites, so we cannot recommend purchasing the EA based on these results.
The vendor has not shared the backtesting data for this robot, which is quite disappointing. It is important for EA vendors to test their strategies using historical data because it reveals the robustness of the system.
Vendor transparency
The developer selling this product on the MQL5 marketplace goes by the name of Sugianto. This person is based in Indonesia, and their MQL5 profile shows them having experience of more than 6 years.
We know virtually nothing about this person, so we don't know whether they are working alone or as a part of a team. The lack of vendor transparency is quite evident and it doesn't make us feel too confident about purchasing this robot. Apart from Euro Hedge, this developer has built other systems like GO Trendline, South East EA, Net Z, Hedging Pro Ultimate, Trendline Trade Panel, Simple Trade Panel, Switch Side, Trendline Trader Lite, and TWO Direction.
Customer reviews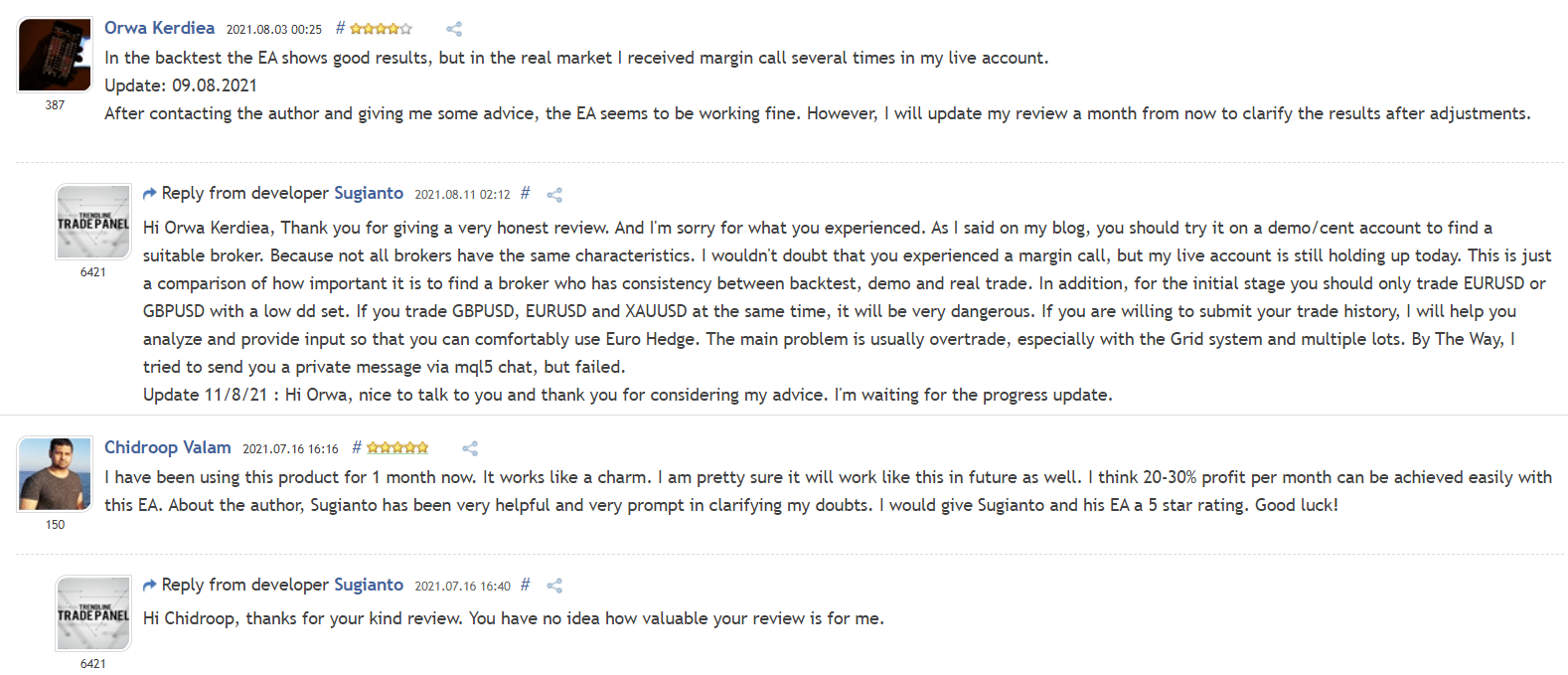 Since there are verified user reviews for this EA on third-party websites, we can assume it doesn't have any reputation to speak of. Clearly, not many people are prepared to spend their money on a recently-launched product. There are a few reviews on MQL5, but these cannot be considered genuine.