Aura Pro is a Forex expert advisor that works on both MT4 and MT5 trading platforms. It uses a machine-learning algorithm and is up for sale on the MQL5 website. In this Aura Pro review, we are going to look into the various performance aspects of this system to determine whether it is capable of generating profits at a steady rate.
Aura Pro: to trust or not to trust?
Aura Pro was launched on 28th September 2021. This means it hasn't been exposed to different market conditions. The vendor has tried to project this system as profitable by explaining the machine learning principle it works on, but the truth is, the robot uses a martingale-grid combo. There are no verified trading results and the vendor does not offer a money-back guarantee. As such, we don't think it is worth spending money on an EA like this.
Features
This is a grid expert advisor that is available for the price of $345. It makes no sense to spend this much money on a robot that was launched roughly a month ago. The vendor has mentioned that they will only sell 100 copies of this EA on MQL5 and that the price will be increased by $100 after every ten copies. Although a free demo version is available, the vendor does not entertain refund requests and this makes Aura Pro a risky investment.
This EA uses a hyperparameter search technology, choosing a group of optimal parameters for the learning algorithm. It uses the value of this parameter to regulate the learning procedure. According to the vendor, the hyperparameters can minimize the predefined loss function for independent data. You can use this EA to trade in pairs like GBP/CAD, EUR/CHF, USD/CAD, EUR/CAD, EUR/GBP, GBP/USD, and EUR/USD.
It is recommended that you use this robot on H1 charts. For each trading pair, the minimum deposit should be $1000. You are also required to use 1:500 leverage. Aura Pro uses a combination of grid and martingale techniques. This particular strategy can be very difficult to execute properly and that is why experts do not recommend using it.
You can modify the EA settings to select a fixed lot size. Alternatively, you can set the value of Fix Lot to 0 to enable automatic lot size calculation. It is also possible to adjust the martingale multiplier, the grid step, and the number of orders. If you are in need of assistance, you can contact the vendor through email or Telegram. The vendor recommends signing up with the IC Markets broker.
Unverified trading results

Since we don't have the verified trading results for this EA, it is not possible to accurately analyze its profitability. Most traders look for systems that have verified trading accounts on websites like Myfxbook, FXBlue, and FXStats. The trading community at large considers it a mark of authenticity.
There is a trading account on MQL5 where we can see the results of Aura Pro. The account has a very short trading history of 21 days. To date, the EA has placed 145 trades through this account, winning 62.75% of them and generating a total profit of $1137.12. The maximum drawdown for this account is 1.1%, while the profit factor is 3.89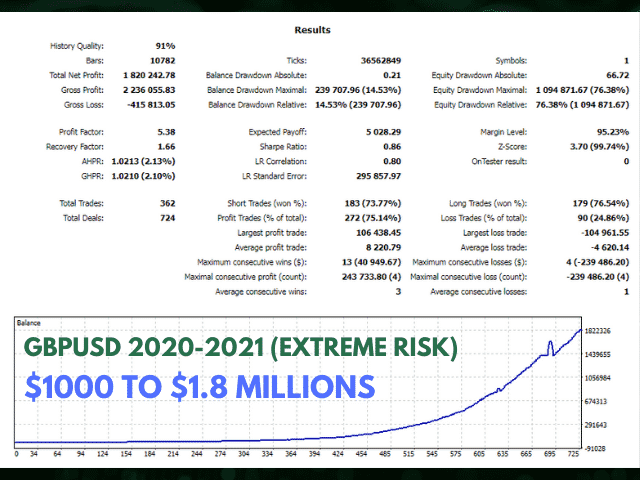 Here we have the results for a backtest carried out from 2020 to 2021 with extreme risk. After placing 362 trades, the EA managed to make a profit of $1.820242.78. It had a win rate of 75.14% and a profit factor of 5.38. The relative equity drawdown was quite high at 76.38%, which indicates a high risk of ruin.
Vendor transparency
Stanislav Tomilov, the developer behind Aura Pro, is based in Russia. According to their MQL5 profile, they have experience of more than 6 years. However, we could not find any information about their background and trading history. Other EAs developed by this person include Aura Gold EA, Firestarter, Matterhorn, Euro Master, Trust Trader, and Aura Black Edition.
Customer reviews

Aura Pro clearly doesn't have any kind of reputation whatsoever since there are no user reviews for the EA on third-party websites. We have a few reviews on MQL5 but they cannot be trusted.