Aeron Scalper is an innovative Forex robot, developed by a professional trader Mahesh Agarwal. It is said that this robot is easy to operate and requires a few minutes of your time to trade. The software is built to hold positions for short periods in an attempt to obtain profit from the bid-ask spread.
In this Aeron (Scalper+Grid) review, we will analyze trading strategy, risk factors, vendor transparency, drawdown performance, and the other important details to understand its positives and negatives.
Is Aeron (Scalper+Grid) a Good Choice?
We do not recommend this EA to the public:
Lack of transparency and support

Negative reviews from customers

Grid trading strategy
About Aeron (Scalper+Grid)
The Aeron (Scalper+Grid) website uses a very simple design. They feel that it helps them get their message across appropriately. However, there is very little information about the software to go on. The developers inform us that their trading system uses take profit and stop loss with every position. There also is a built-in money management system, so the traders can adjust their trading account and decide what equity percentage they want the software to trade for them. Because the trading tool is completely automatic, it increases the size of the lot as soon as balance/equity increases.
Trading Strategy
To succeed with this trading software and its strategy, traders need to have a fast enough computer with a constant and smooth Internet connection. Mahesh Agarwal used a combination of Scalping strategy and Grid trading strategy to provide "maximum and steady profit from forex market and of course with minimum risk". The fact is that the Grid strategy is risky because it can crash your account in volatile market conditions.
The other features of this EA are as the following: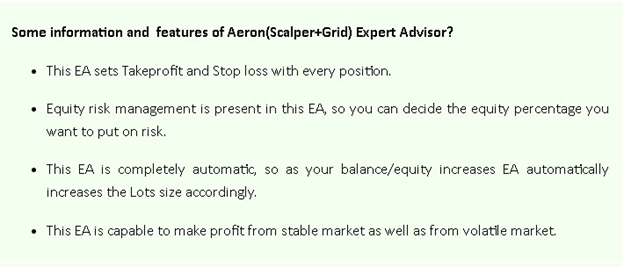 Verified Results from Fxblue
The Aeron (Scalper+Grid) team provides us with live verified trading results on their website. Therefore, the traders can click on the screenshots and review trading results on fxblue.com.

This is a real semi-verified trading account that is running on the Meta Trader 4 platform.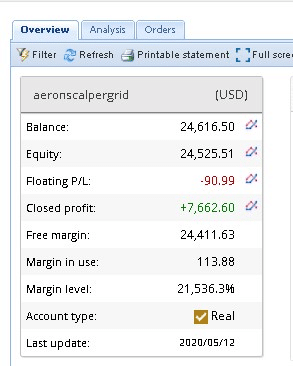 The account started trading on May 12, 2020.

The account has gained a total return of +75.7% with a monthly return of +13.9%and weekly of +3.1%.  Its risk/reward ratio is equal to 2.84.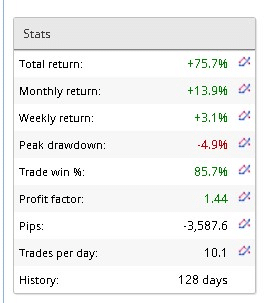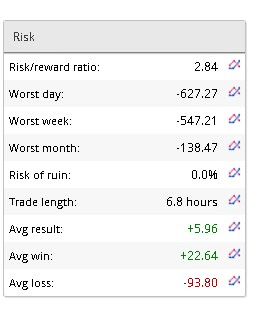 It has been trading 2 currency pairs: EUR/USD and USD/CAD. The best trading results are achieved with USD/CAD currency pair:

This trading account deposited $10,000.00. Currently, its total balance is 24,616.50 dollars.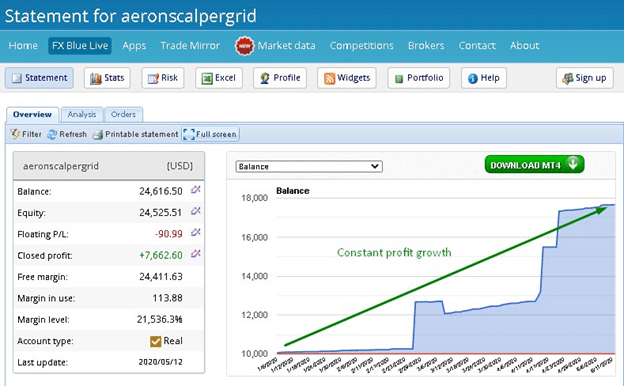 The screenshot above shows that the EA works well and shows stable profit growth.
It has already closed 1285 trades: 1101 out of 1285 trades were winning ones (86%), the rest (184) were losing trades (14%). The average trade length is 6, 8 hours.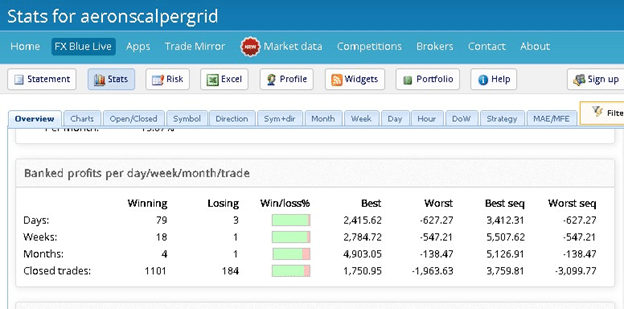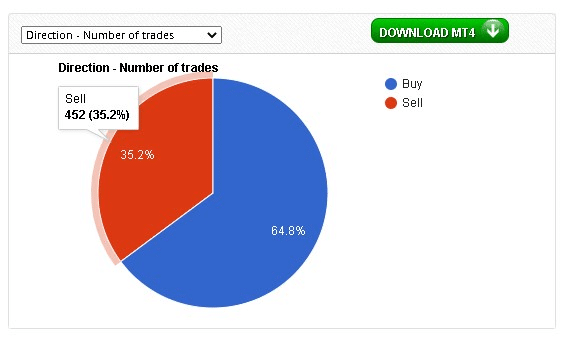 Its profit factor is 1, 44. The average win is +22.64, while the average loss is 4 times larger and is equal to -93.80. The worst drawdown is only -4,9 and that's good. The risk of ruin is equal to zero: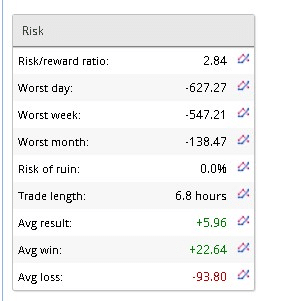 We do not know how the software is working now, as the last update was in May. Therefore, we would like the vendors to provide more actual trading results on their website to convince us that this EA is worth attention and every penny it costs.
Negative Reviews from Customers
Customers' reviews on third party websites are very important for us because they are not bought as it might be done on the official seller's page. Unfortunately, we have found a lot of negative reviews from customers on the forexpeacearmy.com:


Many users complain about poor or no customer support. Good and reliable customer support is of great importance for customers. Forex trading is difficult and a team of support should provide traders with effective and efficient support service. There is no reason to rely on trading software if there are no signs of trust and transparency.