In this XXL Forex Real Profit review, we are going to analyze this EA, its trading performance, risk factors, vendor transparency, and the other important data to make the right verdict and decide if this robot is a good choice for traders.
Is XXL Forex Real Profit a Good Choice?
The key question is whether the XXL Forex Real Profit is a good choice for traders or not. After a thorough review of this software, we have decided to give this trading tool a negative pass mark. You cannot rely on this EA because of:
Poor clarity on strategy

Negative trading results

High drawdown

Negative reviews from customers
Features
XXL Forex Real Profit is an expert advisor that works on an MT4 platform. It finds the most beneficial market direction by analyzing pricing data in combination with time data. The EA trades every day and requires a minimum deposit of 1000 / $1000 (or Cent account €10 / $10) with a 1:500 leverage.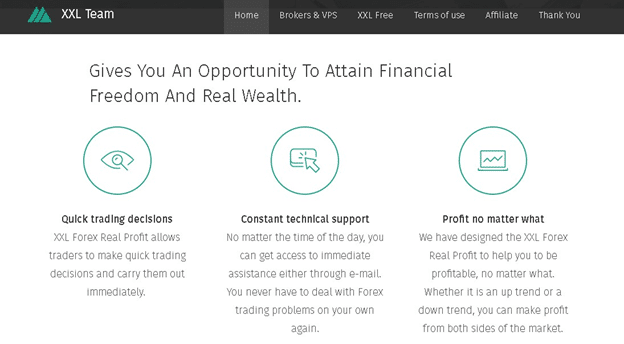 This product comes with 15 days money-back guarantee and is sold for $300.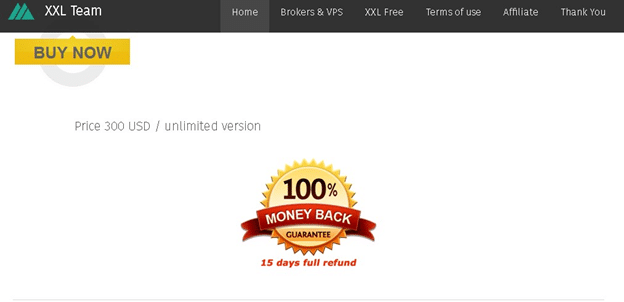 Trading Performance Data
XXL Forex Real Profit team provides us with a real FXblue account to show how their system is trading.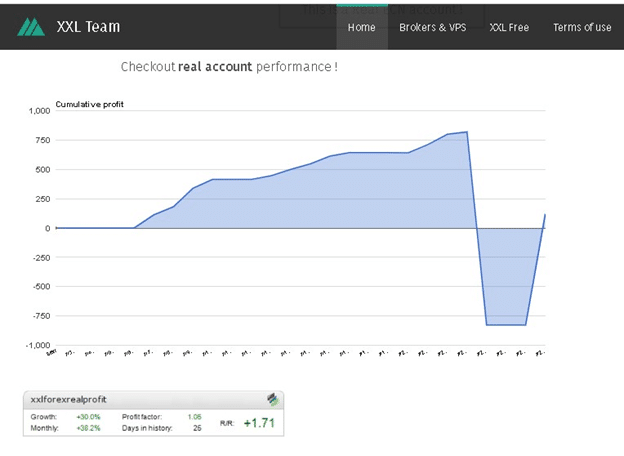 The screenshots on their sales page are clickable, so traders needn't make additional research to find verified trading results and analyze the XXL Forex Real Profit trading system.
The account started trading on May 26, 2017. It shows a total return of +3.8% and a monthly return of +38.2%.

For monitoring trades' size and length, the system appears to be a scalper.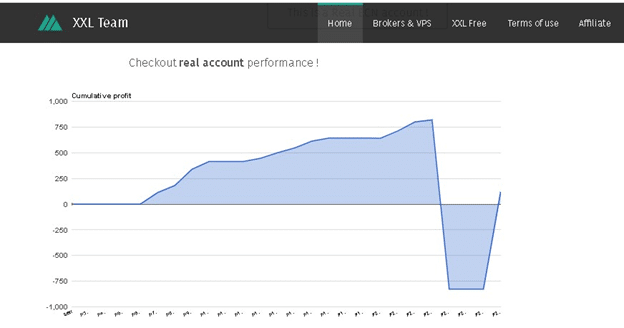 Although the developers tell us that, this trading tool works on any timeframe, we consider it defaults automatically to M1 or M5 regardless of the periodicity that a trader chooses.
The account was created more than three years ago, but its trading history has only 25 days. During the period of 25 days the account has conducted 118 trades (92 out of 118 trades were profitable ones) with an average trade length of 15 hours.

The account is trading AUDUSD (24 trades), EURUSD (32 trades), GBPUSD (20 trades), NZDUSD (12 trades), USDCHF (12 trades), USDJPY (3 trades), and XAUUSD (15 trades) currency pairs.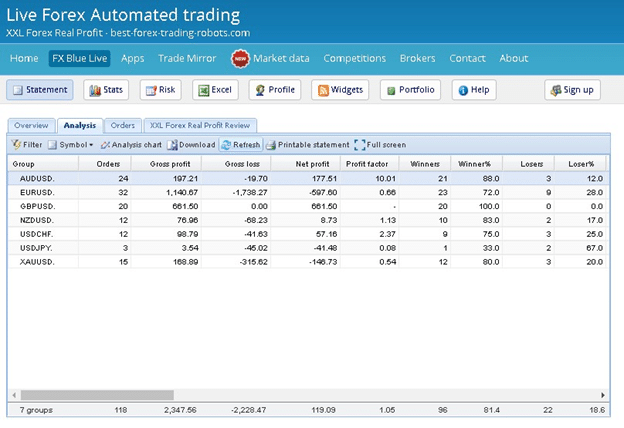 It deposited $3,445 and gained 2,347.56 dollars.

The profit factor is only 1.05. The average result in pips of each winning trade is 9.60, while the average result in pips of each loss trade is 5 times worse and is equal to -55.97 pips.

The probability of a 100% loss is equal to 20.0%. It is obvious that trading with this expert advisor is too risky and a trader needs to pay special attention to trading performance to monitor the process and avoid all the potential risks of losing money.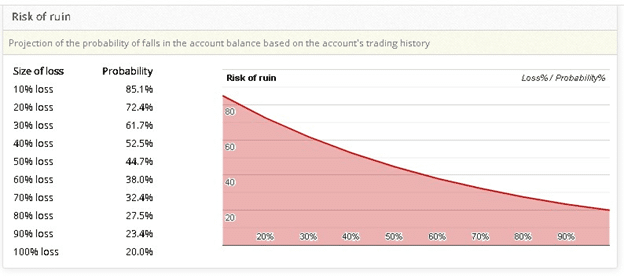 High Drawdown
The peak drawdown of this trading account is -38.6%. This balance drawdown has been stable from July 24, 2020, to July 26, 2020. From July 26, the drawdown dropped from -38, 6% to -16, 4%.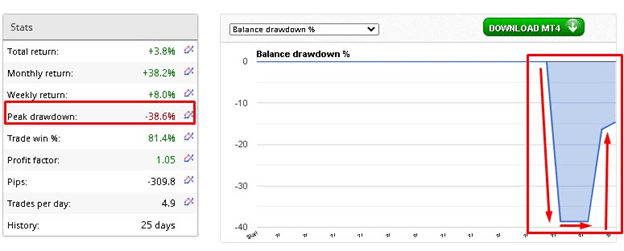 Such vicissitudes can ruin any trading account and as a result, a trader can lose all his money.
Negative Reviews From Customers
On the forexpeacearmy.com website, we have found one customer review about the trading performance of the XXL Forex Real Profit robot. Unfortunately, this review was a negative one: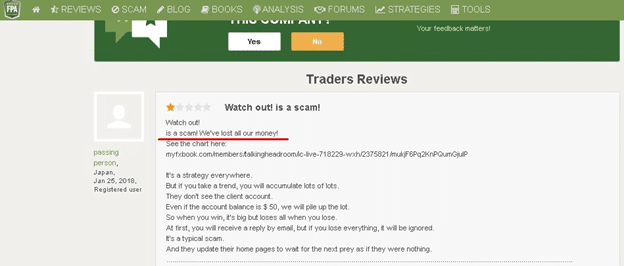 The trader says that the software is "a typical scam" and warns the other traders not to use this EA. Customer reviews on third party websites are very important for us because they provide a clear understanding of how a system works indeed.
Vendor Transparency
The developer of this 100% automated trading tool is Tibor Nagy. He is the creator of a few more websites all in the FX market: EArobots, Bestearobots, FX Shutter Stock. It is not the whole list of his websites, we have only mentioned a few of them to give you the just.
Although Tibor Nagy has many authority websites and FX robots, he provides very little to no information about his product to go on. Going through the sales page, we have found neither detailed description of the EA, nor explanation of the trading strategy or approach.
The XXL Forex Real Profit team is located at Jozsef Attila u.25. Nagyborzsony, Hungary. To get in touch with support, traders can send an email to [email protected]. At whois.domaintools.com, we have found that the website is 1,159 days old and was created on May 26, 2017: