The metaverse is a concept that can be traced back to a novel by the name Snow Crash that was written by Author Stephenson. However, its popularity came much more recently, in 2021, when Facebook, a social media giant, changed the name of its parent company to Meta. This was to show their commitment to the far more immersive metaverse and their gradual migration into the space. Today, there are several metaverse projects, and Sandbox is one of the most popular. At the time of writing, SAND, its native token, is the 37th largest crypto by market cap.
The Sandbox metaverse
This is a game that was initially created in 2012 as a smartphone and Windows game. However, Pixowl, the developer behind it, soon migrated it to the Ethereum blockchain. In so doing, Sandbox became a play-to-earn metaverse game. It features voxel-created virtual worlds, which include plots of land, various equipment, art, and any entities imaginable to man. All of these assets can be traded as NFTs. Interestingly, people can buy or rent land on the platform, develop games and play them, essentially acting as both developers and gamers.
To use this platform, you would first have to create a unique avatar that would allow you to interact with all of Sandbox's offers. From here, you can host games, multiplayer activities, and several other experiences with your fellow users on the platform. In the gaming world, a sandbox game is one in which players can explore the open-world architecture of the game and do as they please, without necessarily following a stipulated mission or objective.
This game uses the SAND token to fuel its economy. Users can buy LAND using this token. By design, there are a total of 166,464 LAND plots in existence, whose owners populate with various games and assets. Holders of this SAND token also get to participate in governance decisions on the platform.
Leading projects on Sandbox
1. Snoop Dogg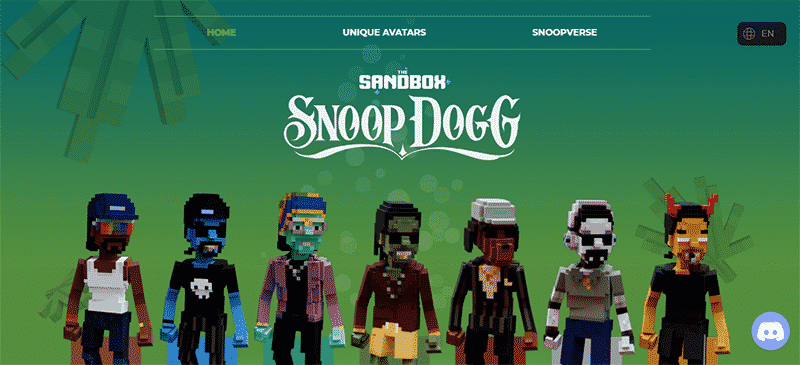 Snoop Dogg has been a household name in the entertainment industry for decades now. He is a rapper/musician actor and is involved in several entrepreneurial endeavors. He was among the first celebrities to publicly support cryptocurrencies and NFTs, even long before he was associated with Sandbox.
The Doggfather, as he likes to be called, currently has a collection of 10,000 NFTs of himself on Sandbox, which users can utilize as avatars in their gameplay. These NFTs are called Snoop Doggs, and each of them has unique traits and is handcrafted by Sandbox's artists and Snoop Dogg himself. There is also a virtual version of his actual mansion on the game, and it is classified as a LAND asset.
Further, there's a private party pass token on the platform. Holders of this token can attend a private Snoop concert, party with the legend, hold interviews with him and access exclusive NFTs.
2. The Smurfs
The Smurfs is a popular comic franchise. It includes movies, video games, theme parks, and dolls, among its various products. In 2020, this franchise partnered with Sandbox to bring its lovable characters such as Grandpa Smurf and Lazy Smurf to the metaverse. The developers of this metaverse platform also agreed to dedicate 12% of the total LAND supply to host the entire Smurfs village.
With this partnership, Sandbox users can create 3D animations of Smurf-inspired buildings, environments, and other attractions as NFTs. They can also play various adventure games using these blue characters and purchase in-game tokens to build their own Smurf-themed games and virtual worlds.
3. The Walking Dead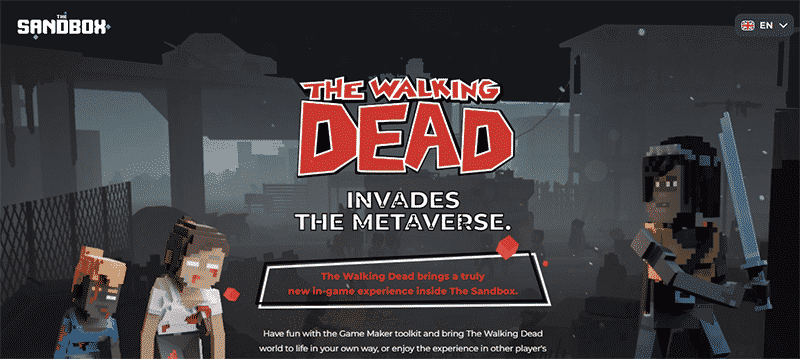 The Walking Dead is a horror media franchise that partnered with Sandbox in 2021 to create this intriguing game. Users can create avatars of their favorite walkers from the comic book and use them to go on adventures. In the true style of sandbox games, users can choose to scavenge, hunt for resources, form alliances, and do whatever else their imagination allows. This game has also been allocated several LAND plots on the platform.
4. Care Bears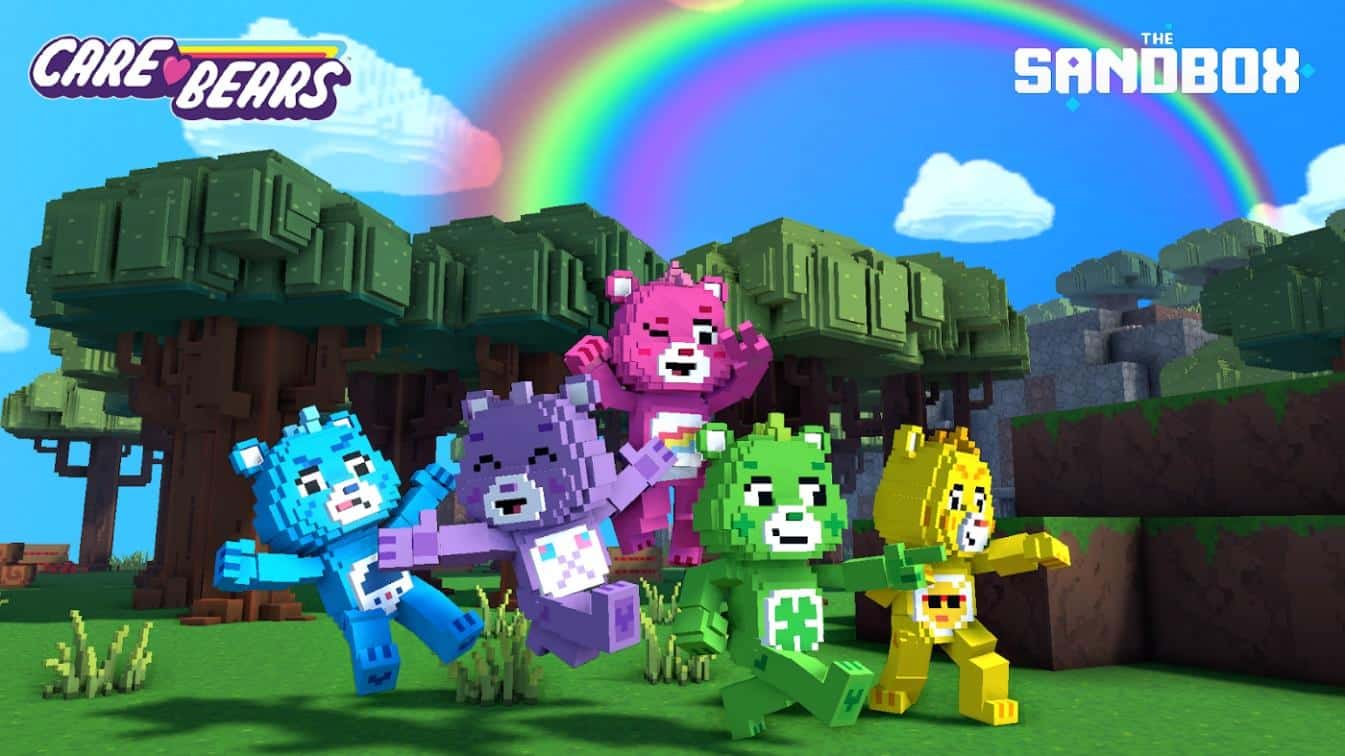 The Care Bears is an entertainment franchise that includes TV shows, YouTube shows, and toys. Cloudco, the company behind Care Bears, partnered with Sandbox to create a voxelized version of their Care-a-Lot Kingdom on the metaverse. They were assigned several parcels of LAND on the game, and users can now use Care Bear NFT collectibles and assets to create their own games. This offering brings with it a Care-a-Lot setting to Sandbox, complete with the Care Bears environment, buildings, and other attractions for users to interact with.
5. Atari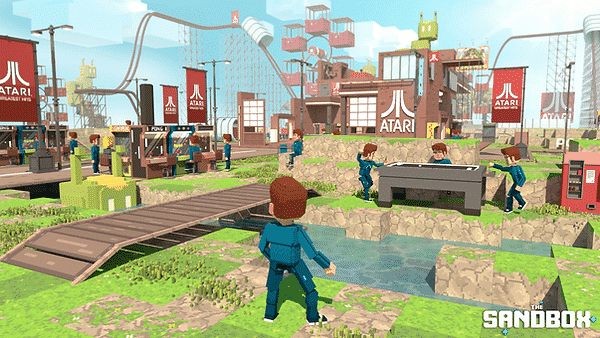 Atari is an entertainment brand that encompasses various game properties. Its developers are partnering with Sandbox to bring their unique gaming experience to the metaverse. Under this agreement, Atari will receive several blocks of LAND known as ESTATEs on the platform. Here, there will be 3D voxelized versions of popular Atari games.
There will also be various in-game assets tokenized into NFTs for Sandbox users to utilize in creating their own games. What's more, Sandbox is dedicating a theme park containing various Atari game titles, which will contain buildings, games, and other attractions from this popular game's universe. Users will also have the option of using SAND or Atari tokens when playing in this realm.
Conclusion
The metaverse brings with it the promise of a more immersive internet experience, all coupled with the security of decentralization. It has brought to life the play-to-earn gaming ecosystem, and more and more people are finding it lucrative to earn rewards as they play their favorite games. Sandbox, one of the leaders in the space, has not been left behind in this regard. It has partnered with several gaming franchises and entertainment moguls to provide its users with the most entertaining gaming experience.