ProfitTrailer is a crypto trading advisor that works with more than 40 inbuilt indicators. Also, it can provide our TradingView alerts through a well-designed addon. The developers support a wide and decimated community where we can share and discuss strategies and settings. We can rely on dedicated and welcome support. The system allows us to make profits while we are out of the PC.
How does ProfitTrailer crypto bot function?
The system can provide us with 24/7 automated trading.
We are allowed to set it on Windows, MacOS and Linux.
The GUI can be used on all devices connected to the internet.
There's a dashboard designed to let us know what is going on on the market and with the system.
We can customize pairs of coins that we'd like to trade.
There's a feature of dollar cost averaging that allows us to get rid of your bags.
There are possibilities to configure settings as we want if we have proper trading and developing experience.
ProfitTrailer review – positive aspects
Automated trading
Welcome support
We can trade from various operating systems
ProfitTrailer review – negative aspects
We don't know all the trading strategy details
The presentation isn't featured by backtest reports or trading results
Time in business
The service was created on September 8, 2017. We have a registration: ProfitTrailer B.V,
Kaya Seru Kristòf 9, Curaçao, Chamber of Commerce # 149091. Alas, there are no screenshots of documents provided.
Reputation
The developers have no reputation among the crypto-related community. So, we can't be sure that it is safe to trust them.
Supported exchanges
The list of supported exchanges includes the following:
Poloniex
Bittrex
BinanceUS
Coinbase PRO
Binance DEX
Huobi
BitMEX
Binance
Binance Futures
Bybit
Bybit Futures
Kucoin
Kucoin Futures
FTX
FTX Futures
It's not the biggest we have ever seen, but it includes the most major ones.
UI of ProfitTrailer
User Interface is welcome and we can easily figure out what's going on.
Key features of ProfitTrailer
Let's talk about the features:
We have to work as an administrator on our PC to install the system.
If we are a person without previous experience that may not be the right software for us, the site mentioned.
The other requirements are: 2 GB ram, 500 Mb of free space, Java 8 (Java 9+ not supported).
The internet connection should be 5 Mb with min 1Tb a month data cap.
ProfitTrailer can use about 30GB a day of data.
We can purchase the system with multiple strategies/indicators being used at the same time.
It's possible to combine various strategies to reach better results.
For example, several indicator pairings are: LOWBB and RSI for buying, HIGHBB and RSI for selling, LOWBB and STOCH, HIGHBB and STOCH, etc.
There are four main types of technical indicators: Trend, Momentum, Volatility, and Volume.
The list of them are: SMA, EMA, MACD, RSI, STOCH, Bollinger Bands, and OBV.
These are all set in the 3 main configuration GUI sections that deal with your buying and selling strategies: Indicators, Pairs, and DCA.
Pairs settings work with standardized, non-DCA (Dollar Cost Averaging) buying.
The purchasing will start only when buy strategies that we have set to be true before it will begin buying a coin.
Another important setting is the DEFAULT_trailing_buy setting.
We can trail the price before placing a buy order.
There's a dollar cost averaging for selling applied either.
The list of strategies and indicators are:

SIGNAL
LOWBB
HIGHBB
GAIN
CHANGEPERCENTAGE
(X)MALINE
(X)MAGAIN
(X)MASPREAD
(X)MACROSS
COMBIMAGAIN
COMBIMASPREAD
COMBIMACROSS
RSI
MFI
STOCH
STOCHRSID
STOCHRSIK
STOCHRSICROSS
MACD
MACDPERCENTAGE
BBWIDTH
OBV
PDHIGH
PDLOW
PDCLOSE
PDOPEN
LASTDCABUY
LASTSELL
LASTPENDING
FIXEDPRICE
LOWATRBAND
HIGHATRBAND
ATRPERCENTAGE
PROFITPERCENTAGE
VWAPPERCENTAGE
MVWAPPERCENTAGE
BTCDOMINANCE
FUNDINGRATE
HOLDINGTIME
LIQPRICE
WAITXCANDLES
CROSSOVER
CROSSUNDER
RANGEFILTER 2.5
PARABOLICSAR 2.5
TIMEOFDAY 2.5
LINEARREGRESSION 2.5
CANDLE 2.5
DEMARKREVERSAL 2.5
CCI 2.5
PIVOTPOINT 2.5
FIBONACCIREVERSAL 2.5
KDJ 2.5
LOWKELTNERCHANNEL 2.5
HIGHKELTNERCHANNEL 2.5
How to get started on ProfitTrailer?
We have to download the system and follow the instructions of what we have to do to get started.
How secure is ProfitTrailer?
The system looks secure but we don't have 100% proof of this to be completely sure.
Customer support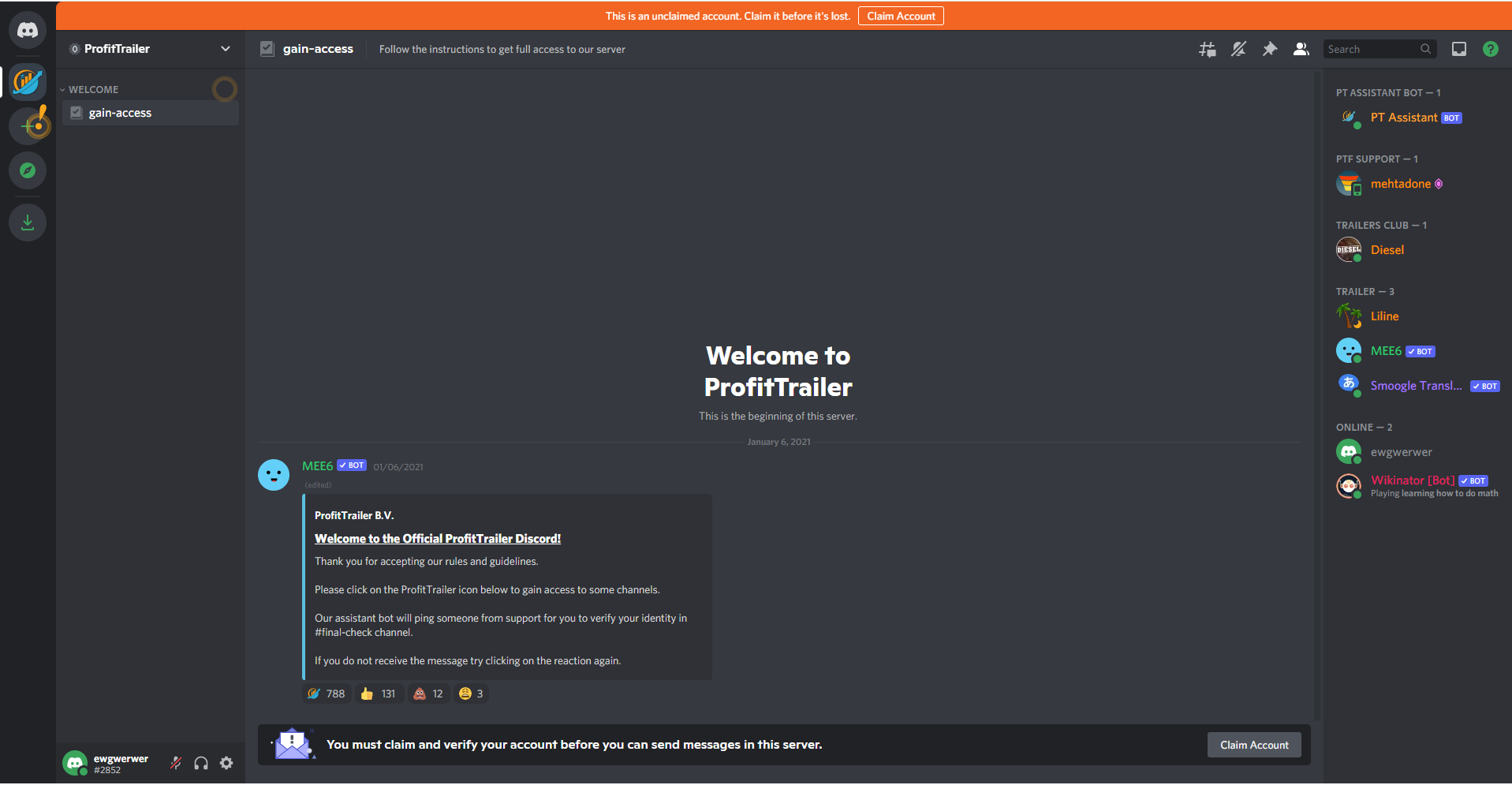 The developers are ready to contact us via their Discord channel. Alas, there are just several users online.
Are traders happy with ProfitTrailer?
We don't know because there are no written testimonials about this.
Pricing and fees
There are several packages available. We can subscribe for a monthly package that comes for €30. It is featured by 2 bots, 3 stored configurations, signal indicator, advanced paper trading, signals subscriptions, 2 months free TV addon, 2 months free signals.
The lifetime package is available for €799. It includes: live support on discord, 2 bots, 5 stored configurations, 40+ buy-sell indicators, advanced paper trading, signals subscriptions.
The advanced lifetime pack can be bought for €999 Lifetime with 2 bots (3 lifetime), 10 stored configurations, advanced notifications, advanced stats.
Is a free trial available?
We can get a free trial for a week. The package includes: 2 bots, 3 Stored Configurations, 40+ Buy-Sell Indicators, Advanced Paper Trading, Signals Subscriptions, Advanced Notifications, Advanced Stats, trading on Binance, Binance Futures, Bybit, Kucoin, FTX, and FTXFUTURES.
Languages supported
We can work only with an English version of the system.
What kinds of traders is ProfitTrailer best suited for?
The system can be used only by professional traders.
Company information
As we mentioned before the company has legally been existing since 2017.
ProfitTrailer verdict: should you get it a try?
ProfitTrailer is a trading solution that can be used only by experienced traders. The presentation provides details about settings and strategies. At the same time, we don't have any sign or trading activities that would show that the system is profitable.