FTX and Huobi are among the biggest blockchain enterprises in the world. According to CoinMarketCap, the two businesses handle over $50 billion worth of cryptocurrencies every day.
On average, according to SimilarWeb, their websites attract over 5.4 million and 2.6 million visitors every month. In FTX vs. Huobi comparison, we will look at the services offered by the two companies and their pros and cons.
What is FTX?
FTX is a blockchain company that was started by Sam Bankman, an American. The company offers a wide variety of services to customers around the world.
The main FTX is widely known for its derivatives and leveraged products that it offers. By leverage, we mean that it allows investors to use borrowed money to amplify their profits. Since derivatives are highly-regulated products, FTX does not offer services in the US.
Instead, FTX has created another American exchange known as FTX US, which offers a narrow set of services to American companies. In 2020, FTX US raised a whopping $400 million from investors, bringing its value to over $8 billion.
The main FTX is even bigger. In 2021, it raised $1+ billion from investors, bringing its total value to over $25 billion. As a result, Sam Bankman has a net worth of more than $25 billion.
What is Huobi?
Huobi is one of the biggest cryptocurrency exchanges. It was established in 2013 by Du Jun and Leon Li. Its parent institution is a publicly-traded firm that is listed in Hong Kong.
Huobi, like FTX, offers a wide variety of cryptocurrency-related services. Its most popular service is the generic exchange that allows people to buy and sell cryptocurrencies. But its derivatives business is one of the fastest-growing.
Huobi offers its services globally, but there are several restricted countries like the United States, North Korea, Canada, and Japan.
FTX vs. Huobi services
FTX and Huobi provide many cryptocurrency-related services. A closer look at their offers shows that they provide services that are related.
For example, FTX and Huobi have leveraged tokens in their platforms. A leveraged token is one that is boosted by a certain amount. For example, assume that you are trading the ADABULL token that has a 3x leverage. In this case, for every 1% of ADA that goes up in a single day, ADABULL rises by about 3%.
While a leveraged token is a good product, it is also risky. For example, if the standard ADA goes down by 1%, you will lose that 1%. On the other hand, if you are trading the ADABULL, you will lose three times that amount.
In addition to leveraged tokens, FTX and Huobi both offer a cryptocurrency exchange where people can buy, store, and sell cryptocurrencies. Users can do this using their websites and mobile applications, which are available on both Android and iOS. At the time of writing, the main FTX has a 4.6* in Google PlayStore. Huobi has a 4* rating.
Third, FTX and Huobi have futures services. A futures contract is a product that gives you the right but not the obligation to buy an asset. The types of futures products that the two companies offer are known as perpetual futures.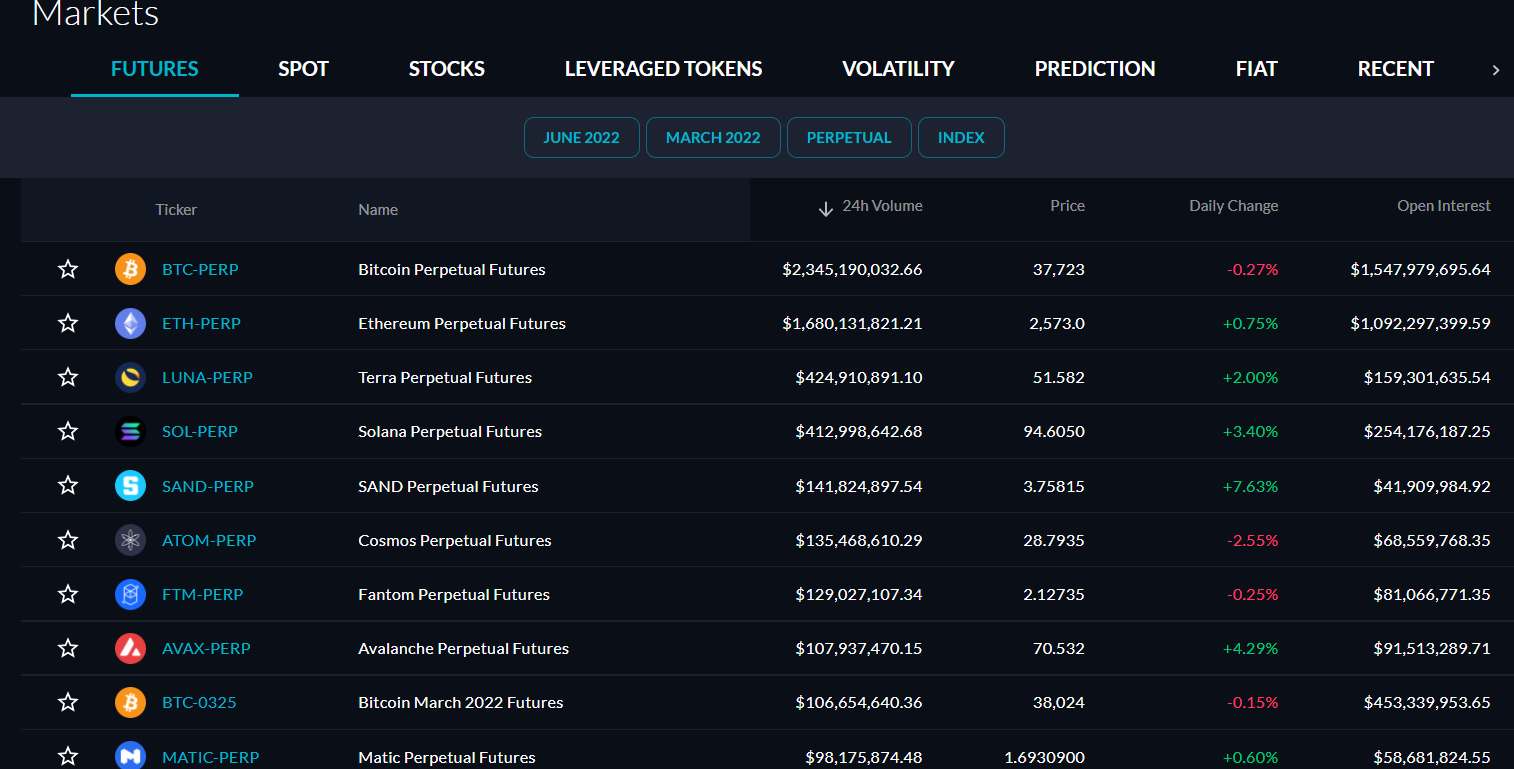 Perpetual futures are different from traditional ones because they are not settled immediately. Instead, the two parties trade a contract that defines the settlement at a future date. The chart above shows what the perpetual futures contract page looks like in FTX.
Other services by FTX and Huobi
There are other services offered by Huobi in addition to these three. For example, the two companies offer staking services in which people are able to earn by simply holding several cryptocurrency assets.
Also, the two companies have their own token. FTX has the FTX Token (FTT), while Huobi has the Huobi Token. These coins are mostly used to provide incentives to traders in the ecosystem. For example, holders earn their stake rewards and discounts for using the network.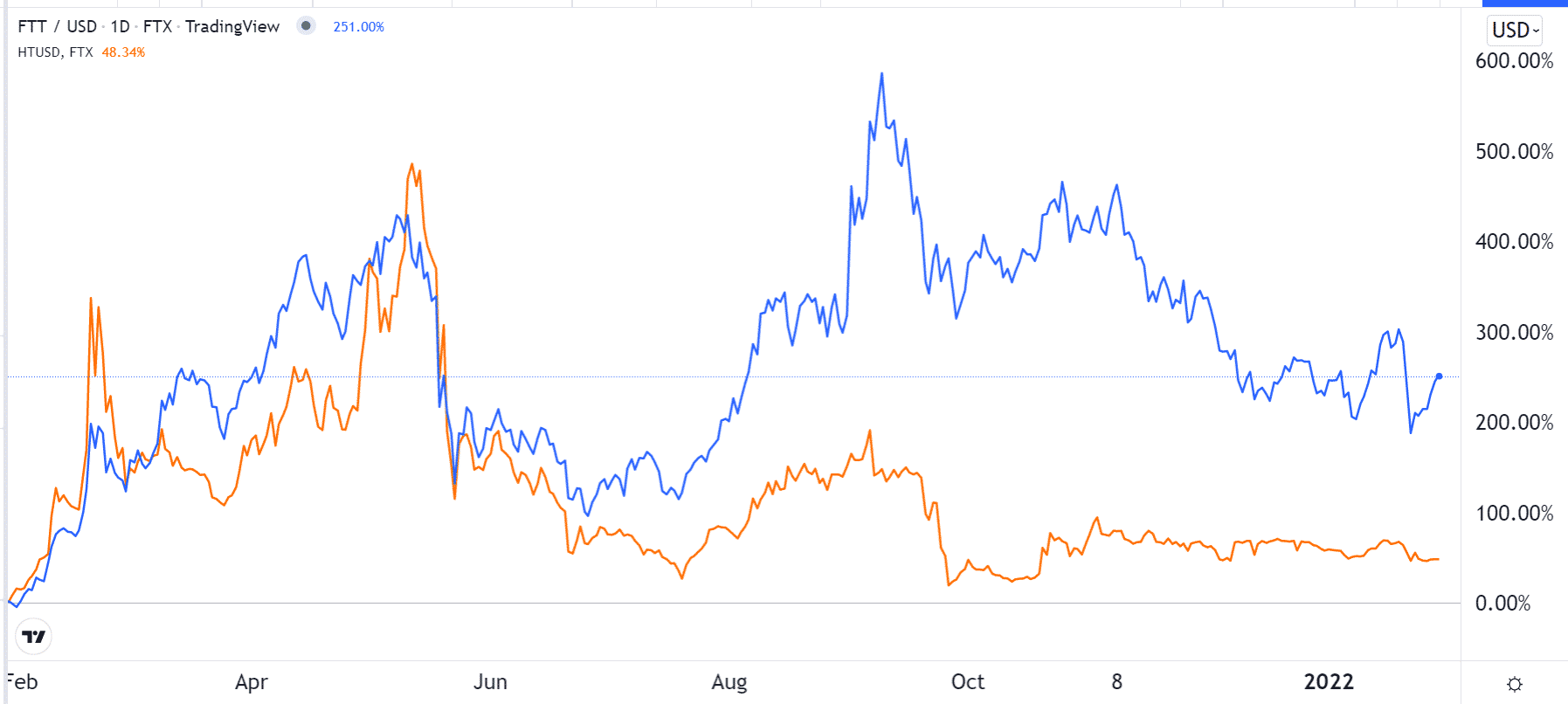 According to CoinGecko, the FTX Token has a total market cap of $5.6 billion, making it the 27th biggest cryptocurrency in the world. On the other hand, the Huobi token is valued at $1.6 billion and is the 62nd biggest coin in the world. The chart below shows the performance of the two tokens between January 28th, 2021, and January 28th, 2022.
Services offered by FTX but not Huobi
While the two companies have similar services, there are some services that are not delivered by Huobi that FTX provides.
First, Huobi has an over-the-counter (OTC) service that allows big buyers to get significant discounts in the market.
Second, FTX provides non-fungible token (NFT) services that allow people to mint, sell, and buy NFTs. Analysts believe that NFTs are the future of the blockchain industry. At the time of writing, Huobi does not have these services, although management has hinted that they will start launching them soon.
Finally, Huobi does not provide services in the US, one of the biggest markets in the world. FTX has maneuvered the situation by offering a separate brand in the US.
On the other hand, there are services that Huobi offers that FTX does not deliver. For example, it has a peer-to-peer payment option that allows people to buy and sell coins amongst themselves.
Summary
FTX and Huobi are two of the biggest cryptocurrency exchange platforms in the industry that a forex trader eyeing crypto market should consider. As shown above, the two firms offer similar services and transact billions of dollars worth of crypto every day. They also have similar fees for their services.
For example, FTX has a maker fee of 0.015% for all transactions less than $2 million. The same is true when you are using Huobi. But the two companies offer discounts when you are using their respective cryptocurrency.