Motivewave and NinjaTrader are two of the most used trading platforms for numerous financial markets like stocks, futures, forex, commodities, and cryptocurrencies.
Each software brand already has a significant user base in the hundreds of thousands who laud their respective advanced capabilities. However, as with any product, you should always compare to ensure you're getting the best deal possible for your pocket and your trading.
So, let's explore the two platforms by highlighting their pros and cons and seeing how they do comparatively.
What is Motivewave?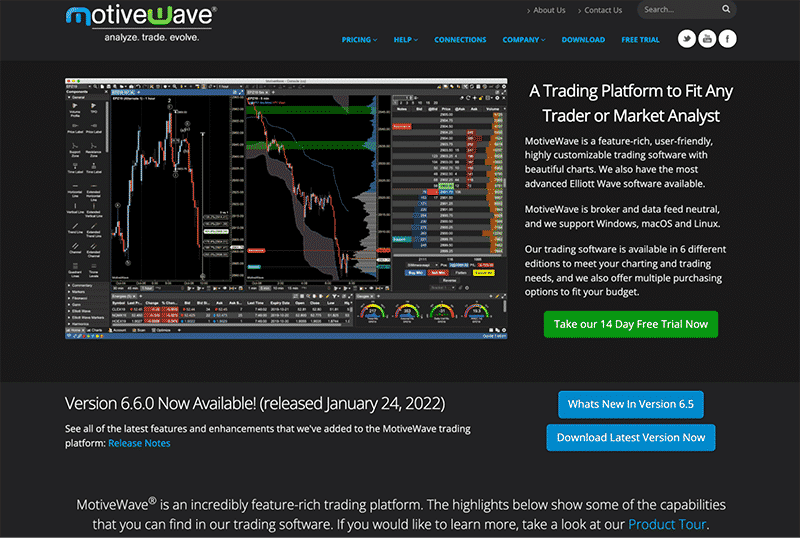 Based in Toronto, Canada, as a privately-held corporation, Motivewave was first established in 2008 initially as software for Elliott Wave analysis (hence the name).
From 2012, Motivewave morphed into a full-featured sophisticated trading platform supporting numerous CFDs. However, it prides itself on being one of the best charting packages for those trading Elliott Wave, Fibonacci, Gartley, Gann, and ratio analysis.
Yet, it doesn't compromise on providing the most feature-rich platform with scanners, backtesting capabilities, trade simulation, automated strategies, replay mode, walk-forward testing, and more.
Motivewave is broker and data feed-neutral as it's presently integrated with over tens of brokers/exchanges like OANDA, Forex.com, TradeStation, Binance, Coinbase, etc., and data services like IQFeed and BarChart.
This software is available on Windows, Mac, and Linux operating systems. Motivewave comes with a 14-day free trial before users have to upgrade to a paid plan (with more features) for live trading or remain on the free 'Community Edition.'
What is NinjaTrader?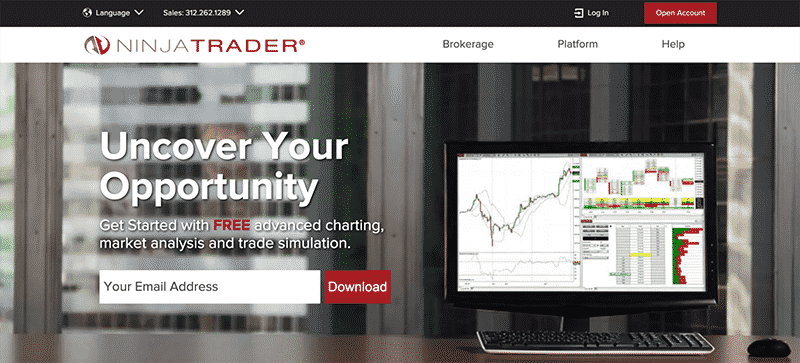 NinjaTrader is an award-winning product of the NinjaTrader Group, initially founded in 2003.
This software-developing corporation is based in Chicago and Denver, America, and also owns the National Futures Association-registered futures brokerage of the same name (NinjaTrader).
NinjaTrader is used by hundreds of thousands of clients worldwide trading various securities with state-of-the-art charting and strategy-building capabilities.
NinjaTrader is integrated with a handful of popular brokerages, namely OANDA, FOREX.com, Cityindex, FXCM, Interactive Brokers, TD Ameritrade, and WH Selfinvest. This permits users to trade more than futures through these firms.
Using NinjaTrader for live and demo trading comes at no cost. For the software's proprietary Trader+ and Order Flow+ products, clients will need to pay a set subscription or a one-time $1099 license fee.
Unlike Motivewave, NinjaTrader is only natively available on Windows-based computers.
Costs and fees
Based on our comparison, we believe Motivewave is more value for money, making it far cheaper. While NinjaTrader is free to use for demo and live trading, special features like DOM (depth of market) and volume-based tools (volume profile, VWAP, volumetric bars, etc.) come at additional costs.
You can choose between quarterly, semi-annual, and yearly leases to have 'Enhanced SuperDOM' (the Trader + package). However, you can only select a one-time lease of $1099 to have that and the volume-based tools, which is a reasonably large sum at one go.
On the other hand, you pay at least $24 monthly or $245 once-off (the 'Standard' package) to have a volume profile and VWAP with Motivewave. For DOM, you'd need to upgrade to the 'Order Flow' plan, which costs $49 monthly or $595 once-off.
Plus, you receive updates and support for one year. Yet, unlike NinjaTrader, where upgrades are costless, you have to pay extra to get the latest version of the software after a year.
Motivewave
NinjaTrader
Platform costs
– Free for 14 days (upgraded needed for live trading, but demo account can still be available, albeit with limited features)
– Standard ($24 p/m or $245 once-off)
– Order Flow ($49 p/m or $595 once-off)
– Pro ($99 p/m or $1495 once-off)
Free indefinitely (but added quarterly, semi-annual, and annual leases for special features)
– $1099 lifetime lease (only if including Order Flow +)
– $720 annually
– $425 semi-annually
– $225 quarterly
Trading automation and backtesting with Motivewave vs. NinjaTrader
Fortunately, both software platforms allow for trading automation and backtesting. For the former, Motivewave uses the Java Software Development Kit for users to develop their automated strategies and custom indicators.
Conversely, NinjaTrader uses NinjaScript, a C#-based programming language. Although both Java and C# are general-purpose languages, the former is much easier to learn in the programming world.
Therefore, traders would have a less steep learning curve with trading automation on Motivewave compared to NinjaTrader. For backtesting, both platforms have the market replay function at no extra cost, which is beneficial for performing this function.
Advantages of Motivewave over NinjaTrader
These are the key advantages of Motivewave over NinjaTrader:
Lower software costs: As previously mentioned, Motivewave is a lot cheaper than its competitor for more or less the same features. Therefore, you can save a lot of money using the former. 
The only slight downside is paying extra to have the latest version of the software.
Greater broker/exchange integration: In this regard, NinjaTrader is quite limited. Contrastingly, over 30 brokers and data services are compatible with Motivewave, including crypto exchanges like Binance, Coinbase, and Kraken.
Many supported operating systems: Motivewave has pre-built software packages for Windows, Mac, and Linux. On the other hand, you cannot run NinjaTrader on the latter two natively; one requires a third-party program.
Advantages of NinjaTrader over Motivewave
The only main benefit we found with NinjaTrader compared to Motivewave is the software has less stringent computer requirements. Running the latest version of NinjaTrader (NinjaTrader 8) needs at least Windows 8.1 (32-bit or 64-bit processor) with a minimum of 2GB RAM.
Contrastingly, your computer needs to have at least Windows 7 using a 64-bit processor and 4GB RAM to run Motivewave. Also, you don't need to pay a fee to have the latest version of NinjaTrader.
Summary
Both Motivewave and NinjaTrader are equally sophisticated regarding features based on the many user reviews we read.
However, Motivewave seems superior for being a cheaper platform, having a comprehensive broker/exchange integration, more native operating system support, and simpler programming language for automated trading.
Of course, this doesn't downplay NinjaTrader as it's also a competent trading platform used by hundreds of thousands of traders globally.
Some might prefer to use NinjaTrader if they find a few specific features not available on Motivewave. However, objectively speaking, Motivewave provides more attractive benefits.