Happy Galaxy is a Forex expert advisor launched by the Happy Forex team. It is a fully automated trading system that is compatible with multiple currency pairs. The vendor claims that it can trade with low risk even when the market is highly volatile. In this Happy Galaxy review, we will look into all the aspects of the system to determine whether it is trustworthy or not.
Happy Galaxy: to trust or not to trust?
Our first impression of this system is quite negative. Looking at the website presentation, we are not at all impressed. The vendor has only given us a short description of the robot, from which it is not possible to determine how exactly it works. We have a list of features and recommendations, along with live trading results and backtesting data. There is a general dearth of information and a lack of transparency which makes us think this system cannot be trusted.
Features
You can purchase this Forex EA for the price of 299 Euros. This gives you access to an unlimited number of real and demo accounts. Additionally, you get a bonus Happy Forex Full Pack containing 10 different EAS, free of cost. If you have purchased the Full Pack EAs previously, you can enjoy a discount of 30%. The vendor has a 30-day money-back policy for this robot.
Happy Galaxy trades in different pairs like EURUSD, GBPUSD, USDCHF, EURGBP, and EURCHF. This robot has in-built methods for gauging the trend's direction and for recovering losses. The vendor has clearly explained how the trading strategy works, which is quite odd. Without strategy-related information, it is hard to determine whether it can perform well in different market conditions.
This is a robot that supports the FIFO rule and is compatible with ECN brokers. It can perform auto-detection of 4 or 5 digit quotes. You can use it with any broker of your choice. Happy Galaxy is compatible with different operating systems like Linux, Mac OS, and Windows. It runs on both Metatrader 4 and Metatrader 5.
The vendor recommends running this EA on H1 charts. You need a minimum of $1000 to get started with this EA, but the recommended deposit is $2000. The vendor provides free upgrades and updates for all customers. There is no official contact information on the website, so we can assume that customer support is provided via live chat. You can also message the support team using the contact form.
Verified trading results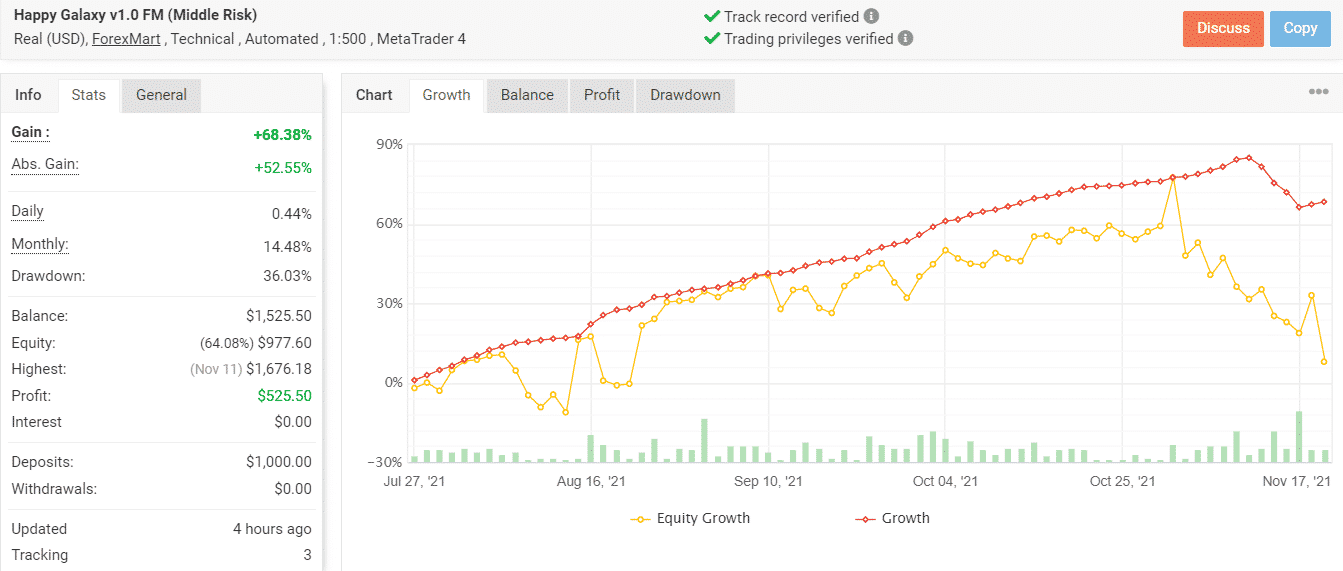 We have a live trading account for Happy Galaxy on Myfxbook. This account has been active since July 2021, and to date, the EA has placed 467 trades through it. Due to the short trading history, it becomes difficult to accurately gauge the profitability of the system from these results.
Currently, it has a win rate of 81%. The daily and monthly gains are 0.44% and 14.48% respectively, while the drawdown is 36.03%. From the high drawdown, it is clear that the EA follows a risky trading approach. The total profit generated through this account currently stands at $525.50. It has a profit factor of 2.01.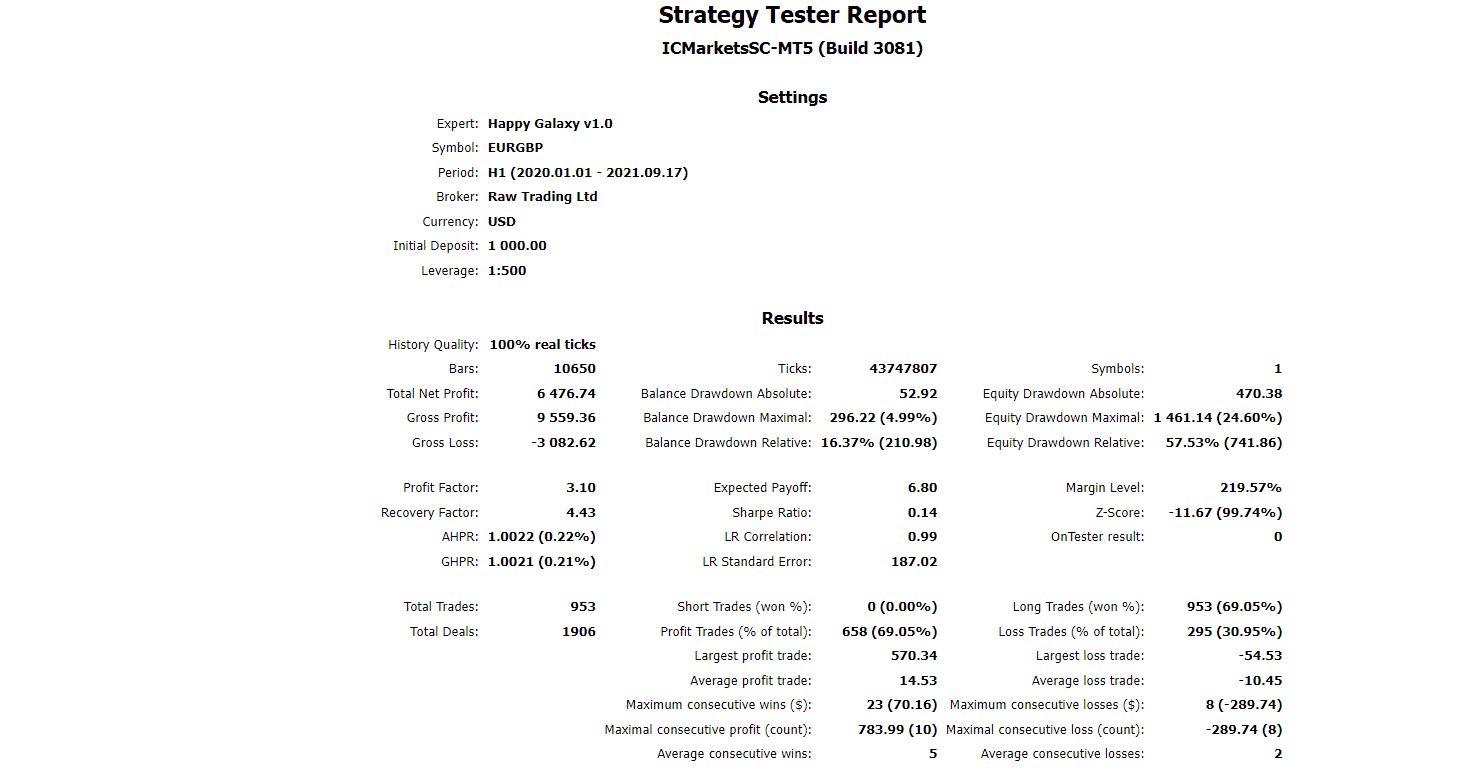 For this backtest, the EA used an initial deposit of $1000. It conducted 953 trades, winning 69.05% of them and generating a total profit of $6476.74. The win rate is significantly lower compared to the live statistics. However, the drawdown is even higher at 57.53%. There were 23 maximum wins and 8 maximum consecutive losses during the testing period. The profit factor for this backtest was 3.10. Here, we should mention that the backtest was conducted between January 2020 and September 2021. This is a surprisingly short testing period.
Vendor transparency
The Happy Forex team is based in Germany, but we don't have too much information on it. We don't have an official address and there is no way to find out about the company's history. Also, the identities of the dev team members have not been revealed. There is a serious lack of vendor transparency and it's a major red flag.
Customer reviews
At this moment, there are no user reviews for this EA on third-party websites. It might take a long time before it manages to gain a reputation for itself.