Dynamic EA is a robot that works with the Metatrader 4 trading platform. According to the vendor, it is suitable for both new and experienced traders and is capable of providing an ROI of 244.75%. You can use it to trade in five different currency pairs. This Dynamic EA review will cover all the important aspects of the system and try to gauge its true profitability.
Dynamic EA: To Trust or Not to Trust?
On the official website, we see the vendor making a brief presentation, highlighting all the main features of the robot. They have shared some of the achievements of this Forex EA and presented some charts and graphs showing equity and profit growth over several years. The presentation also features a video where you can see some of the important figures related to the EA.
Finally, we have the pricing details and short descriptions for the different currency pairs traded by the robot. The vendor has also provided us with contact details in the form of email address and phone number. To us, the presentation looks too brief. The seller has chosen not to share some important details about the system and this makes us wary.
Features 
This is a fully automated system that is sold on a subscription plan. It costs you £15/month, which is pretty cheap compared to the market average. However, the vendor does not provide a money-back guarantee for this robot.
This EA stands by for the breakout and trades the continuation to generate profits. The vendor has not revealed any further details on the trading strategy, and we think this is a major red flag. By studying the technical details of a strategy, we can form an idea about the system's profitability. As such, many traders will be disappointed to see this information missing on the website.
Dynamic EA has in-built money management features that protect your system against losses. It is easy to set up and requires no additional customization. It is advisable that you use a lot size of 0.01 for every £1000 while using this robot. The vendor recommends starting out with an initial deposit of £1200 and using the leverage of 1:500. For every trade, the system automatically applies trailing stop loss and take profit. The company has a dedicated customer support team that can be contacted at any time.
Verified Trading Results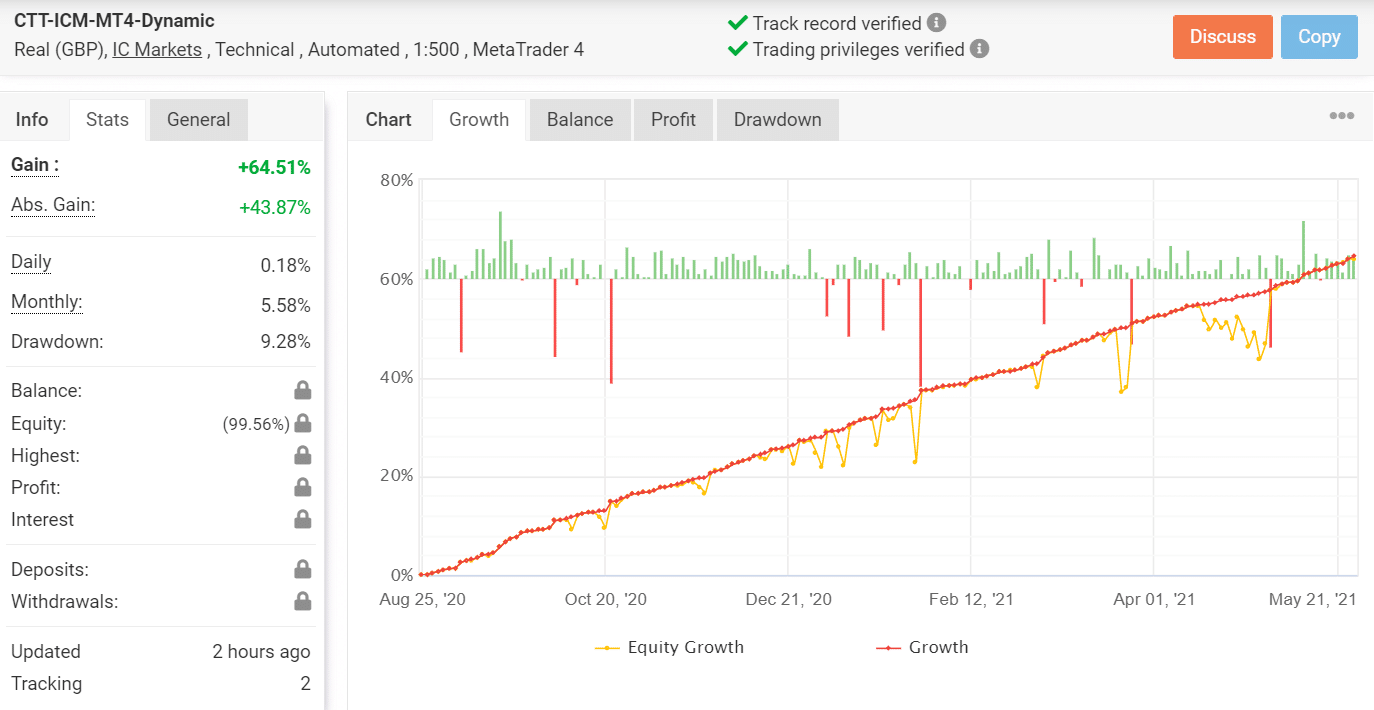 Here we have a live trading account for Dynamic EA that was launched on August 25th, 2020. Since that time, 984 trades have been placed through this account, out of which 609 have been won. This means the system has won 62% of the total trades. Here, we should mention that the vendor has chosen not to reveal certain figures like deposits, withdrawals, profit, interest equity, and balance.
Currently, the daily and monthly profits stand at 0.18% and 5.58%, respectively, while the drawdown is 9.28%. To date, a time-weighted return of 64.51% has been generated through this account, which is not exceptional by any standards. The profit factor of 2.03, however, is more than decent.
We don't have the backtesting data available for Dynamic EA. We were hoping to compare the live trading results with the backtesting data to gain a deeper insight into the system's profit-making capability, but unfortunately, it is not possible. In the absence of backtesting data, we cannot say with confidence that this robot can withstand long periods of market drawdown.
Vendor Transparency
Dynamic EA has been developed by Celestial Trading Tools, which is a company based in England. Apart from Dynamic EA, they have built a similar system known as Sirius EA. We don't know anything about this company's foundation year or exact location, however. The identities of the traders and developers also remain a mystery.
Customer Reviews

There are no customer reviews for Dynamic EA on websites like Trustpilot, Forexpeacearmy, Quora, and Myfxbook. It seems that not many people are aware of this robot's existence as of now. Since there is tough competition in the Forex automated systems industry, it may take some time before traders start noticing this EA.
There are some customer testimonials on the official website, with all of them saying positive things about the EA. We think it is highly likely that the vendor has manufactured these reviews.