Big Bang is a 100% adaptive EA, which is based on:

The developers of this trading software try to convince us that Big Bang is:

Sounds great, but is the system as effective as described? That is the question.
In this Big Bang review, we will provide you with detailed information about this robot and let you know whether this trading tool is worth $1 999 it is going for.
Is Big Bang Worth Its Price?
After out throughout review, we have concluded that BIG Bang EA is not worth $1999:
No trading strategy insight
No trading results provided on the MQL5 market
Extremely high price
No information about a money-back guarantee
Hidden trading activity data
Features
The Big Bang product explanation is quite simple and short. The developer shows recommended currency pairs, timeframes, leverage, and detailed setting description traders need to know to start trading with this EA. Andrey also shows 3 different setups which differ in account size (see their detailed description on the screenshot below):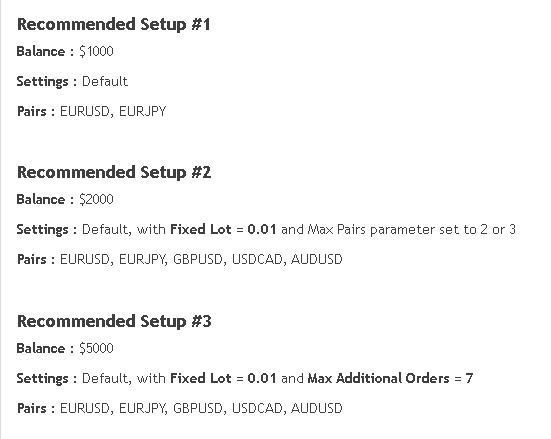 Price
This EA is being sold for 1 999 USD at the MQL5 market. The price is very high, but the good thing about this EA is that the developer offers a free Demo account for those who want to try the product before purchase.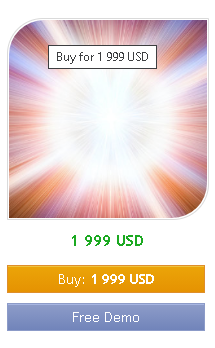 In addition to this, we have not found information about the money-back guarantee. It is a red flag for Big Bang EA.
Trading Approach and Methodology
The developer of this robot does not provide a detailed insight into their trading strategy. All we know about Big Bang EA:

They also provide setting description:

We do not like the fact that the developers of this EA have just forgotten to provide detailed information on their trading approach and methodology on the sales page. It is not a good sign for those vendors who want to succeed in the highly competitive Forex marketplace. Neither experienced trader nor a newbie wants to invest money in a product with an unclear trading strategy. Therefore, we advise Andrey Barinov to add detailed information about the trading strategy of Big Band EA.
No Verified Results from MyFXBook/FXBlue
Taking into account the extremely high price of this expert advisor it is a bit disappointing that the developer does not provide any trading results verified by third-party websites (myfxbook or fxblue).
Andrey Barinow is showing a screenshot from his MQL5 sales page but does not share with access to verify or view this page.

If the developer wants to be trusted, he needs to be more transparent with his customers as well as must upload his accounts to either myfxbook or fxblue.
Well, on the screenshot above we see that an account has gained a gain of 7% in just 1 week of trading. Its deposit was $10K and 651 dollars of profit.
Trading Results (Our Additional Research)
Having a lack of information about the trading performance of this EA, we have decided to conduct additional research and find more information on myfxbook.com.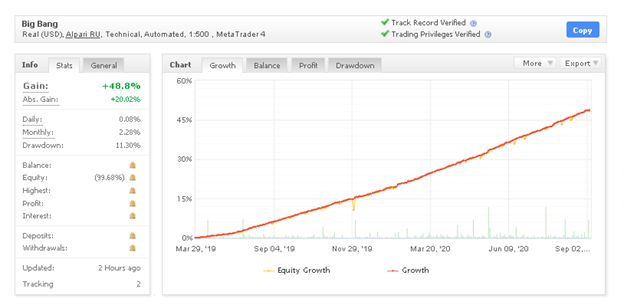 Hidden Trading Activity Data
This is a real USD account, which is working on the MT4 platform with Alpari RU brokerage. It launched on March 29, 2019. It is an active account with hidden trading activity data.

From the day of activation to the current days, the account has obtained a gain of over 48%, with a daily gain of 0,08 and a monthly gain of 2,28%. We need to add that its monthly profit does not exceed more than 3%: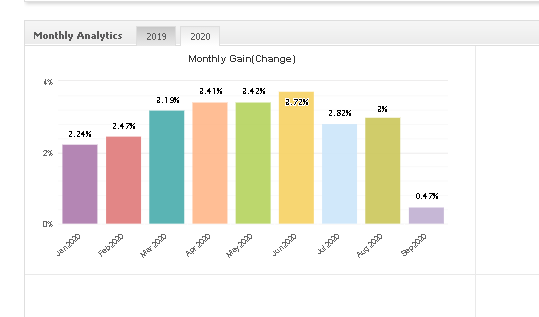 We cannot analyze trading activity performance, because this information is hidden. Therefore, we do not know what the initial deposit was, what amount was earned, and what balance is on the trading account now.
The one thing we know is that the EA is working well, because its growth chart is slowly, but constantly moving up: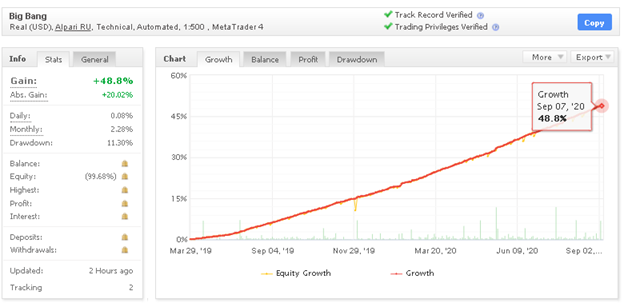 This account is trading multiple currency pairs: AUDCAD, AUDNZD, GBPCHF, NZDCAD, and NZDUSD:

The robot has traded 1056 trades and has won 712 out of 1056 trades, which represents 67%, and lost 344 out of 1056 trades, which represents 33%. It has traded -636 pips with twice higher average loss (-29.02 pips) than an average win (13,13 pips). Its average trade length equals 18 hours and 48 minutes. The profit factor is 1,50. There is no information about profit ($), best trade ($), or worst trade ($) results.

Vendor Transparency
Bing Bang system is owned by Vagabonding Ltd. On the Mql5 market we have found that his tradin tool belongs to Andrey Barinov, located in Russia. Barinov also offers 16 different products on the MQL5 market: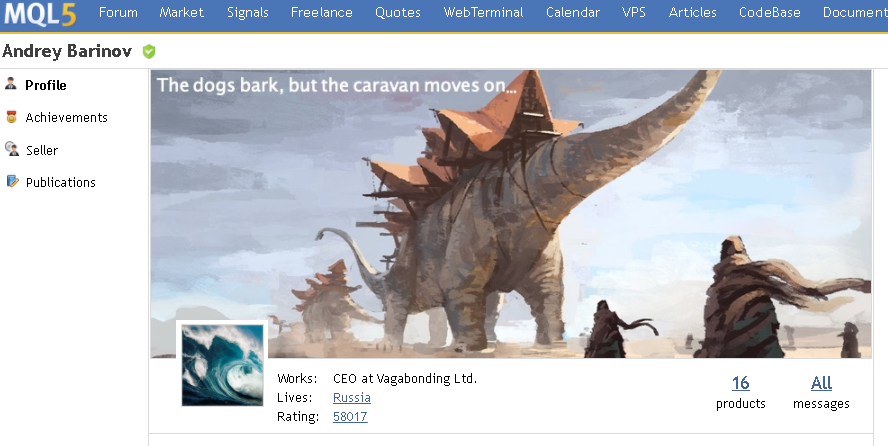 Unfortunately, the vendor provides neither email address, phone number nor social media contacts. However, traders can get in touch with support through Barinov's MQL5 profile page.