TradeSanta is a crypto-related trading bot that can be used by everyone. We can trade crypto like a professional trader with a powerful terminal, signals, and bots. So, it's possible to trade faster to maximize our results.
How does TradeSanta crypto bot function?
The presentation includes various explanations about how the system functions and what we may expect from its performance.
We can rely on automatic trading that allows us not to execute orders manually.
Bots have various strategies that can be used in both directions.
It's possible to work with several exchanges at once using a one-window terminal.
The application allows us to manage and track bot's trading activities.
The indicators to work are: MACD, RSI, Bollinger Bands.
We can receive signals from TradingView.
The developers are going to design a marketplace.
Most likely, there will be signal providers and people who can buy them.
There are various profitable strategies on the board.
We can work with leverage to make more profits.
The system works in both directions.
It provides us with a possibility to implement stop loss, trailing stop loss, and stop signals features.
It's possible to demo trading before going live.
We have also take profit and trailing take profit features applied.
The installation process takes 10 minutes.
We should have on the balance at least $10 to get started.
There are various cryptos supported: Ethereum, Binance coin, Solana, Cardano, Ripple, Terra, Polkadot, Dogecoin, Litecoin, and more.
There's welcome and knowledgeable support.
The robot will work through API keys with our account.
TradeSanta review–positive aspects
The bot trades automatically
It includes various strategies
It supports placing SL and TP levels to cover our orders
TradeSanta review–negative aspects
No team revealed
No risk or money-management advice given
No backtest reports provided
No trading results available
Time in business
The developers have got together in Fall 2018.
Reputation
The company has an average reputation according to the testimonials.
Supported exchanges
The following exchanges are available for trading: Binance, OKEX, Coinbase, Huobi, Binance Futures, HotBTC, FTX, Bybit, and Kraken.
UI of TradeSanta

The user interface should be welcome and easy to work with. It's a pro because a few people among clients have proper trading experience to read charts.
Key features of TradeSanta
The robot tardes automatically.
There's SL and TP levels.
We can get started with as low as $10.
How to get started on TradeSanta?
We should install the system and attach it to our exchange. So, we may customize it if we know how.
How secure is TradeSanta?
The system works with the market through API keys.
Customer support
Among comments on Trustpilot we have both claims about positive and negative trading experiences of people.
Are traders happy with TradeSanta?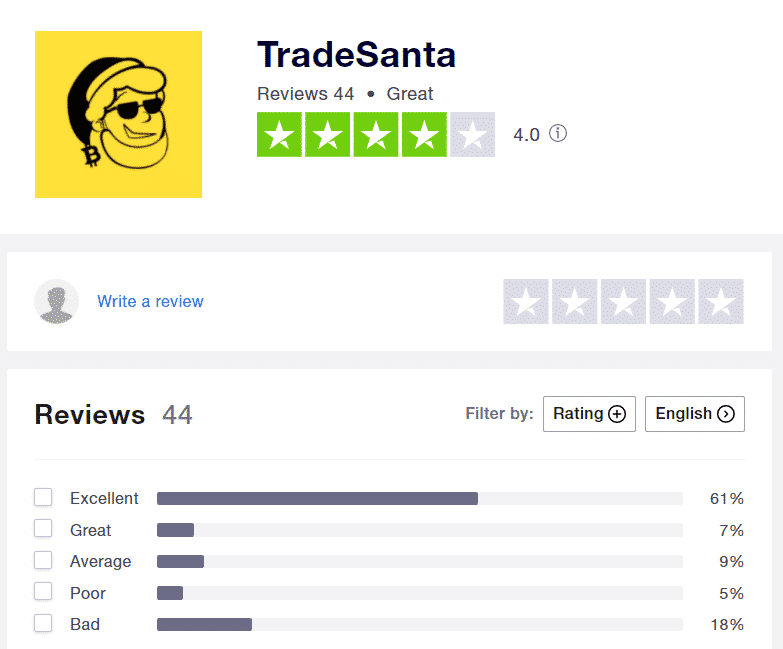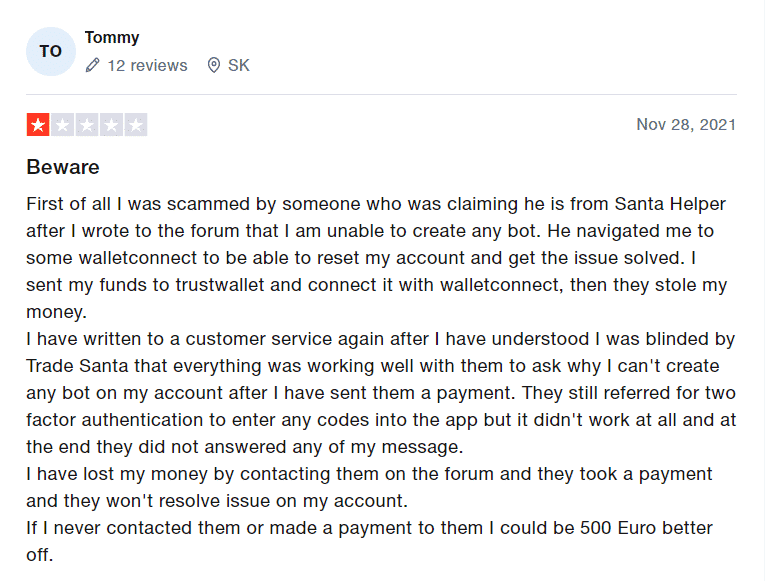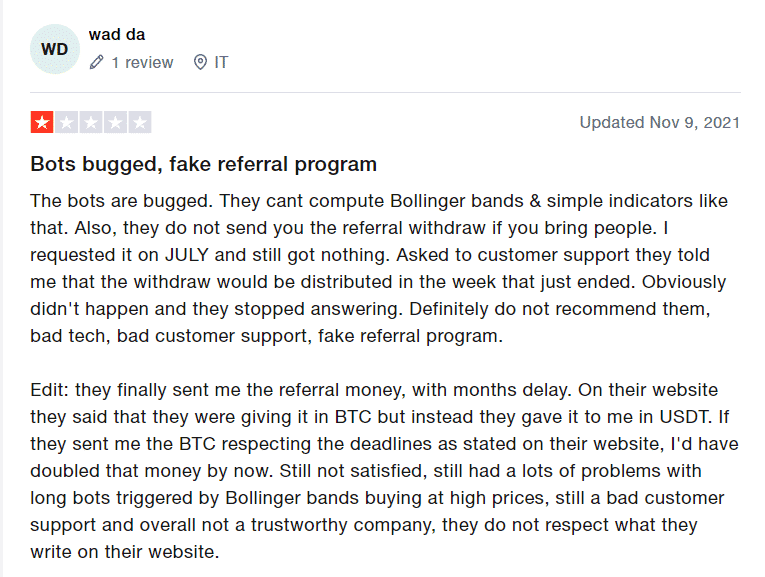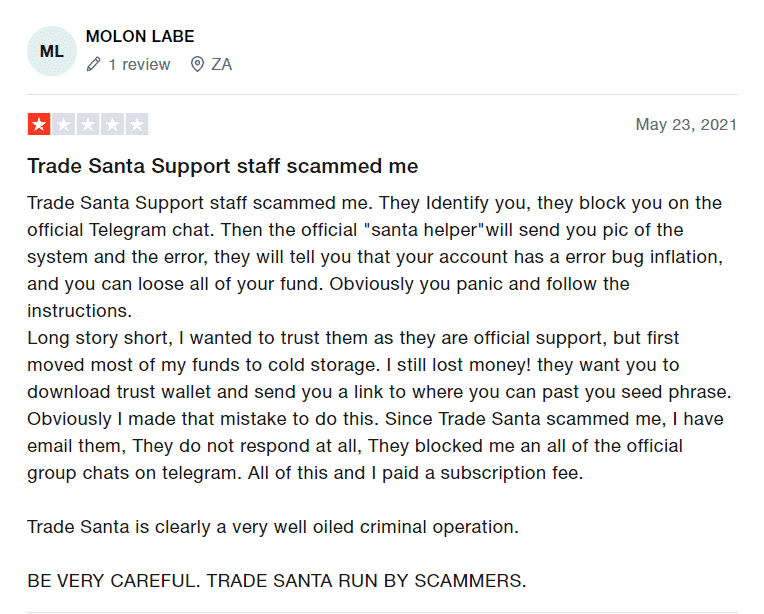 There are various negative comments available that claim this service for their experience of using it.
Pricing and fees
The basic subscription pack costs $15 monthly. There are 49 bots, an unlimited number of pairs, and all strategies. The Advanced pack costs $27 monthly and we can rely on 99 bots, Telegram-notifications, trailing take profit feature. The Maximum pack costs $35 monthly. There are no limits. We can work on Binance, Coinbase Pro, Huobi and HitBTC. The ultimate pack is featured by an unlimited number of bots.
Is a free trial available?
The trial period can take 3 days.
Languages supported
Right now the system only supports English.
What kinds of traders is TradeSanta best suited for?
TradeSanta looks like a system for all types of traders. There's no restriction based on our experience.
Company information
TradeSanta was registered as TradeSanta Global Limited. BVI Business Company–BVI COMPANY NUMBER:2069399. The developers have got together in Fall 2018. The advisor received some major updates in 2020: added some extra exchanges and various features updated. So, they focus on providing trading solutions for everyone.
TradeSanta verdict: should you get it a try?
TradeSanta is a trading solution that manages various strategies and can help us with automatic orders execution. The presentation includes features' explanations but lacks backtest reports or trading results. So, we can't be sure that the system is profitable here and now. In addition, we have many negative testimonials written about the system and the support in general.