The metaverse is a digital world where people can interact in 3D using special characters and avatars. It's built on blockchain technology, and the Solana network is one of the most popular blockchains for aiding this metaverse transition. Because of its low fees and fast transaction speeds, it is attracting an increasing number of crypto enthusiasts. Within a year, its value had risen by thousands of percent. In this article, we will explore the top 5 Solana metaverse coins by market capitalization, from highest to lowest.
Distinctive Solana features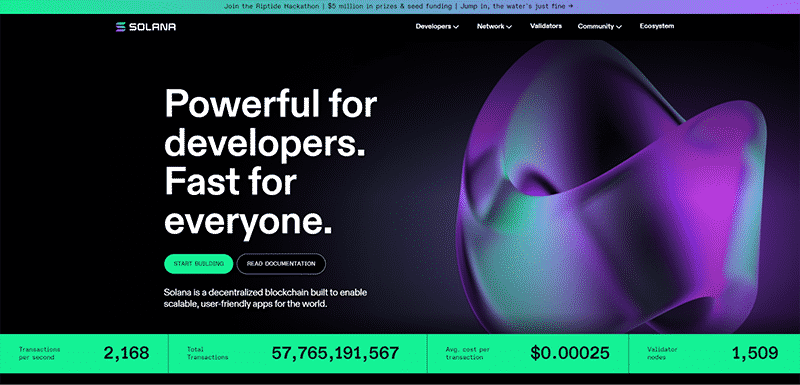 The Solana blockchain is one of the greatest blockchain systems for game creation. It has a market capitalization of $29,522,276,946.93.
According to the Solana project team, its system operates at 50,000 transactions per second. Many investors believe that in the near future, transactions will be much quicker.
Other metaverse coins are built on the Solana blockchain, in addition to the SOL currency.
As demonstrated in Solana's projection, Solana's SOL gives a good theoretical foundation for producing additional value through deflation. The currency is expected to continue doing strongly in the next few years, as it has in recent weeks.
The blockchain is operated using proof of history (PoH) and proof of stake (PoS).
Star Atlas (ATLAS)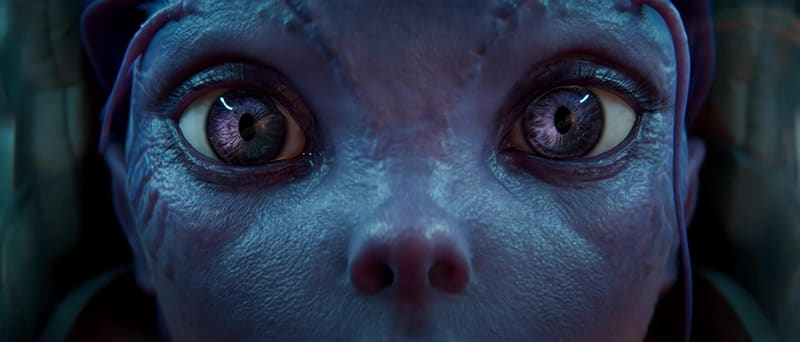 It is a massively multiplayer online game (MMOG) set in space that is presently under development. Space exploration, territorial domination, and political power are all major themes in the game. The development team intends to produce a metaverse experience that will disrupt people's social, economic, political, and governance interactions in general. Star Atlas may be thought of as a virtual universe that exists alongside the actual world but is not constrained by geography.
Star Atlas intends to include a rich virtual economy, with cargo transportation, travel, fuel management, and defensive powering all becoming economic concerns for players. Players may earn in-game money in a variety of roles, according to their whitepaper.
$ATLAS and $POLIS are the two primary currencies in Star Atlas. $POLIS is a low-velocity store of value with a fixed supply, while $ATLAS is an inflated currency used for selling in-game assets. While $ATLAS is gained (and spent) through fighting and exploration in the game, $POLIS grants players ownership and administration of space cities.
Solice (SLC)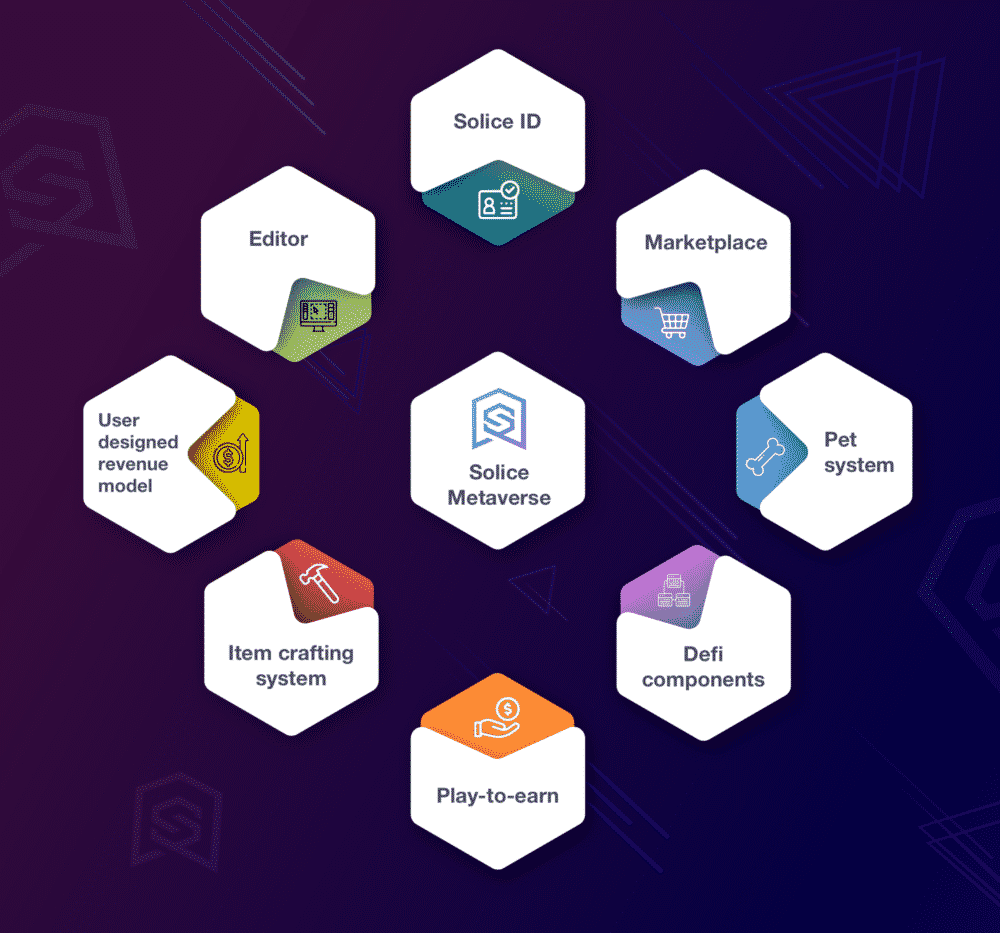 It is an open 3D world with endless possibilities: a VR metaverse where users may play, construct, own, socialize, and monetize their virtual experiences in an engaging way. It is a metaverse comprising virtual worlds, NFTs, and communities that are all connected.
Multiple platforms are supported by this metaverse, removing the barrier of disparate hardware, software, and operating systems. This allows more people to invite and interact with their friends and family, increasing the user base's exponential growth potential.
As NFTs, players will be able to gather a variety of creatures, jewels, and other items. Users will be able to develop original assets, mini-games, and construct on top of their own land plots in addition to getting collectibles. Users may earn tokens and other rare assets for completing quests, clearing dungeons, and reaching leaderboards by actively engaging and developing in the metaverse.
Afflarium (AFFL)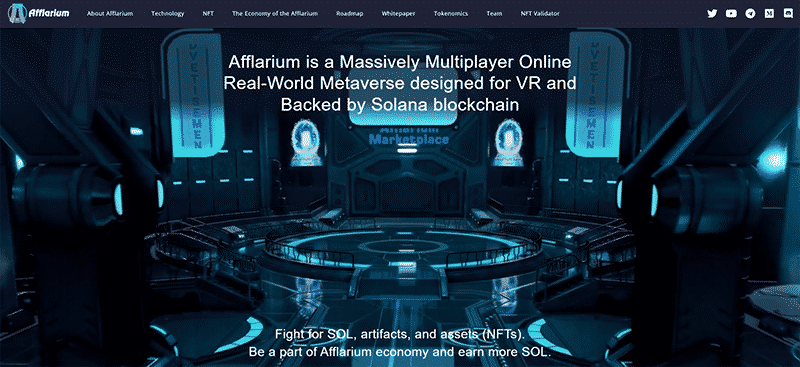 Here is another MMO metaverse that may be played in VR, on a desktop, or on a mobile device. It does not have a predetermined narrative that the player must follow from beginning to end. The player is in charge of their own journey as they navigate the realm of possibilities.
It employs a real-world economy based on blockchain technology to provide a one-of-a-kind gaming experience. Your digital assets are yours to own, control, and profit from. The transactions and ownership of any digital assets in Afflarium are safely safeguarded by blockchain technology. Through the VR experience, assets become virtually tangible, each with its own function and purpose in the game. Assets, in contrast to other games, are far more than just collectibles.
Good Games Guild (GGG)
GGG is a Gaming Hub that strives to build the greatest Metaverse economy by maximizing the value of its assets. Play-to-Earn games, Rent-to-Earn NFTs, and Stake-to-Earn GGG are some of its primary features.
It invests in Play-to-Earn games as well as in-game assets to sponsor millions of Play-to-Earn gamers. Their business approach generates real-world value via fundamental metaverse economics and distributes earnings to token holders. The money gathered by Good Games will be used to create a profitable game asset from which the Guild may profit. GGG and users may purchase and sell items linked to the game through the NFT marketplace, which includes anything from artwork to virtual in-game materials.
The Good Games mobile app is intended to assist users, particularly academics, in keeping track of their achievements, rankings, and rewards earned from games played. The program also features a function that allows users to convert incentives into fiat cash, which they can then withdraw without having to go to a centralized exchange, which takes longer and is more expensive.
Synergy Land (SNG / ACN)

It is a blockchain multiplayer ARPG game being developed by Synergy Studio using Unreal Engine and the Solana Network. It is situated in a fantasy world separated into four ecosystems, each based on the elements of earth, water, fire, and ice.
It makes use of the enormous potential of the Play-to-Earn approach to give gamers back their efficacy. The player will assume the role of various types of heroes while exploring dungeons with up to four other players in a great adventure against extremely powerful creatures, all while using a fully dynamic and innovative spell system that allows players to combine elements to cast spells, resulting in new beneficial or harmful synergies.
PVE, PVP, and Pets are just a few of the game's upcoming features. Furthermore, the game has a Synergy System that allows players to build strong weapons and gain an advantage in PVP battle.
Summary
Solana is the world's fastest blockchain and crypto's rapidly-growing ecosystem, with thousands of projects. Solana can execute far more transactions per second and provides significantly cheaper transaction fees than competing networks like Ethereum. The top 5 Solana projects to consider investing in are Star Atlas, Solice, Afflarium, Good Games Guild, and Synergy Land.