Napbots automatically trades cryptocurrencies on multiple exchanges and aims to make the process easier for investors. Traders can manage trades on several brokers from one central account and copy the presets from other market participants. Users can take advantage of their Altcoin, pre-built, AI, trend following bots, etc. This review will help traders understand the bot, its functions, subscription plans, etc.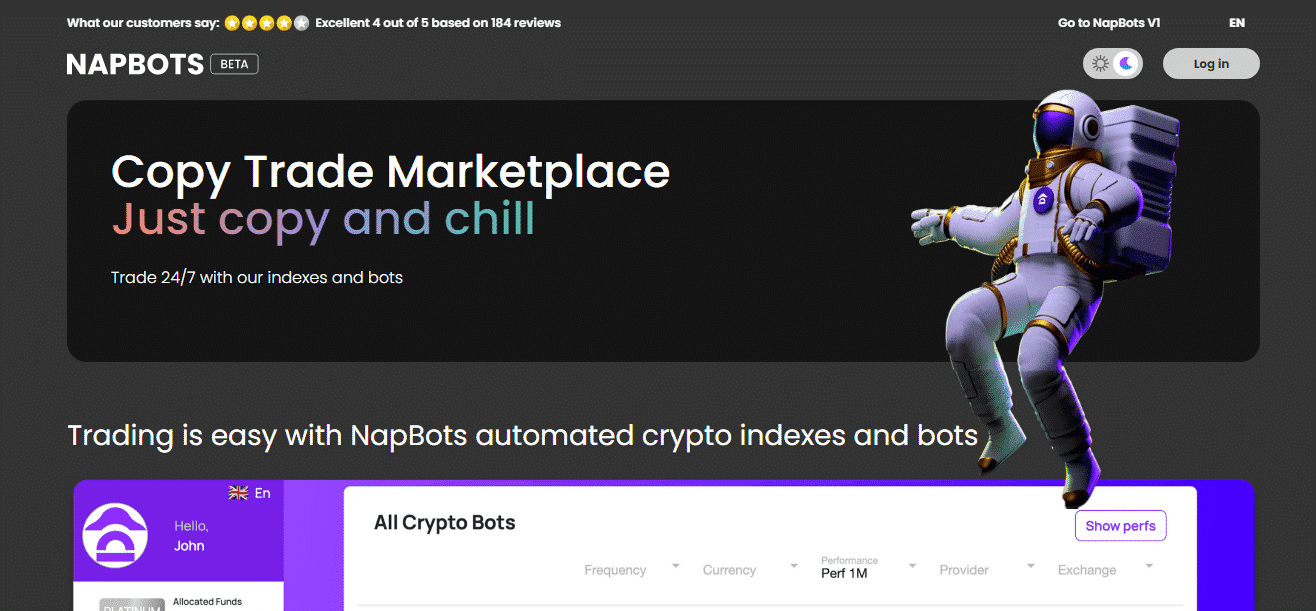 How does Napbots crypto bot function?
Napbot is an automated crypto bot with different strategies designed to increase returns. The algorithm processes real-time market data and provides trading on several cryptocurrency exchanges, including Binance, Houbi, and more via APIs.
Napbots review–positive aspects
Some of the positive aspects of using this bot are as follows:
No experience is required to use the platform
Multiple exchange accounts can be managed with one subscription
Napbots review–negative aspects
Disadvantages of using this algorithm include:
It supports a limited number of exchanges
Subscription plans are costly
No mobile application
Time in business
The bot has been in business for about two years, as it was launched in 2020. It is a trademark of Coinshare Technologies Limited. The developer claims to be featured in Forbes, Coindesk, Benzinga, and Cointelegraph, but no certificates or links can verify these claims.
Reputation
Napbot is an average trading bot that automates trading according to the trader's strategies. The users of this robot have left mixed reviews of their experiences with it on trusted platforms, and the algorithm is handled by CoinShares International Limited subsidiary.
Supported exchanges
Napbot is compatible with a few exchanges, including Binance, Kraken, FTX, OKEX, Houbi, and Bitfinex. The company is working to support other brokers soon.
UI of Napbots
The UI of the Napbot platform is user-friendly, as most of the information about the product is present neatly on the website. The dashboard provides easy and accurate tools for portfolio tracking.
Key features of Napbots
The key features of Napbot are as follows:
No programming knowledge required
Multiple exchanges can be managed from one central account
24/7 automated trading
Trades can be automated in auto-rebalancing (long-term strategy) and day trading options
It supports multiple investment styles
How to get started on Napbots?
Traders can start using these bots by creating an account on the platform. Connect your API key to your exchange. After linking your portfolio, select the preferred bot from the list. Choose the subscription offer according to your needs, which the platform also recommends based on the strategy. Enter the trading amount and activate the algorithm.
How secure is Napbots?
Napbots is safe and secure as it cannot withdraw or deposit assets from your exchange: the bot only initiates orders. However, traders should note that trading in the crypto market is always risky, and profits are not guaranteed.
Customer support
Traders can contact customer service for help, support, and general queries. A form is present where you can submit your questions or problems, and they can be reached through a phone number and email. There are social media links where users can ask anything from the community of investors.
Are traders happy with Napbots?
Traders have mixed reviews on trusted platforms. One of the users expressed his disappointment with the bot by saying that it was not effective as promised.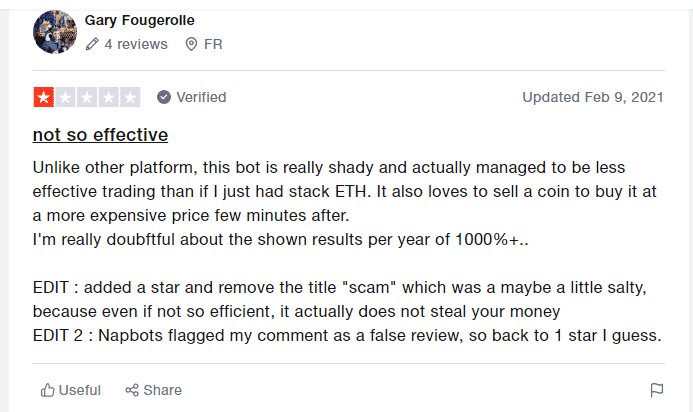 Pricing and fees
The subscription plans of this bot include monthly and annual offers. The packages are present for different traders according to their requirements. The monthly plans are for 19, 49, and 99 Euros/month, whereas users can get two months free if bought yearly.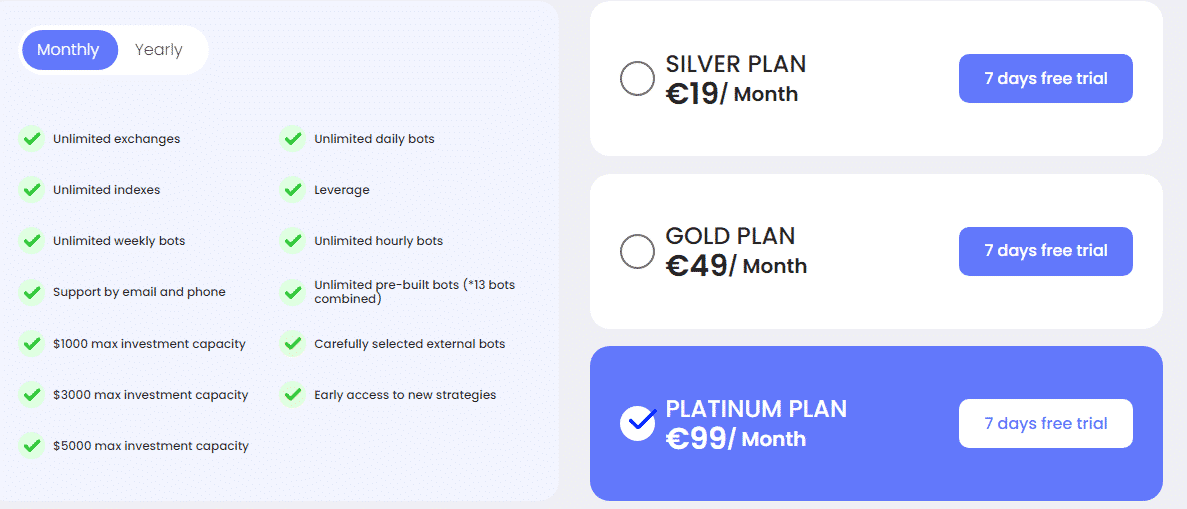 Is a free trial available?
Yes, a free trial is available for a week where traders can test the strategies and performance of their bots.
Languages supported
Napbots is available in French, English, and Turkish. The current support is limited, which is not a good outlook for the platform.
What kinds of traders is Napbots best suited for?
Napbots is suitable for beginners. It comes with several pre-built strategies and indicators that do not require coding skills.
Company information
The product was launched in 2020 with its company based in Paris, France. The Napoleon crypto group owns it, and they have previously developed many bots. The company was founded in 2016 by a team of developers Dr. Arnaud Dartois, Jean-Charles Dudek, and Stephane Ifrah.
Napbots verdict: should you get it a try?
Napbots has been in business since 2020 and supports only a few exchanges like Binance, Kraken, etc. There are no backtesting or live records for this EA. The developer does not guarantee any profit and warns traders to use it at their own risk.