A trading robot is a programmed tool that helps traders and investors open and close trades autonomously so long as precise conditions are met. In recent years, the role of these robots has been increasing as the concept of high-frequency trading (HFT) and algorithmic trading becomes popular.
Indeed, many hedge funds and investment bankers are hiring thousands of programmers and mathematicians on a daily basis. In this article, we will look at the best approach to buying a forex trading robot.
Why buy a forex trading robot?
There are two main approaches to using a forex trading robot. You can build and use it on your own based on your time-tested day trading strategy. To do this, you need to be an excellent trader who has been in the industry for a while. Also, you need to have excellent programming skills to build your own bot.
Alternatively, you can decide to buy an already-developed day trading robot. Here are the reasons why many day traders prefer to use this method.
They don't have time to build and backtest a forex robot.
They lack the necessary skills to develop their robots.
They have found a reliable and better-performing robot.
A robot can be implemented on most day trading platforms. For example, in MetaTrader 4 and 5, robots are known as Expert Advisors. If you use one of these, you can buy or download the robots in the MQL4 platform and the MQL5 platforms.
How forex trading robots work
The basic idea of a forex trading robot is relatively easy to understand. As a day trader, you use several technical indicators to identify buying and selling opportunities. For example, you possibly use an hourly chart to buy when the 14-day and 28-day exponential moving averages make a bullish crossover.
Therefore, you can sit and wait for that situation to happen. Alternatively, you can use a robot to automatically open a trade when the two moving averages make the crossover. Also, you can program the robot to identify these opportunities across the various financial assets that you focus on.
There's another type of forex robot that does not execute trades. Instead, it scours your selected markets, identifies trading opportunities, and then gives you a notification. You can then do more research about the price action and then open the trade.
How to buy a forex robot online
Buying a robot is a relatively simple process, especially for experienced day traders. However, it is also a risky process, which has pushed more people to lose a substantial amount of loss. Therefore, following the following steps can help you find the best one.
Use credible marketplaces
The first step in buying a good forex robot is to identify a credible marketplace. Fortunately, there are several of these marketplaces that you can use to day trade. As mentioned above, for most traders, the best markets are the MQL5 and MQL4.
These marketplaces are excellent because they are vetted by the MQL team. Also, they have a critical mass behind them. The chart below shows some of the expert advisors available in the MQL5 platform. As you can see, there are robots that sell for just $30 while others go for more than $1,300. In fact, if you dig further, you can see others offered for free.
MQL5 marketplace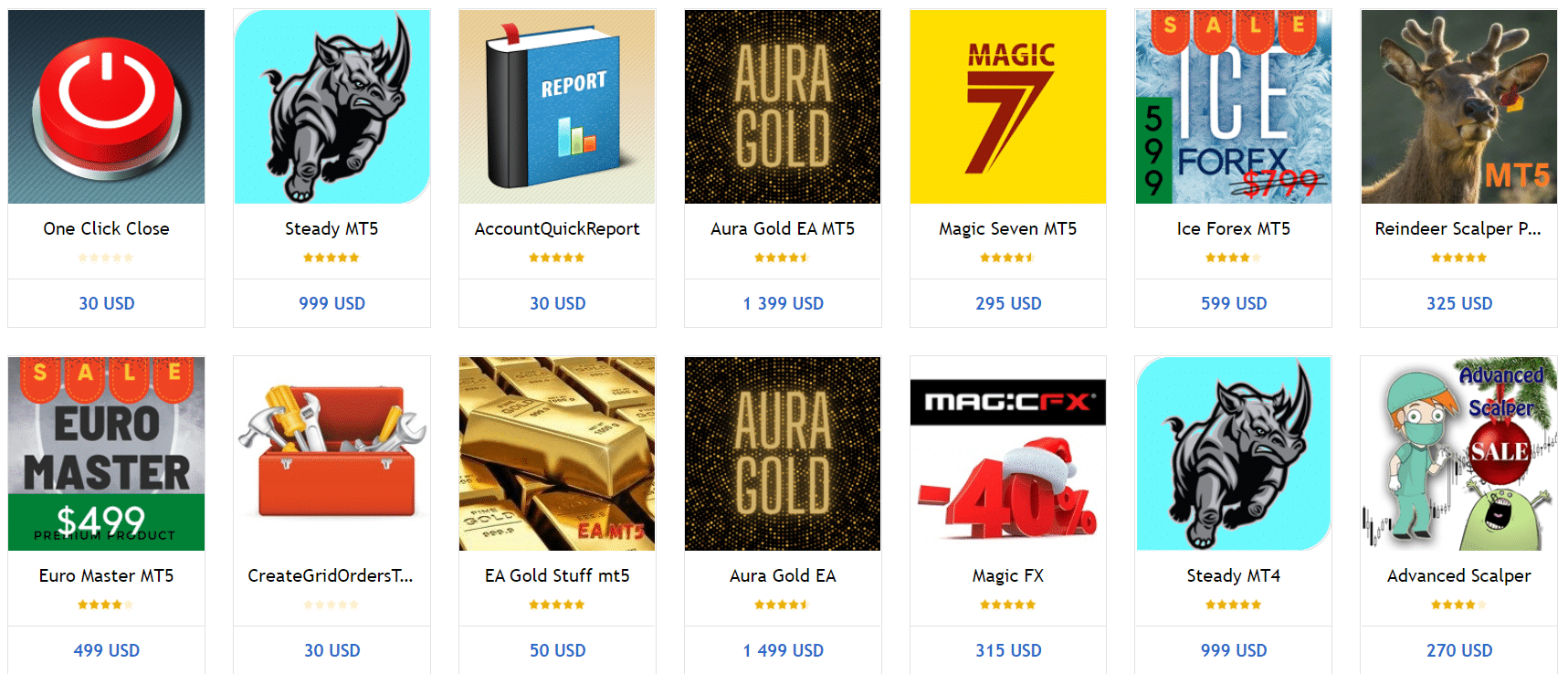 Alternatively, you can try and find some specific robots using Google. While it is possible to find good robots using this approach, it is often risky.
Read details 
The next stage of buying a good forex trading robot is to read the details of how it works and the overall reviews. Every robot will be accompanied by a full description of how it works, how to set it up, and how to manage risks.
This is an important aspect because robots are developed with different approaches. There are those robots that are developed with scalpers in mind, while others are developed for long-term position traders. Therefore, if you buy a long-term bot, it might not work well when executing scalping deals. The screenshot below shows the description of a random robot.
Robot description example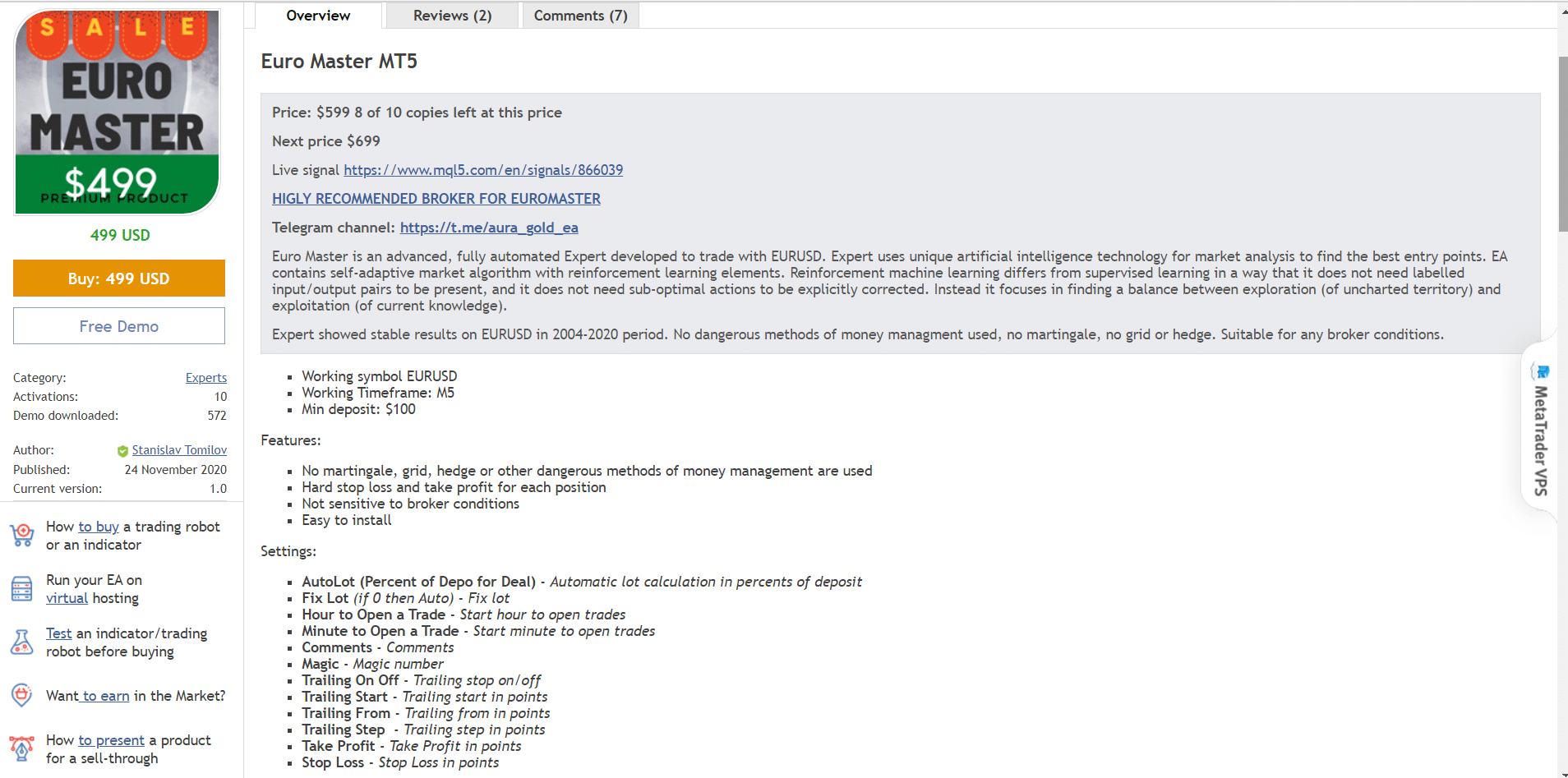 Read reviews
Before you buy a forex robot, it is important for you to read reviews of its past users. This is similar to what you do when you are shopping on Amazon. You identify an item and then read reviews from credible past visitors. Reviews will specifically give you more details about the experience of the previous users.
While reviews are good, you need to be careful about their authenticity. That's because many forex scams usually come loaded with lots of reviews, many of which are not authentic.
Use MyFxBook
The next important resource you need to use is MyFxBook, which is a free web platform that has reviewed and backtestedd thousands of forex robots. The company uses real data to do these backtests, making them highly effective. The screenshot below shows the performance of a robot known as Anthony Wins. 
As you can see, the robot has opened 425 trades, with the average win being about 45.25 pips. Longs won were 70%, while shorts won were 73%, with the best trade being about 1,023 pips.

In addition to MyFxBook, you can download the demo and conduct a comprehensive backtest yourself. Fortunately, MT4 and 5 have a useful tool to conduct this backtesting. You access it by going to View and then strategy tester, as shown below. Your results will be similar to those offered by MyFxBook.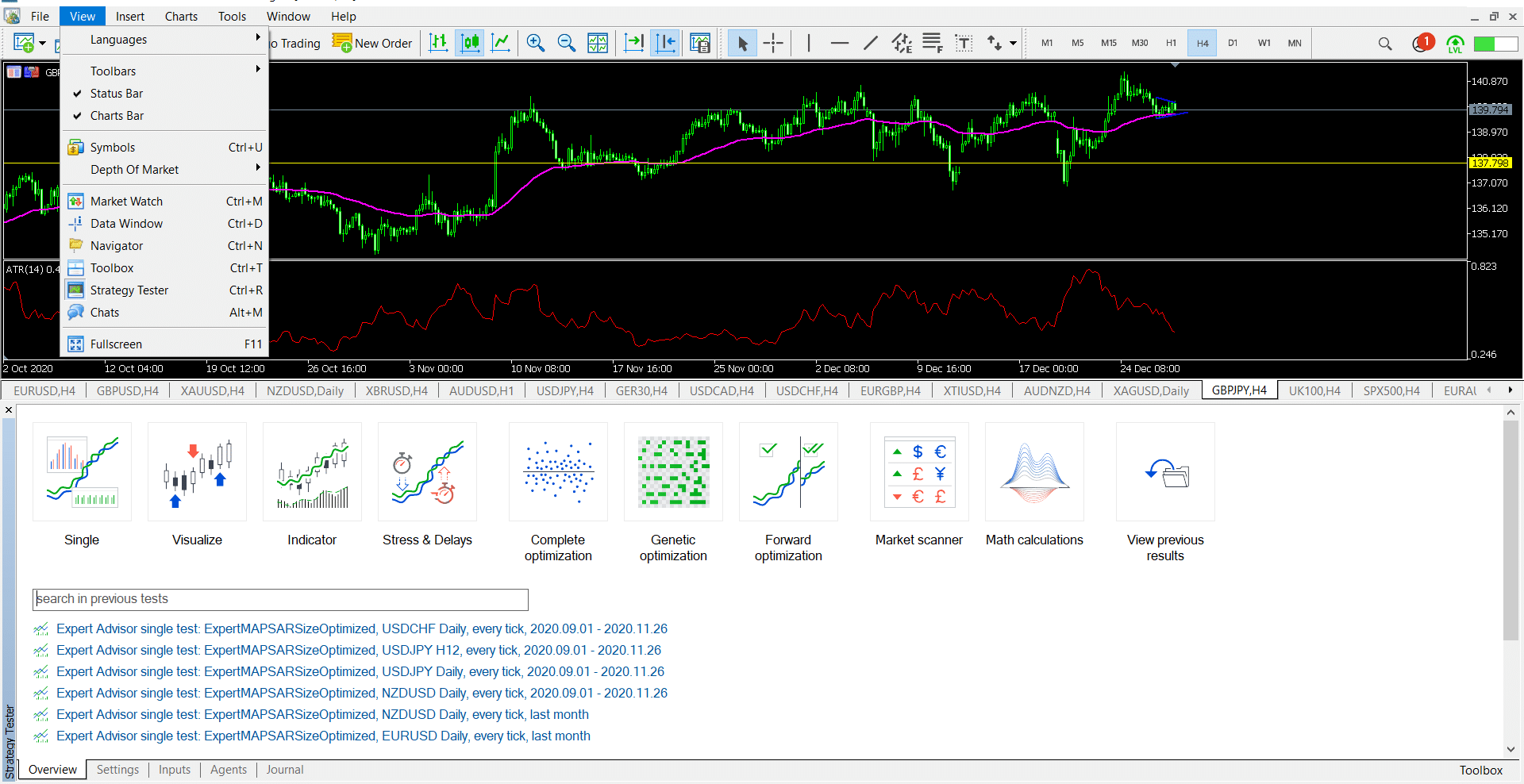 After going through all this, you can buy and implement the robot based on its description.
Final thoughts
A forex trading robot is an excellent tool you can use to identify trading opportunities. It is also an excellent tool that can help you simplify your day trading process. For example, a broad robot can scan the market in seconds and identify opportunities. However, you should spend a lot of time doing your research before you commit to buy a robot because of the vast amount of scams in the market.