Coinrule is a crypto trading bot compatible with various exchanges like Binance, Kraken, etc. It does not require any coding skills to automate your strategies and is based on the "if-this-then-that" principle. The platform lets users backtest their robots on historical data and see their performance. This review aims to determine the importance of these algorithms for traders of all levels in today's market.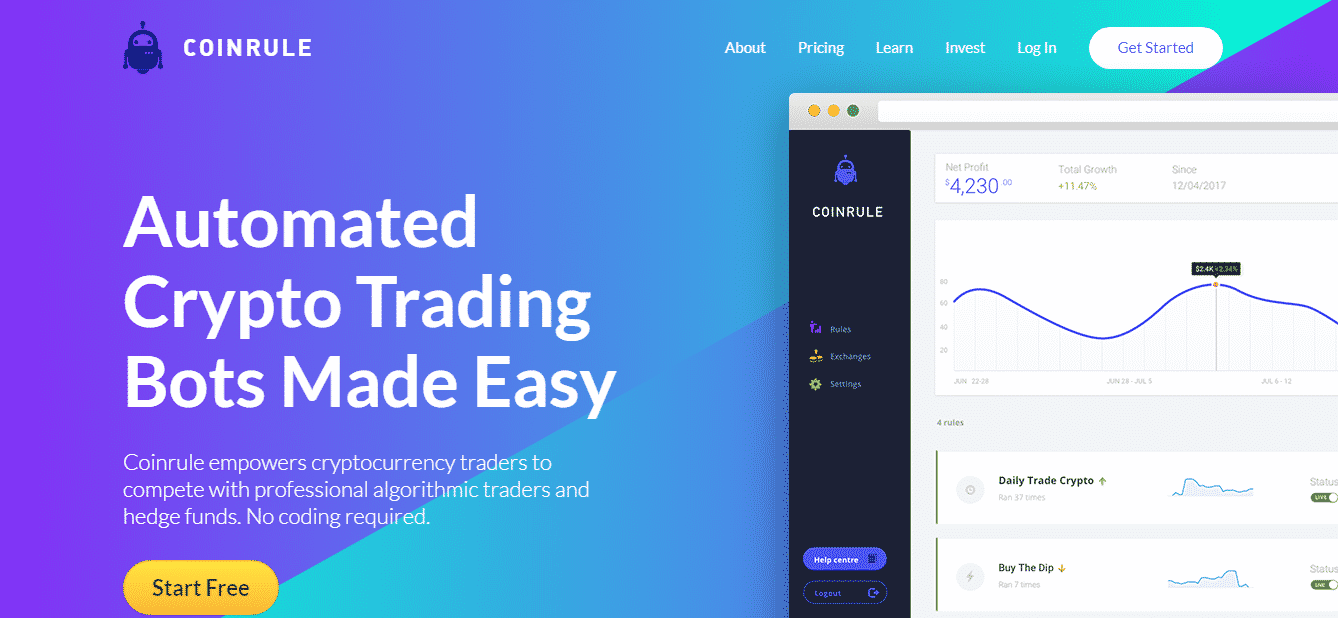 How does the Coinrule crypto bot function?
Coinrule enables traders to choose from available rules or create customized templates for trading. It uses several strategies based on the IFTTT logic such as RSI, moving averages, trend following, risk management, etc. The bots follow the coded settings and place orders accordingly on the investor's behalf.

Coinrule review–positive aspects
It offers a free demo account with a few live and demo strategies
The platform has high-level security measures
Coinrule review–negative aspects
The platform supports a few cryptocurrency exchanges
The technical indicators work on some exchanges
It has costly pricing plans
Time in business
Coinrule has been offering trading services since its launch in 2018. It is developed by a group of professionals to provide an accessible system setup for beginners and experts.
Reputation
Coinrule has a team of developers and engineers behind it and is featured on reputable websites like Forbes, Business insider, etc.

Supported exchanges
Coinrule allows traders to trade several coins on the following exchanges:
Binance
Bit Panda Pro
OKEX
HitBTC
BitMex
BITFINEX
Coinbase Pro
Bitstamp
Liquid
Kraken
Poloniex

UI of Coinrule
The user interface of Coinrule includes all the essential tools and features of the bots. The working and trading approach is defined with details for traders. The platform states that they aim to provide an intuitive dashboard for investors of all levels.
Key features of Coinrule
The critical characteristics of Coinrule are listed below:
The platform is fully automatic and requires no coding skills.
Traders can use over 150 templates or rules for strategies.
The website includes a free calculator that calculates the estimated future profit.
It employs different techniques to minimize losing funds with stop-loss and risk management.
How to get started on Coinrule?
Getting started with Coinrule is in the following steps:
Signup on to the platform with your credentials
Select a cryptocurrency exchange or use a demo exchange for testing your rules
Choose a trading strategy or a built-in template
Set conditions and actions for the bot
Save the setting and launch the bot
How secure is Coinrule?
Coinrule claims to have military-grade security and encryption in its system. It stores encrypted API keys and uses Cloudflare protection against DDoS. It provides an extra layer of security with two-factor authentication.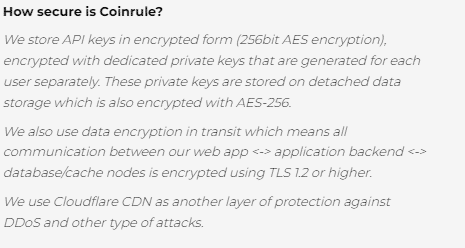 Customer support
Traders can contact the support for inquiries and queries via a live chat that replies within 24 hours. The website mentions an email address and a link to social media profiles.
Are traders happy with Coinrule?
There are 68 customer reviews on TrustPilot with an overall rating of 4.3/5. One trader writes that the experience with the platform was excellent and was satisfied with it. Another user expressed dissatisfaction by noting that the rules don't follow the bot's settings and the support is not helpful.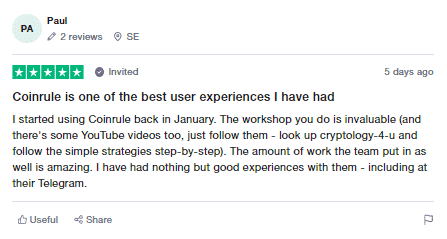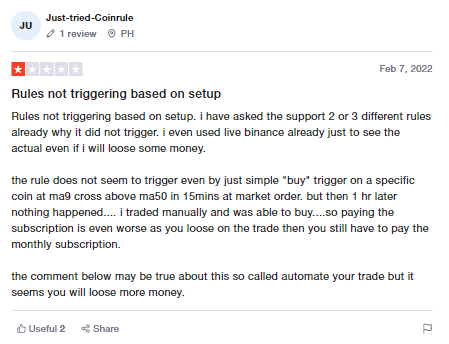 Pricing and fees
The bot is available for sale in three subscription offers. The basic plan is for $29.99/month, including seven live & 7 demo rules, 40 templates, two connected exchanges, etc. The trader's offer is $59.99/month and $719/annually for up to $3Million in trading volume. Coinrule does not charge any extra fees other than these.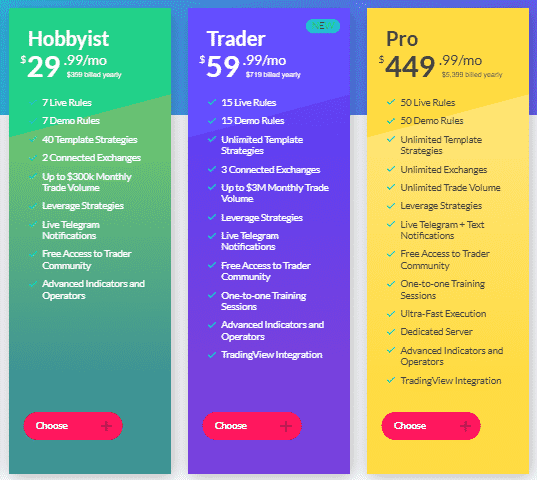 Is a free trial available?
Coinrule includes a free trial with up to $3k monthly trading volume. It allows users to test their bots with two live and demo rules.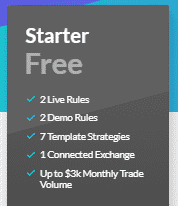 Languages supported
Coinrule only supports the English language in their product and website.
What kinds of traders is Coinrule best suited for?
Coinrule is a beginner-friendly platform suitable for novice traders with little to no market experience. It offers pre-built templates that make trading easy and a free demo account for investors to test their strategies.
Company information
Coinrule is developed by a company based in Clerkenwell, London, England. The expert team behind the robot includes Gabriele Musella, CEO, Oleg Giberstein, COO, and Zdenek Hofler, CIO.