Bitsgap is a platform that claims to offer the best crypto trading bots. As per the vendor's claim, it lets you get an advantage over the fluctuating market and maximize your profit. Also, it is compatible with some of the top exchanges on the market.
To determine the reliability of this system, we are going to discuss its various aspects like reputation, security, features, customer support, pricing, etc. After going through the review, traders will be able to decide whether the platform is right for them.
How does Bitsgap crypto bot function?
This is a platform that connects to exchanges securely using API keys. It is a multi-exchange system that offers some great tools for you to trade more efficiently. Some of these tools include TradingView charts, indicators, smart drawing tools, and trade visualization.
You can protect your assets by setting stop-loss and take-profit orders at the same time. In case the rice worsens, the system will execute the orders in your absence. Bistgap lets you execute shadow orders where you can initiate orders off the order books without reserving your available balance. Once the price reaches your objective, the order will be placed.
This platform also supports market and limit orders. As such, you can purchase or sell digital assets at the best current price by market or execute orders once the market reaches the limit price.
Bitsgap review – positive aspects
The positive aspects are as follows:
7-day free trial
More than 15 top exchanges supported
Orders are protected with 2048-bit encryption
All login attepts are secured
Comes with protection from failed login attempts
2FA verification
Secure network structure
Bitsgap review – negative aspects
Here are the negative aspects of the system:
Mobile app is not available
Time in business
Bitsgap was founded in 2017, so it has been in the business for around five years.
Reputation
This platform has been highly rated on third-party websites. It is supported by Cointraffic, a top advertising network helping crypto projects, as well as Admiral Markets, a leading online trading service provider.
Supported exchanges
The exchanges supported by this platform include Binance, KuCoin, OKX, ByBit, Kraken, FTX, Bitfinex, Huobi, Coinbase Pro, Bittrex, HitBTC, Poloniex, Gemini, Gate.io, Liquid, and Bithumb.
UI of Bitsgap
The user interface of this system isn't very complicated. It lets you place orders, manage your portfolio, and monitor results easily.
Key features of Bitsgap
This platform has a smart strategy design that lets you create automated trading systems with just a few clicks. It has a backtesting functionality that shows you how much profit your settings will generate. If you don't have the technical knowledge to create strategies, you can select from predefined strategies. Using TradingView charts, you can assess your system's performance. Since this is a cloud-based service, you don't need to make any downloads.
How to get started on Bitsgap?
After visiting the website, you need to sign up by entering your email address and password. Next, you need to confirm the registration from the link in the email. After creating and setting up the API key, you can start trading.
How secure is Bitsgap?
This system has 2-factor authentication, and it uses RSA 2048 encryption to keep the server safe.
Customer support
Support is available via email and live chat. You can also join the Telegram group for support.
Are traders happy with Bitsgap?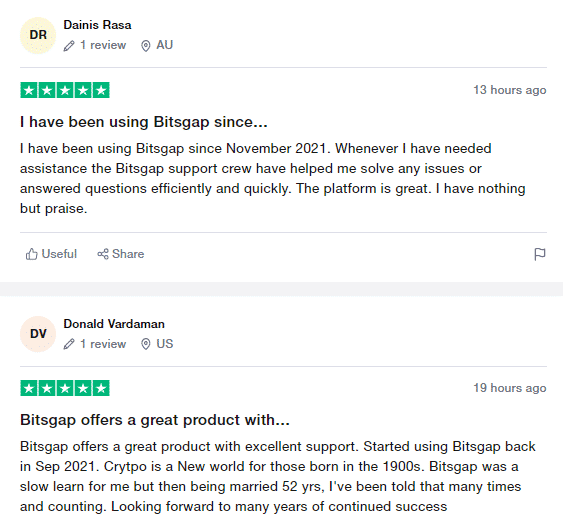 This platform has a rating of 4.5 out of 5 on Trustpilot. Traders have appreciated the support and the ease of usage.
Pricing and fees
There are three plans that differ based on the number of active bots. The prices of the Basic, Advanced and Pro plans are $29/month, $69/month, and $149/month, respectively.
Is a free trial available?
Yes, the vendor offers a 7-day free trial.
Languages supported
This platform only supports English.
What kinds of traders is Bitsgap best suited for?
It is suitable for beginners because there are ready-made strategies they can use to get started. The user interface is simple enough and the knowledge guide is quite helpful.
Company information
The headquarters of this company is based in Tallinn, Estonia. The key members of the team include CEO Maxim Kalmykov, Chief Strategist Dmitri Laush, COO Sergei Verbitski, CTO Jevgeni Avdeev, CFO Anatoli Girenko, and Customer Support executive Ervin Kougija.
Bitsgap verdict: should you give it a try?
Bitsgap is a system that supports a wide range of exchanges and has all the necessary features a crypto trader might need. It is a secure platform that uses advanced encryption and secure API keys to keep the users' data safe. Also, it has an excellent customer service team.