Meme cryptocurrencies are financial assets in the blockchain industry that are mostly driven by hype. They include popular coins like Dogecoin, Dogelon Mars, and Floki Inu. In this article, we will look at the concept of meme coins and some of the most popular strategies to trade them.
What are meme cryptocurrencies?
Cryptocurrencies are assets that are developed using blockchain technology. In the past decade, the number and types of digital currencies have been growing rapidly. For example, there are Decentralized Finance (DeFi) tokens that provide governance features to platforms like Abracadabra, Uniswap, and Lido.
Further, there are centralized exchange tokens (CET) that provide additional features to popular exchanges like Okex and Huobi.
There are storage tokens that seek to disrupt the vast industry of cloud storage that is currently dominated by companies like Dropbox, Microsoft, Amazon, Apple, and Alibaba. Examples of these cryptocurrencies are Filecoin and Arweave.
Meme coins are also popular cryptocurrencies that are mostly driven by hype. Dogecoin, the first-ever meme coin in the world, was initially created to provide peer-to-peer payment solutions. Others like Shiba Inu, Baby Doge, and Floki Inu, on the other hand, were created because of the hype that was generated by Dogecoin.
Meme coin scalping
A common meme coin trading strategy is known as scalping. Scalping is a day trading approach where the trader opens multiple trades within an hour. Their goal is to make small profits per trade multiple times a day.
There are several scalping trading techniques. First, a trader can focus on identifying candlestick patterns and implementing their trades based on their beliefs. Some of the most popular candlestick patterns are Doji, harami, bullish and bearish engulfing patterns, and hammer. Therefore, if a hammer pattern forms, a trader can go ahead and implement a bullish trade and wait to see the price rise.
Second, there is a channel trading approach. This is where the trader draws channels by connecting support and resistance and then opening trades based on where the price is at. For example, in the case of a horizontal channel, the trader can buy a meme coin when its price tests the lower side of the channel and then exit when it moves to the upper side.
Third, some technical indicators are useful when applying the scalping strategy. Some of the most popular ones are channel-based, like Bollinger Bands, Donchian Channels, and Keltner Channels. The idea is that of buying a meme coin that moves to the lower side of the channel and exit the trade when it moves to the upper side.
Scalping can be an ideal trading strategy for meme coin traders, but it has its own risks. For example, opening multiple trades per day exposes you to emotional factors.
Meme coin copy trading
Copy trading is a trading strategy that is becoming popular globally. It is widely used by newbie traders and those that have decades of experience in the industry.
The idea behind it is simple. Instead of doing the trading yourself, you connect your trading account to that of an experienced professional who will be analyzing and executing the trades. As they transact in their accounts, their trades are mirrored in your accounts. As such, you will make money when they are successful and lose it when they lose.
Newbie traders embrace copy trading since they don't have a lot of experience in the market. On the other hand, experienced professionals use the strategy as a way to diversify their income. They also do it to maximize their returns in the cryptocurrency industry.
To use this strategy, you just need to find a broker like eToro that has copy trading features, sign up, analyze the performance of the available traders, and then execute.
Meme coin leveraged trades
Another meme coin strategy is known as leveraged trading. This is a relatively risky approach that allows people to make more money than when trading the spot market.
Leveraged tokens are built using a standard like Ethereum's ERC standard, and their goal is to ensure that traders make better returns.
For example, a leveraged token like DOGEBULL 3x token means the return is 3% when Dogecoin rises by 1%.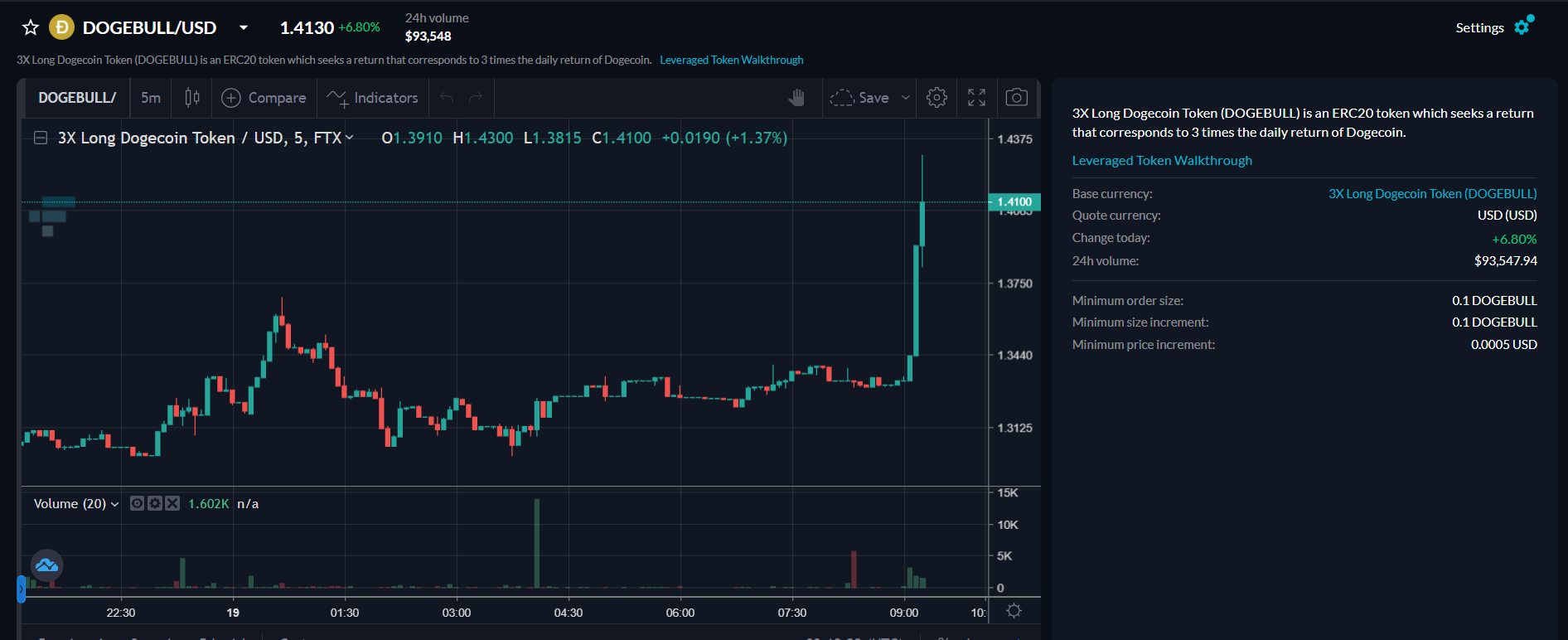 These traders use a combination of technical and fundamental analysis to predict whether a meme coin's price will rise or fall.
While this strategy is becoming popular, it is a significantly risky one considering that a trader loses 3% when an asset's price falls by just 1%.
Meme coin swing trading strategy
Swing trading is an approach where traders focus on leaving positions open for a few days.
The idea behind swing trading is simple. A trader can identify a unique bullish pattern and then execute a buy trade. Their goal will be to ride the new trend for a while and exit it when it is starting to reverse.
There are several strategies to scalp well. For example, if Dogecoin is rising, the trader can use trend indicators like Moving Averages, Ichimoku Kinko Hyo, and Envelopes to initiate the trade. In this case, the bullish trend will remain as long as the price is above these indicators.
For example, in the daily chart below, a swing trader could have sold Dogecoin short as long as it was below the 25-day and 50-day Moving Averages.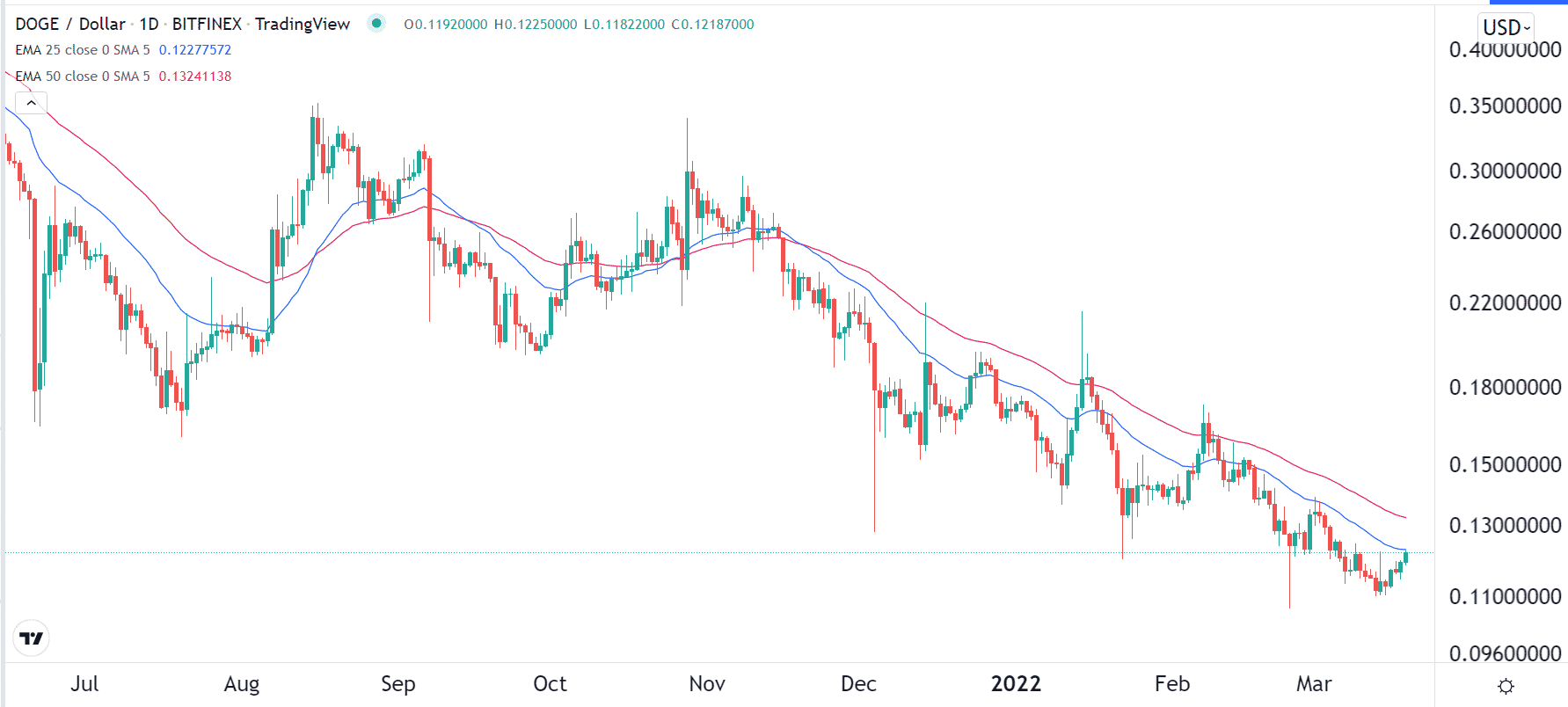 Another approach is known as reversals, and it involves looking at when a bullish cryptocurrency wants to turn around and become bearish. The most popular approach is to use reversal price action patterns like head and shoulders and double top patterns.
Summary
In this article, we have looked at some of the most popular trading strategies for meme cryptocurrencies. In a real sense, these approaches can also be used to trade other types of digital assets like Bitcoin and Ethereum. They also work well in traditional financial assets like stocks and currencies.