The advancement of blockchain technology has provided new potential for crypto ventures, including the metaverse. Crypto projects are expanding beyond their original purpose of enabling decentralized financing and establishing a digital economy to a far more fascinating approach. However, given the Ethereum Network's current conditions, such as high fees and delayed transactions, this progress would not have been possible. Binance Smart Chain has taken a scalable cross-chain approach with significantly low cost and rapid transactions to combat this ambiguity and inconsistency.
We look at the best 5 BSC Projects in this article, and while we think they're solid investments, we are not offering any professional investing advice. You are solely responsible for your finances if you choose to invest in them.'
What is Binance Smart Chain?
BSC is a blockchain that adds programmability and interoperability to the Binance Chain (BC) platform. It was created to run with BC and make smart contracts for tokens easier to implement. It also contains a brand-new staking system for BNB, one of the world's most widely used cryptocurrencies. BSC Chain uses a 21-validator method with Proof of Staked Authority (PoSA) consensus for faster block times and lower costs.
It is compatible with Ethereum Virtual Machines (EMVs) and supports smart contracts. Developers should be able to easily convert their applications or projects from Ethereum to BSC as a result of this.
Users can develop digital assets and decentralized apps (dApps) on one blockchain and trade them on the other, taking advantage of the blockchain's high trading speed. A transaction takes about 3 seconds to complete.
Venus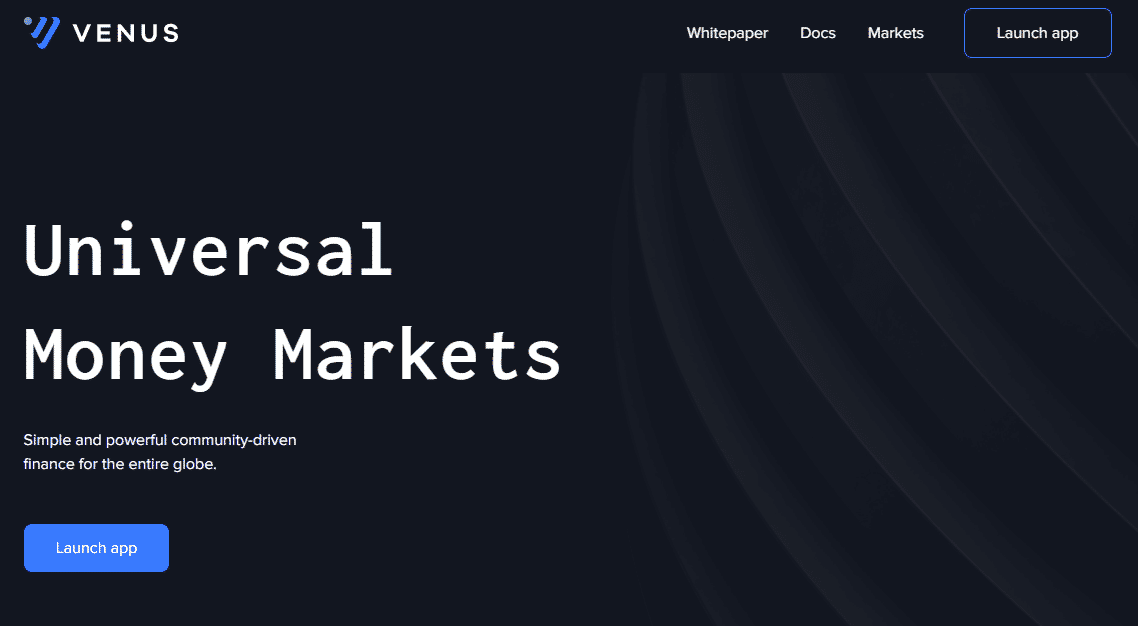 Venus is an algorithmic money market system that aims to provide the BSC with a decentralized lending and credit system. The team behind the protocol has been trying to provide users with the ability to borrow assets worth 75% or less than the assets provided as collateral.
It enables the world's first decentralized stablecoin, VAI, which is backed by a basket of stablecoins and crypto assets with no centralized authority and is built on Binance Smart Chain.
The BEP-20 standard governs all Venus protocol assets. The protocol's funds can earn APYs based on the market demand for that asset. The block earns interest, which it can use as collateral to borrow assets or issue stable coins.
PancakeSwap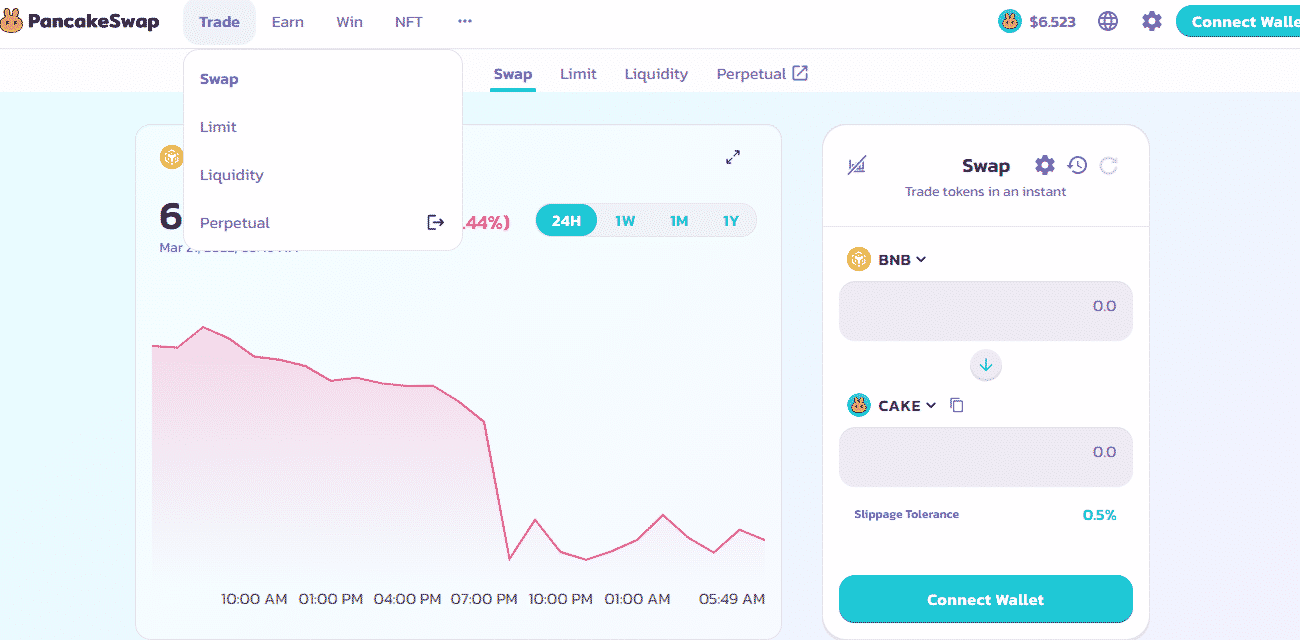 PancakeSwap is an Automated Market Maker (AMM) that runs on BSC. It serves as a DEX as well as a provider of decentralized finance (DeFi) services. The popular AMM-powered DEX facilitates token exchanges, staking, and yield farming.
Users can farm for CAKE, the platform's native utility and governance token, by staking tokens in protocol LP and earning liquidity pools (LP) tokens. Its platform includes a non-fungible token (NFT) marketplace, a lottery system, a prediction market, and an Initial Farm Offering (IFO). By allowing wrapped token deposits, PancakeSwap emphasizes interoperability. As a result, a liquidity pool can include digital assets such as ether (ETH) and bitcoin in addition to BNB and BUSD (BTC).
Autofarm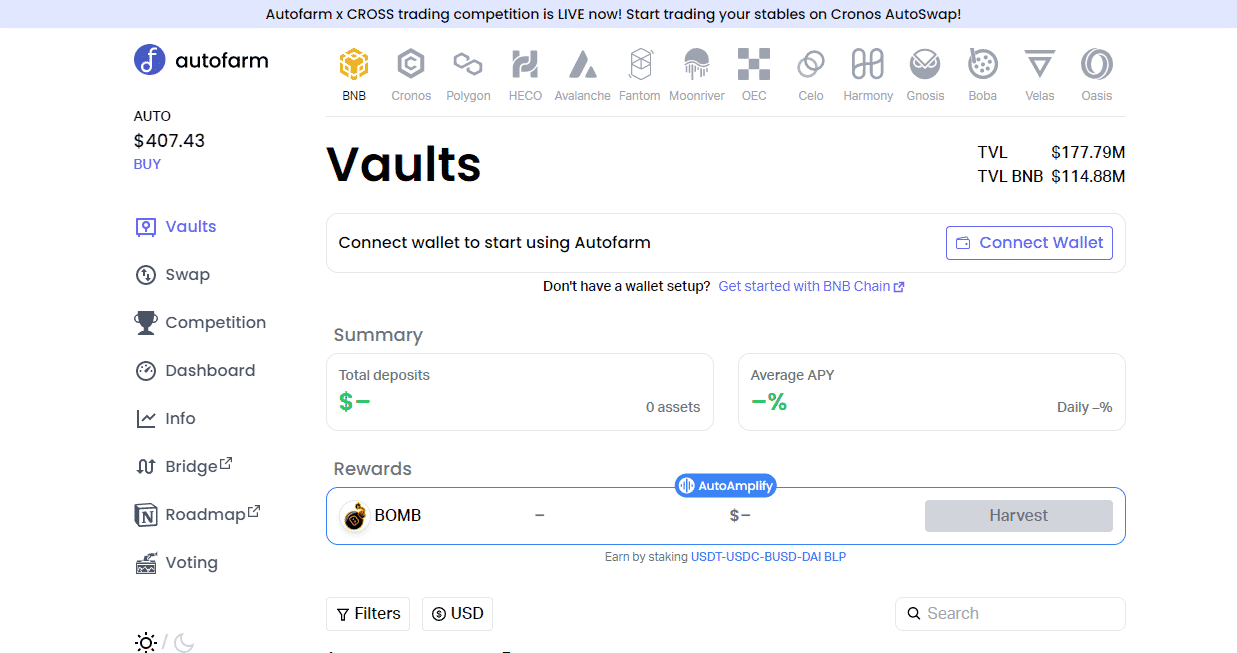 AutoFarm is a yield farming aggregator that works with 15 different EVM networks. The DApp (Decentralised Application) was created with the goal of increasing the yields of DeFi (Decentralised Finance) customers as they engage with other dApps in the DEFI space. The key advantage over other farming initiatives is that they have one of the lowest fees on the market.
AutoFarm Vaults use battle-tested smart contract code and best-in-class yield optimizing strategies to auto-compound one yield at empirical optimal intervals while pooling gas costs. AutoFarm Swap is a DEX aggregator that helps you get the best DEX trading pricing. It spreads your trade across different DEXes to get the best prices and the least amount of slippage.
BakerySwap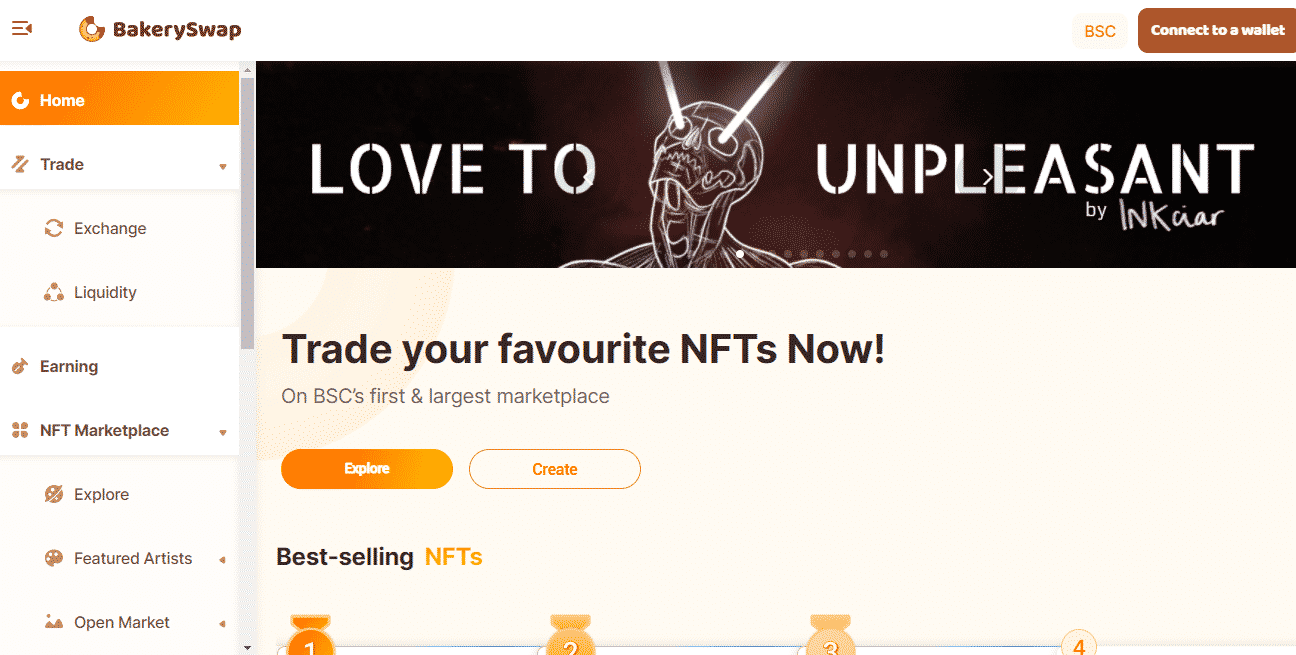 BakerySwap is a free and open-source DeFi system for exchanging and swapping tokens. It's also a DEX that uses an Automated Market Maker (AMM) concept, which many people are familiar with thanks to Uniswap, a well-known DeFi exchange. As the first AMM DEX project on the BSC, it provides its customers with improved altcoin or stable coin liquidity pools.
It uses the BAKE token, which can be used to vote on governance and get transaction fee dividends. The Exchange feature allows BakerySwap users to exchange BEP 20, BNB tokens, and other currencies. It enables users to trade tokens on the Binance Smart Chain (BSC).
NFT Supermarket, one of BakerySwap's most essential and distinctive features, allows users to play games and earn NFT tokens. In the supermarket, there are V1 and V2 versions, as well as a range of inventive games that keep users engaged on the platform.
Beefy Finance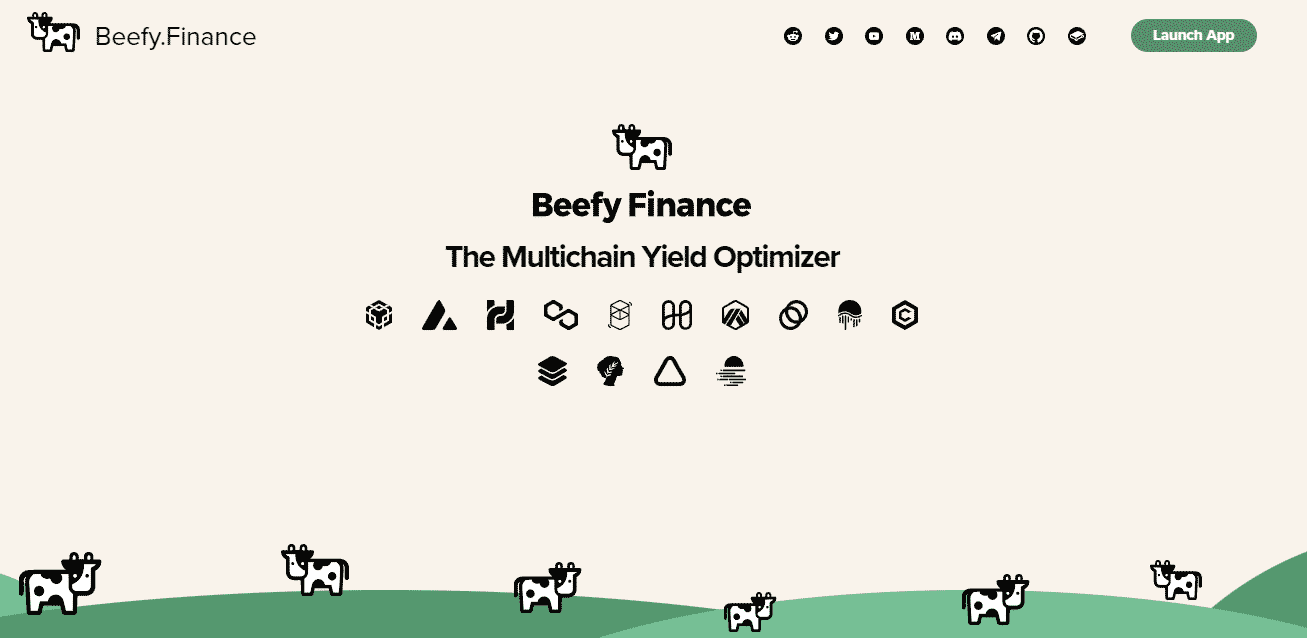 Beefy Finance is said to be capable of programmatically automating steps to deliver its consumers improved yield chances, thanks to the BSC's low gas fees. It enables users to earn compound interest on their cryptocurrency investments.
It also optimizes user benefits from various liquidity pools (LPs), automated market making (AMM) initiatives, and other yield farming opportunities in the DeFi ecosystem using a set of investing techniques secured and enforced by smart contracts.
The 'Vaults,' in which you stake your crypto tokens, are Beefy Finance's core product. By compounding arbitrary yield farm reward tokens back into your first invested asset, the investment strategy related to the individual vault will automatically raise your deposited token amount. Your funds are never locked in a vault on Beefy Finance. You can withdraw at any time.
Summary
BSC is a cryptocurrency that competes with Ethereum and other popular DeFi systems. It was released in September 2020 as an innovative method to deliver the Binance Chain programmability and interoperability. It provides a brand-new staking system for BNB, one of the most popular cryptocurrencies in the world. There have been a variety of projects that have built on it. Venus, PancakeSwap, Autofarm, BakerySwap, and Beefy Finance are among the best.