Hummingbot provides automated trading solutions to trade on multiple crypto exchanges. It boasts of a community of 17.9K traders that are available over numerous social media platforms such as Discord and Reddit. Extensive documentation is available on the website, which can be used to learn more about the platform. Read more to understand the possible benefits and demerits of the bot.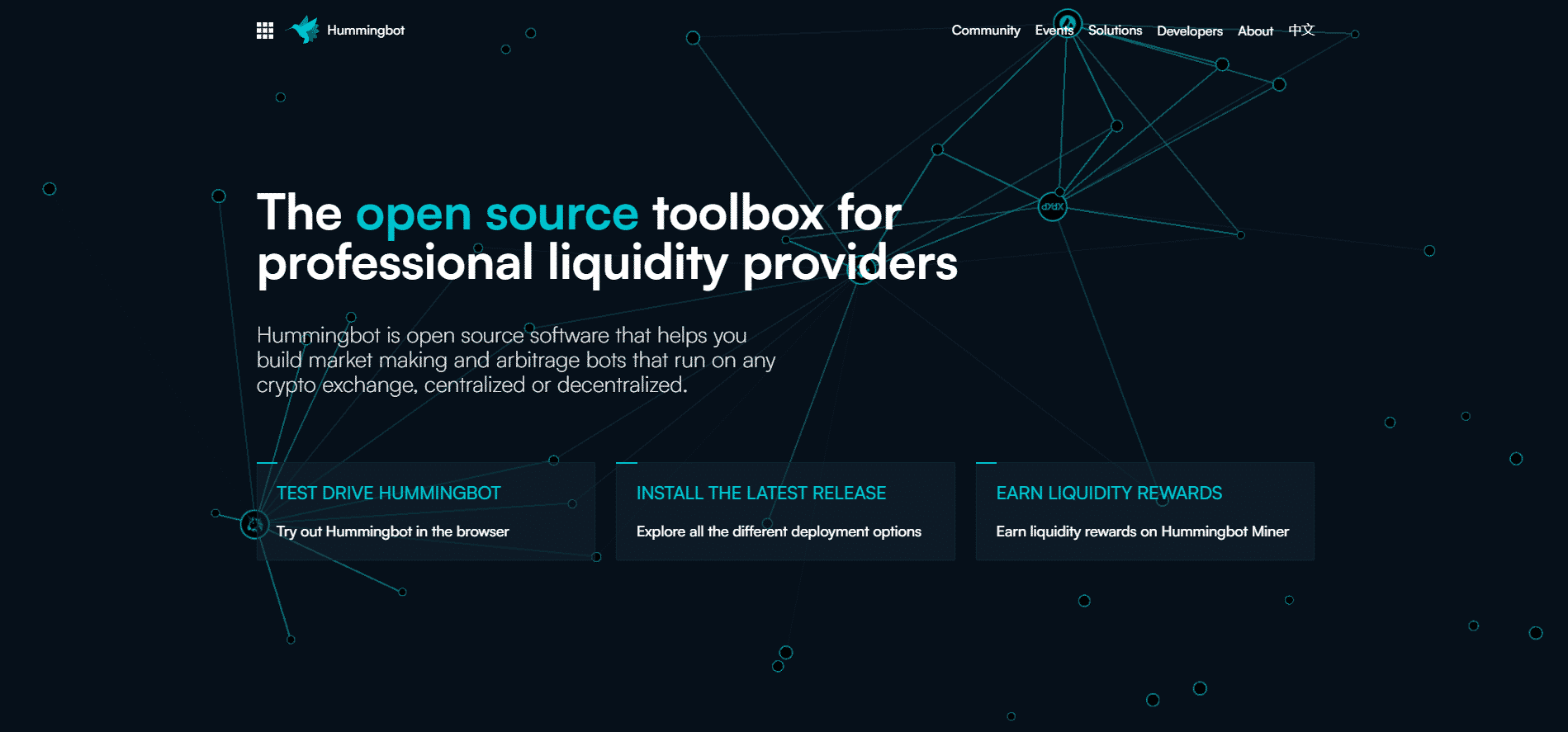 How does Hummingbot function?
Hummingbot provides rewards for traders who contribute to adding liquidity to token issuers. Since the platform's inception back in 2020, it has filled over $2 billion in volume. The entire code of the multi-purpose service is available on GitHub as open-source.
Hummingbot review: positive aspects
It hosts a large community of over 15 K traders
Acts as a multiple purposes platform, i.e., supports liquidity mining and automated trading
Hummingbot review: negative aspects
No live chat support is available
The live records of the algorithms are not public
It can be complex for newbies to understand the functionality of the platform.
Time in business
CoinAlpa is the parent company behind Hummingbot, which was founded in 2017. There are a total of 17 investors with a funding amount of $14.2 million.
Reputation
Hummingbot holds a sound reputation as it claims to have the support of world-class investors, including BainCapital, Start, DeFinance Capital, etc. Traders can demo trade on the platform free for two hours to test out the service.
Supported exchanges
Hummingbot can be linked to any centralized and decentralized crypto exchange for liquidity mining and algorithmic trading.
UI of Hummingbot
The online website hosts the miner software where traders can witness the available markets and the best liquidity options. The dashboard is limited to members only. Overall, the algo trading user interface is complex while that of the miner is beginner-friendly.
Features of Hummingbot
The key features of the Hummingbot can be listed as follows:
Connectors available for both centralized and decentralized exchanges
A total of $2.4 billion filled in trading volume
Mining white paper available on the website
Built on python and cython to allow easy development of custom strategies
The platform is open source available on Github
How to get started on Hummingbot
Traders can start with the platform in the following steps:
Sign up on the online dashboard
Connect your exchange with the API key
Build up your custom algorithm or trade with one already available
The platform will start trading as soon as the connection is firm
How secure is Hummingbot?
Hummingbot recommends using API keys that are readable and only provide trading rights. Kava and Pull Request Proposals are the two major security systems in place.
Customer support
Traders can contact the developers by using the contact form or email address on the website. Multiple social media channels such as Discord, Reddit, and Github are available where market participants can conversate with each other to answer their inquiries.
Are traders happy with Hummingbot?
There are no customer reviews available on TrustPilot, which could be used to analyze the general feedback. This shows us that not many traders have utilized the product, which is strange as the developer claims to host a large community.
Pricing and fees
The Hummingbot has 0.25% marker and taker fees for liquidity mining. Spread costs may also incur, which differ from 1-2% depending on the instruments. As the platform is open source, algorithmic trading is free of charge.
Is a free trial available?
Traders can use the platform for free for a maximum of 2 hours. After that, it is necessary to sign up and install the bot.
Languages supported
The website is currently only available in English and Chinese.
What kinds of traders is the Hummingbot best suited for?
Hummingbot is best suited for professional traders in the market who have a solid knowledge of Python and Cython. It is also vital to understand how the crypto industry works and the essential strategies.
Company information
The company was founded in 2017, and its address is mentioned as follows: 800 W El Camino Real, Ste 180, Mountain View, CA 94040.
John Wu is the president of the platform, with Rajiv Bhat as the CEO and co-founder. There are no Linked In profiles that could help us verify their identities.
Hummingbot verdict: should you get it a try?
Hummingbot is a professional crypto trading platform that supports multiple exchanges, mining, and algo services. It also allows demo testing of your systems. However, with no live records and absence of customer reviews on noted forums such as Trustpilot, we cannot verify if the EA is profitable.