Forex is the process of buying and selling currencies to make a profit. A lot of people are attracted to the forex market, but how do you approach it if you are a newbie and do not know where to start? To avoid extra risks and high losses, you can do it without the actual trading. It is possible to make money in the Forex industry without executing your trades.
To understand how you can earn some income in the Forex market without trading, we need to look at how the industry works and what the three options it has to offer are.
How the forex industry works
USD/TRY chart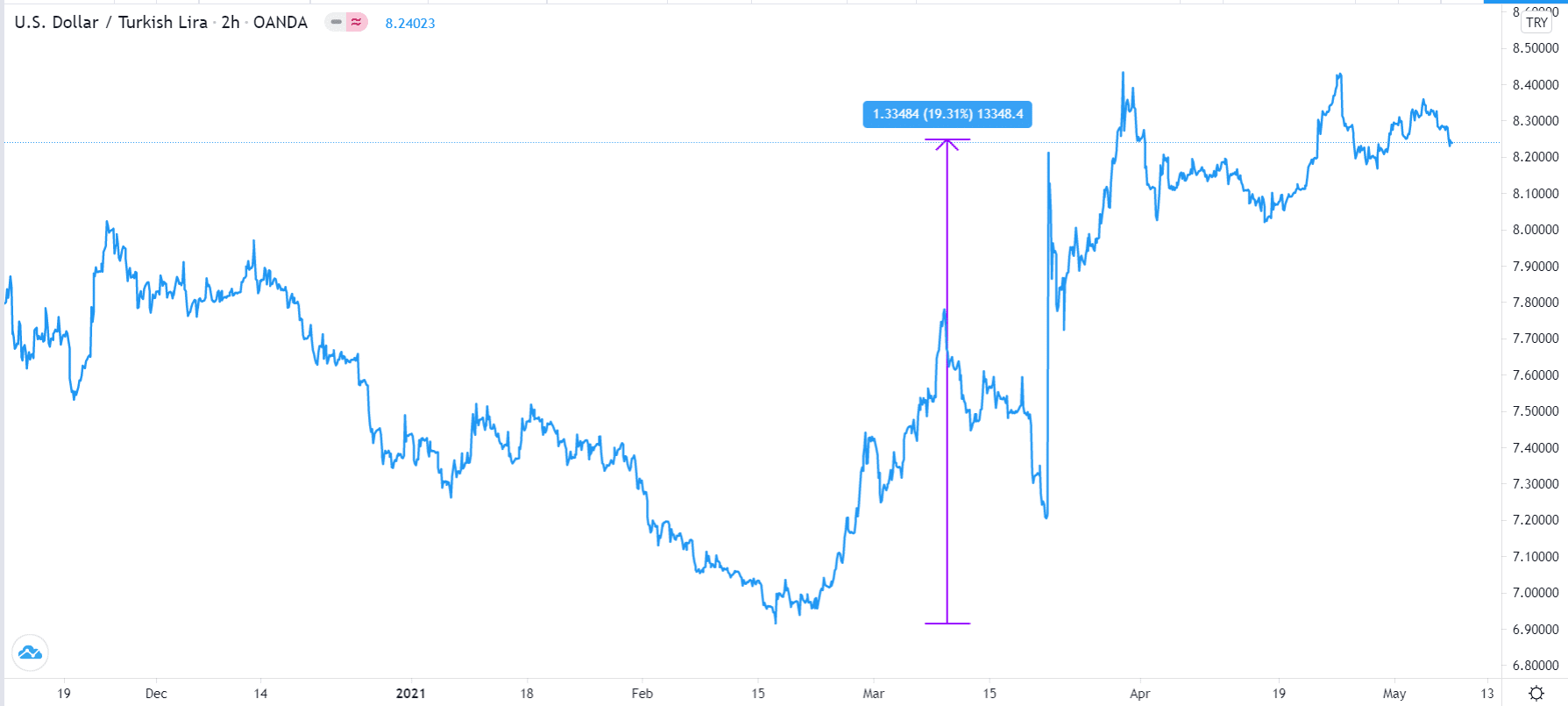 Let us look at an example. In the chart above, we see that the USD/TRY (US dollar and Turkish lira) rose by more than 19% from February 18, 2021, and May 2021. The chart shows that the Turkish lira lost almost 20% against the US dollar.
Therefore, if you are a Turkish citizen who had a US dollar account, you would have made a 20% return within this period. This is how foreign exchange trading works. You do technical and fundamental analysis, identify currency pairs that are likely to fluctuate, and take advantage of that.
Let's look at some key ways of making a living without even trading.
Copy Trading
Copy trading is a relatively new technology that was made popular by eToro. As the name suggests, copy trading is a process where an inexperienced forex trader leverages the experience and expertise of a successful trader.
It starts when a trader creates an account with a broker that offers copy trading. After registering, the customer navigates to the copy trading section, where they see some of the most experienced traders.
Most brokers that offer this service provide more details about these traders. For example, they mention their win and loss rate. A good trader might have an 80% success rate in a 3-months' period. They also show the types of currency pairs that the person trades, the average duration of the trades, and their average profit per trade.
Therefore, if you are comfortable with the trader's returns, you can just deposit your funds and copy their trades. The chart below shows the top-performing masters in OctaFX.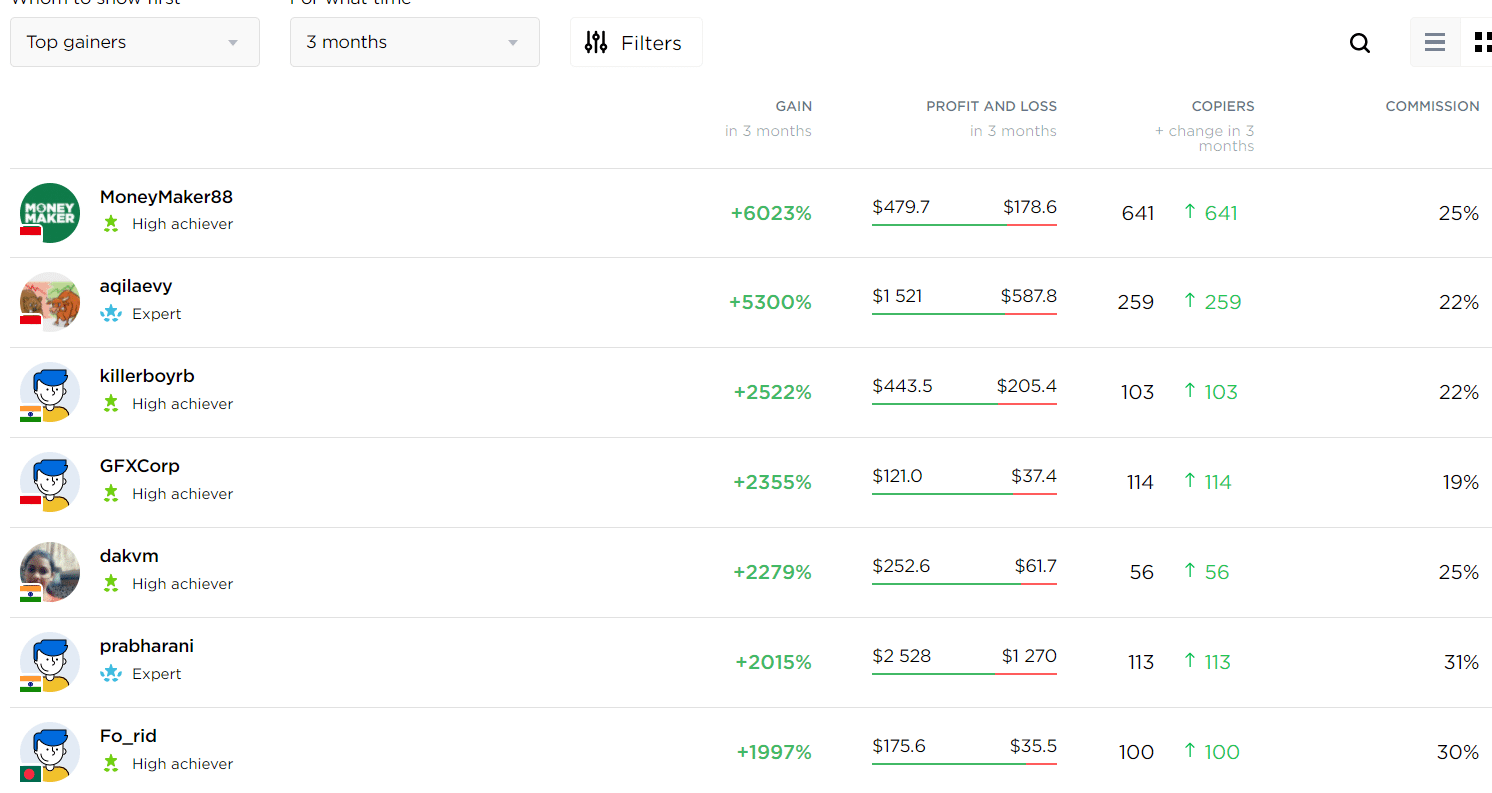 There are several ways of achieving success as a copy trader. First, take your time to study the master trader's performance. At times, perhaps they generated a big return in a few trades and lost money in most of their trades.
Second, consider the fees charged by the trader. As shown above, most masters take a commission of up to 30%. This is a lot. You should do your research on the best performing masters who charge a reasonable commission. You can also compare the fees and performance of traders across several brokerages.
Third, you should create a diversified portfolio of different asset managers. For example, if you have $12,000 to trade, you can select three master traders and give them $4,000 each. Doing this will prevent a situation where you place all of your eggs in one basket. As such, losses by one master trader will be offset by the gains of the others.
Finally, you should strive to learn the approaches the master trader uses. Doing this will ensure that you become a better trader who does not need to depend on other experienced professionals.
Using currency exchange-traded funds
Another way of making money in forex without trading is using exchange-traded funds (ETF). Some companies like WisdomTree and Invesco have created ETFs that allow people to invest in a basket of currencies at once.
Some funds also allow one to invest in a single currency. Some of the most popular currency ETFs are the Invesco DB US Dollar Index Bullish Fund (UUP). This is an ETF that tracks the dollar index, which is a fund that tracks the dollar's performance compared to a basket of other currencies like the euro and Swiss franc.
Other popular currency ETFs are Invesco DB G10 Currency Harvest Fund, WisdomTree Emerging Market Fund, and Invesco Euro Fund.
ETFs are publicly listed in major exchanges like the New York Stock Exchange (NYSE) and Nasdaq, and they can be invested in just like buying shares. If you want to take advantage of currency movements, you can create an ETF portfolio.
Using robots
Another popular way of making money in forex without trading yourself is to use a robot or expert advisor. These are programmed tools that can analyze a currency pair, identify patterns, and initiate trades. The tools are created by people who are highly experienced in the financial market and in software development.
There are two main ways of using these robots. First, you can buy a robot on popular platforms like MT4 and MT5 and implement it yourself. Alternatively, you can subscribe to a robot provider and link their solution to your account. You can make money even when you are not manually trading since the robot will do the work for you.
Robots are effective trading tools that can help you make money in the forex market. However, they are also risky platforms that have cost people a fortune. Indeed, they are the riskiest of the three methods we have looked at here.
There are several ways you can reduce risks when using robots. First, you should do your research before you buy or subscribe to a robot. Find out the experience of past traders who used the bot. Second, always request a trial for the robot and use a demo account to see how it performs. Finally, spend a few months backtesting the robot. Only use it once you have proven that it works well.
Summary
The beauty of making money in the forex is doing the actual trading. However, most people who get into the industry are not sure where to start. Therefore, if you are still interested, we recommend that you use the three options we have looked at here. While these methods are good, they don't guarantee success. You must always ensure that you have the best risk management strategies to ensure that you don't lose a lot of money.