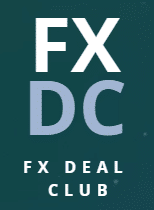 FXDC Hedger EA is a robot that was designed by the Forex Deal Club firm to "Put Our Money to Work on Autopilot." From the name, we could note that there should be a Hedge strategy.
FXDC HEDGER EA: To Trust or Not to Trust?
The developers burnt a real account from which they provided PAMM services. They executed a Hedge strategy with Martingale there. We don't know if these deals were traded manually or with the usage of this EA.
Features
The robot has a short list of features without explanations about settings and what parameters we're allowed to customize:
FXDC HEDGER EA can work automatically for us without a need for human intervention.
The strategy is based on trading Price Action with trading around Support and Resistance levels on each chart.
The second major strategy is Hedging.
The robot executes orders on the H1 time frame.
It works with a single cross pair – EUR/JPY.
The developers mentioned the "artificial intelligence that works for you 24/7."
It's a combination of simple settings and powerful trading techniques.
FXDC HEDGER EA can protect the account balance from deep drawdowns.
The advisor can make above 10% daily.
We may start with a $100 balance if we use provided set files.
The recommended balance is $1000.
The leverage can be set at 1:400 or higher levels.
The system isn't sewed for a broker.
We can't trade when the EA works on the account.
As well, we can't use the robot with other advisors on the same account.
We have to close all trades before setting the robot on the account.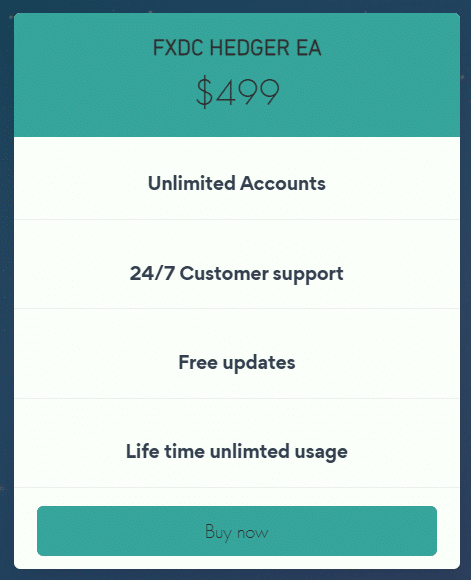 FXDC HEDGER EA costs $499. The package includes some common features like unlimited accounts, 24/7 customer support, free updates, lifetime unlimited usage. We have serious concerns about unlimited real account licenses. There's no refund option for us provided.
Verified Trading Results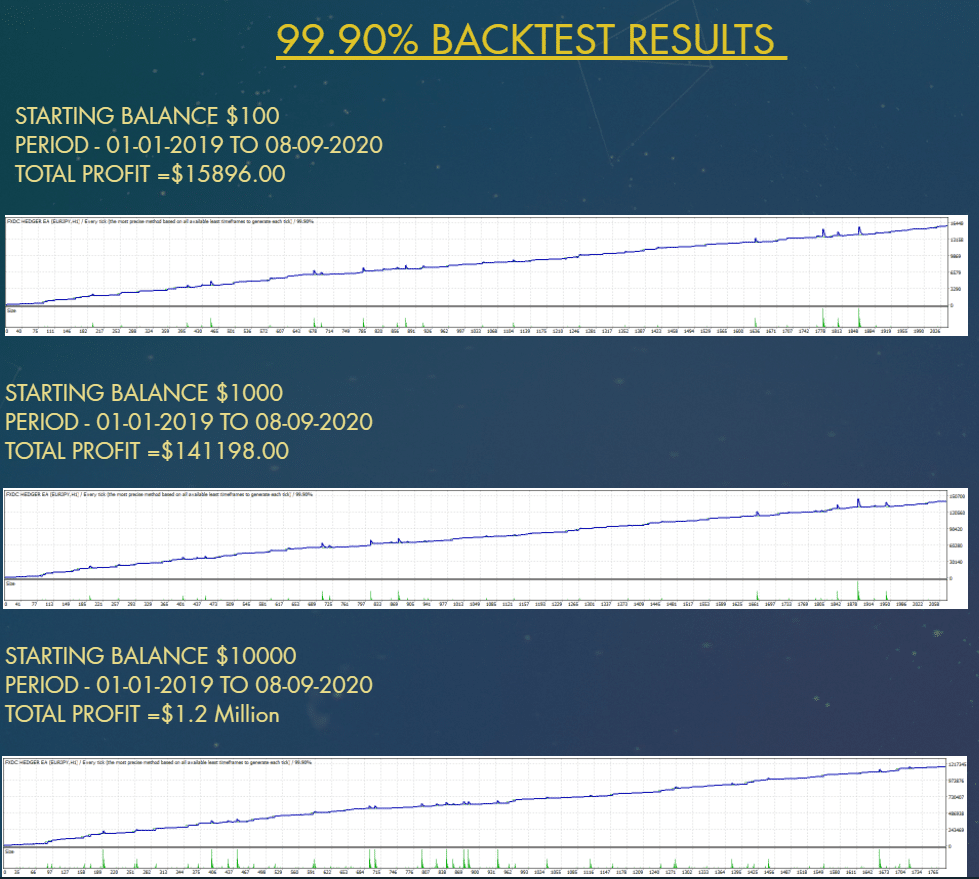 The presentation is featured by three pictures of backtest reports. They're not clickable. The test united a period from the beginning of 2019 to August of 2020. It showed that $1000 of the deposit could have become $141,198 of the profits.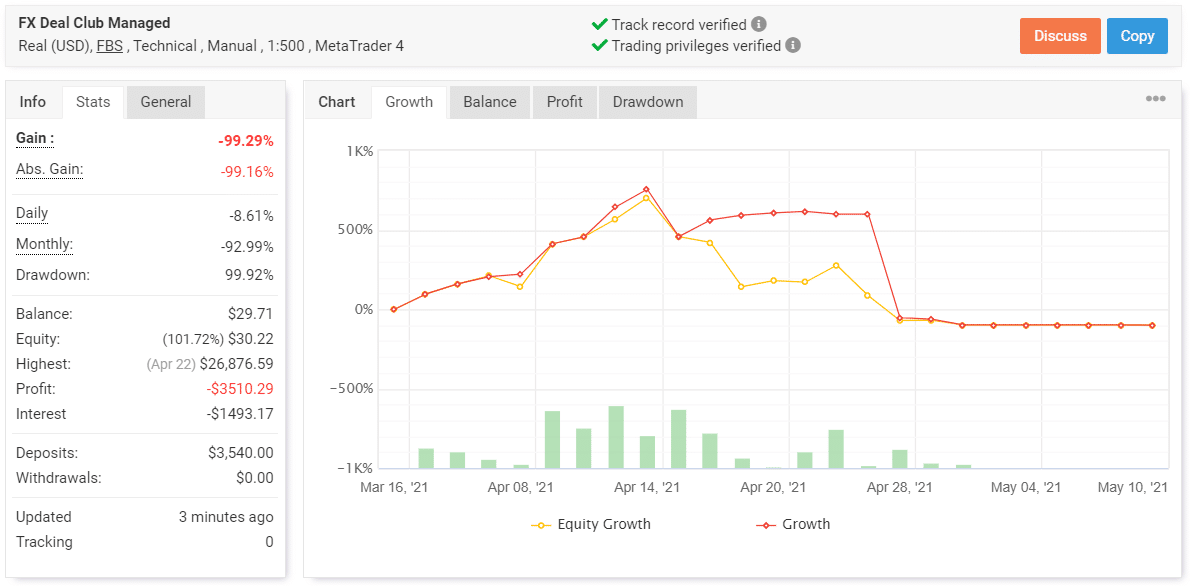 It was their real account that was blown manually and removed from the listing. For a month of risk trading, the account has grown to $26,876. In several days everything was lost.
We don't know whether they did trade on this account manually or it was FXDC HEDGER EA activities. They removed a myfxbook widget from the site as well.
Vendor Transparency
The company has no transparency because:
We don't know anything about them.
We don't have any proof of their successful previous trading experience.
They mentioned that they have an office, but we have no number.
They have no number of the company behind.
The developers don't have an account on MQL5 where we can check other their products, rates, signals, a friend list, and so on.
People feedback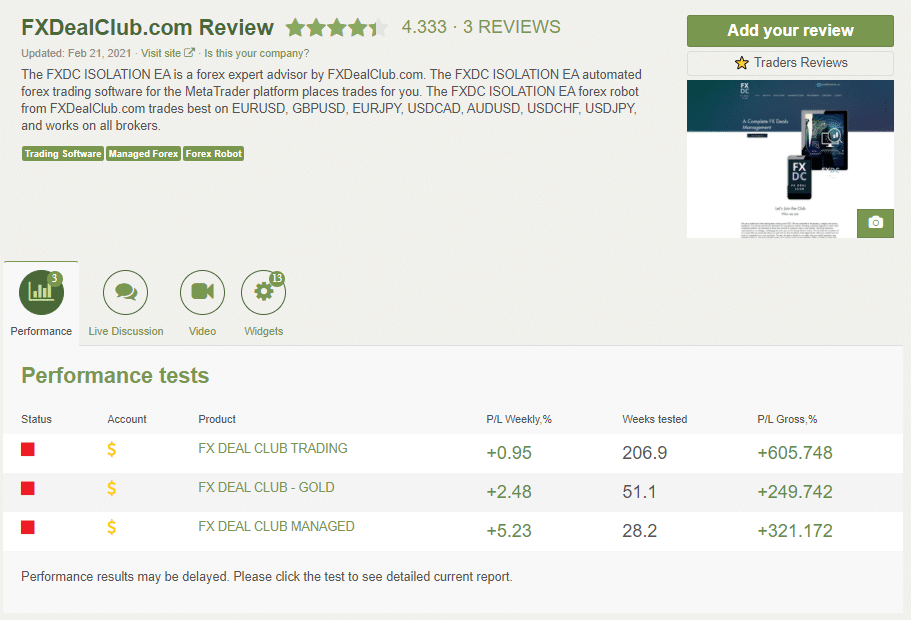 FX Deals Club runs a page on Forex Peace Army. The overall rate is 4.3 based on three reviews written. We may have noted that there are three accounts connected, and all of them are stopped. The last one was stopped right before it was zeroed.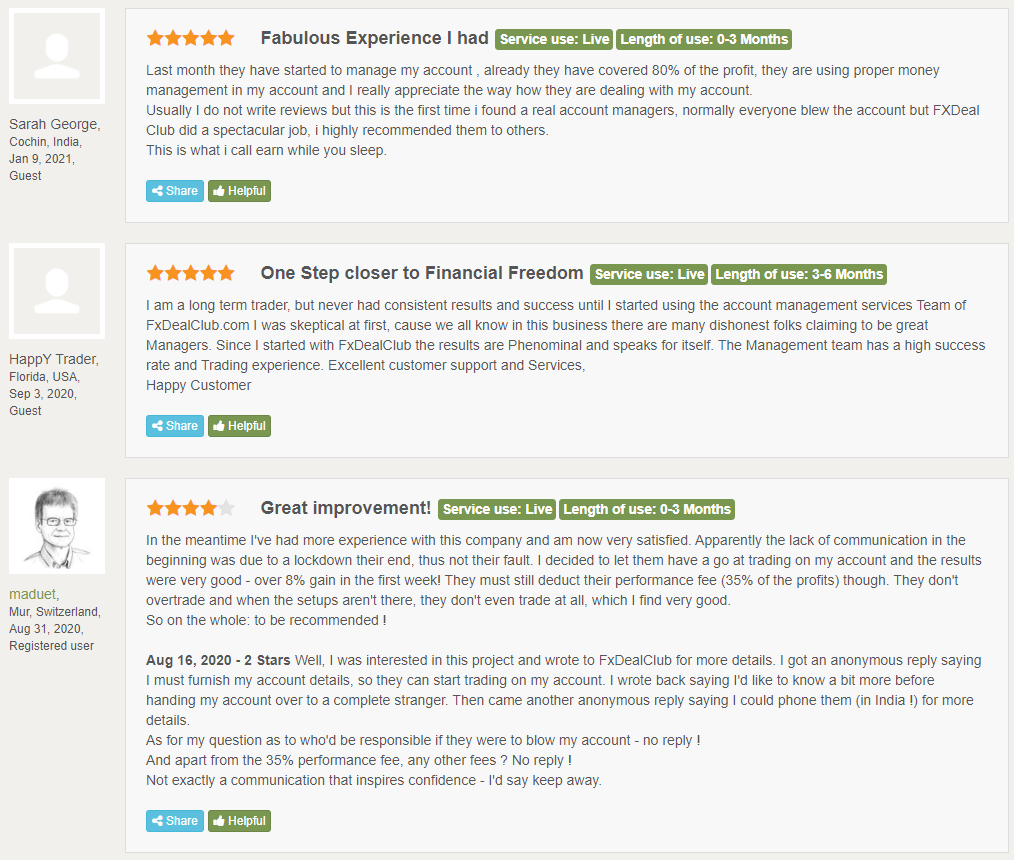 All these comments are positive, but they were many months ago published.
Other notes

As we mentioned, they wrote great about themself but avoided proving this in any way.