Wild Side is a trading advisor that can help us with trading on the various Forex markets. The presentation is short and not informative at all. There's not much intel provided about the system and its functionality.
Wild Side: to trust or not to trust?
We wouldn't trust this system after these trading results. It looks like the robot doesn't work properly.
Features
The system can provide us with just a few explanations about what we have to rely on. The rest we have to guess looking at backtests and trading results.
The system executed orders on the terminal completely automatically.
The system can be used on MT4 or MT5.
It knows when the right time to open orders.
We are supported by a user guide.
The system is a trading at night trading solution.
There are no risky strategies like Grid, Martingale or others.
The advisor protects our orders with SL and TP levels.
It "uses its own price action algorithms in combination with the author's indicator."
We can skip trading during periods of high impact news.
It has a unique transaction tracking algorithm.
We can work on any time frame.
The main one is the M5.
The test has to be performed on every tick parameters.
The advisor works with the following symbols: USDCAD, EURCAD, EURCHF, EURUSD, USDCHF, EURAUD, AUDUSD, GBPUSD, and CHFJPY.
An ECN account should be a good option.
We have to use a VPS service to increase execution speed.
The leverage can be as low as 1:50.
It follows FIFO rules.
We have on the balance $50 for every cross pair.
The lot sizes are calculated based on free margin.
We are allowed to set lot sizes manually.
Price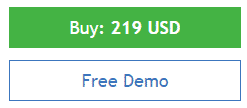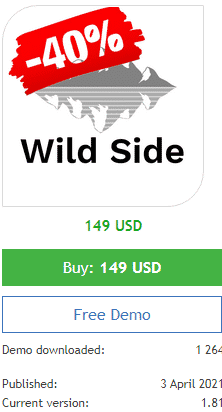 The system costs $219 instead of $149. It looks odd taking into account that the product is offered with a 40% discount. The developers removed rental options that were available several weeks ago. There's no refund policy applied. We can use a demo copy of the robot for free.
Verified trading results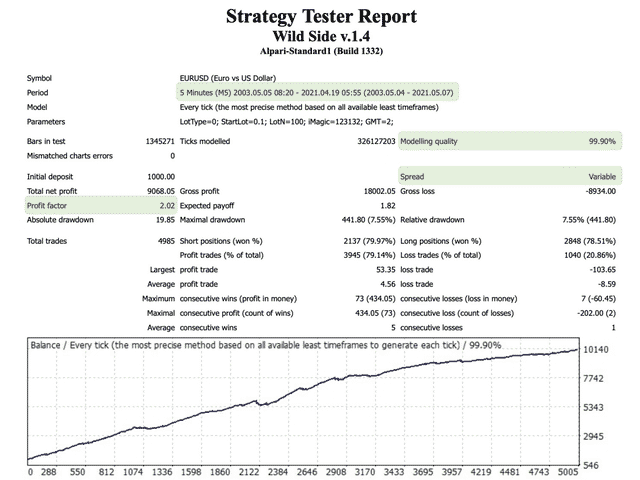 The robot was tested on EURUSD on the 18-year tick data on the M5 time frame. The modeling quality was 99.90% with variable spreads. An initial deposit was set $1,000 that has turned $9,068 of the total net profit. The profit factor has become 2.02. The maximum drawdown was 7.55%. The advisor traded 4985 orders with 79% of the win rate for shot and 78% for long trades.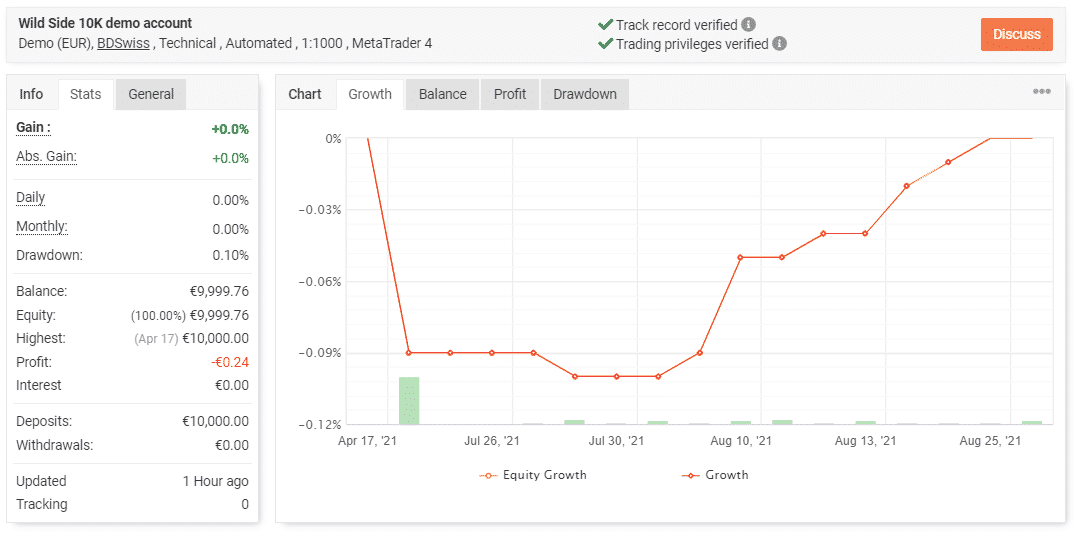 The developer has removed this account from listing on Myfxbook. We aren't surprised at all. It ran a demo account only on BDSwiss with twice bigger leverage on MT4. The account had a verified track record. It was created on April 17, 2021, and deposited at €10,000. For less than 2 months of the trading activity, the absolute gain has not changed and stood at 0%. An average monthly gain was 0.00%. The maximum drawdown was 0.10%.

The advisor has traded 25 deals with -55.6 pips. An average win was 3.47 pips when an average loss was almost three times deeper – 9.47 pips. The accuracy was 33% for long and 90% for short trades. An average trade length was 1 hour and 32 minutes. The system traded with a profit factor of 0.98.

The system has lost every second pair it traded.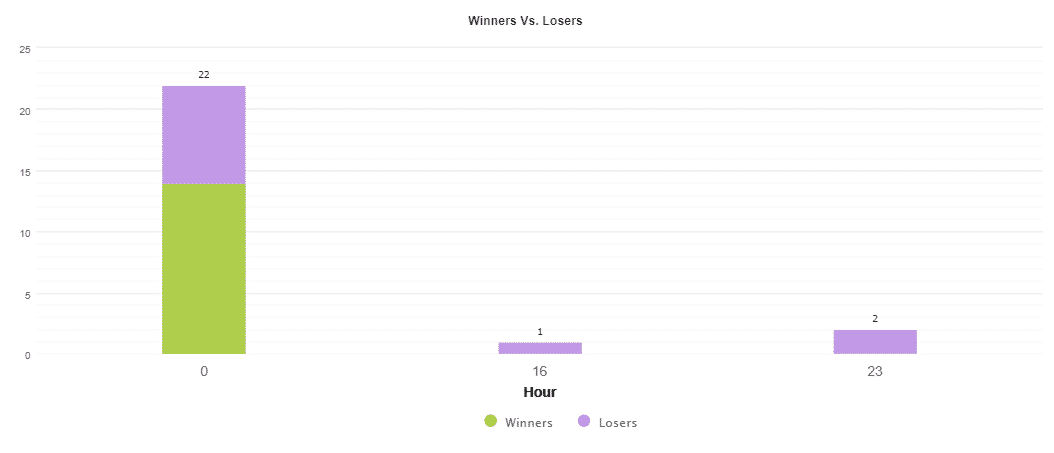 The advisor preferred opening orders at night.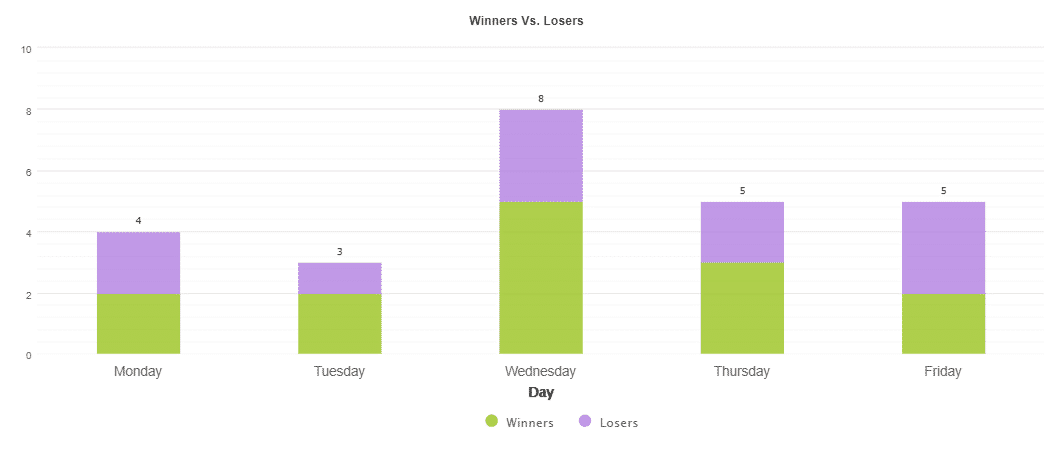 Wednesday with 8 orders was the most traded pair.
It ended with maximum risks to the account balance.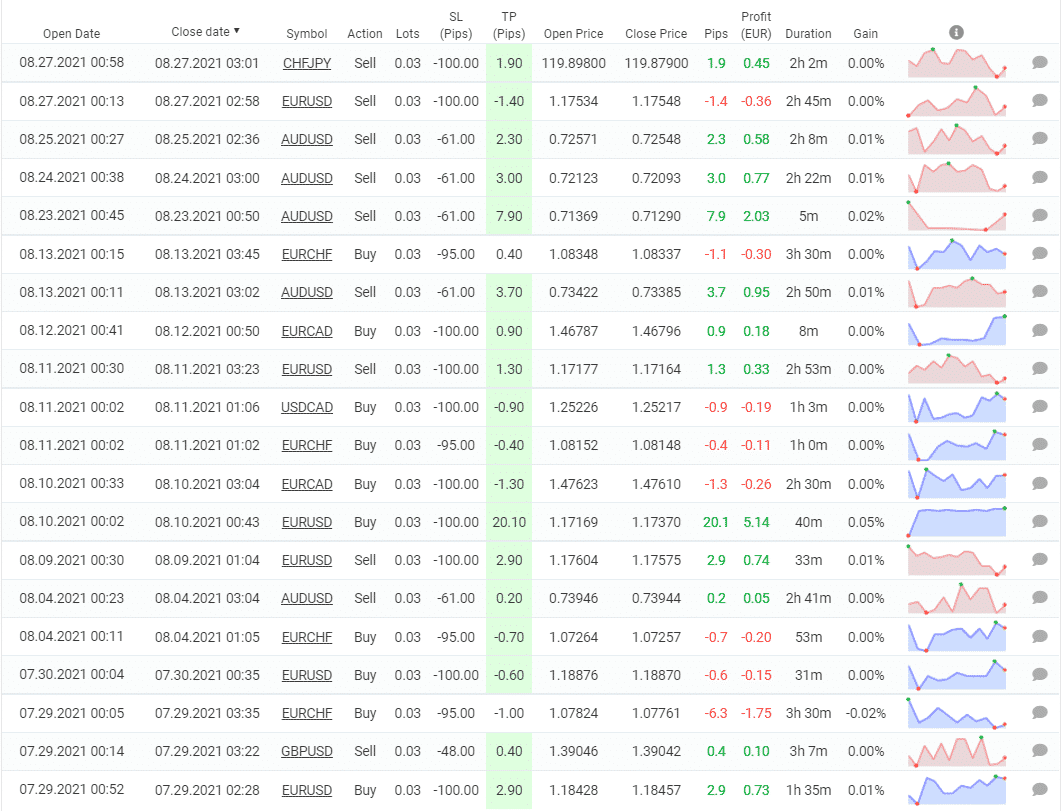 It used a trailing feature that was not the best option.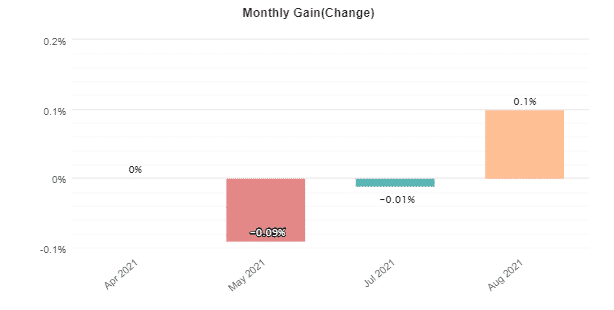 It traded unpredictably.
Low drawdowns
We may note that drawdowns were low but the system didn't look pretty profitable.
Vendor transparency

Marat Baiburin is a developer from Russia with a 2872 rate. There are two products with a 4.6 rate on the board based one 34 testimonials.
We have negative testimonials about it's stability and predictability.