WealthyBot is a fully automated crypto trading bot that uses API keys to trade your funds on compatible exchanges. It supports only one exchange, i.e., Binance, and nine trading pairs such as BTC, ETH, LTC, etc. The investments and profits are kept in the user's portfolios and the algorithm utilizes USDT for placing buy/sell orders. We will discuss the features, pros/cons, security, reputation, and much more about the platform to verify its profitability for the traders.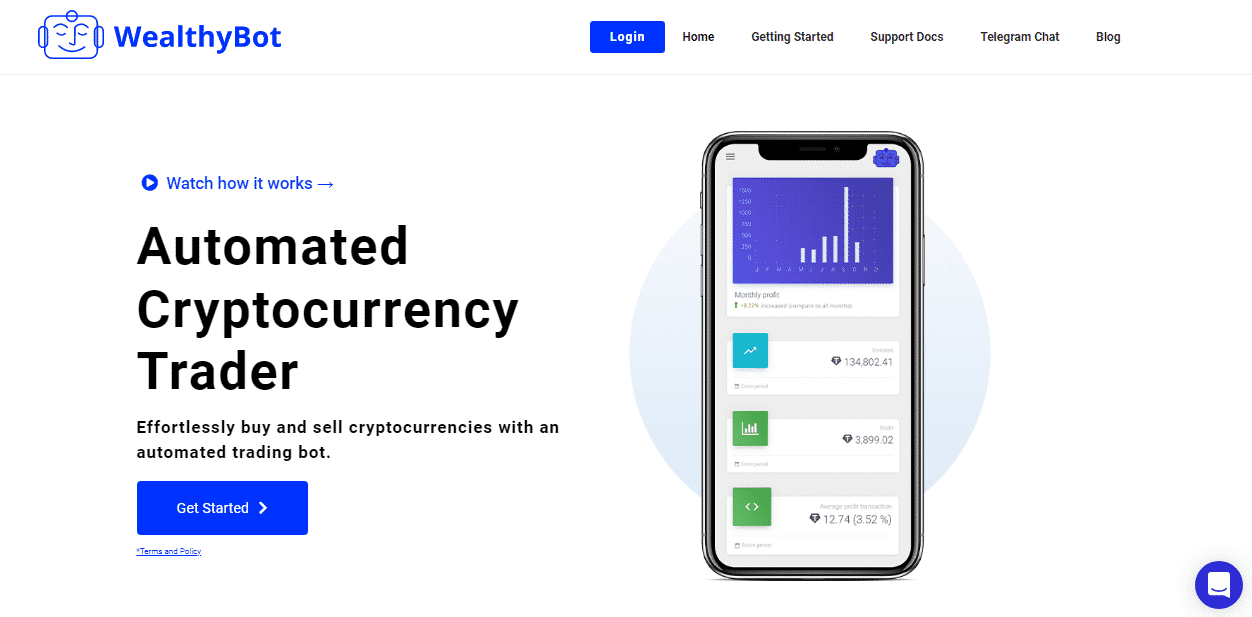 How does WealthyBot crypto bot function?
WealthyBot uses two strategies: Up/down and medium buy/sell. The bot does not buy/sell at high/low points but uses medium prices It will close the position when it reaches near the exact percentage of profit indicated by the investor. The platform recommends using a simulator before going live and requires a minimum deposit of $150 in Binance exchange with $25 in credits.
WealthyBot review–positive aspects
The bot is free to use
The WealthyBot simulator helps traders test the bot's performance like profitability and drawdown
WealthyBot review–negative aspects
The platform shows a lack of security and safety of funds
They do not have a stop-loss feature
It can trade with only one exchange (Binance) with few trading pairs
Time in business
There is no information about the past performance and the launch date of WealthyBot. Being in the financial market for an extensive duration can enhance the credibility of the service.
Reputation
WealthyBot can not be said to be highly reputable because of the anonymity of the developing team and the vision behind the platform's development. We only know it is powered by a website called secretenergy.com and there are no live or backtesting records available for the algorithms on the website.
Supported exchanges
WealthyBot is compatible with only one exchange, giving few choices for traders to trade in the vast crypto market:
Binance (US & international)
UI of WealthyBot
The user interface of WealthyBot is simple but can not be called beginner-friendly. It does not explain the working or features of the system. The website has no detailed document that explains its functionality and the security approach used to protect users' funds.
Key features of WealthyBot
The platform does not explain the features in detail, but some notable characteristics are:
The bots scan the market for favorable conditions and trade 24/7 automatically.
Its free simulator helps traders to test their strategies before investing real funds.
WealthyBot follows two prebuilt trading approaches that are customizable.
API keys are utilized to connect to your exchange.
How to get started on WealthyBot?
Trading with WealthyBot is possible in the given steps:
Register on the platform with your email and password
Open a Binance account and deposit USDT
Connect Binance API keys to WealthyBot
Add the credits that will be used to pay the fees to the bot
From the settings, create a live trader and fill in the parameters such as exchange, market, and trading approach
Save the settings and run the bot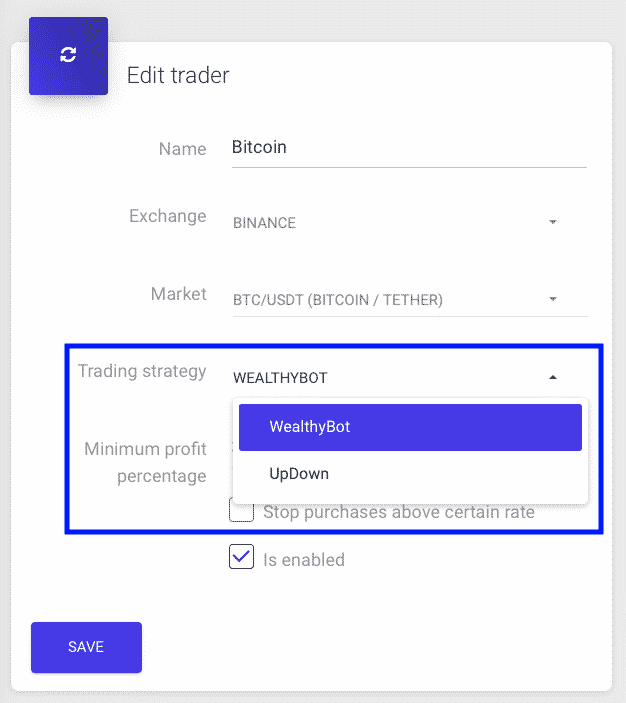 How secure is WealthyBot?
WealthyBot uses API keys to connect with Binance, and there are no details on the website about the safety of funds or data privacy. We do not know if the API keys are encrypted. The lack of a safety policy raises a red flag about the platform's legitimacy.
Customer support
Customer support can be contacted through a live chat, and a community of over 1300 members is present on the Telegram group. Traders can report issues about their bots on the website.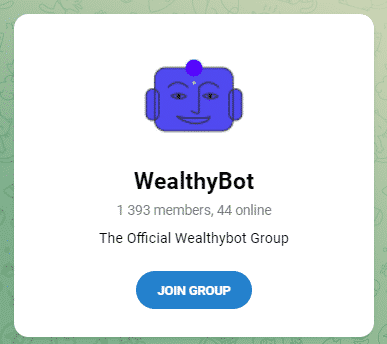 Are traders happy with WealthyBot?
An unclaimed profile of WealthyBot is present on TrustPilot with only one review. The trader complains that the platform can only connect with Binance and there is no support for other exchanges.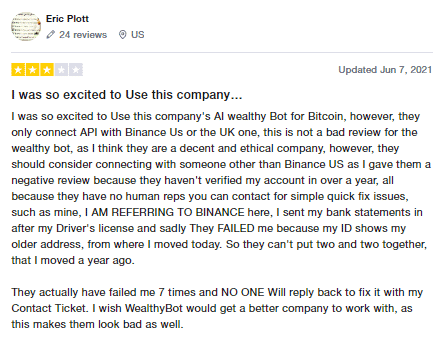 Pricing and fees
It is available for free with a 20% commission on profits made by the trader. The fees are deducted from WealthyBot credits.
Is a free trial available?
There is no free trial as WealthyBot is free to use. Without any proper backtesting or demo results, it is hard for traders to invest their hard-earned cash without raising an eyebrow.
Languages supported
WealthyBot support only one language in their product.i.e., English.
What kinds of traders is WealthyBot best suited for?
WealthyBots setting requires no coding skills or complex strategies. It only uses two strategies that are easy for beginners to understand and implement.
Company information
The platform is powered by secret energy and lacks proper vendor transparency. There is no information about its developer's team and company address.