Wealthfront review
Today, the issues of financial planning and automatic portfolio management are more relevant than ever. Hundreds of special tools have been invented to solve them, among which Wealthfront stands out. To understand the essence of its popularity, we recommend that you read our review to the end.
About Wealthfront
Wealthfront is the ultimate portfolio management tool. It was created back in 2008 and, over the years, has not lost its relevance. It is owned by Wealthfront Corporation (WC), based in California. She is pretty well known but has yet to be overly popular. However, the company is gradually increasing its client base and becoming a significant player. WC owns a good site. It has a separate section dedicated to the history of the company and its creators. You can also find contact information for the company here. At the same time, detailed information about the team members is unavailable.
Wealthfront is unlikely to inspire distrust in anyone. This tool is reliable and safe. In addition, it is easy to use and helpful to people from different social strata. It is enough to perform a few simple manipulations to set up the instrument for the first time. In the future, only point adjustments can be made. All this will take little time, which is essential for very busy people.
The tool is provided free of charge. At the same time, it provides for the collection of an annual commission, for the calculation of which a unique calculator is installed on the site. If you use an account management tool, the cost is 0.25%. The total amount will be much less than the services of financial advisors. In addition, there is an investment fund commission. It depends on several factors and is equal to 0.05% -0.29%. Even if we sum up all the costs, their value will be small compared to similar proposals from other companies.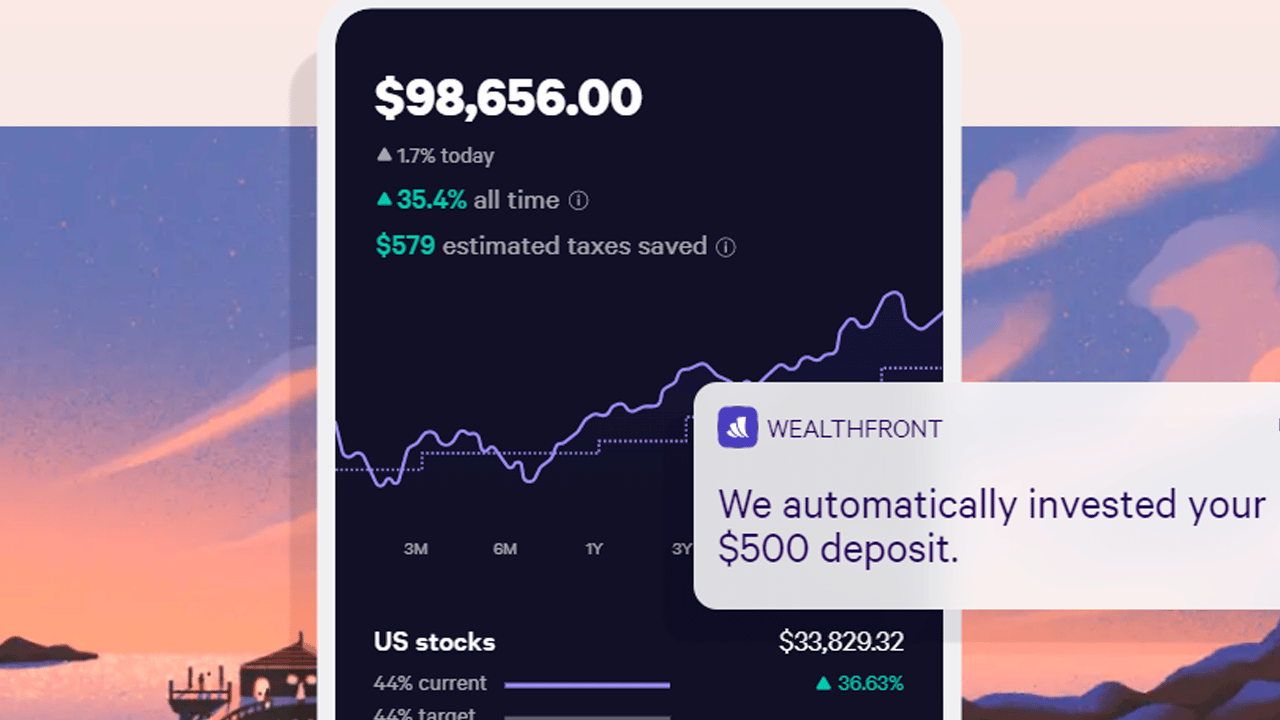 Key features
If users and Wealthfront reviews are to be believed, the process of using this tool is as simple as possible. However, remember a few traps that inattentive people can fall into. To prevent this from happening, you need to follow a specific sequence.
Walkthrough:
Enter the instrument's name in the search box and go to the official website.
Click on "Get started" to start the registration process.
At its first stage, choose the purpose of investing and for whom you will use the tool (for yourself, another person, or a company).
The next step is to provide personal information (name, email, etc.).
Then come up with a complex password, and confirm that you are a natural person, not a robot.
You will receive a link to the specified mail by clicking on which you will complete the registration process.
Next, download and install the tool on your device.
Log in and customize Wealthfront to suit your needs.
After completing the setup, you can start the operation process.
Finding a worthy use for Wealthfront will be easier if you study this tool's features in advance. There are few of them, so that this work will take a little time.
Important features:
Customer support. Wealthfront pays little attention to this issue, but it is also not worth calling it a big problem. You can contact the representatives of the company by phone and e-mail. In all cases, the support service works quickly and comprehensively to answer user questions. This privilege is available only five days a week. Also, remember that support works only 9 hours a day. At other times, applications are automatically accepted, the answers to which will come only the next day.
Minimum account. Wealthfront has certain minimum account limits. They apply to all users, regardless of the tool's purpose. The minimum amount is $500. This is a relatively low figure since many competitors have it much higher.
Automation. Your portfolio can be managed automatically. To do this, you must activate the corresponding function and observe the process. Management is carried out using unique expert algorithms that help maximize profits. Automation dramatically simplifies the user's tasks and leaves him much free time.
Information materials. The developer's website has a link to the Wealthfront blog. There, everyone can find dozens of helpful articles on investing. In addition, this section has a "Product news" tab. With its help, the company notifies customers about the latest tool updates, new features, and functions. All news and articles are written correctly in English.
Safety. Wealthfront indicates a minimum of information on the topic of security. At the same time, customer reviews tell about the absence of problems with it. The company's website has a section on financial risks. In it, users are notified of the possibility of losing money in the event of an unsuccessful investment. To summarize the above, Wealthfront can be called a secure tool you can trust with personal data.
Advantages and disadvantages
Reaching out to someone who does not believe in the effectiveness of investment tools is quite tricky. However, if he is given the benefits of Wealthfront to revere, even he will quickly change his mind. At the same time, you should not show him a list of shortcomings that, if desired, can be found in this tool.
Advantages:
• Developing company-developer
• A large number of users
• Minimum commissions
• Free registration and installation
• The ability to use the automation function
• Good reviews about the tool
• Blog and help center
• The efficiency of the support service
• Wide opportunities
• Various settings
Flaws:
• Automatic advisors instead of people
Various investment tools have become indispensable helpers for millions of people. They have made many aspects as simple as possible, from portfolio management to financial planning. Wealthfront was wildly successful in this matter. He gave users a lot of saved effort and free time.