The Wall Street Forex Robot is an EA that has been sold for several years or so. The presentation, as every one of FXAutomater, is long and has enough level of explanations. Let's see what new we've got.
Wall Street Forex Robot: To Trust or Not to Trust?
Scalping is one of the risky strategies. Many traders, as well as brokers, don't like aggressive scalping.
Features
We have grouped up features from different info blocks from the site:
The robot works automatically for us.
It can be run on the MetaTrader 4 platform.
The system is broker-free.
It's designed to trade mostly on ECN accounts.
The robot can be used on Standard, Mini, and Micro accounts.
Trading on 4 and 5 digits accounts is allowed.
The system follows NFA rules.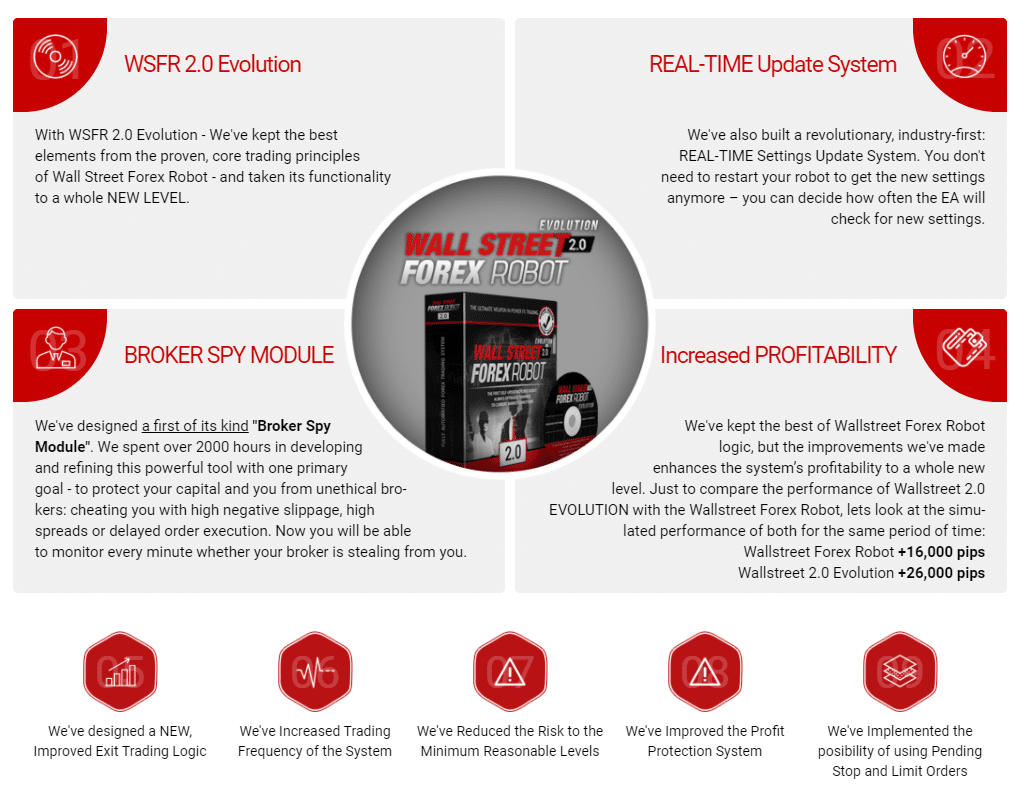 The money-management system calculates Lots Sizes, manages five protection features, runs a Broker Spy Module, and so on.
The system has a self-updating feature during trading.
The developers mentioned that the Evolution (2.0) version had increased profitability.
There's an improved Exit Trading Logic.
The robot trades more frequently.
The system can place Pending Stop and Limit orders.
An average winning trade is 10-15 pips.
It works with EUR/USD, GBP/USD, USD/JPY, USD/CHF, USD/CAD, NZD/USD, and AUD/USD.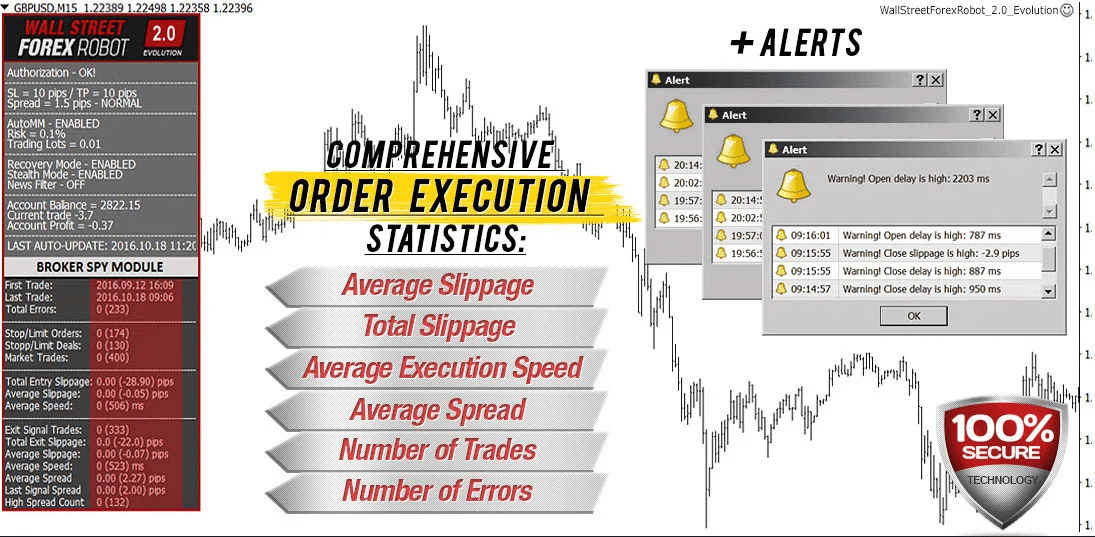 The screenshot shows how the system warns us about high slippage and high spreads.

There's an endless offer to save $110.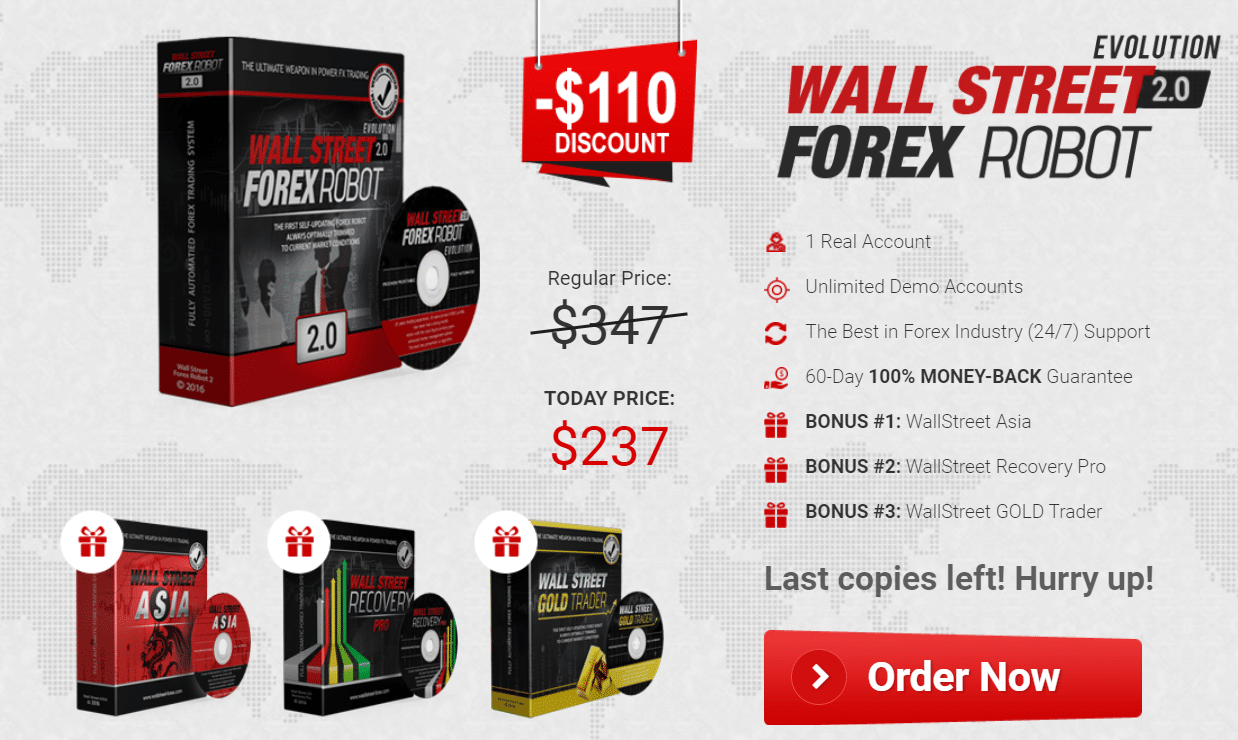 There's a single package that costs $237 and includes access to trading on a single real account, unlimited demo accounts, 24/7 support, a 60-day money-back guarantee. The pack is featured by WS Asia, Recovery Pro, and Gold Trader in addition.
Verified Trading Results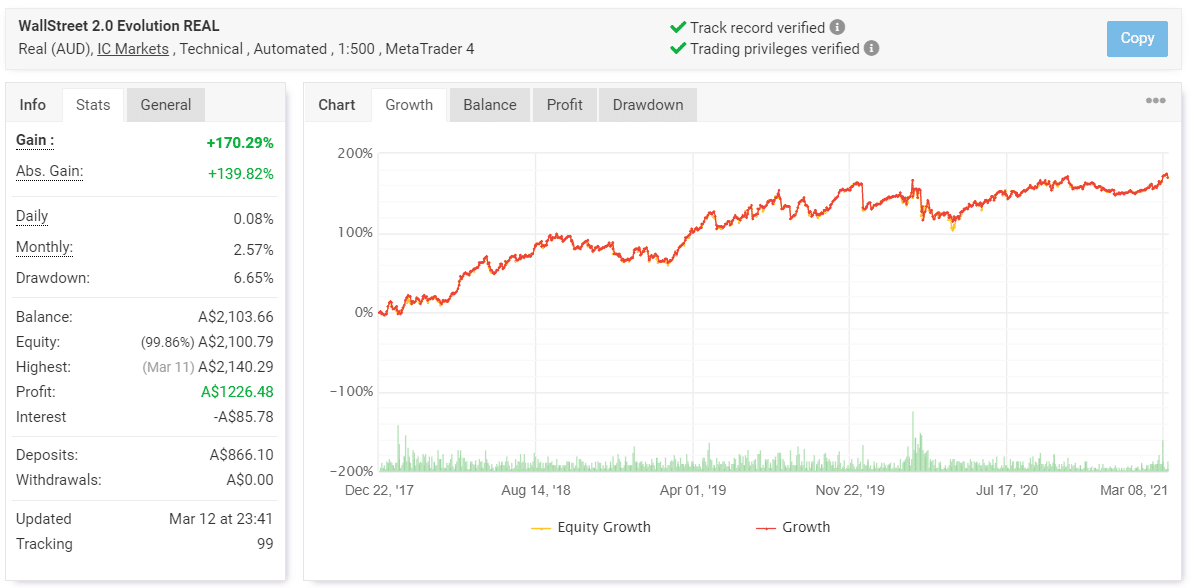 The robot works on a real AUD account on IC Markets. It works automatically with 1:500 leverage using technical indicator data from the MetaTrader 4 platform. The account has a Verified Track Record. It was created on December 22, 2017, and funded at 866.10 AUD only. Since then, the absolute gain has become +170.29%. An average monthly gain is +2.57%. The maximum drawdown is 6.65%.

The robot has closed 2904 deals with 9214 pips. An average win is 15.08 pips when an average loss is -41.13 pips. The win-rate is 79% for Longs and 77% for Shorts. The average trade length is five hours without two minutes. The Profit Factor is quite low – 1.13.

The robot focuses on trading GBP/USD (1470 deals), EUR/USD (572 deals), and USD/JPY (184 deals).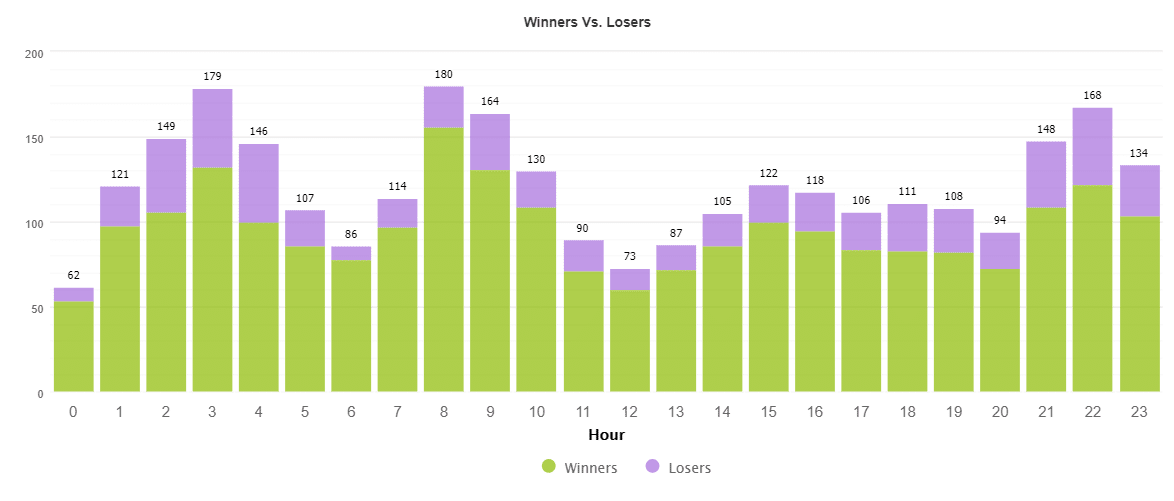 Wall Street Forex Robot works during all trading sessions.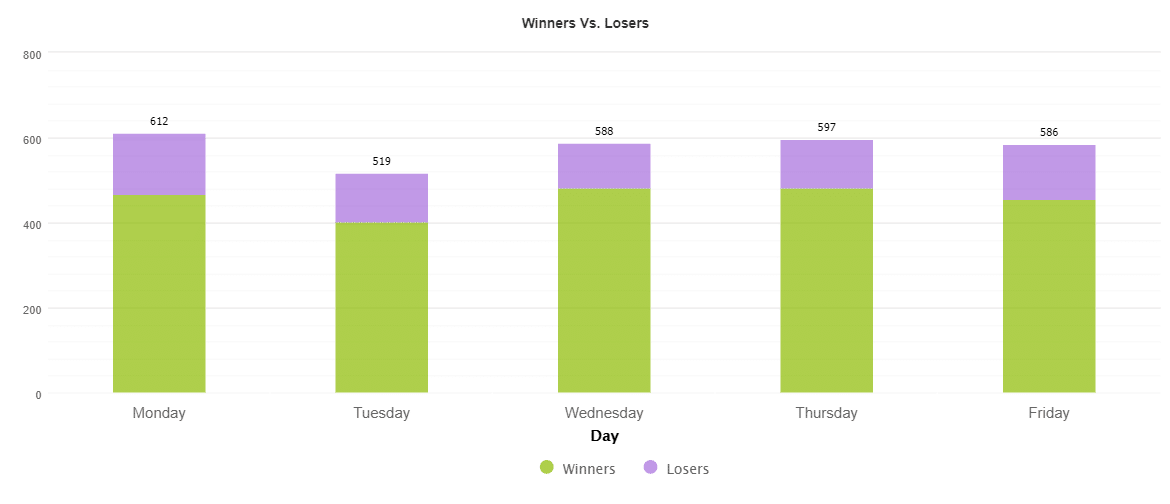 Monday is the most traded day (612 deals).

The expert advisor runs the account with medium risk to the account balance.
Stop Loss levels are high, but the system can close deals before they reach them.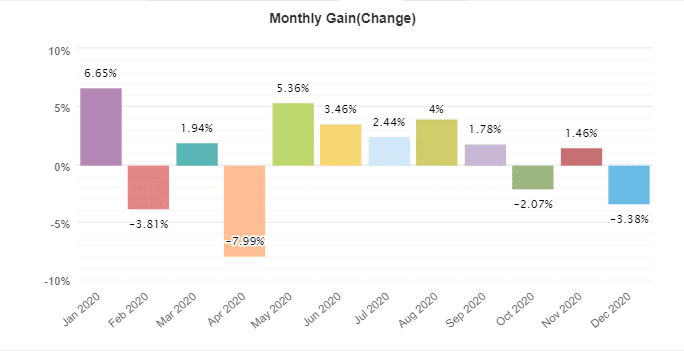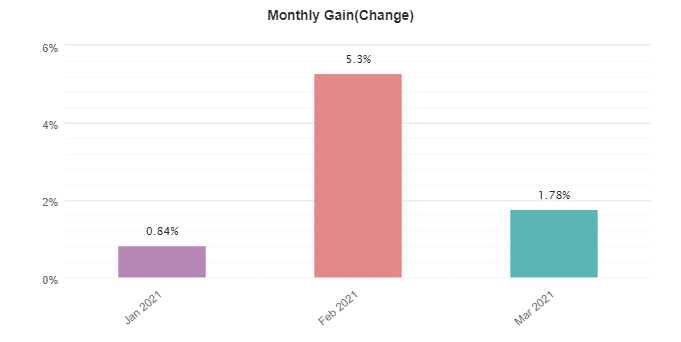 Trading results during 2020 look horrible. In 2021, the robot is profitable so far.
High Drawdowns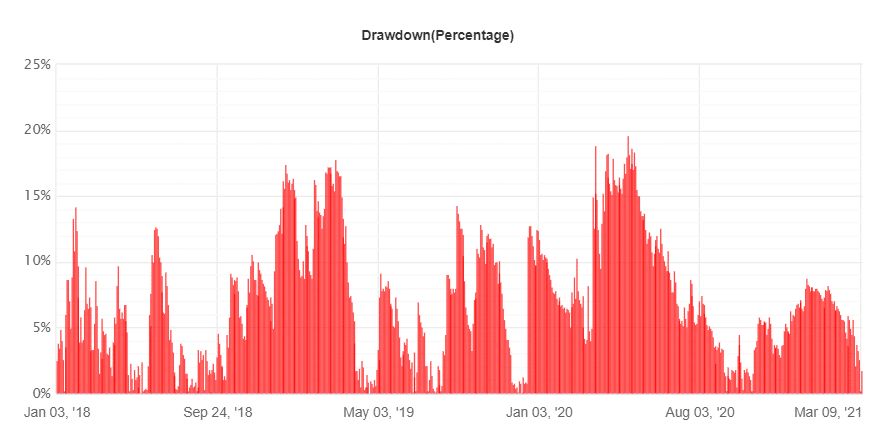 The system trades experiencing high and long-term drawdowns.
Vendor Transparency
The company has a good level of transparency as usual. We have trading results on the real account for several years to be sure if the robot fits our expectations.
People feedback

We have a Wall Street Forex Robot page on Forex Peace Army. The rate is 2.85 based on 18 reviews.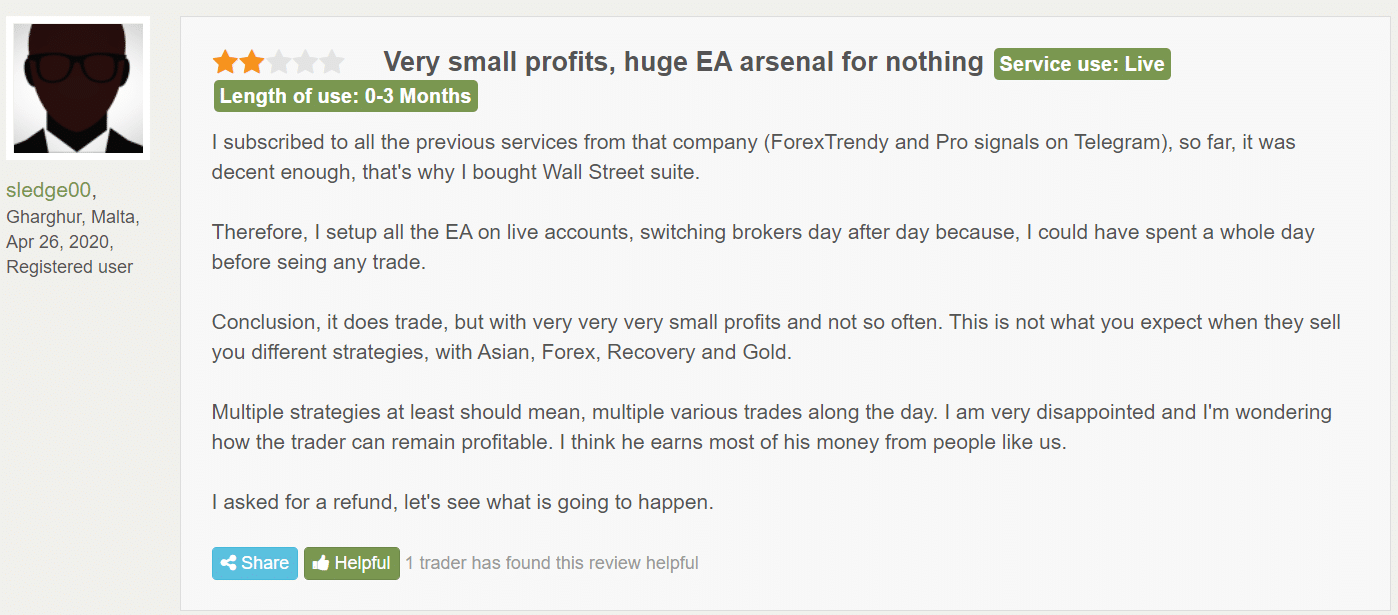 People weren't profitable by using the system.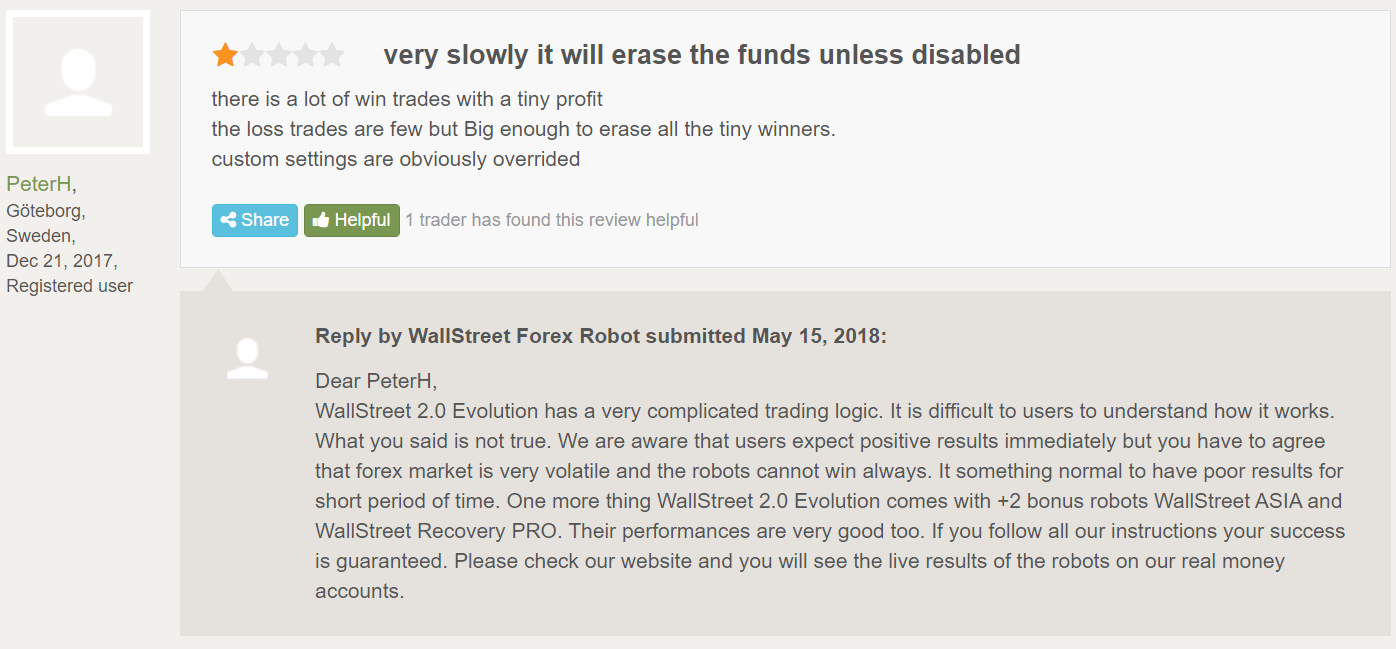 People noticed what we were talking about. Stop Loss levels are high compared to Take Profit ones.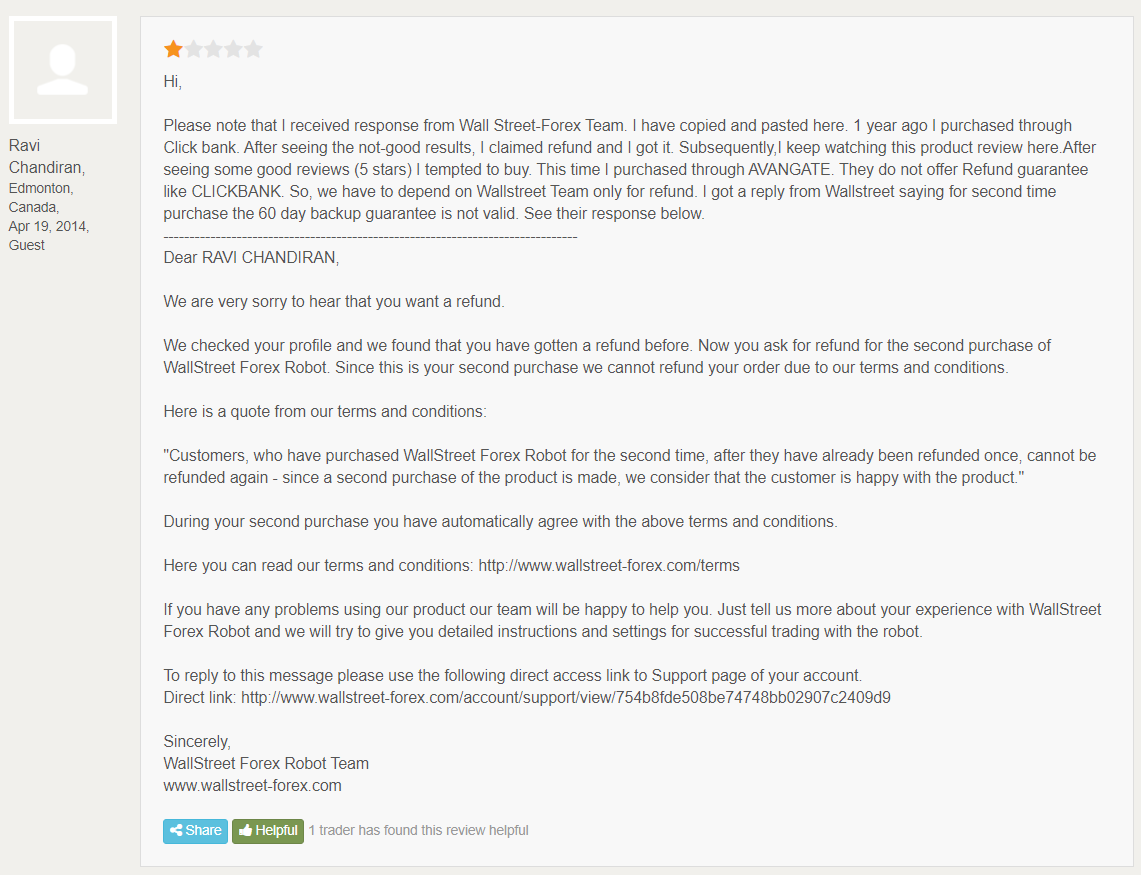 This comment is fake because we saw it in Forex Fury comments.
Other notes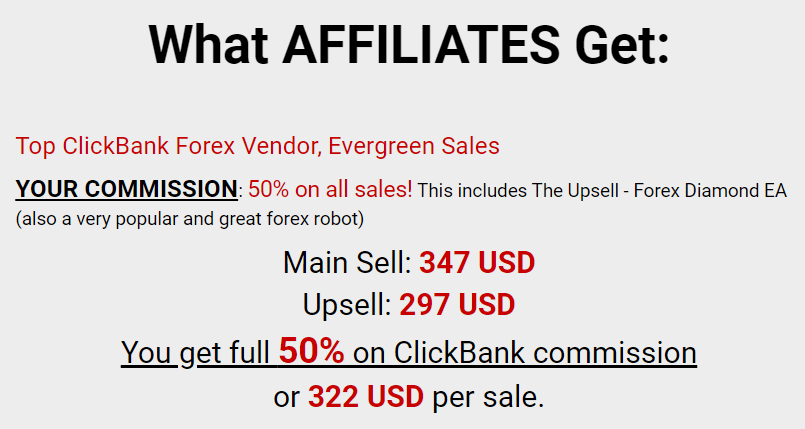 There's an affiliate program with weird requirements and calculations. Main Sell, Upsell? What's this? How can we get $322 of the EA costs of $237? Nonsense.