Vigorous EA is created by Ryan Brown, who is a full-time American trader with experience of over five years. He has created more than 100 trading bots in his trading career. Ryan is known for creating other Forex robots as well, namely Ranger, Redemption, and Pinpoint EAs.
The vendor claims that Vigorous EA is one of his best expert advisors with backtesting results of over 21 years. It works on the MetaTrader 4 platform and earns consistent profits every day. Let us see how this Forex trading system performs and should you buy it or not in this Vigorous EA review.
Vigorous EA: To Trust or Not to Trust?
When we visited the official website of Vigorous EA, we saw a video. The video was not about this expert advisor, rather it was on other trading tools provided by the same owner. We were disappointed that on the page of Vigorous EA, the vendor has put a video of his other trading systems. Plus, there are no details about the type of strategy used and settings. This software is not trustworthy due to these issues.
Features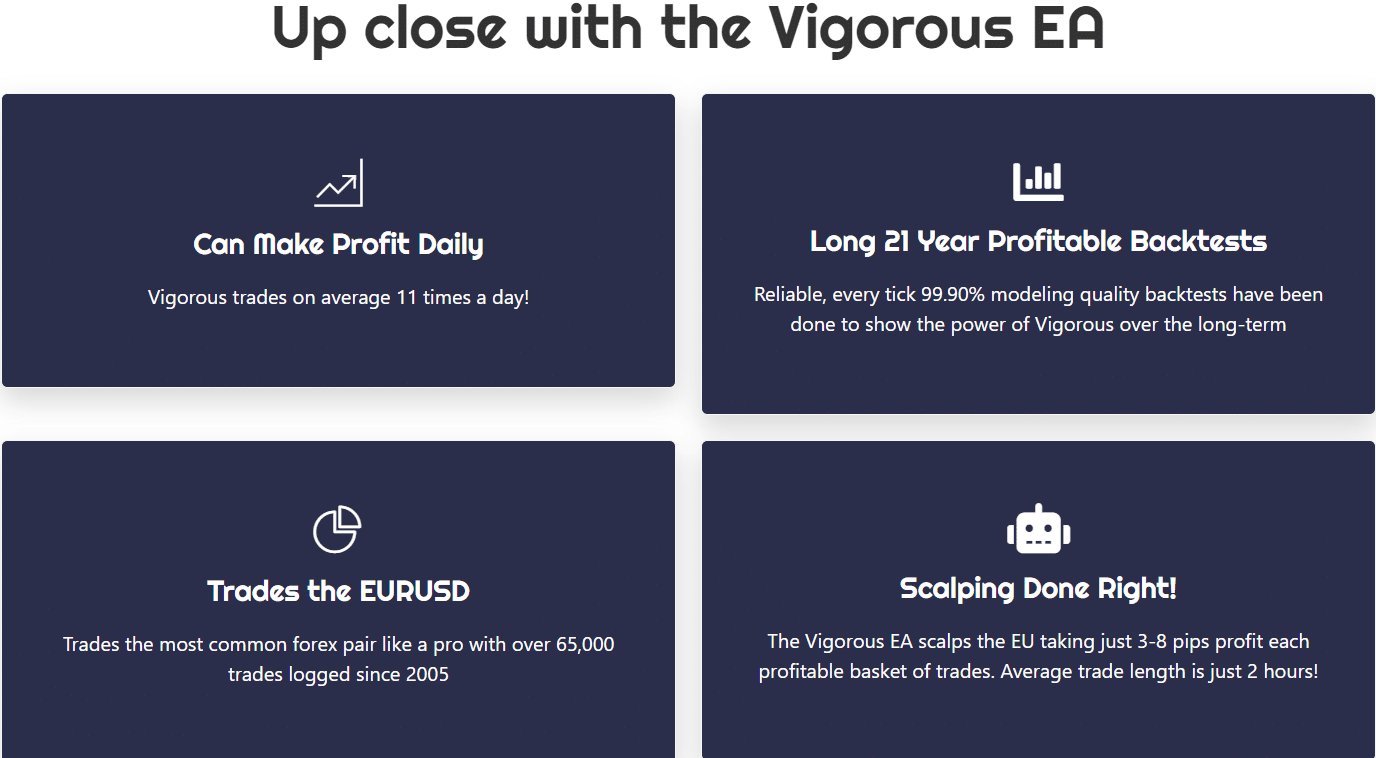 Vigorous EA trades in the EUR/USD currency pair up to 100 times per week. The developer asserts that it earns profits regularly. Some of its features encompass:
Just like its name, this EA places vigorous trades every day with an average of 11 trading times.
It executes 50 to 100 scalp trades per week.
The trading tool has lucrative and reliable backtest reports of 21 years with a modeling quality of 99.90%.
It has an estimated monthly profit of 1% to 3% per month.
This Forex trading tool trades in the most common pair, that is EUR/USD, with more than 65,000 trades since 2005.
The average trade length of this EA is only two hours.
It scalps the EU with just 3 to 8 pips profit.
You can start with a deposit of $5000 and leverage of 250:1.
It has three consecutive profitable months consecutively.
A total of 196 Vigorous EAs are sold till now.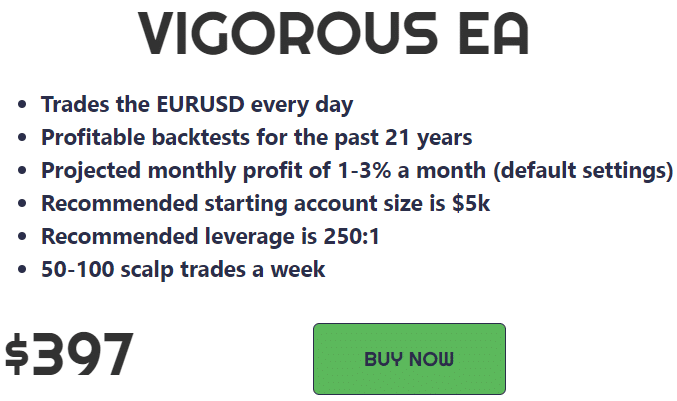 Vigorous EA is offered at $397, which is quite high as compared to other trading tools out there. Moreover, the developer only offers it in a bundle with his other expert advisors, including Ranger, Redemption, and Pinpoint EAs. This bundle will cost you $725. A lot of traders cannot afford this software when there are many others out there at much cheaper prices.
Poor Trading Results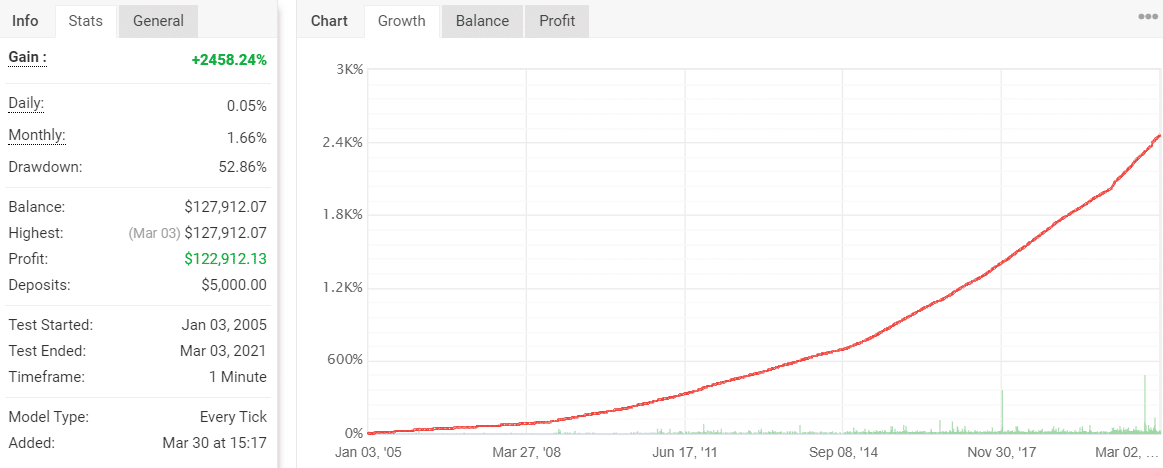 Vigorous EA has backtesting results on the Myfxbook website. It had a 1-minute timeframe and a modeling quality of 99.90%. The broker was EagleFX. These tests started on 3rd January 2005 and finished on 3rd March 2021, which means they are for a total of 16 years.
For the backtest report of 21 years, you have to provide your email address and then you can download it. The seller could have easily provided these results on the official site like he did for the backtesting results of 16 years.
Furthermore, the account had a gain of 2458.24% with an average daily gain of 0.05% and an average monthly gain of 1.66%. Its maximum drawdown was 52.86%. The account was started with a deposit of $5000 and now the total balance is $127,912.07.

It completed 65733 trades, out of which 49606 trades were winning ones with a profitability of 75%. The profit factor was 1.63 with an average trade length of 1 hour and 56 minutes. It had 79832.9 pips with an average win of 5.01 pips and an average loss of -10.47 pips.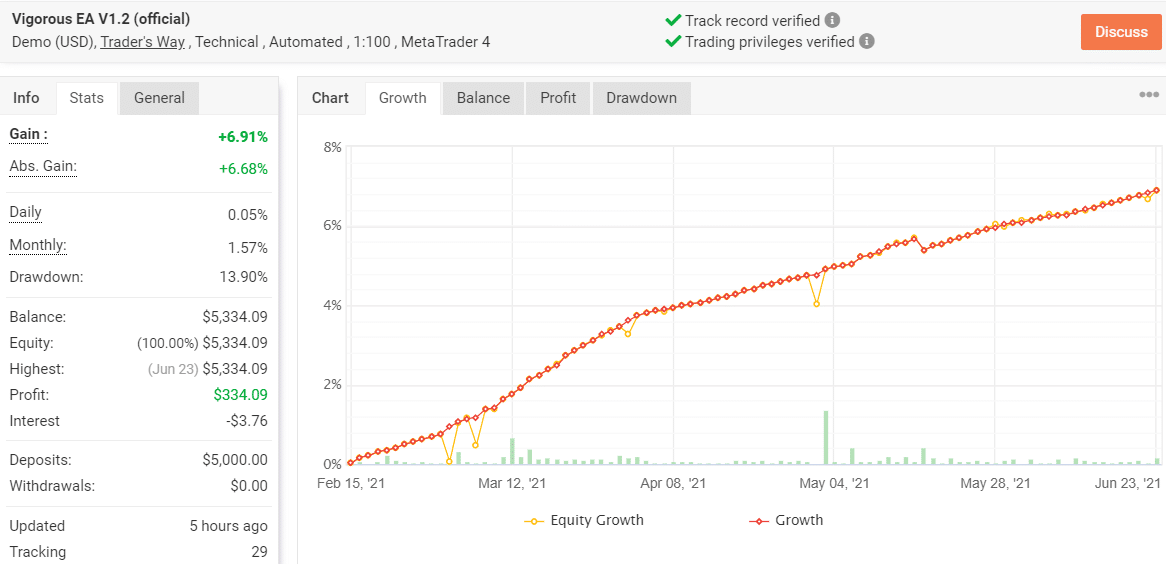 When it comes to the live trading results of Vigorous EA, it has a verified track record and trading privileges on Myfxbook. It runs a demo (USD) account on the MetaTrader 4 platform with leverage of 1:100. This fully automated account uses technical analysis and deals with the Trader's Way broker.
The account was created on 15th February 2021 and has a short trading history of four months. It has a gain of 6.91% with an absolute gain of 6.68%. Plus, its daily profit is 0.05% and its monthly profit is 1.57%. The maximum drawdown is 13.90%.

It was started with an initial deposit of $5000 and now has a total balance of $5334.09 with a profit of $334.09. The account has completed 1240 trades till now and has won 869 out of them, which shows profitability of 70%.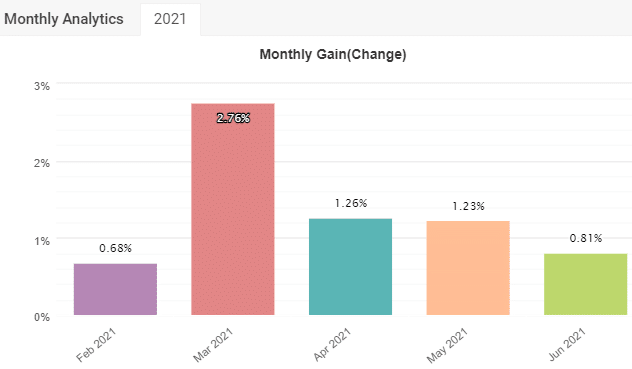 Its profit factor is 1.45 with an average trade length of 4 hours and 42 minutes. The longs won are 70% and the shorts won are 69%. This account has not earned a lot of profits in the last four months and has a maximum profit of 2.76%, which is not satisfactory.
Reviews from customers
There are no customer Vigorous EA review posts on any third-party websites, including Forexpeacearmy, Trustpilot, Myfxbook, and Quora. This might be because it is a new trading tool.