Very Well Trader is a robot with a mediocre presentation. From the beginning, we know that we can "Discover The Winning Forex Adviser." It runs four charts "like a clockwork generating stable profits every month without making any loss." Can we trust this information?

Very‌ ‌Well‌ ‌Trader: To Trust or Not to Trust?
It's hard to tell for sure because the robot has decreased Profit Factor compared with the period of start trading.
Features
Let's discuss Very Well Trader's features, strategy details, and settings:

The system will trade automatically for us.
The installation is lighting-quick. So, it'll take about five minutes.
We can use the robot on both: 4 and 5-digits accounts.
The support is responsive and welcome.
The system uses broker protection to hide SL and TP levels from being reached because of a broker.
The company has been working on Forex for over 15 years.
It trades the next symbols: AUD/USD, EUR/USD, GBP/USD, and USD/JPY.
The main time frame is a scalping one – M5.
There's a money-management system as well. It supports deals from opening to closing.
The SL levels are short.
As a result, there are no huge drawdowns.

The robot is sold in three packages: Standard, Most Popular, and Private. The Standard is sold for $149. It includes one real and one demo account license. The Most Popular pack is available for $249. It has two real and two demo licenses. We can buy the Private pack for $299. It has four real and four demo account licenses. We can rely on free and descend support, free updates, and a 30-day money-back guarantee.
Verified Trading Results
We haven't found backtest reports to check. So, we have no idea how the system handled the past data.

Very Well Trader works on the real USD account. The balance amounts to $19,975.24. The account was created on November 10, 2020, and deposited at $3000. The margin in use is $718.88. There are no open trades right now.

Very Well Trader opens deals on AUD/USD, GBP/USD, and USD/JPY. The account is live for 127 days. The total return has amounted to +565.80%. An average monthly return is +54.9%. The average win-rate is 76.6%. The Profit Factor is 13.73. An average trade frequency is almost five deals every day. There were 1941 pips obtained.

The Risk to the Reward Ratio is low – 0.89. An average win is +$40.33 when an average loss is only -$9.59. An average result is $28.63. The risk of ruin is insane – 74.6%. The average trade length is over a day.

The most frequently traded and profitable currency pair is GBP/USD – 329 deals that have brought $800.19.

The Short direction is the most frequently traded (399 deals), but the Long direction is much more profitable – $15,806.28.

It seems these 16 deals were traded manually because there's no magic number behind them.

Monday (166 deals) and Friday (123 deals) are the most active days.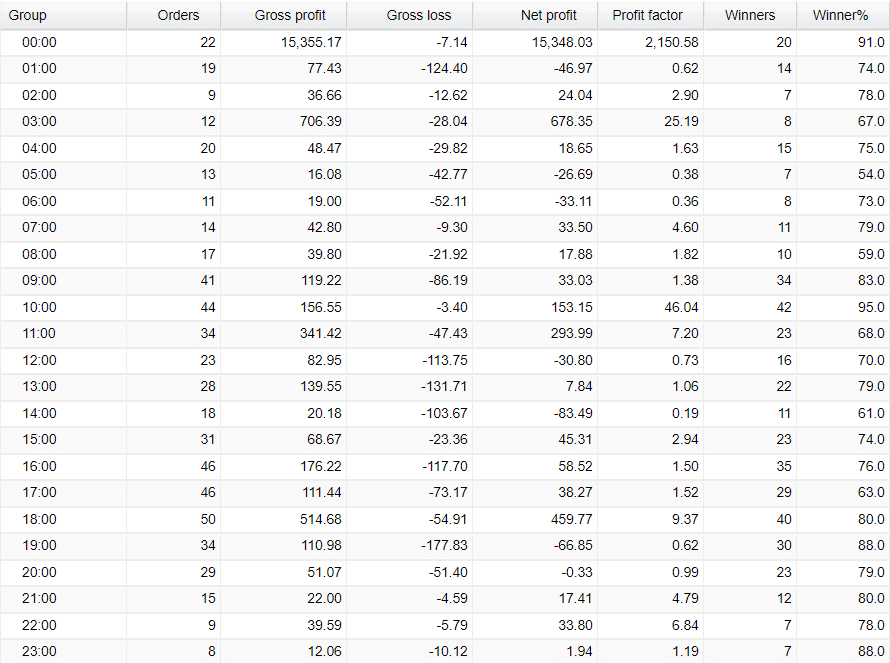 The system trades all day long.

As we can see, only in March 2021 the system started trading frequently.

Now, the robot decreases trading frequency from 278 deals to 223 deals weekly.
Vendor Transparency
The company has a medium level of transparency. We have real account trading results, but we don't have backtest reports, info about the team, indicators behind the system details, and customer feedback.
People feedback
The presentation doesn't feature comments about how good this system is. It's because the robot is too young for an expert advisor. There are no testimonials on TrustPilot, MQL5, and Forex Peace Army.
Other notes
The company uses a Click2Sell platform to sell the robot through. So, we can be sure that we'll be refunded if needed.