When you get into forex trading, you will notice that the use of forex trading tools is crucial to analyze markets and set parameters to choose trades. Top-notch trading tools can also impact your strategy, as well as your profits. Online brokers these days offer sophisticated trading platforms to the traders. Two of the best examples of trading platforms with the most useful trading tools are the MetaTrader 4 and MetaTrader 5 that offer automated trading, news feeds, charts, and customization.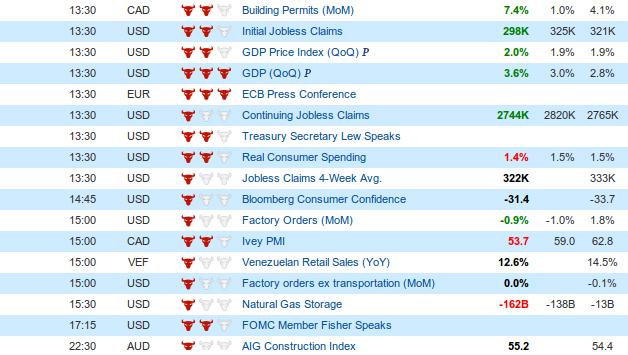 The majority of online brokers allow their users to use the MetaTrader platforms or they are offered as an alternative to their own proprietary platforms of the brokers. Advanced traders may also use powerful tools and features available on different platforms. The best forex trading tools for traders include –
Economic Calendar
The economic news calendar is one of the most popular and useful tools for forex trading. The list offers the future market consensus and previously released outcomes for major economic data and related geopolitical events to traders. It also lists the timing of central bank policy statements, elections, and monetary policymaker speeches.
This tool is important for fundamental analysis. Financial news websites and forex brokers usually offer this tool. It consists of a list containing all future fundamental economic releases affecting the valuation of the currency of a nation. This crucial fundamental information is generally available on the majority of online calendars one or two weeks before the releases.
Most published economic calendars include the type of release, for example, the unemployment rate with the previously released outcome and the expectation of the market for the upcoming release. Additionally, it is generally coded based on whether it has a significant, medium, light, or no impact.
If it has a low impact, then the currency pair typically has a nonexistent or small reaction to a deviation from the consensus. The currency pair moves a great degree if the event has a medium impact and the result deviates from the consensus. When the number of the release is significantly higher or lower than what the market expected, especially regarding items with a high impact, the currency pair moves more and encounters more market volatility.
Calculators
Different calculators are useful for forex traders that can be found on the broker's platform, such as –
Margin Calc
The margin represents the percentage of accounting currency amount that is required for opening and maintaining a position in a trading account. A margin calculator generally computes the margin required, the margin percentage, and the required currency amount for holding a forex position according to the entered contract size, your accounting currency, and the currency pair traded.
Currency Pip Calc
A pip is the smallest unit of movement in a currency pair's exchange rate. With a pip calculator, you can decide the amount of a pip that is worth according to the position size in the local currency. The pip calculator shows the pip value of a particular currency pair according to a micro-lot of 1,000 currency units, a mini-lot of 10,000 currency units, and a standard lot of 100,000 currency units. The traders can also enter their preferred position amount sometimes.
Volatility Calc
A volatility calculator uses the historical exchange rate information of a currency pair to determine the historical volatility for every currency pair for different timeframes in real-time. The timeframes can range from one week to one year. Some volatility calculators can calculate the implied volatility from option prices. Traders can lower their position sizes during higher volatility for managing their risk as a part of the money management strategy.
Profit Calc
A profit calculator is a simple but important trading tool. It allows the trader to determine the profit or loss of a trading position. With the help of this calculator, you can check it at different exchange rate levels.
Currency Converter
The value of one currency comparative to another currency at the principal exchange rate is computed by a currency converter. The tool usually takes an entered amount of a currency to convert it into another currency at the prevailing exchange rate. Traders who require calculating equivalent currency values for money management purposes and position sizing find this tool to be extremely useful.
Trade Journal
If you want to get valuable insight into your trading, then you must keep accurate records of your trades. A trading journal can be very useful for this purpose. When you make entries in a journal, you should include an explanation of why a trade was initiated, as well as the signals used for making the trade. It is also important to not whether the trade was profitable or it induced loss.
By entering trades in your trading journal, you are able to go through your mistakes so you can avoid repeating them in the upcoming trades. You may use a paper journal, a spreadsheet, or a trade journal service for keeping track of your trades and your reasons for executing those trades.
Technical Analysis Tools
Technical analysis allows the traders to recognize trading opportunities without the requirement of keeping updated with market news. However, it is challenging to identify accurate patterns that generate reliable trading signals. Fortunately, there are several forex trading tools available to do this work for you. These tools combine actionable technical analysis on every financial instrument virtually so they can help investors in optimizing their trading strategies. By providing personalized and automated trade ideas and combining technical and fundamental analysis, they help to generate trading signals for active traders.
When you choose a forex trading tool for technical analysis, you must ensure that it combines educational guidance, customizable options, and detailed and proactive analytics so it can help you to take control of your investments, regardless of your skill level.
Conclusion
There are plenty of trading tools available in the forex market. These tools can make your life easier as a trader by enhancing your strategy. So, make sure you choose well while using the tools. It is wise to research on trading tools online before using any of them.