The US saw higher PMI scores in April 2021 due to increased production.
US average home prices rose 0.4% in February 2021 and +2.1% in March 2021.
Switzerland's economy KOF barometer gained 15 points to settle at 134 points in April 2021.
The USD/CHF pair traded at a +0.40% price change on May 4, 2021, opening at 0.9145 after closing the previous day at 0.9109. The US dollar was boosted by higher prices of the manufacturing PMI for April 2021 at 89.6 against a previous reading of 85.6.
Analysts at the ISM had predicted the PMI to settle at 86.1. The positive scores indicate US supply companies faced an increase in new orders in export/ import, production, and supplies after Biden's stimulus.
Switzerland also saw an increase in its PMI (procure.ch), indicating continuous expansion in the manufacturing sector. The increase was, however, inadequate to neutralize the dollar with the US economy touted to gain 7% in 2021.
Home prices
Median prices of US houses in January 2021 stood at $330,500 before rising 0.4% into February 2021 at $331,830. Home prices continued to rise into March 2021 at $338,830 (+2.1%).
By the end of 2021, the median prices are expected to hit $379,112 if the month-over-month change remains constant.
Inventories of raw materials such as lumber prices are also likely to increase as the economy recovers from low sawmilling production caused by the Covid19 pandemic.
The Fed has kept interest rates at 0.25 since 2020, allowing banks to give affordable mortgage rates. According to the Fed Chief, Powell, the government's goal is to raise employment to maximum levels alongside inflation above the target rate of 2% to raise rates.
Social inclusion key to recovery
Labor participation in the US for minority groups such as African-American and Hispanic women dropped 4% into 2021. This number was in comparison to the 1% decline in the labor participation among white women and 2% for men.
The US employment rate has continued to decline since the 90's from 63% to less than 57% in 2020.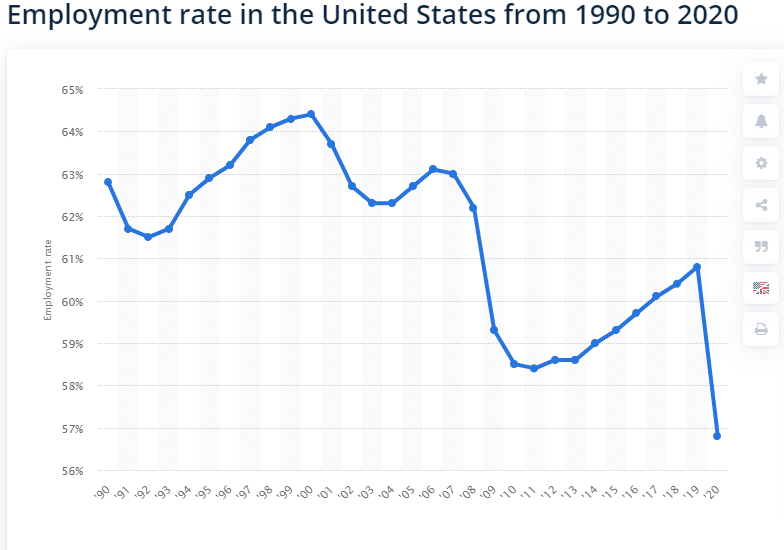 US employment rate from 1990-2020
The employment situation in the US may change after positive income results indicate a stronger recovery into 2022.
Personal income
March 2021 saw personal income levels among US citizens increase 21.1% to $4.21 trillion. Disposable income also gained 23.6% to $4.18 trillion as personal expenditures increased 4.2% to $616.0 billion.
The 21.1% increase in personal income was largely attributed to Biden's $1,400 stimulus checks that took center stage in the fiscal recovery package.
While inflation remains a major concern during this growth phase, the US economy is preparing to handle pressure caused by rising labor costs into 2021.
Switzerland economy post-pandemic
Switzerland's economy KOF barometer inched up 15 points to settle at 134 points in April 2021. The barometer that tracks economic performance for six months indicated improved performance into 2022.
According to the previous KOF reading, the Swiss economy was slated to grow to 131 points, showing that the country was headed for expansion post-pandemic.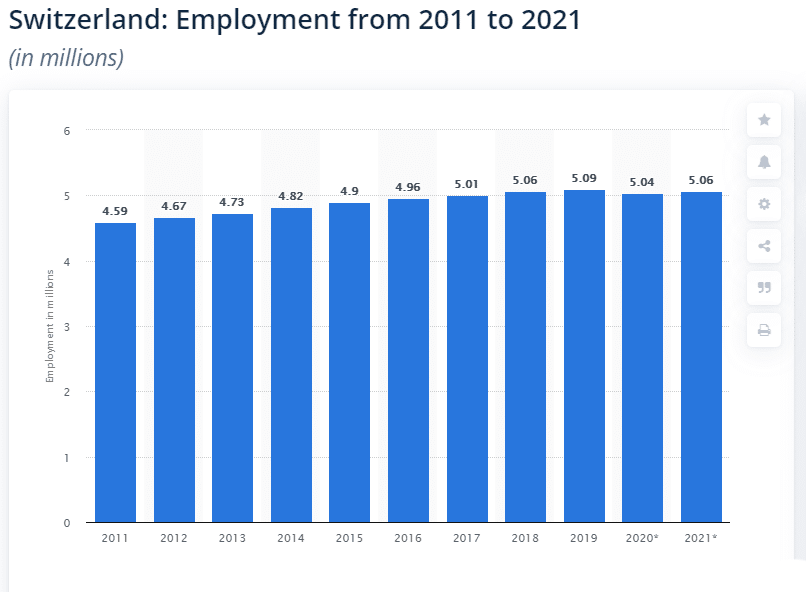 Switzerland employment levels
As of 2019, employment numbers stood at 5.09 million. Projections estimate that the numbers will decline to 5.04 million in 2020 (-0.98%) and 5.06 million in 2021 (-0.59%).
The numbers may increase, seeing Switzerland eased restrictions into Q2 2021. Unlike European countries like Germany, Switzerland has allowed restaurants to open as well as spectators in sporting activities.
Technical Analysis
The USD/CHF is likely to face resistance at 0.9360, a level it reached on March 9, 2021. The pair may continue the upward progression after the breakout at 0.9148.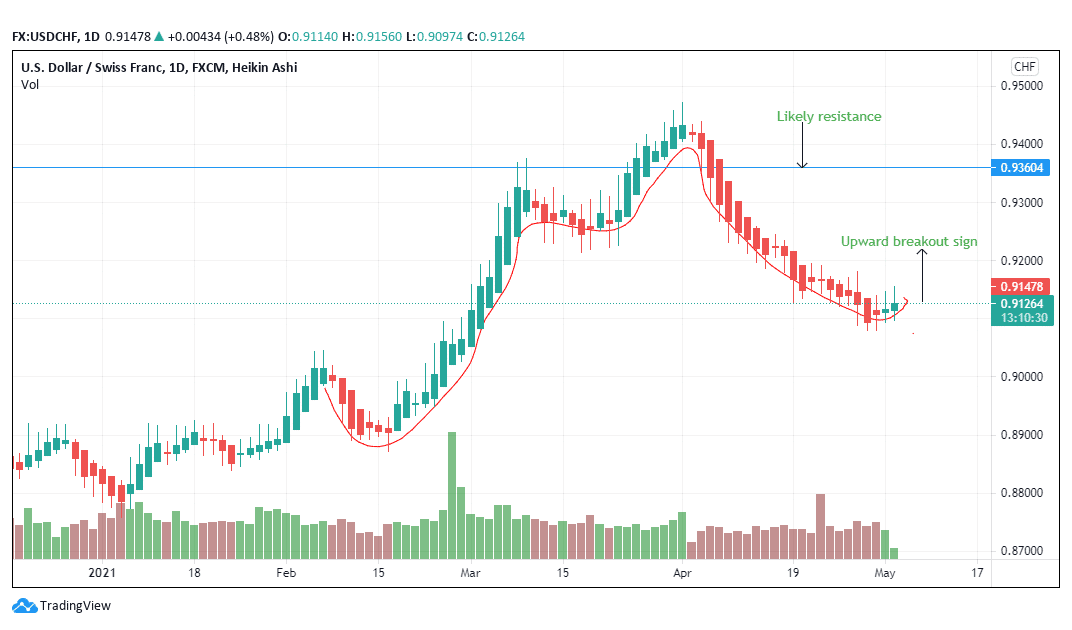 USD/CHF trading pair analysis
Buy demand may increase at 0.9200, with the pair expected to ignore a downward breakout until it hits resistance close to 0.9300.