Copy trading is a relatively new and fast-growing trading strategy today that is being embraced by novice and experienced traders alike. The strategy revolves around letting traders copy trades from experienced professionals with a proven industry experience. In this article, we will look at what copy trading is, how to do it well, and some of the popular brokers that accept the strategy.
What is copy trading in forex?
The idea behind copy trading is a relatively easy one to grasp. The concept came about because of the risks associated with forex trading. Studies show that more than 80% of people who start trading fail. As such, there was a need not to exclude people who fail in trading. A copy trading approach where these traders can copy from other experienced professionals was proposed to achieve that.
eToro, the popular online broker, was one of the earliest companies to embrace copy and social trading. Today, the company has millions of customers from around the world. It is also considering going public in New York by combining with a SPAC that will value the firm at more than $10 billion. Other online forex brokers like OctaFX and FXTM have embraced the technology.
How copy-trading works
Copy-trading works in a relatively simple way since online brokers have created a technology to facilitate these trades. With technology in place, the process starts when a broker reaches out to some of its best-performing traders, offering them an opportunity to make extra money. As the platform grows, any trader can apply to become a master.
After launching the product, the company usually gets customers who want to copy trades from other experienced traders. These customers have access to historical data on the "master's" dashboard. As such, they can see the historical performance and the trading strategy these masters use.
Finally, they can subscribe to the master and start making money right away. The master will often receive a commission for every profit they make for the customer. The chart below shows the data of AnisTrade, a leading master in OctaFX.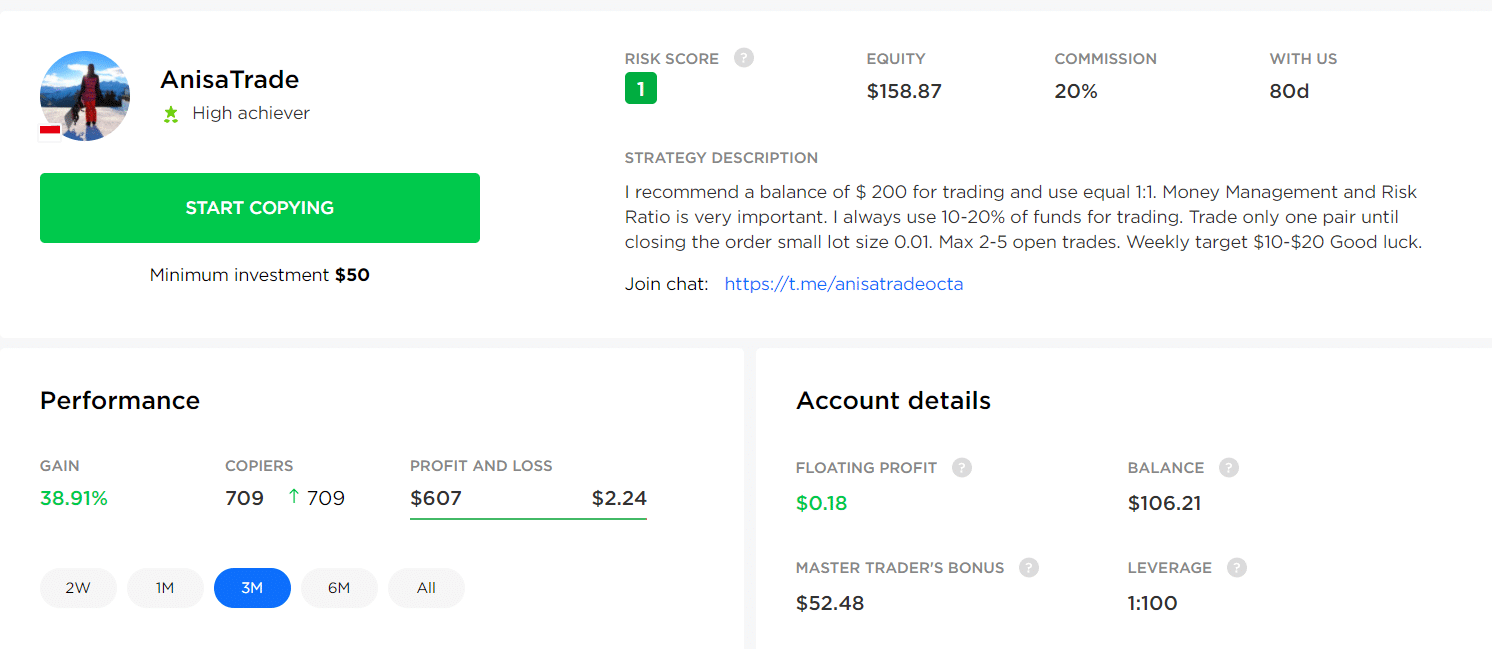 Copy trading for novice traders
In most cases, a large percentage of customers who subscribe to copy trading are novices or people who have struggled to make money themselves. As such, the strategy gives them an opportunity to make money by using the experience and expertise of veteran traders.
There are several benefits that novice traders get by embracing the copy trading strategy. First, it is one of the few ways that gives them access to the forex market. Second, it is a relatively easy strategy to use since all one has to do is to look at the historical performance and then click a button. Third, copy trading is a strategy that allows new traders to learn directly from people who have succeeded in the market. Finally, it gives you an opportunity to make passive income.
Copy trading for experienced traders
Experienced traders can also take advantage of the copy trading strategy. Most of them subscribe to other traders as a way of diversifying their returns. For example, if a trader has a $20,000 trading account, they can decide to trade with $15,000 and allocate the remaining $5,000 to several traders. By doing this, this trader will be in a good position to maximize his returns, limit exposure to risk, and have a diversified portfolio.
How to copy trade in forex
Joining a copy trading program in forex is a relatively easy process. First, we recommend that you start by learning what forex is, how it works, and some of the most common risks in the business. Doing that will help you get the picture of the industry you will be immersing yourself in.
Second, you need to find a good broker that offers copy trading features. Fortunately, this is a relatively easy process to make. All you need to do is to do a Google search of the top brokers that offer the service. You should then make a list of these traders and learn more about them. Some of the things to look at are their regulatory status, fee structure, and the tools offered in their copy trading program.
Third, after finding a good broker, you should create an account and do the verification process that is required and deposit your funds.
Finally, you should spend a few hours learning more about its copy trading platform and finding some of the company's best traders. You should then allocate your money across several master traders. For example, if you have a $10,000 account, you can allocate $2,500 across four master traders. Doing this will help to ensure that your portfolio is diversified enough.
You should subscribe to master traders who meet several criteria:
Historic performance. Go for a person who has a long track record of exemplary performance.
Fees. Since master traders take a commission, ensure that they are not very expensive.
Active trader. Look for a master trader who is actively involved in the market. Having a dormant one will not make sense to you.
Communication. Go for a trader who communicates regularly with their customers. For example, the screenshot below shows that Wesley Nolte of eToro regularly shares ideas with his followers in eToro.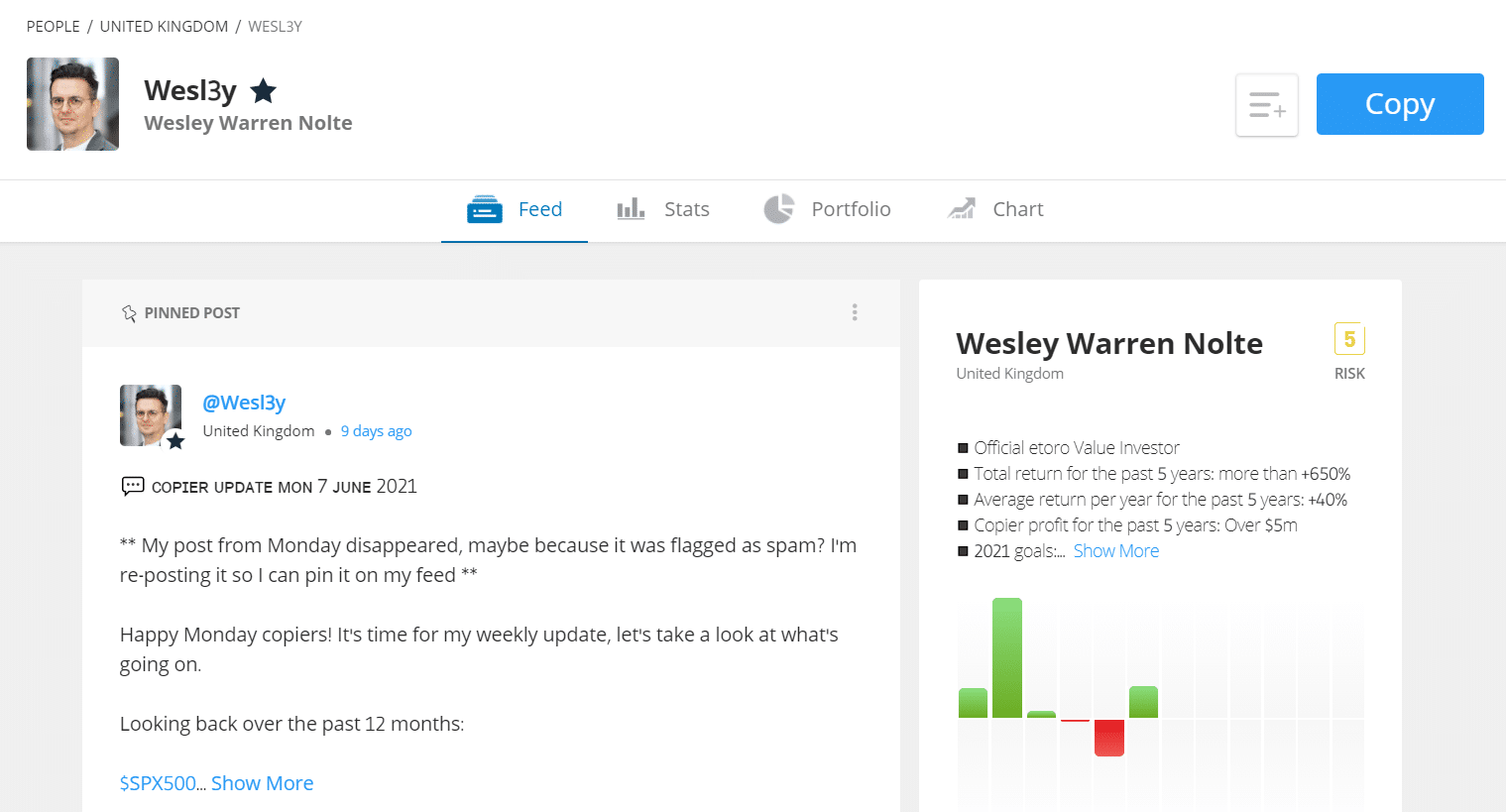 Summary
Copy trading is an ideal trading strategy for both novices and experienced traders. It is also a proven strategy that has worked for many people over the years. In this article, we have looked at some of the benefits of using the strategy regardless of your experience level. Also, we have shown some of the popular brokers who offer these features.
Still, there are several risks involved, such as losing money when your copiers suffer a long period of underperformance. That is why forex signals are popular as an alternative to forex trading.