Trader's Moon is an expert advisor offered by an automated trading service FX Trader Kit (it also includes Trader's Sun robot).
In this Trader's Moon review, we will provide a detailed analysis of this trading tool to decide whether it is a good investment solution for traders interested in automated trading or not.
Is Trader's Moon a Good Choice to Invest Money?
We have analyzed this EA and concluded that it is not a good choice for its price. Our arguments are:
The software showed best gains in 2019
Martingale strategy
High drawdown
Lack of vendor transparency
Features
Trader's Moon EA uses a Martingale strategy bit with "many significant improvements and benefits". However, in comparison with Trader's Sun, this version is the one most traders will avoid. The reasoning for this is simple because most traders choose a trading strategy that excludes any potential risks especially if it is the Martingale trading strategy that is well-known for blowing up hundreds of trading accounts ( we have never seen a Martingale Forex robot with a low drawdown).
The software trades AUDCAD, GBPAUD, AUDNZD, NZDCAD, EURCHF, EURGBP, EURSGD, and GBPCAD currency pairs. In addition to this, this trading tool is compatible with all MT4 brokers as well as with brokers using ECN-type order fulfillment.
Trader's Moon EA can be purchased on its own for or $269 or together with Trader's Sun for $405. Each copy of this expert advisor consists of the user manual, free updates, a 1-lifetime license, and 24/7 support. Offering only a one-lifetime license is not enough for traders who want to find the best Forex robot settings for a smooth and carefree trading experience.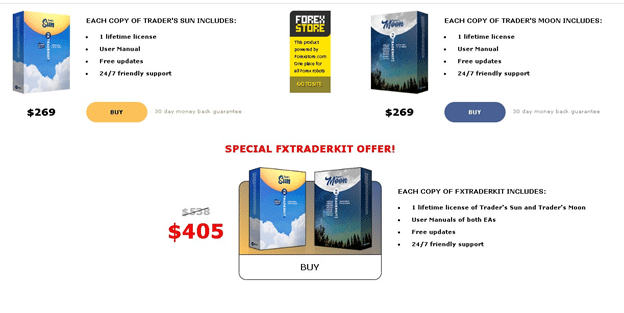 The FXTraderKit team offers a full-money guarantee for 30 days. The vendor promises to refund money if a trader does not make money till the end of 30 days.

Trading Strategy
We have already mentioned that Trader's Moon EA has higher trading risks because of its trading approach and methodology. Martingale trading strategy is very risky and for inexperienced traders or newbies, it may be a serious and difficult task to cope with.
The system opens "positions based on searching for a signal using a series of indicators", "as well as candlestick patterns".

This EA includes many different filters to help control the drawdown, many open transactions, control of currency pairs, and news background to ensure that the software is working accurately.

Trading Performance Data
The developers of Trader's Moon provide a live trading account with IC Markets brokerage. This is a real and live trading account, which launched on December 20, 2018.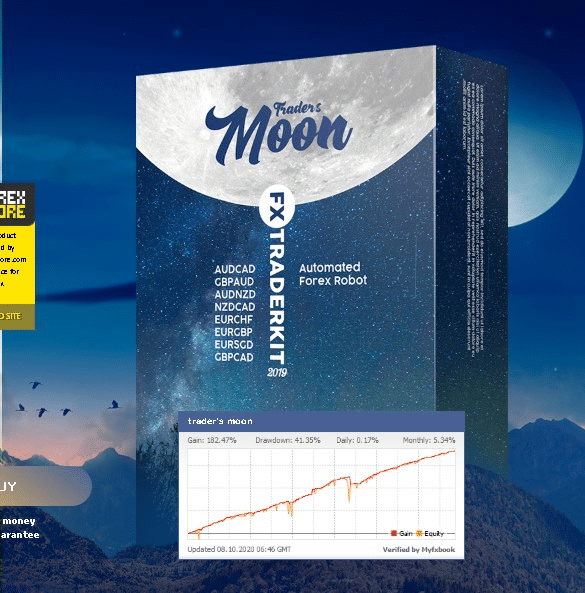 This trading account is showing a +182.63% gain and a 41.35% drawdown for 1256 trades. It has won 964 out of 1256 trades, which represents 77% and lost 292 out of 1256 trades, which represents 23%. Its risk-reward ratio is about 1:2 with the average win coming in at 24.27 pips and average loss coming in at -51.04 pips. The average trade length is 2 days and the worst trade recorded is -318, 2 pips.

In comparison with the previous year, 2020 is showing a dwindling trading performance.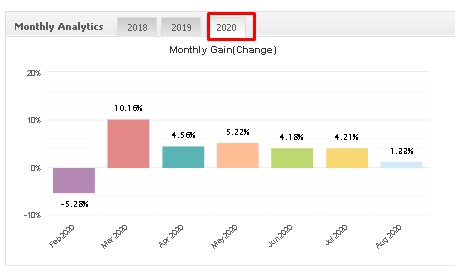 The majority of gains were coming in 2019 with most months coming in between 2-11%: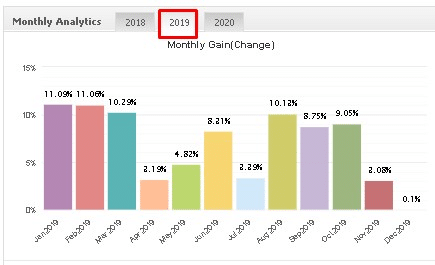 Vendor Transparency
The developers of Trader's Moon are the owners of ForexStore as well as creators of well-known robots: ForexBot28, FXEurGrid, and FXHelix. Oddly, the developers of this EA do not mention either their names on their sales page or their connection to these expert advisors. They do not mention their team, location, or trading experience in the Forex marketplace. We know nothing about people who stand for the Trader's Moon robot as well as do not understand why the developers of such well known expert advisors have decided to stay incognito. Every day a new EA appears in the market. Even if it looks well and has a great trading strategy, it may seem "suspicious" for traders, especially if they find no information about the developer. Therefore, we recommend the developer of Trader's Moon to provide detailed information about themselves and their history in the Forex market to obtain reputation and trust among potential customers.