Terra, a blockchain product known for its stablecoins, has grown to become one of the leading players in the Decentralized Finance (DeFi) industry. According to DeFi Llama, it is now the second-biggest platform after Ethereum.
Its projects have a total value locked of over $23 billion, which is a remarkable performance considering that it had no meaningful projects in the past few years. This article will first look at the top 5 DeFi projects and their cryptocurrencies that are built on Terra's network.
Anchor Protocol
Anchor Protocol is a relatively new DeFi project built on Terra that has become one of the leading players in the industry. Indeed, in March 2022, the protocol boasted of having over $13 billion of assets secured in its network.
The idea behind Anchor Protocol is simple. Instead of taking a loan from a centralized financial institution, cryptocurrency owner can deposit their funds and then borrow. In the past, the protocol allowed people to deposit using Terra UST, the fourth-biggest stablecoin in the world.
Recently, Anchor accepted ERC tokens like Dai, Tether, and Binance Coin. Now, users deposit their coins in the protocol, which creates a pool where people can borrow and pay interest. This interest covers the operation cost of running the network and rewarding depositors.
At the time of writing, the rewards for investing in Anchor's ecosystem are about 20%. This is a strong number that appears too good to be true. For one, in a period of low-interest rates, saving US dollars savings account yields less than 1%.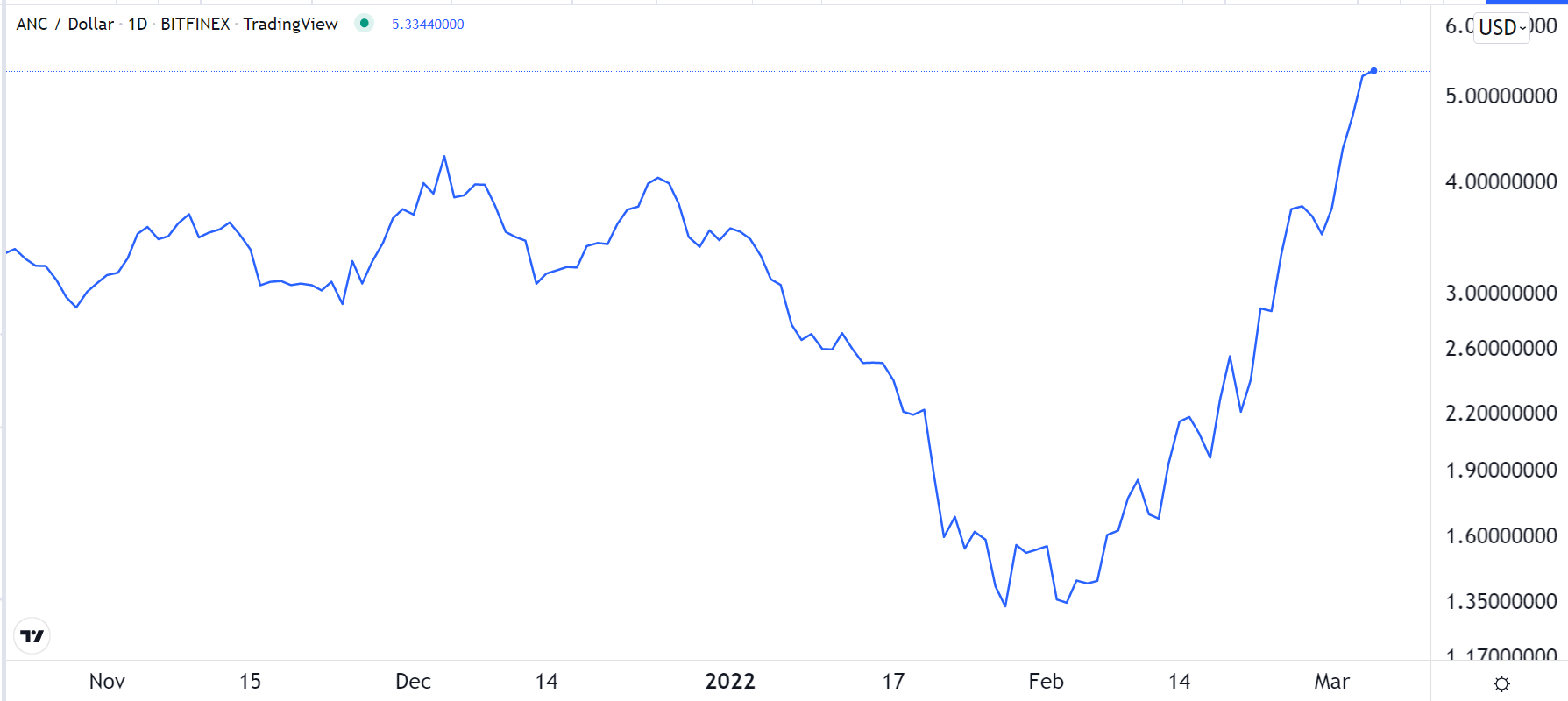 Like other DeFi platforms, Anchor has its own native token that people can buy and sell in ordinary exchanges. The coin is used to provide users with a way to contribute to the platform's governance. According to its website, there are over 258 million ANCs in circulation, giving it a market cap of over $1.4 billion.
Lido
Lido is another big player in the Terra ecosystem. It also has other versions built on Solana's and Ethereum's ecosystem. Data shows that it has a TVL of over $6 billion in Terra's ecosystem and over $12 billion across the three chains.
The idea behind Lido is also straightforward. Users can stake their assets in order to earn a daily reward. And, unlike most centralized yield platforms, Lido does not have a minimum account limit.
After staking your coin, Lido allows you to mint staked tokens, which are usually pegged on a 1:1 ratio to your initial stake. At the time of writing, the APR for its Ethereum chain was about 4.4%, and there were $5.5 billion staked. Its Terra platform had over $7.2 billion and an APR of 7.3%, while its Solana ecosystem had about $210 million and an APR of 5.7%.
A key part of Lido is the fact that it is highly integrated with other DeFi protocols. Some of the top partnerships are with the likes of Aave, SushiSwap, Curve Finance, and Maker, among other protocols.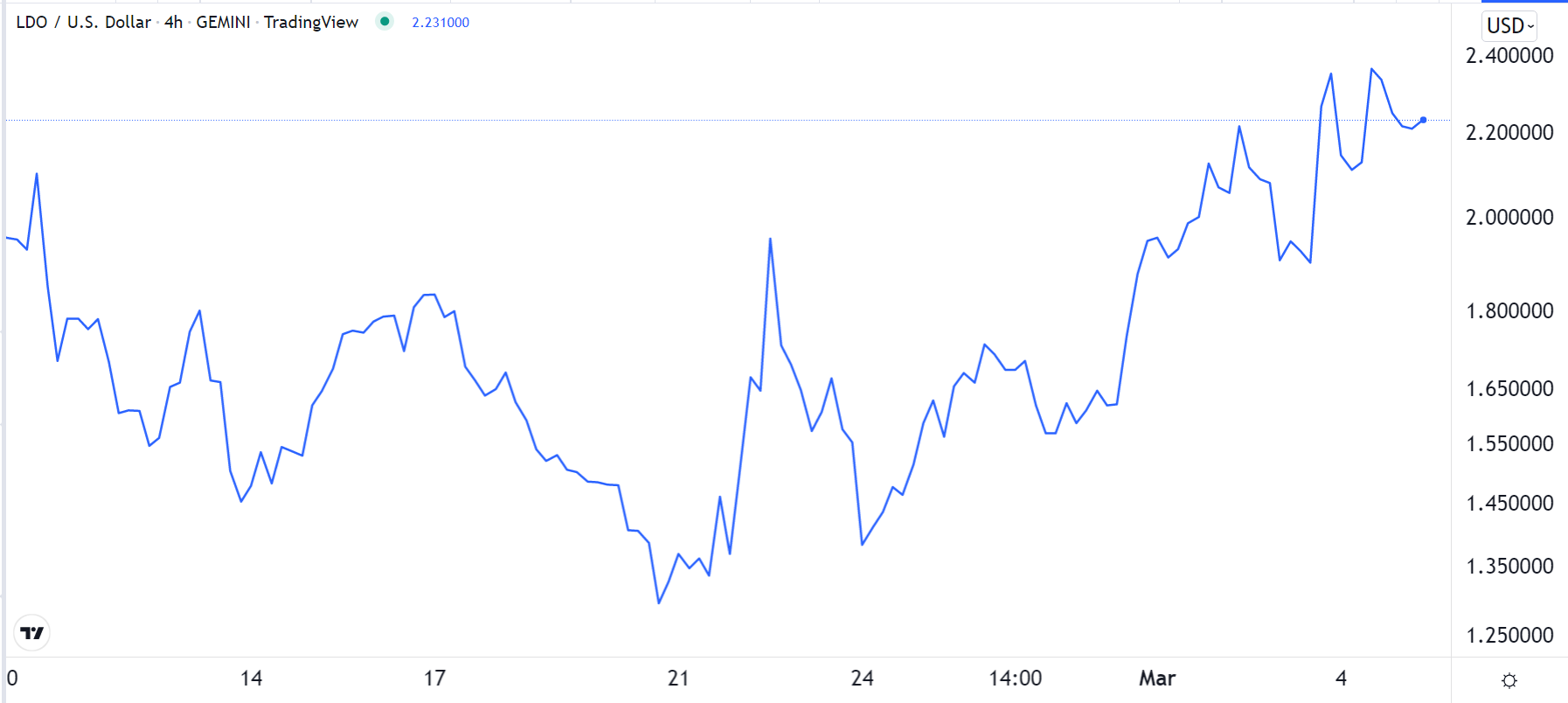 LDO is the native token for the platform's ecosystem. It has a total market cap of about $233 million and is the 313th biggest cryptocurrency.
Astroport
A decentralized exchange (DEX) is a platform that enables people to buy and sell cryptocurrencies without going through a centralized company like Coinbase. Some of the most popular DEXs are Uniswap and PancakeSwap. The benefit of using these DEXs is that they don't require sign-ups and logins. Instead, they only require someone to connect their cryptocurrency wallets.
Astroport is the biggest DEX built using Terra's ecosystem, with a TVL of $1.27 billion. It has multiple features that make it attractive to traders. First, it supports both Uniswap's Constant Product and Curve StableSwap Invariant formula pools.
At the time of writing, it had over $1.3 billion in total liquidity and had processed coins worth $590 million in the previous 24 hours. Also, users are eligible for ASTRO's airdrops.
Astroport's native coin is known as ASTRO and has a market cap of over $169 million and a diluted value of $1.3 billion.
Mirror Protocol
Mirror Protocol is a platform built by Terraform Labs, which is the team behind Terra's platform. It is a bit different from the other DeFi projects because of its role and how it works. Mirror helps people to create synthetic assets called mAssets that track existing assets like cryptocurrencies, stocks, commodities, and currencies.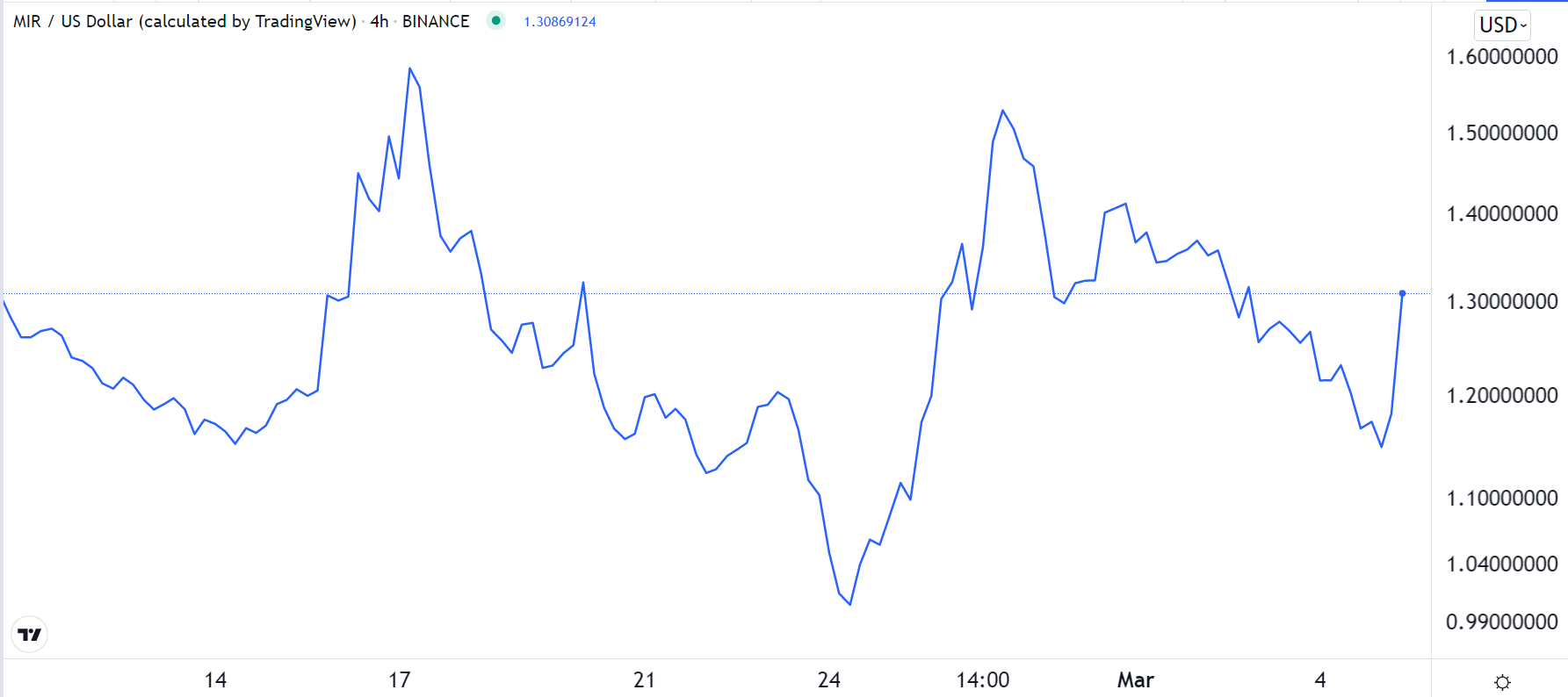 For example, mNFLX is the synthetic asset that tracks Netflix shares. Mirror is, therefore, similar to Synthetix, which is built using Ethereum's technology. Mirror Protocol has assets worth over $570 million in its Terra ecosystem. The native token for Mirror is known as MIR and has a market value of $170 million.
TerraSwap
TerraSwap is another DEX in the Terra ecosystem. The network uses the Automated Market Maker (AMM) model to operate. This means that anyone can provide liquidity to the platform and then earn rewards through the liquidity token. Through the platform, people can trade multiple coin pairs at a relatively affordable rate. The most popular pairs in the ecosystem are LUNA-bLUNA, LUNA-UST, UST-ANC.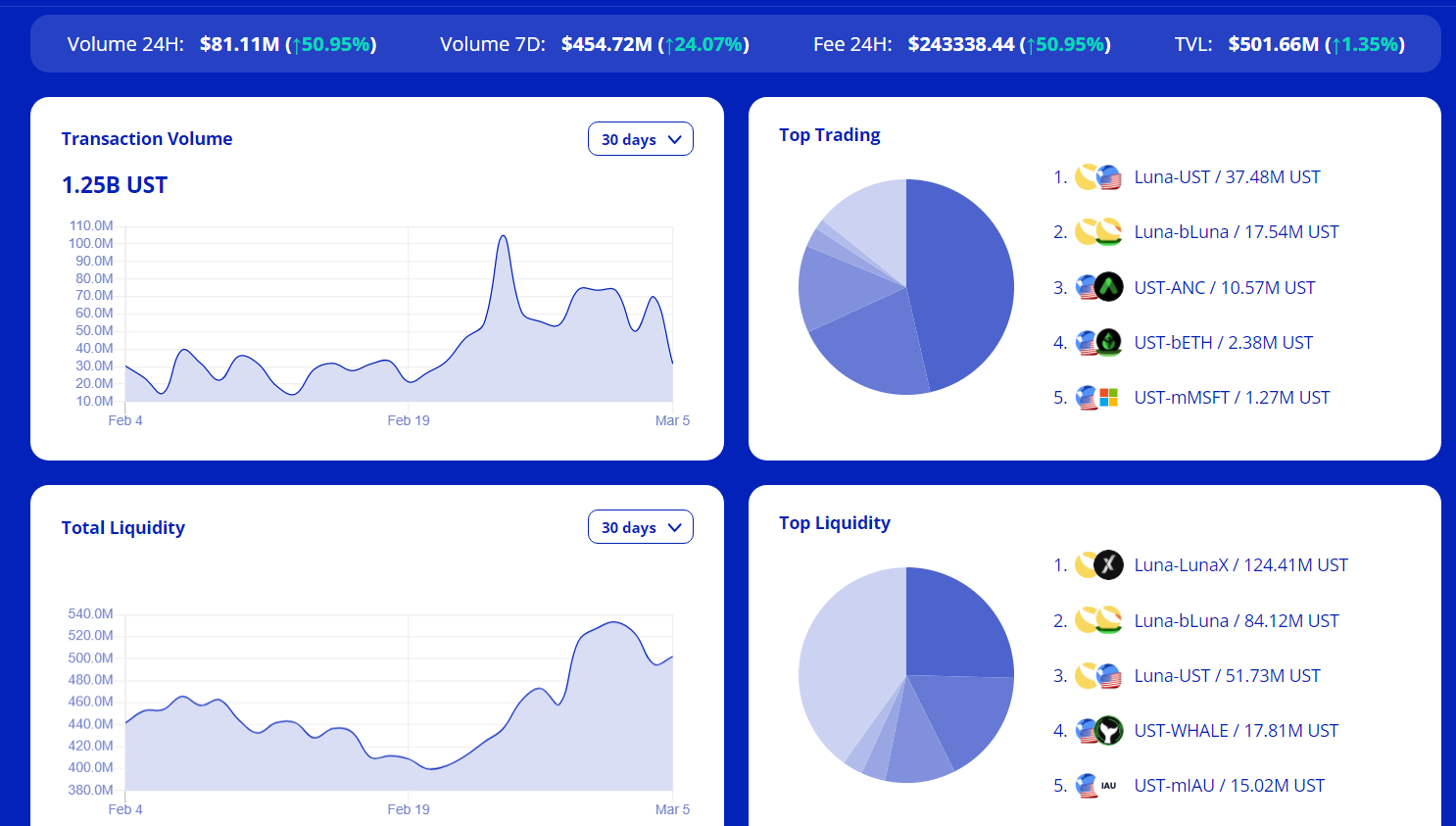 TerraSwap has a total value locked of over $695 million, making it the 5th biggest network in Terra's ecosystem. Unlike the other platforms, TerraSwap does not have a native coin. Instead, the network uses TerraUST, which is the fourth-biggest stablecoin in the world.
Summary
Terra has had remarkable success in the past few months: its Chai app is now viral in South Korea, while its stablecoin is the fourth-biggest in the world. Its DeFi ecosystem is expanding at a significantly faster pace. In this article, we have looked at some of the popular apps built using the network.