Cryptocurrencies and blockchain technology have been stirring up quite the conversation on many online platforms. People are getting interested in this topic, as many are willing to invest in digital assets in the hopes of turning a profit. To that end, there is a dire need for information on how to invest, as well as the best avenues to do so without unnecessarily risking investor funds. There are hundreds if not thousands of websites that offer this information. In this article, we shall look at the top 8 of these news sources.
CoinDesk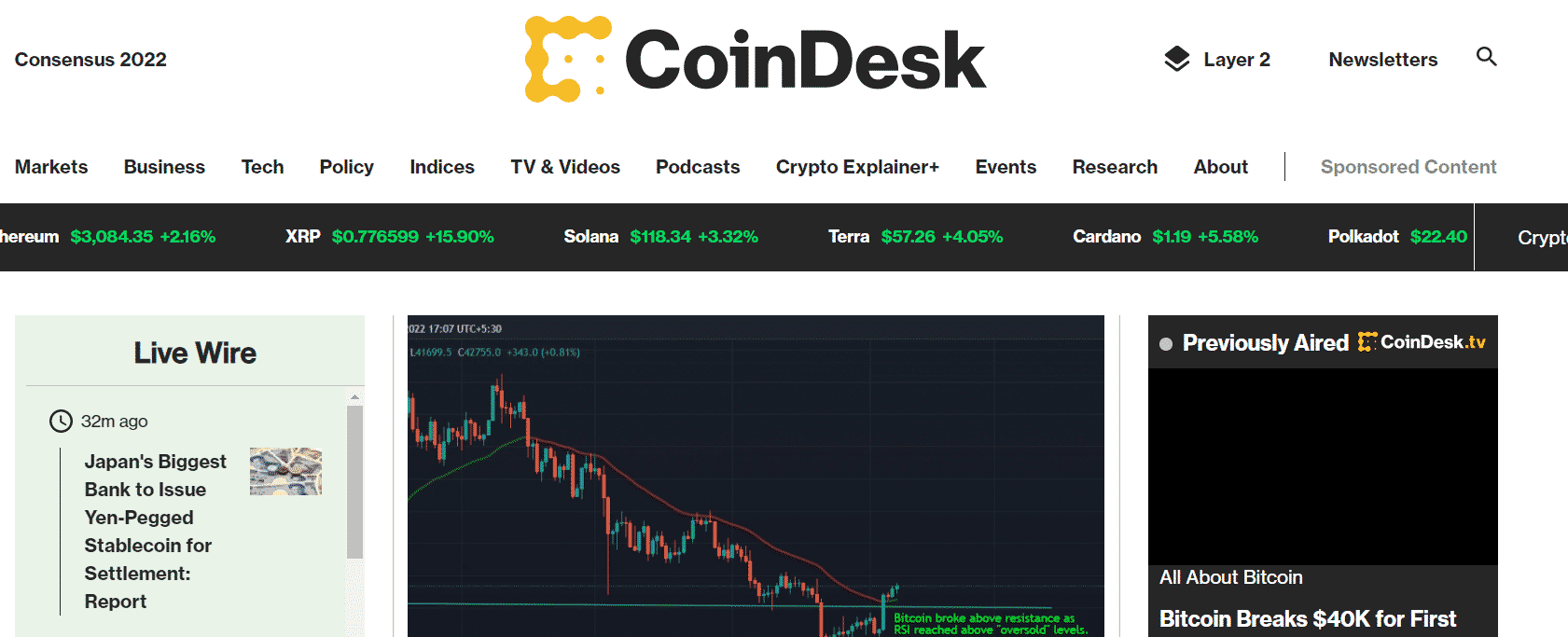 When it comes to crypto news reporting, CoinDesk is one of the household names. This website boasts plenty of attractive features, such as up-to-the-minute news on the performance of crypto tokens across the board. It also has several educational articles and guides for beginners. On the site, one can also find several opinion pieces and blogs from their experienced team of writers. In addition to these, there are several podcasts offering in-depth analysis and commentary on issues in the crypto world.
CoinDesk also features a calendar of major upcoming crypto events, such as the Consensus conference. It also has a research section that does regular reviews on emerging trends in the crypto marketplace. What's more, it keeps up with the performance of blockchain companies, news of regulations from across the world, and indices that gauge the performance of the top 500 cryptocurrencies by market cap.
CoinPricePredict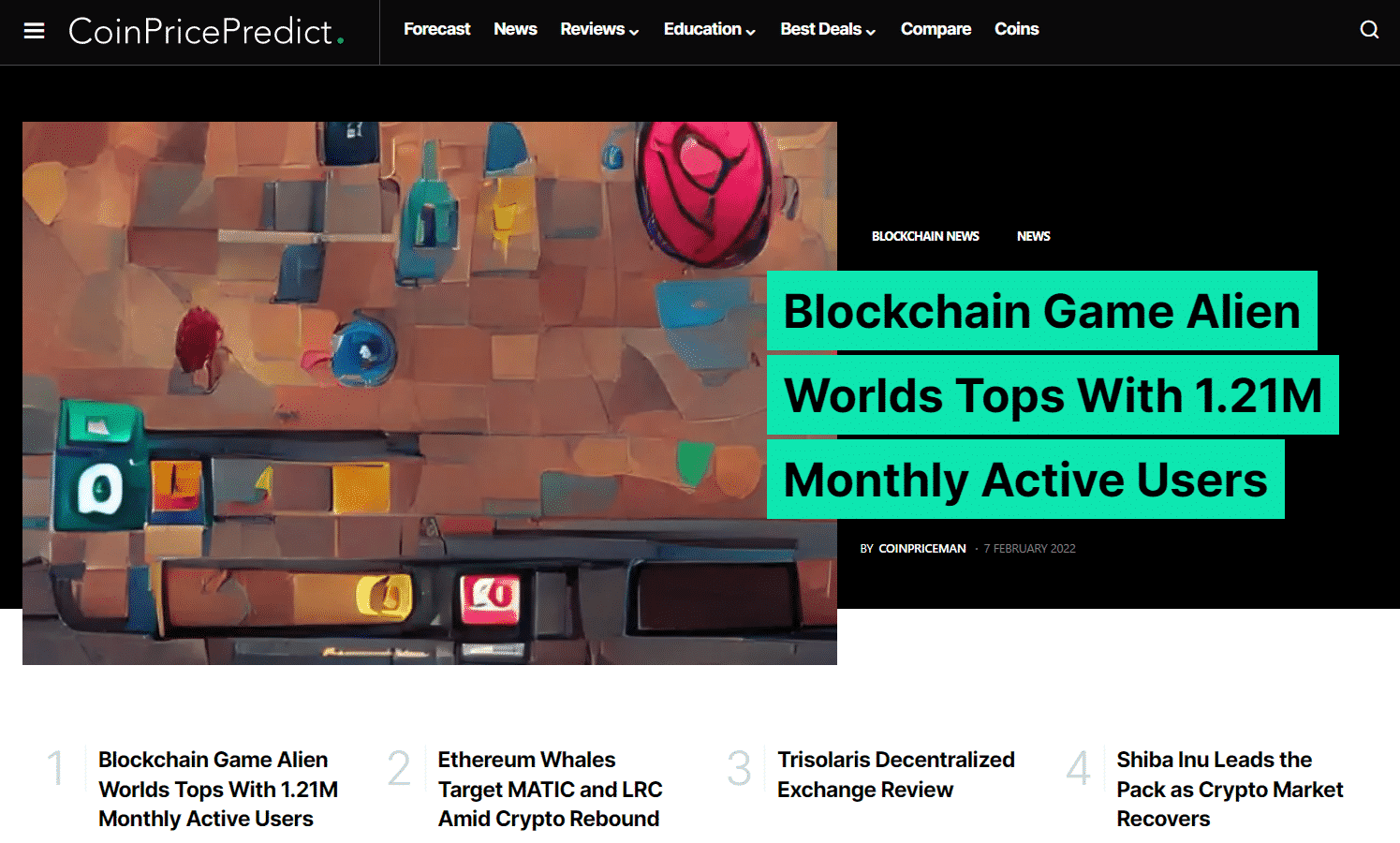 As its nomenclature suggests, this website offers predictions of crypto tokens' performance, whether they are upcoming or established projects. What's more, it allows users to submit their own predictions, which are then tallied together and averaged.
This site offers regularly updated crypto news as they break. It also offers detailed reviews of exchange platforms, wallets, trading bots, and portfolio trackers. For beginners in crypto, it offers a variety of educational articles on blockchain technology, cryptocurrency trading, decentralized finance (DeFi), and NFTs. It also ranks wallets, decentralized exchanges, bots, and crypto lending platforms. Additionally, you can track the live prices of most cryptocurrencies on the site, as well as their market capitalization and daily turnover.
CryptoSlate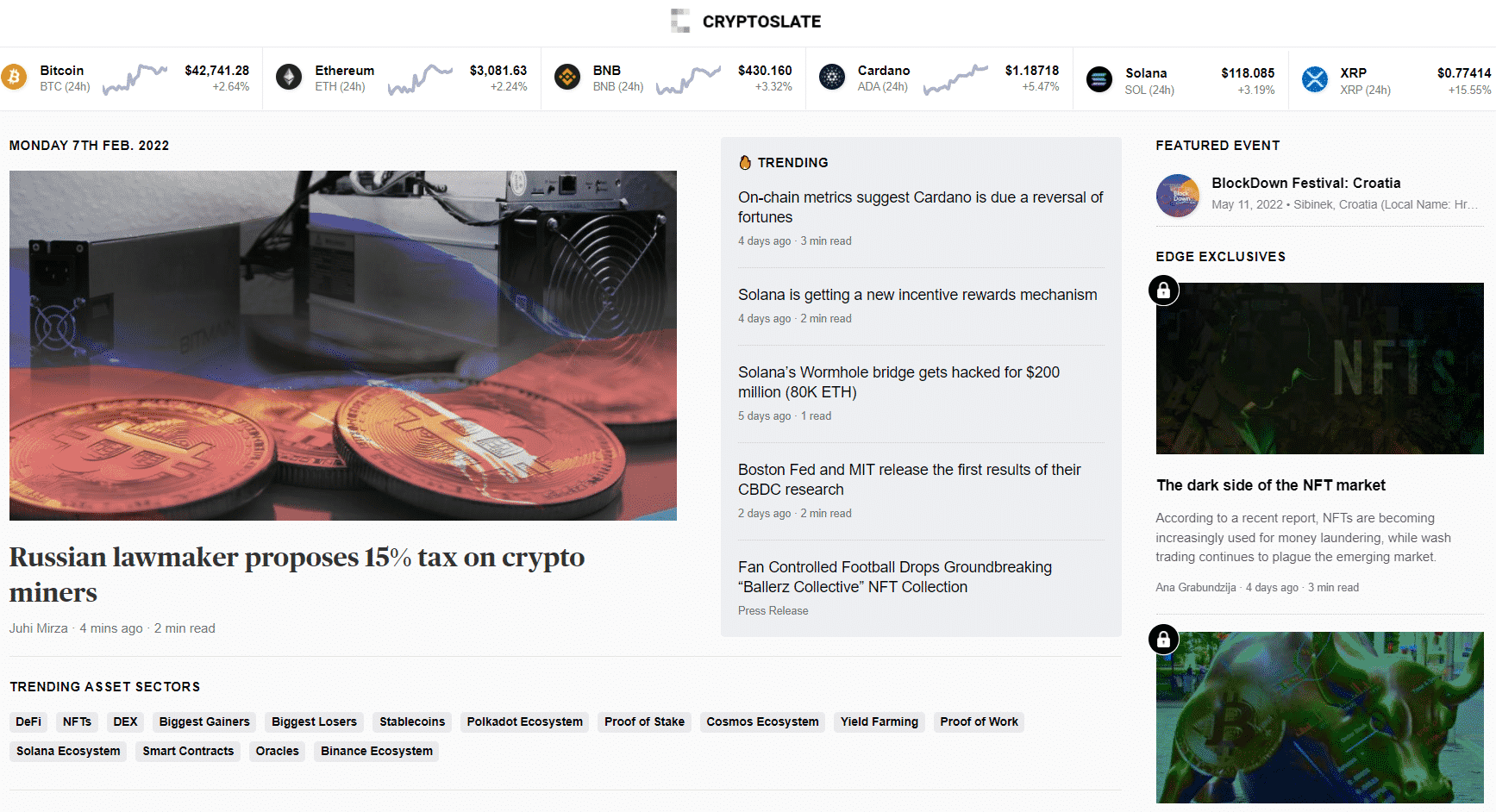 This website offers trending news in crypto hot off the press. It also contains informative investment articles, opinion pieces, analytical articles, news on significant blockchain hacks, as well as pieces on upcoming and emerging technologies. It also gives regular updates on the happenings involving all major cryptocurrencies and altcoins, DeFi protocols, and NFTs. Additionally, you can find coin rankings on this site, complete with statistics such as highest daily volume, biggest gainers, and losers.
CoinGecko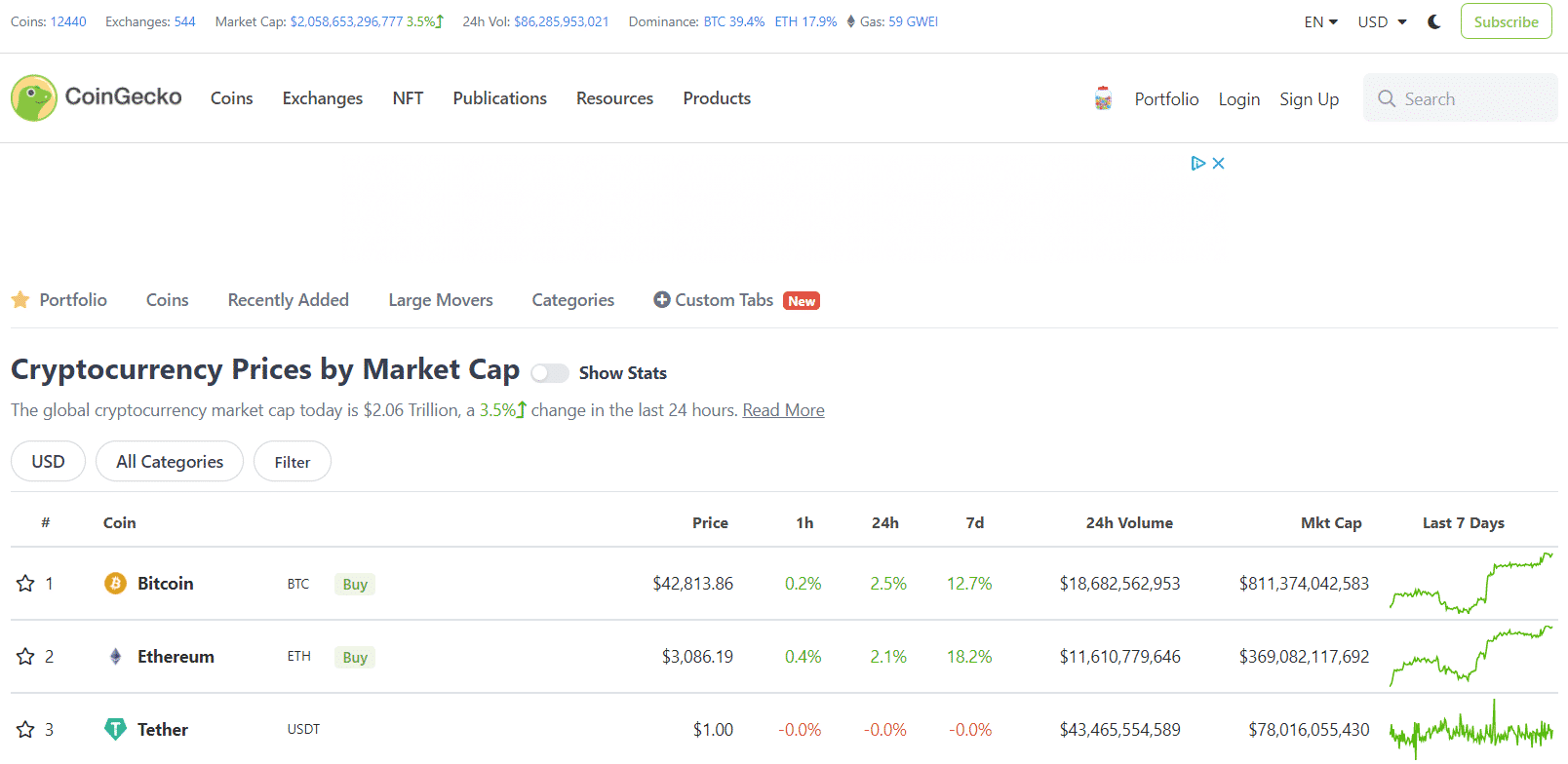 This is a website that ranks tokens by market cap and reviews any upcoming and emerging crypto projects. It highlights tokens that made large moves and those that post the highest daily volumes. It also categorizes cryptocurrencies by their use cases, such as DeFi tokens, meme coins, and the likes, and ranks these groupings by market cap. In addition to these, it ranks exchange platforms, be they spot exchanges, DEXs, or derivatives markets.
CoinGecko contains an NFT ranking by traded volume, and reviews re-known NFT artists and their collections. It also posts educational and opinion pieces, as well as podcasts. Further, there's a resources section that contains informative pieces for beginners and experts alike.
Beincrypto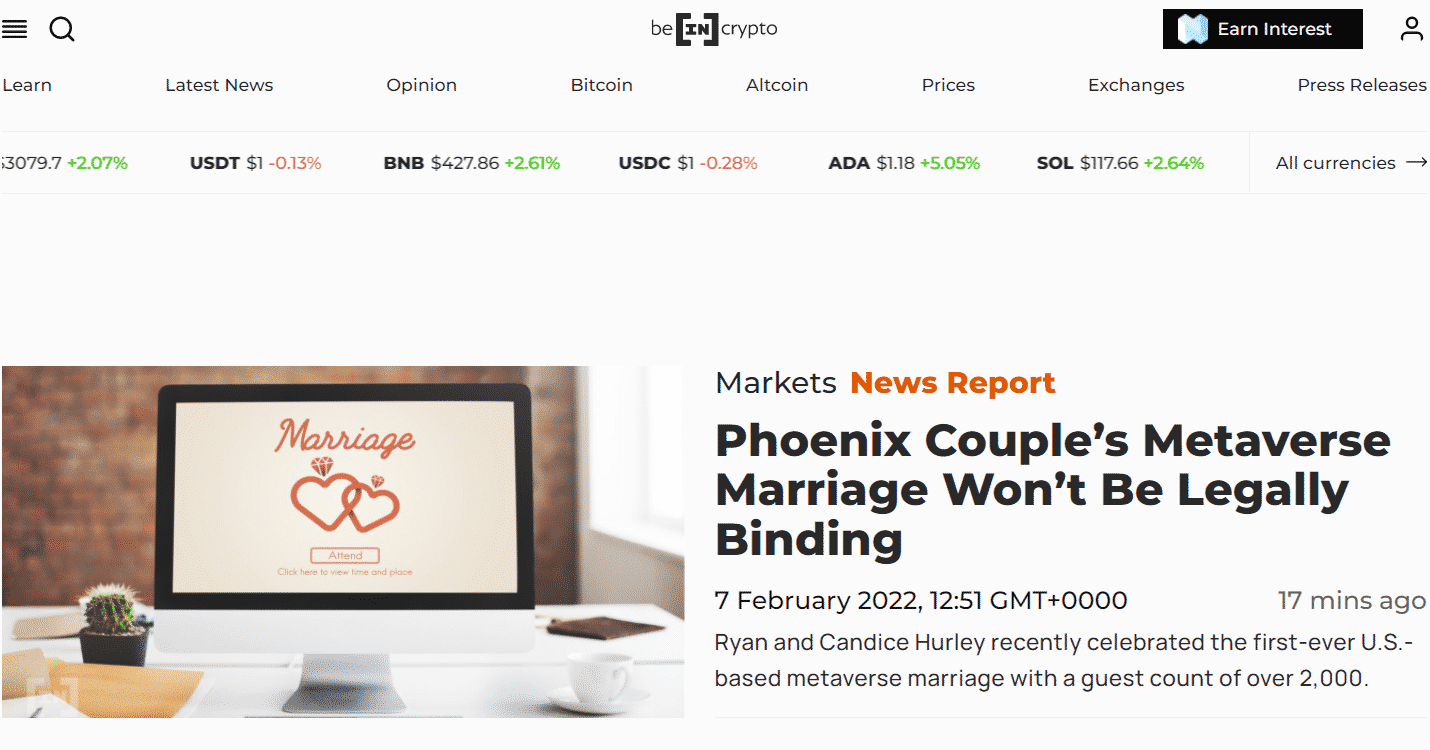 Beincrypto features a learn section that contains informative, educational articles on all matters of crypto. It also has the latest news section that reports crypto news as they break. Additionally, it features several opinion pieces reviewing the markets, NFTs, and technologies in the space. There is also a Bitcoin tab that contains all news BTC.
This website has an altcoin tab that contains developments and analyses of the performance of various altcoins. At the time of writing, they live-track the prices of 12,251 coins. Further, it contains a ranked list of top exchanges to trade BTC, as well as press releases from major blockchain companies.
DailyHODL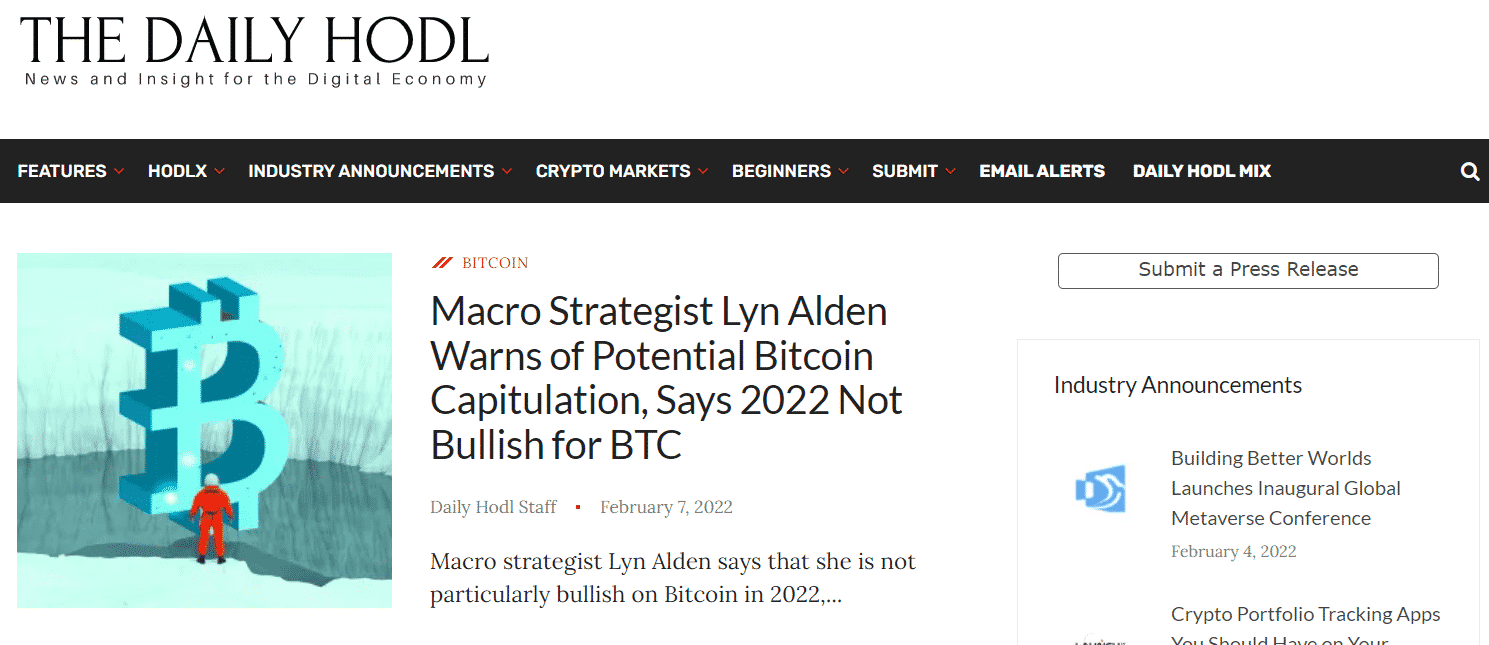 On this website, there is a distinct beginners tab that demystifies all things crypto and blockchain technology. It also features up-to-date news on BTC, ETH, Ripple, and XRP, as well as several other altcoins. There is also a detailed analysis of BTC, ETH, and BNB markets.
DailyHODL publishes news of scams in the crypto space, as well as updates on regulation efforts from around the world. There is also an industry announcements tab where you can find press releases and the latest news from major players in the industry. What's more, the website allows users to submit their own guest blogs, press releases, and sponsored posts.
The block crypto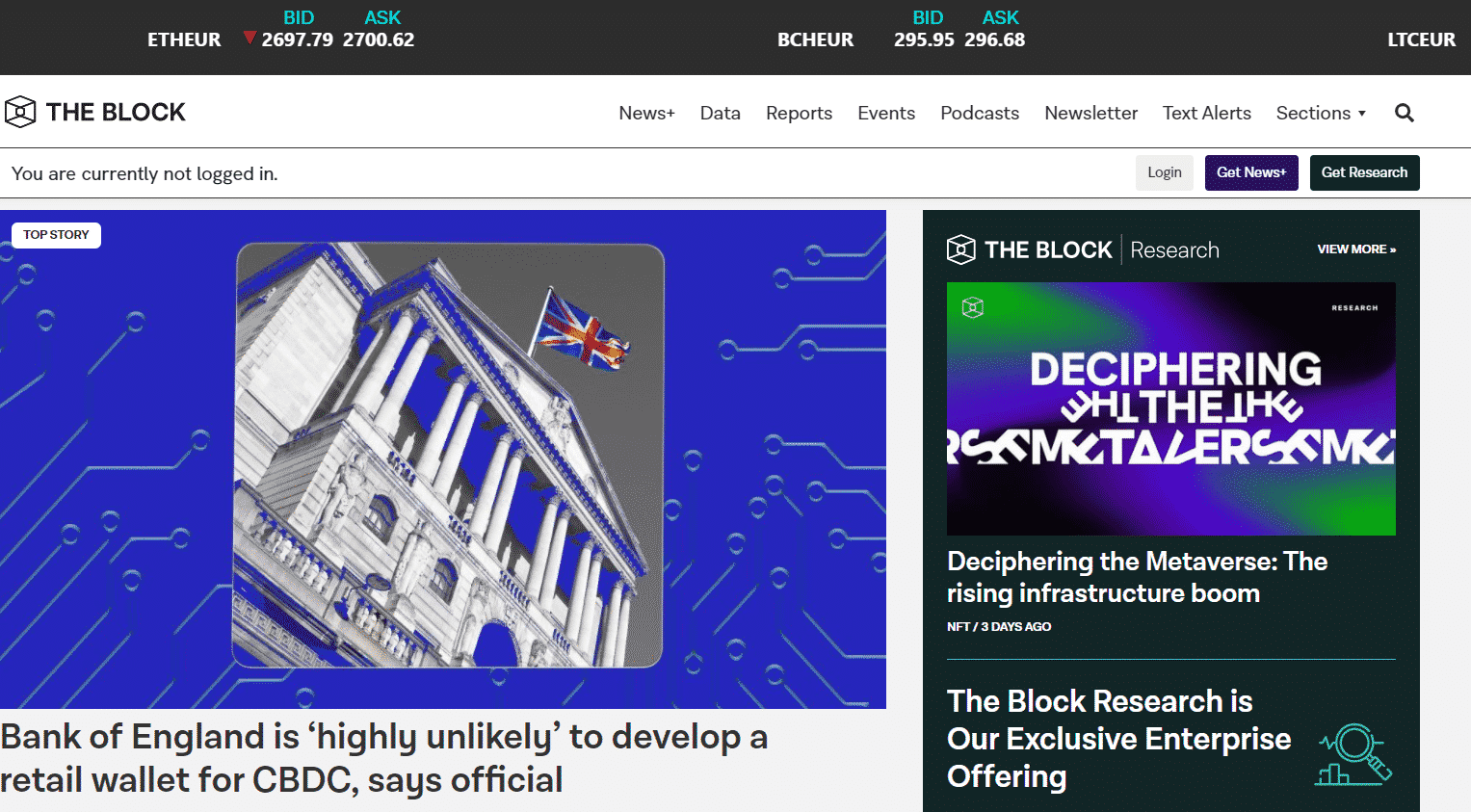 This is a website that prides itself in bringing its users breaking news in the cryptocurrencies space. Users can subscribe to their daily newsletter or to their text alerts which bring live news as they break. The site also contains market data and analytics on major tokens and altcoins. There is also a variety of research reports reviewing various digital assets and emerging trends in the crypto space. Further, it features a calendar of events and webinars hosted on the website. Additionally, they have a podcasts section, where they interview notable personalities in the world of crypto.
Finbold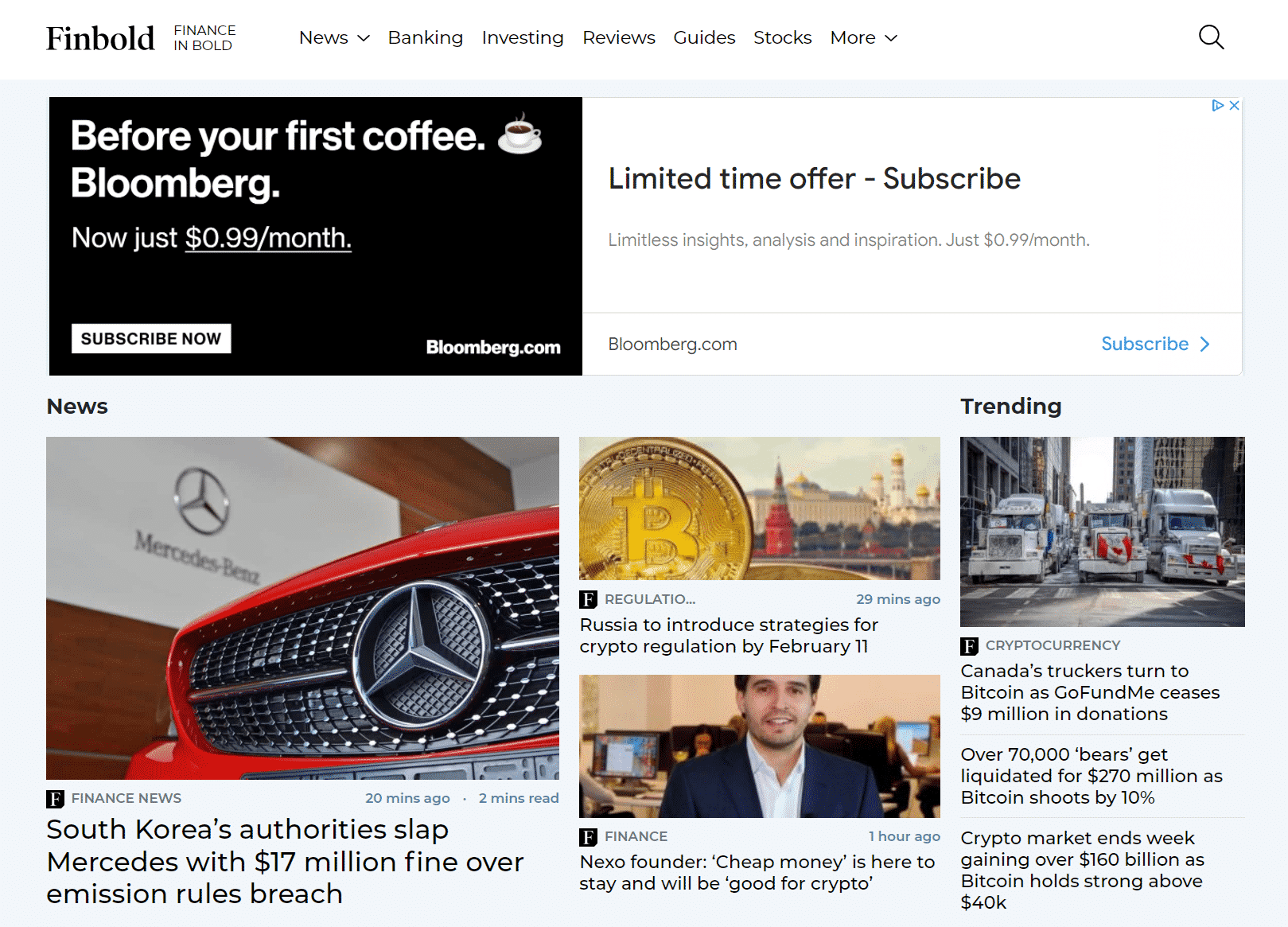 Finbold, which is short for finance in bold, is a website that is concerned with all matters of finance. Their news section covers daily happenings in finance, crypto, startups, technology, cybersecurity, stocks, regulators, financial crimes, as well as banking news. There is a banking tab that contains news on banks making a move to crypto and blockchain technology.
Finbold.com also features an investing tab that contains guides and advisory articles on smart money moves. The good people behind this site also provide regular reviews of blockchain projects, wallets, crypto brokers, and the like. They also live-track the prices of the top 10 leading stocks, with an option to search for any other stocks listed on the major exchanges. This site also contains various finance podcasts.
Conclusion
Following the increased interest in digital currencies from around the world, crypto news websites have been cropping up left, right, and center. We have reviewed the top contenders offering up-to-date news, educational articles, opinion blogs, and podcasts, as well as live tracking of the markets.