Thorex is a trading system that was allegedly created using 35 years of historical data. The portfolio has a combined equity growth stability of more than 99% and a drawdown ratio of over 400. These are some of the characteristics of the robot that the developer believes will help you hammer the Forex market. Let's see for ourselves if the EA can live up to the hype in this review.
Thorex: to trust or not to trust?
Before you purchase this EA, you need to be aware that it is trusted by users. However, we have also noted that it trades with high risks to the balance.
Features
We outline the features included in this Forex robot:
It works on several currency pairs, such as AUDCAD, AUDUSD, CHFJPY, EURAUD, EURGBP, EURJPY, EURUSD, GBPAUD, GBPCAD, GBPJPY, GBPUSD, USDCAD, and USDCHF.
The sysyem allows you to run whichever combination of settings to develop your personal portfolio and risk.
It conducts a single trade at a time per system.
The robot secures every trade with a tight stop loss that ranges between 17 and 88 pips.
Strategies like night scalping, entry averaging, grid, martingale, and "recovery trades" are not utilized.
It is OOS tested, and Monte Carlo stressed.
It's maintained and updated continually through mql5 for optimal performance.
IC Markets or other brokers that provide low spreads are recommended.
The EA works with a minimum deposit of $250, and the recommended leverage is 1:30.
It trades on both the MT4 and MT5 accounts.
The strategy used by this EA is unknown. But based on the info available in the sales pitch, several strategies are executed. We are told that all the approaches are independent and can be turned on and off.
The developer offers this robot at a one-time price of $399. As it's usual for the MQL5 products, a money-back guarantee is missed.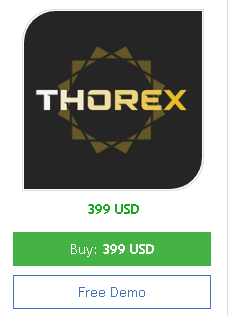 Backtest results

We have the backtest results for this EA, indicating that it carried out 50194 trades using a deposit of $1000. Trillions of profits were attained as a result, which is unrealistic. It is nearly impossible to generate such an outcome under the current market conditions. The win rates for short (64.72%) and long (65.35%) positions were average. The profit factor was 1.69, while the drawdown was 6.36%, suggesting that low-risk trading was used.
Trading results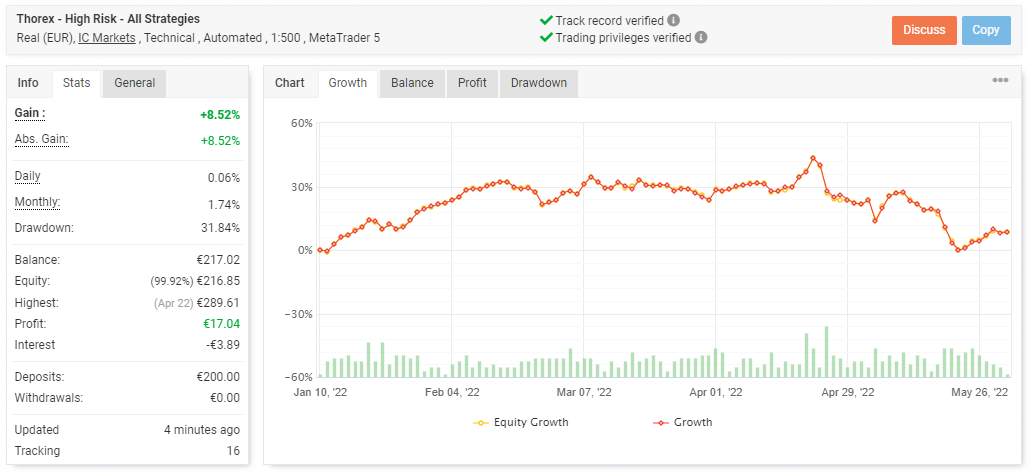 At a glance, we can see that the system's profitability in the live market is much lower than in the backtest period. Since it began trading on this account in January 2022, the EA has managed to earn the user €17.04 only from a €200 deposit. So, the account's overall growth rate currently stands at 8.52%.

Out of the 552 completed trades, only 55% of the long positions and 63% of the short ones have been successful. From the profit factor of 1.04, it is evident that the robot makes small profits from orders. The loss rate is considerably higher, as illustrated by the average loss (-24.72 pips) that exceeds the average win (-18.52 pips) by 6 pips. To date, the EA has won 492.6 pips for the account.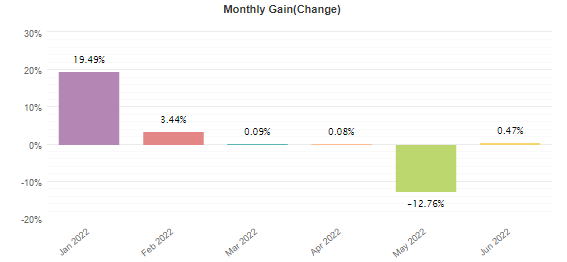 The system produced desirable returns in January this year, but it hasn't been able to replicate such results in other months. In effect, it lost a significant portion of the user's investment in May.
Low drawdown
The EA has generated a high drawdown of 31.84% on a Myfxbook account. Although some traders might be comfortable working at such a high risk, we doubt if they will be content with the low profitability rate the EA produces.
Vendor transparency
Thorex was authored by Lorenz Vauck, a developer who lives in Germany and claimed to have 6+ years of experience in mql5 programming. So far, his two products (Thorex MT4 and Thorex MT5) have received a total rating of 4.3 based on 6 reviews. Unfortunately, we don't have a detailed biography of this vendor to help us gauge his expertise and reliability.
User reviews
This robot has a 5-star rating on MQL5, which shows that users are happy with it. They say that the author is supportive, committed, and honest. Therefore, the product is promising. But one trader admits to losing many positions with the EA.