Telegram Connector is a system that connects your MT4 or MT5 trading account to your Telegram signal provider group. According to the vendor, it is capable of capturing all lucrative trades during the day and instantly executing them. In this Telegram Connector review, we shall try to determine whether this is a reliable service provider or not.
Telegram Connector: To Trust or Not to Trust?
On the official website of Telegram Connector, the vendor explains in brief how the system works and also shares a video tutorial. We have instructions on how to set the software up, along with a list of all the main features. Finally, there are the pricing plans, an FAQ section, customer testimonials, and a contact form.
We can see that the vendor has not shared any verified statistics showing the live performance of this signal provider. Therefore, we don't think it is wise to place your trust in Telegram Connector.
Features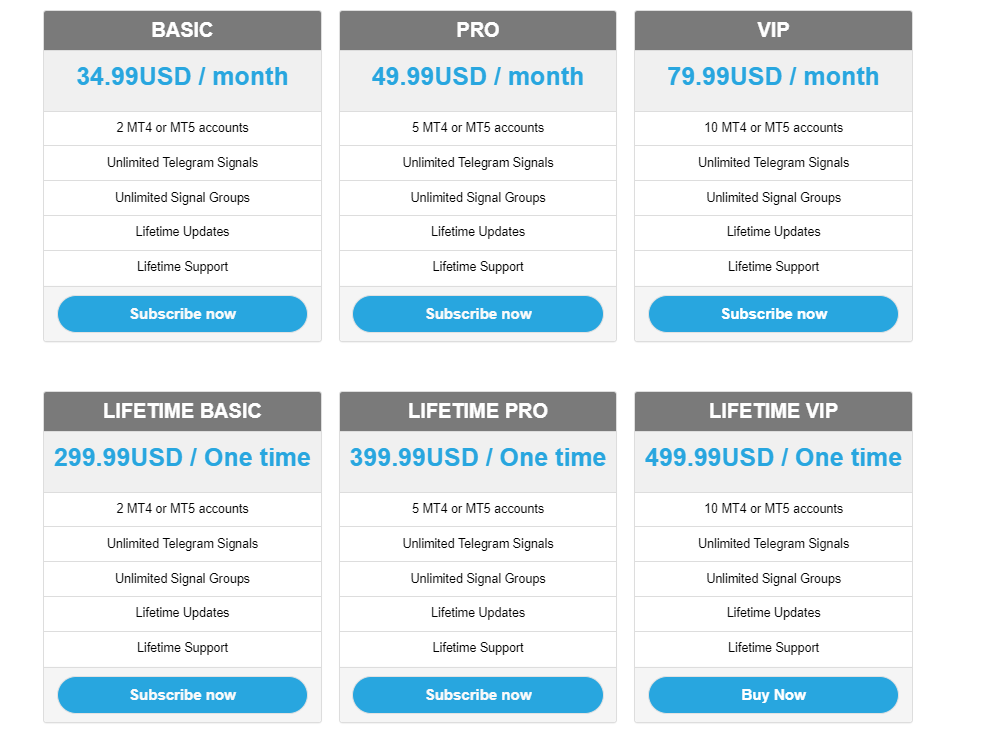 There are three distinct plans for Telegram Connector, namely Basic, Pro, and VIP. Each of these plans has monthly and lifetime versions. The prices for the monthly plans are $34.99/month, $49.99/month, and $79.99 per month, respectively, while the lifetime plans cost $299.99, $399.99, and $499.99, respectively. There is no money-back guarantee offered for any of these plans, which is a major red flag.
The vendor also offers a free plan where you get access to a single MT4 account. With this plan, you receive unlimited Telegram signals, unlimited Signal groups, lifetime updates, and lifetime support. When you sign up for the free plan, you have to trade through the partner broker.
After choosing your plan, you get an email containing the installation instructions. You need to follow these instructions to install the software on your trading platform. Then you will start receiving signals from Telegram.
While trading with this software, you have the option of selecting different lot sizes for each trade or use a fixed portion of your account balance. You can set different risk levels for different pairs and get signals for all kinds of pairs. Telegram Connector supports multiple languages and can run several take profit levels simultaneously.
This signal provider also has an analytics mode where you can view the performance for the Telegram channel providing the signals. You can decide on the order type for each signal and specify the maximum pip difference between the entry price and the market price. Moreover, it is possible to apply different money management settings for individual channels.
When you are placing pending orders, you can set the expiration time for each order. After staying active for this time period, the order will be canceled. Also, you can choose custom stop loss and take profit levels. It is recommended that you use a VPS service with this signal provider.
Unverified Trading Results
Unfortunately, we don't have the live trading results for Telegram Connector. Without live trading results, there is no way to accurately gauge the profitability of the system. All experienced Forex traders expect vendors to share real-time performance statistics, and as such, many of them might not feel comfortable using such an unproven system for their day-to-day trading activities.
Telegram Connector does not have any strategies of its own. It connects signals that are sent by independent trading analysts to your trading account. Hence, the vendor has not provided any backtesting data.
Vendor Transparency
The headquarters of the company is located in Køge, Denmark. We have the email address and phone number on the official website, but nothing else is known about the company and its service history. Also, we don't know anything about the developers and traders working for this organization.
Customer Reviews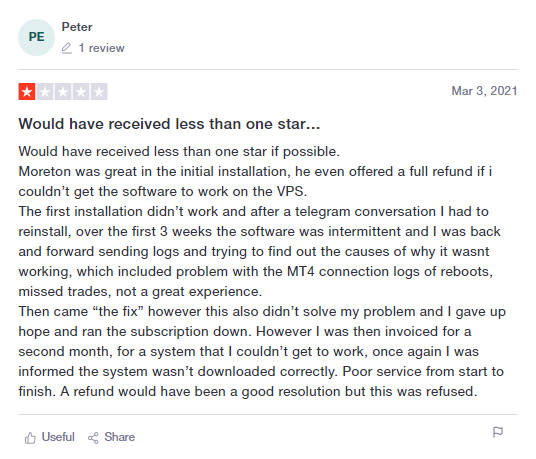 We were able to find several customer reviews for Telegram Connector on the Trustpilot website. As you can see, more than one trader is not happy with the performance of the system. One user mentions that they faced trouble with installation and that the customer service team was not able to fix the issue. It seems they were also denied a refund.
Another user has complained about additional charges. It is obvious that the company is not transparent in its dealings with its customers. The presence of multiple negative reviews tells us that this signal provider is not to be trusted.