Stenvall Mark III is a Forex expert advisor launched in June 2021. It is the third generation of the EA Stenvall built by the same developer. It uses a hybrid trading method and according to the vendor, is suitable for long-term private investment and trust management.
Stenvall Mark III: to trust or not to trust?
At first glance, this does not seem like a trustworthy EA. The vendor has focused on the advantages offered by this robot over other systems, but they have failed to explain in detail how it works. We have installation instructions, manual risk settings, an FAQ section, and pricing details. The presentation is quite haphazard and a lot of important information is missing.
Features
Stenvall Mark III carries a hefty price tag of $980. This is an exorbitant amount to pay for an expert advisor. We honestly don't think the robot is worth this much since it is relatively new to the market. There is a 1-year rental plan that costs $399. If you wish to test the performance of the system using virtual money, you can download the free demo version. Unfortunately, a money-back guarantee is not provided.
This EA trades exclusively in the EUR/USD pair for the M5 timeframe. It uses a combination of trend and counter-trend strategies. The vendor has not clearly explained how this strategy works or whether it involves any indicators. Due to the insufficient strategy insight, most traders might not feel comfortable about investing in this robot.
Stenvall Mark III avoids trading on day transitions. It performs rollovers at midnight due to the spread widening. It is not sensitive to requotes, spreads, and brokers and it does not use strategies like grid and martingale. The EA remains active 24 hours a day performing wave analysis and holding positions. It uses an average take profit of 150 points and an average load deposit of 5%. To get started, you need to make a minimum deposit of $50.
For manual risk settings, there are two parameters you need to know about. The fix lot parameter ranges from 0.01 to 0.04 for every $100. On the other hand, the value of the risk parameter ranges from 0.1 to 0.7 for leverage of 1:100.
Verified trading results
The vendor has not shared the verified trading results on the MQL5 product page, so we had to do some digging to find this trading account on Myfxbook. This account has been active since April 21, 2019, and to date, the EA has placed 528 trades through it.
The current win rate of the account is 65% and the total profit is ¥21182.00. While the daily and monthly win rates are 0.11% and 3.39% respectively, the drawdown is 23.80%. The high drawdown indicates a risky strategy, so might suffer heavy losses while trading with this robot.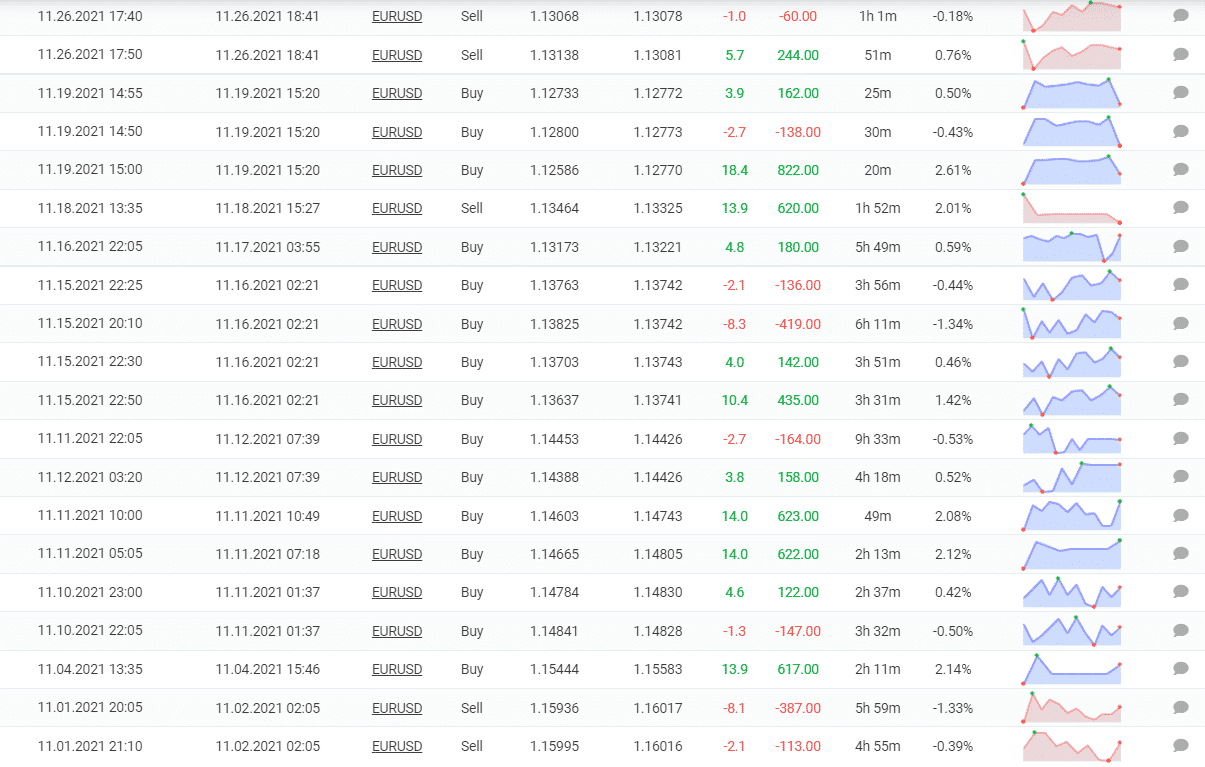 By analyzing the trading history, we can see that the robot occasionally loses consecutive trades. This confirms the fact that it is a risky trading system.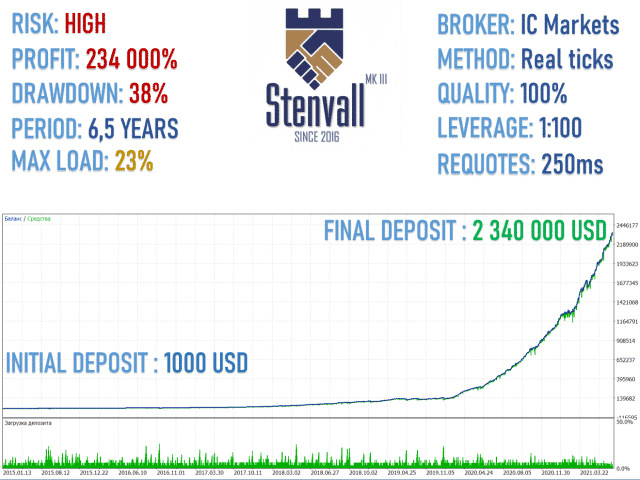 This backtest was conducted from 2015 to 2021. The EA used an initial deposit of $1000 and traded with high risk to generate a profit of 234000%. This backtest had a drawdown of 38%, which is significantly higher compared to the live statistics.
Vendor transparency
Stenvall Mark III is a product from Gennady Sergienko, a Russian developer. We have no background information on this person. According to their MQL5 profile, they have experience of more than five years. They have a Telegram channel that customers can join, but no official contact information is available. Other expert advisors from this developer include Alexis Stenvall, Ruxzo, Franc Pacific, and North Star. The lack of vendor transparency is quite apparent, and this raises questions about the robot's reliability.
Customer reviews

Right now, there are no user reviews for Stenvall Mark III on the web. This indicates a total lack of reputation. We cannot trust the reviews posted on the MQL5 website, since the vendor could have manipulated the results.