A Smart crypto bot trades cryptocurrency 24/7 based on traders' preferences and comes with quick support from developers. The system is entirely web-based and does not require installation on the user's computer. It incorporates several risk and loss management strategies and includes triggers, indicators, and charts to assist investors in buying and selling positions. This review aims to describe its working, trading approach, advantages/flaws, safety, the company background, and much more.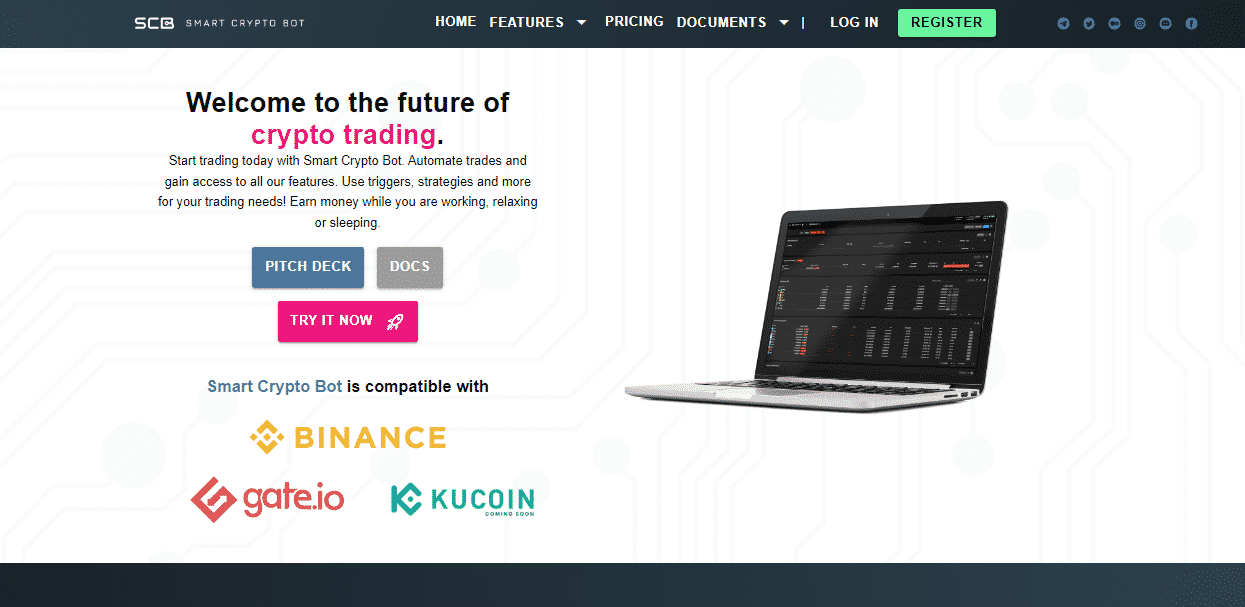 How does Smart Crypto Bot function?
The developer claims that they have developed an easy-to-use platform. Traders set the parameters of the bot, and then it auto trades by scanning the market for favorable trades. It supports loss management with stop-loss, trailing stop-loss, and other tactics based on the robot's settings.
Smart Crypto Bot review–positive aspects
It supports over 1200 trading pairs.
All its features are available for a fixed price.
Smart Crypto Bot review–negative aspects
It can trade on only two cryptocurrency exchanges.
The roadmap indicates that the platform is in the initial stages of development.
The absence of customer reviews raises concerns about its reputation.
Time in business
The Smart crypto bot was initially launched in late 2019 by a small team of developers. It has been live for three years as of now.
Reputation
The Smart crypto bot was developed in 2019 by a group of experts led by Frank van der Bor as CEO, Coen Smeekes as the lead marketing, Bas Knobbout, Edgar Bonaccorso, and Bas Visser. There is no mention of the company background or address.
Supported exchanges
The Smart crypto bot supports only Binance.
UI of Smart Crypto Bot
The platform's user interface is not developed completely and lacks necessary information about the system. It is only available in English.
Key features of Smart Crypto Bot
The critical aspects of a Smart crypto bot include:
There is no upper limit on the number of bots in one account.
The platform is entirely web-based, with no need for installation.
Stop loss and emergency sell strategies reduce the possibility of losing money.
Traders can examine their balance and trading history through portfolio management.
How to get started on Smart Crypto Bot?
Traders can create their first Smart crypto bot in the following steps:
Name your bot and select an exchange
Copy and paste the API keys in the required fields
Choose the base currency
Click continue and buy a license that costs 10 Euros every month
How secure is Smart Crypto Bot?
The Smart crypto bot uses two-factor authentication for accounts safety and encryptions to secure API keys. The platform does not explain the security measure in detail, raising concerns about the protection of investments.
Customer support
The website has a live chat and a contact form for queries. A community of users with 17 members is present on Telegram for further support.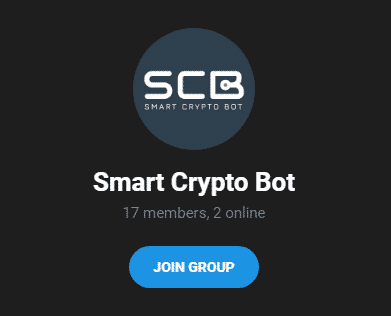 Are traders happy with Smart Crypto Bot?
The Smart crypto bot has no feedback from its users from where we can analyze their experiences. The absence of customer reviews indicates the lack of interest by traders in the product.
Pricing and fees
The Smart crypto bot is available for a fixed price of 10 Euros every month, including all system features. There is a fee of 0.15% on every trade with no refund policy.
Is a free trial available?
There is no free trial available to help traders test their strategies and bots.
Languages supported
The platform only supports English, giving few options to traders who do not speak or understand the language.
What kinds of traders is Smart Crypto Bot best suited for?
Smart crypto bot includes built-in strategies and custom configurations for their systems. It is suitable for traders who have some market experience. Investors should be aware of the risks involved in this market before investing a large sum of money.
Company information
As mentioned above, the Smart crypto bot was launched in 2019 by a small team of experts. There is no information on the company's whereabouts which raises eyes on its authenticity and reputation.