Silent Master is a fully-automated expert advisor that is sold on the MQL5 website. It works on both MT4 and MT5 trading platforms. The MT5 version was launched on 21st July 2021 while the MT4 version was launched on 17th July 2020.
Silent Master: to trust or not to trust?
This is a robot that avoids using risky strategies and is sold at an affordable price compared to other EAs. It has a low minimum deposit requirement as well. However, it follows a low-profit strategy and trades with a high level of drawdown. There is not much information available on the vendor and they don't offer users the protection of a money-back guarantee.
Features
The current price of this automated trading system is $149. Most expert advisors on the market are more expensive in comparison, so this robot should be suitable for new traders or those who are short on funds. If you wish to test the performance of the EA using virtual money, you can download the demo version of the system. However, the vendor does not offer a money-back guarantee.
Silent Master is a night trading EA that is active during periods of low market volatility. It uses machine learning to assess the current situation of the Forex market. Also, it avoids risky strategies like arbitrage, grid, and martingale. You don't need to make any manual inputs to make this robot work properly.
The vendor recommends using a broker with swift order execution and small spreads. You can get started with a small deposit of $100. The recommended pair is EUR/USD while the recommended time frame is M5.
By enabling the AutoLot parameter, you can make the EA calculate the lot size automatically based on the account balance. Alternatively, you can set a custom lot size. It is possible to set a risk percentage based on the deposit, and this will be used for the automatic calculation of the lot. You can also set the maximum drawdown as a percentage and other parameters like the maximum number of orders, maximum spread, types of orders, trailing stop, stop loss, take profit, etc.
There is no dedicated support team for this expert advisor. The developer has a Telegram channel and an Instagram account. In case you require assistance, you can message the developer on these platforms or on MQL5.
Verified trading results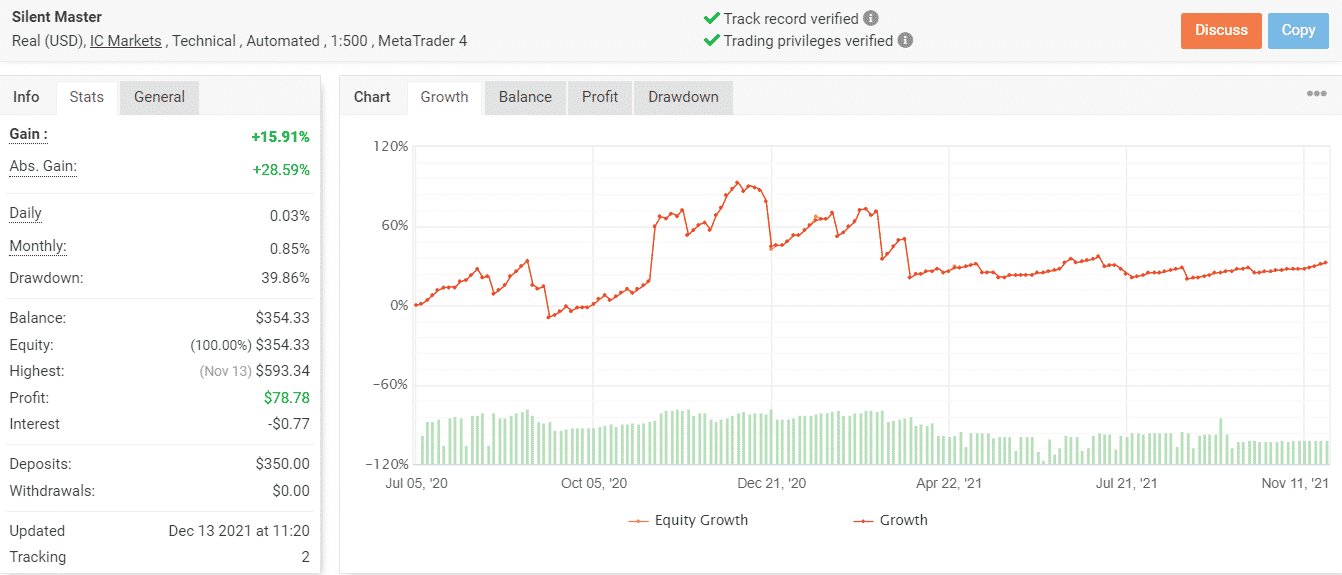 This live trading account on Myfxbook has been active since July 05, 2020. It places trades through the IC Markets brokers with 1:500 leverage. After completing 328 trades, it has a win rate of 80%, which is quite impressive. However, we can see that the total profit is only $78.78, and this tells us that either the EA suffers heavy losses occasionally or it follows a low-profit strategy.
The drawdown for this account is quite high at 39.86%, which indicates a risky trading strategy. Currently, the daily and monthly gains for this account are 0.03% and 0.85%, respectively. It has a time-weighted return of 15.91% and a profit factor of 1.08.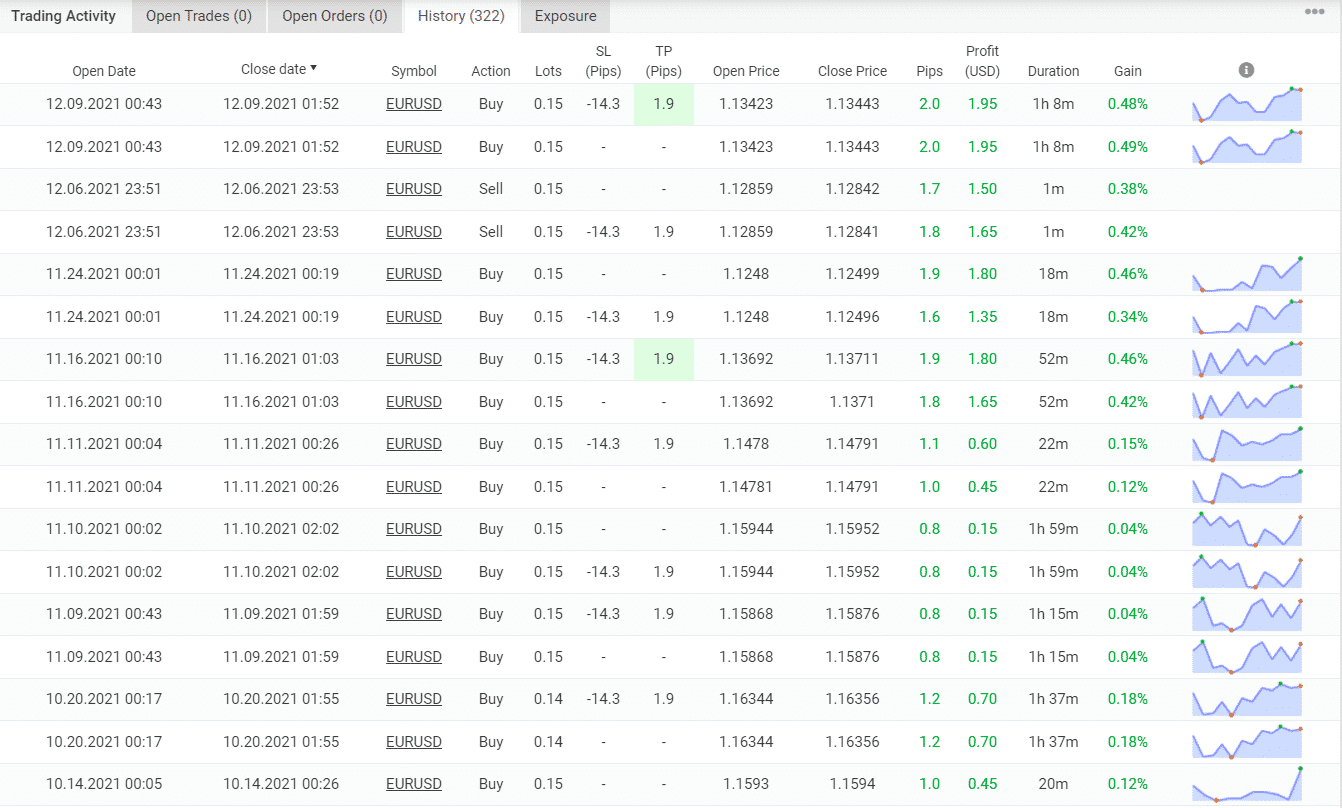 Here you can see the recent trades placed through this account. The EA trades with a lot size of 0.14-0.15, holding each trade for a few minutes and sometimes for 1 or 2 hours. It is evident that the robot only generates small profits for each trade. The average win and loss for this account are 2.15 pips/$3.99 and -3.66 pips/-$14.95, respectively.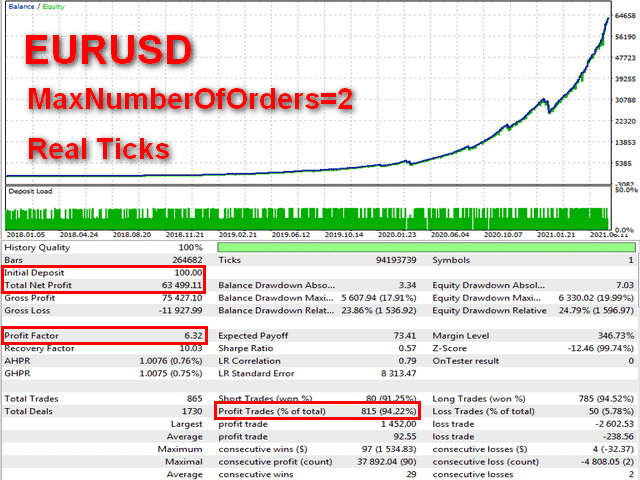 Compared to the live statistics, the win rate for the backtest was much higher at 94.22%. During a four-year period, the EA conducted 1730 trades, winning a total profit of $63499.11. The relative drawdown was comparatively lower at 24.79%.
Vendor transparency
The developer behind this system is Evgeniy Machok, who is based in Russia. There is very little information on this person and the people they work with. According to their MQL5 profile, they have more than eight years of experience. Other products from this seller include South Night, Elemental EA, Yellow, and SZ Scalper.
Customer reviews

There are no reviews for this EA on third-party websites. The ones on MQL5 cannot be considered authentic.