Sektor Expert Advisor is a new automated trading software designed to profit in without any manual intervention. Its developers claim that their robot "implements a unique hedging strategy, which compensates any losing trades with winning trades". This robot is said to be both a safe and profitable choice for those who want to succeed in the Forex market. Is it as good as described?
In this Sektor Expert Advisor review, we are going to discuss this expert advisor to decide whether this EA deserves traders' attention, money, and time.

Is Sektor Expert Advisor A Good Choice?
Sektor EA is a robot that is advertised to be both safe and profitable. However, after our throughout review, we have concluded that this trading tool is not the best choice for its $800 price:
High drawdown performance
Lack of vendor transparency
Limited currency pairs
Features
The developers of this EA want to point out the most important features of their product:
Hedge strategy – helps to manage losing trades by placing compensating orders in the opposite direction
Constant customers support via email
Regular and free updates of the software
Bidirectional trading that allows to increase the number of opening signals and compensate trend change
Detailed manual for traders, which helps to install the software as well as helps to manage it

Sektor Expert Advisor works on the popular MT 4 platform and trades only EUR/USD currency pair. On the sales page, we have found that this trading software works with a licensed IC Markets broker. This gives Sektor EA some level of credibility. The robot is compatible "with ECN and Non-ECN brokers with 4 and 5 digit quotes". In addition to this, it has Stealth TP and SL dynamic management order. Therefore, any trader even those who have no or very little trading experience in the Forex market can easily use this trading tool. At the footer of the website, we have found that Sektor Expert Advisor uses a combination of indicators that help to "detect the trend and select the right moments to enter and exit trades with proven entry and exit strategies". The robot has a money management approach that makes the profit scalable to big accounts.

To get in touch with support, users need to email [email protected] or fill in a contact form at the bottom of the sales page: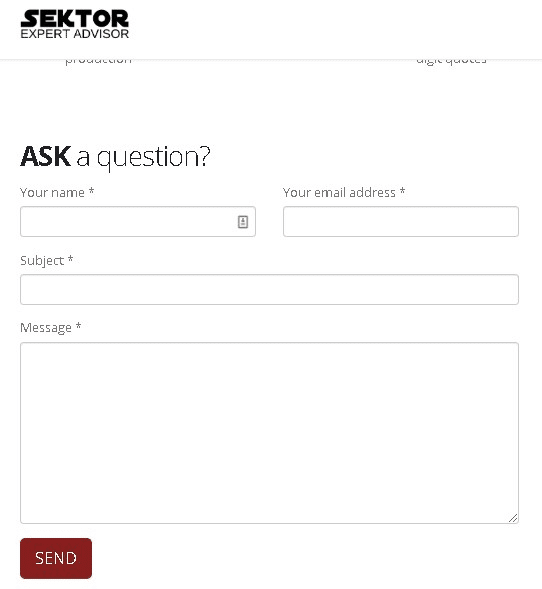 Trading Performance Data
The good thing about the Sektor Expert Advisor is that the vendors provide live verified trading results on their sales page. However, the latest updates of these trading accounts were at the end of 2018. Therefore, we have decided to find more actual trading results to analyze the trading performance of this MT4 robot.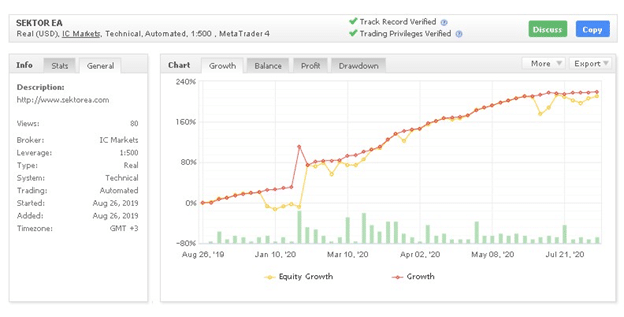 This is a real and live trading account that launched on August 26, 2019. The account is working on the popular Meta Trader 4 platform with IC Markets broker. It is trading USD currency. The account total gain is +219,45%, with a daily gain of 0,34% and a monthly gain of 10,76%. The account deposited $200 and since the period of its activation have not withdrawn any funds. For a term of around 1 year, the account has gained $438,91 of profit with a profit factor of 1.71 and the average trade length of 8 days.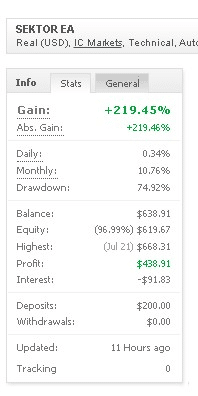 The EA has traded 207 and won 191 out of 207 trades, which represents 92%. The average pip win is 36.92 pips, while the average loss in pips is significantly higher -279.78 pips. The risk/reward ratio is 7:1 that is a very bag trading result.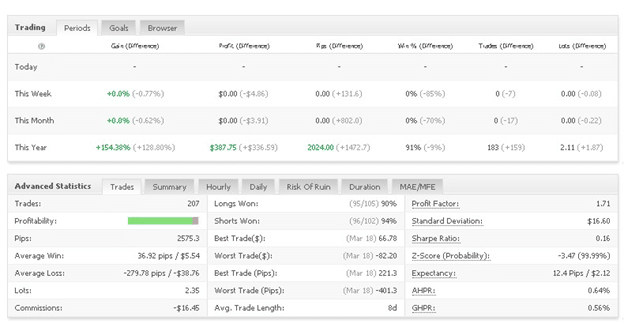 High Drawdown
The drawdown performance of this trading account is extremely high and is equal to 74.92%. The latest peak drawdown was on February 13, 2020 – 67, 68%: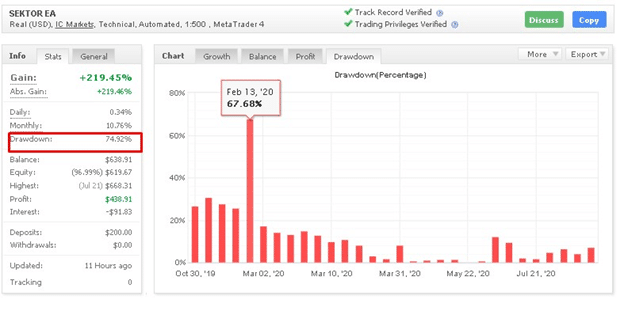 A trader who has endured a 67% drawdown needs to cope with a difficult and large task ahead because he must have a 134% return on his reduced capital stake just to break even on the reduced equity position.
Lack of Vendor Transparency
Unfortunately, we have found no information about the development of the software. We do not know who stands for his EA, what their location is, or what type of trading history they have in the Forex market. This one-page website does not represent any information about the team of developers of Sektor Expert Advisor. Therefore, we have decided to do additional research and find any information about the website. With the help of whois.domaintools.com, we have found that the website IP location is Quebec – Montreal.