What Is a Forex Scam? an Introduction
Since the beginning of the financial market, scams have prevailed in each of its corners. Most of the newbies usually end up quitting forex when they become one of the victims. The con artists persuade the novices or even amateurs with fake profits and money. Thinking of forex as a get rich quick scheme, the new traders invest their hard-earned cash with these losers and end up losing all of it. Various scamming ways include signals sellers, fake robot sellers, high yield investment programs, spread manipulation, account management, pyramid schemes, counterfeit brokerages, etc.
A majority of these scams are spread out through social media accounts. Some are even able to run their ads and distribute out the word. Our article will shed light on the various scams spreading their roots through different popular online platforms.
Forex Signal Scams
Facebook, Instagram, Telegram, WhatsApp, you mention it they have it. These con artists spread their message through the online portals in various get rich quick, as mentioned before. They get their Telegram audience mostly through Facebook, where they share a link to their channel. As soon as you reach their Telegram, you can see their flashy signals page in which they promise to make mind-blowing 2000 pips + profits each month and various fake testimonials from their other clients. Some even have a website and a Facebook page with thousands of likes that are bought from marketers. Attracted by the scheme, you quickly get ready to join their premium services, where you come to know that everything was a fake scam.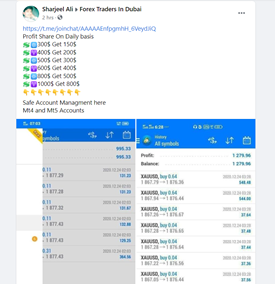 Image 1: A popular post used by scammers. They all run away with your money as soon as you invest
Such frauds in the forex industry are run mostly by Pakistanis. Their social media accounts may depict professionalism, but it's all to lure you into the fake scheme.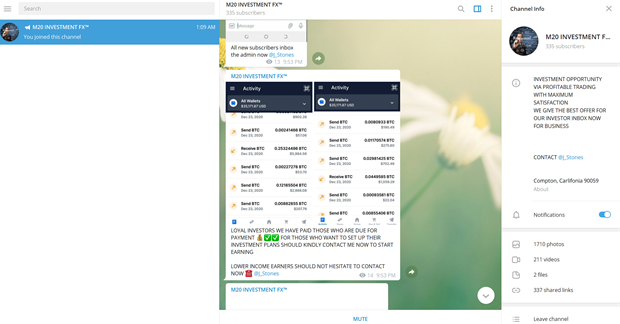 Image 2: A scam group ran on Telegram, offering free signals and investment services. The user will block you once you deposit any money.
Account Management Scams
Account management scams are similar to forex signals because they generally use the same routes for luring traders. These con artists are interesting to comprehend. The way they offer their services is by getting accounts from 4 or more different novice traders. Afterwards, they open a buy position on one and sell on the other trading account with full risk. As a result, one of them is blown, and the supplementary achieves a hefty profit about which these scammers boast and share a lot. The process is repeated until a single account is left from which they ask the client to withdraw and send the profits. The customers under the impression that they hit the jackpot in trading success immediately follow their instructions and invest even more money that eventually gets blown.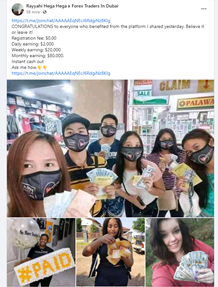 Image 3: The pictures are all fake. Telegram link will send you to the scammer's inbox, where he or she will convince you to share your account details
The Financial Conduct Authority (FCA) has given several notifications to watch out for these scammers on Instagram in the UK.
Trading Mentor Scams
Jets, sports cars, mansions, etc., can be seen with many people who pose as trading gurus on various social media platforms. Showing you a handsome amount of profits, they lure you on their website, asking you to deposit money to buy their miracle trading system. Such a con artist has no verified trading records. Their whole motto is fake it till you make it. These scammers' life span is short-lived as their page disappears once they have enough money or someone reports them. Even if they send you a trading strategy, there is a high chance that it won't work, and you'll end up getting disappointed.
Robot Scams
Robot scams are no different than others. One may see promotional ads on various expert advisors claiming to return more than 1000 percent a month on your balance. Youngsters are a major target of such advertisements. They may even have results on noted sites like Myfxbook, but if you're a pro trader, you'll immediately realize it's a fraud. The accounts' drawdown is significant, which is visible, and many of the automated trading systems run on demo accounts. Most of these EAs have an asking price of 100-300 USD, but some go even far as 1000 bucks.
How can you avoid being scammed?
We are in the 21st century, and in such a fast interconnected network of propaganda and hanky-panky, it's not easy to avoid getting scammed. However, specific measures can be applied, which consist of checking credibility by:
Scanning through popular review sites and looking at the comments left by people
Checking for how long the robot, signal seller, etc. is in place
Looking at which regulatory authorities are keeping an eye on the broker
Remembering that if something looks too good, i.e., risk-free strategies, huge monthly returns, miracle solutions, then there is something fishy going on
Trying out a trial service. It is always beneficial to have a demo before you finally invest in something
The best way is to learn the crucial components of markets like risk, psychology, and strategy. Understanding that forex is not a get rich quick scheme, and it takes some time to become a profitable trader will help you avoid getting scammed. Not all the people in the market are a fraud; some are authentic and help you get on your feet in the financial industry. Always look out for such angels.