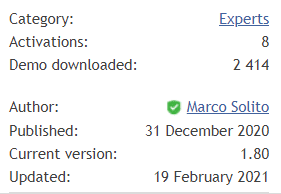 Redshift is another robot that was designed not so far ago and published by Marco Solito on the MQL5 forum. It was released on December 31, 2020. The last update to a 1.80 version was on February 19, 2021. The robot has a high purchase frequency.
Redshift: To Trust or Not to Trust?
Undoubtedly, trust can't be reached after several months of existing. Now it's too early to say for sure if the robot is good enough to go on trading on a real account in 2021.
Features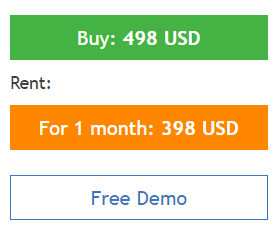 The robot costs $498 for a copy.
The vendor doesn't provide a money-back guarantee.
The one-month rent costs $398. It's not a welcome move.
There's a Free Demo available to check settings on the terminal.

Here's a manipulation that forces us to buy the robot asap.
Let's talk about features, strategies, settings, and other useful intel:
The robot trades fully-automatically.
It's Intraday software.
The system is based on a MACD indicator.
It works on EUR/USD, GBP/USD, USD/CAD, AUD/USD, and USD/JPY.
We can use it only in the M15 time frame.
The tests were run on the real tick date with 99,90% accuracy, the actual spread, and additional slippage.
The robot performs trend and counter-trend strategies.
There are no dangerous strategies like Grid and Martingale.
The system uses real Take Profit and Stop Loss to make profits.
The system isn't broker-sensitive.
It performs much better on an ECN account.
We have to run the robot on the VPS service.
The leverage starts from 1:10.
The minimum deposit is $100.

We can write feedback to get a free copy of any of his products.
There's an MT5 version.
The system has a unique magic number to mark its trades among others.
We can set % of the risk to the account balance.
We can manage trading hours and days.
We can set a trading direction.
There's a Trailing Stop Loss feature.
Verified Trading Results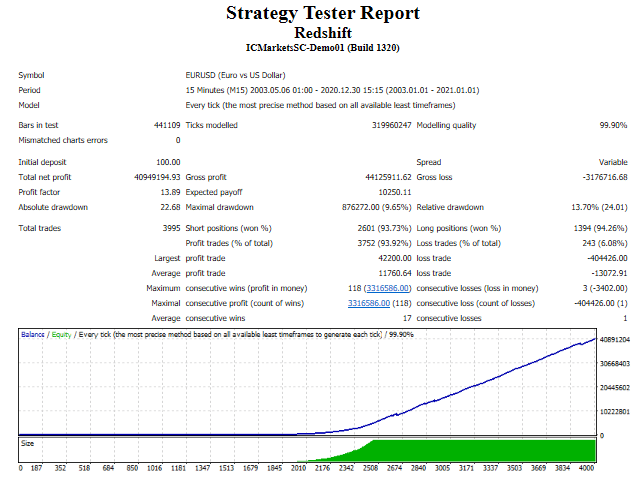 There's a backtest report of EUR/USD on the M15 time frame based on seventeen-year tick data. The modeling quality was 99.90% with variable spreads. An initial deposit was $100. The total net profit has become $40.9M. The maximum drawdown was 9.65%. The robot closed 3995 trades with 93-94% of the win-rate. The win-streak was seventeen deals.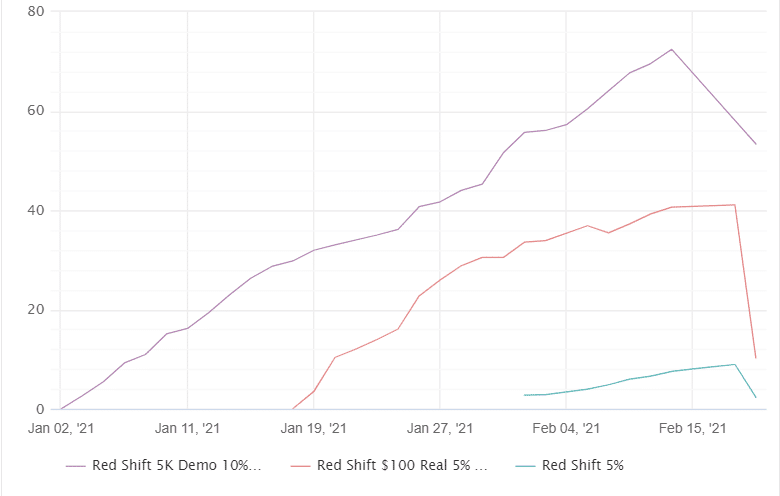 There are three accounts under Red Shift (written apart) supervision. We can't be sure they are connected to this product.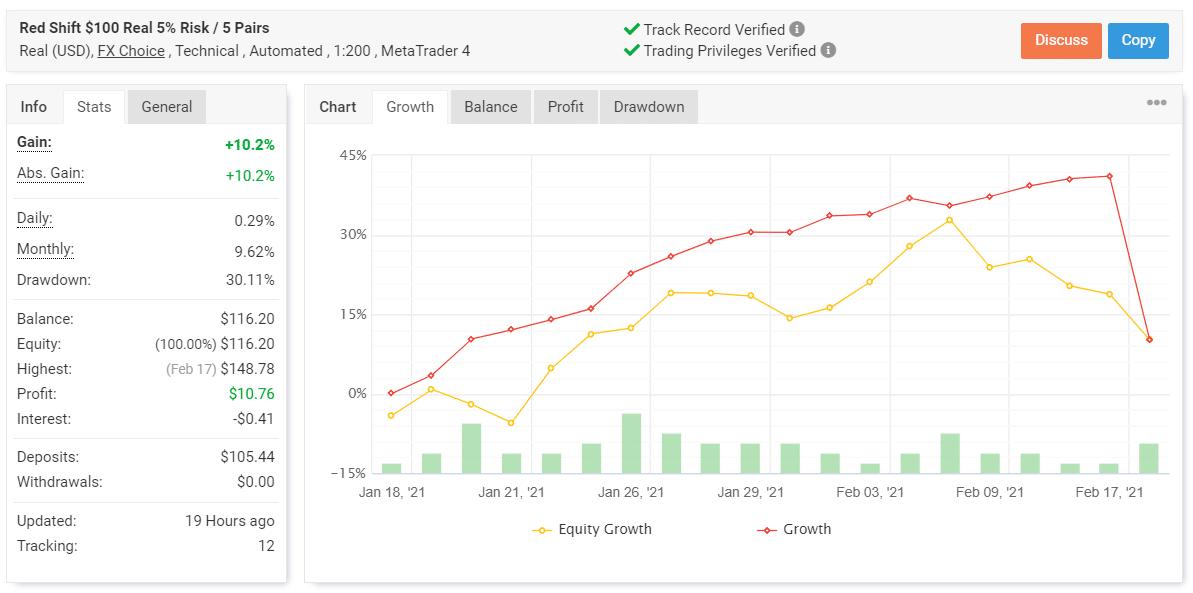 It's a high-risk real USD account on the FX Choice broker. The robot runs automatically with 1:200 leverage on the MetaTrader 4 platform. The account has a verified track record, and trading privileges were verified. It was created on January 18, 2021, and deposited at only $105.44 in total. Since then, the absolute gain has become +10.2% after a huge loss. An average monthly gain is +9.62%. The maximum drawdown is – 30.11%. Twelve investors or traders check the account.

The robot has closed 52 deals with 178.2 pips. An average win is 13.38 pips when an average loss is 29.73 pips. It traded only 0.52 Lots. The win-rate is 75% for Longs and 78% for Shorts. An average trade length is two days. The Profit Factor is 1.30.

The most frequently traded symbol is USD/CAD. The most profitable ones are EUR/USD $9.60 and USD/CAD $9.38.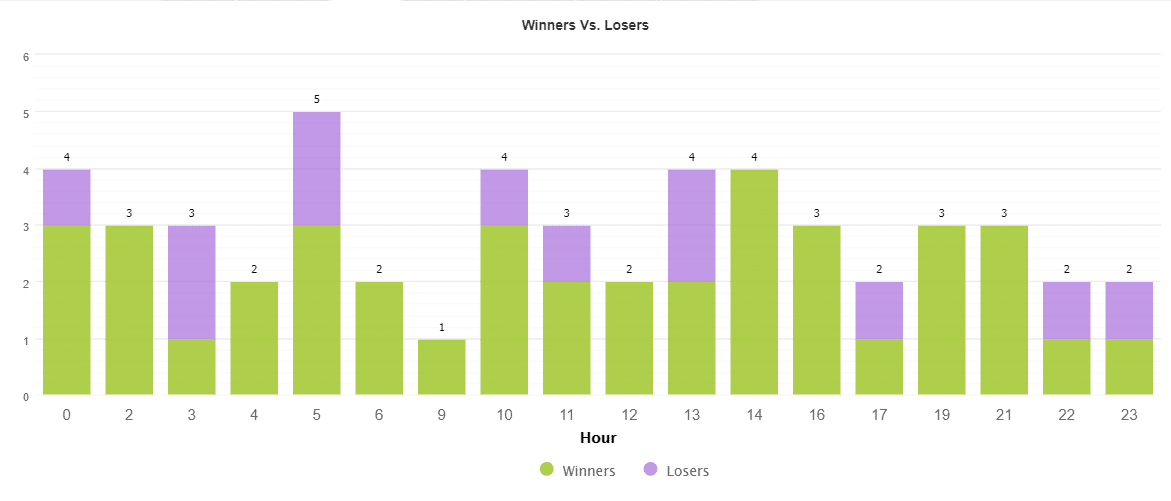 The robot trades all day equally.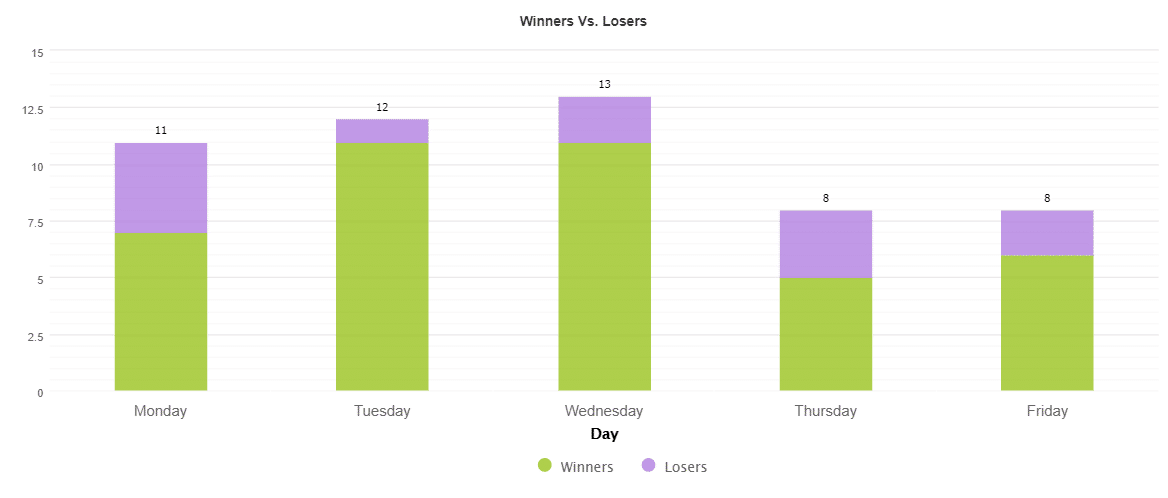 The less active days are Thursday and Friday (8 deals each).

Redshift runs the account with sky-high risks. For losing 10%, we have to lose only four deals in a row.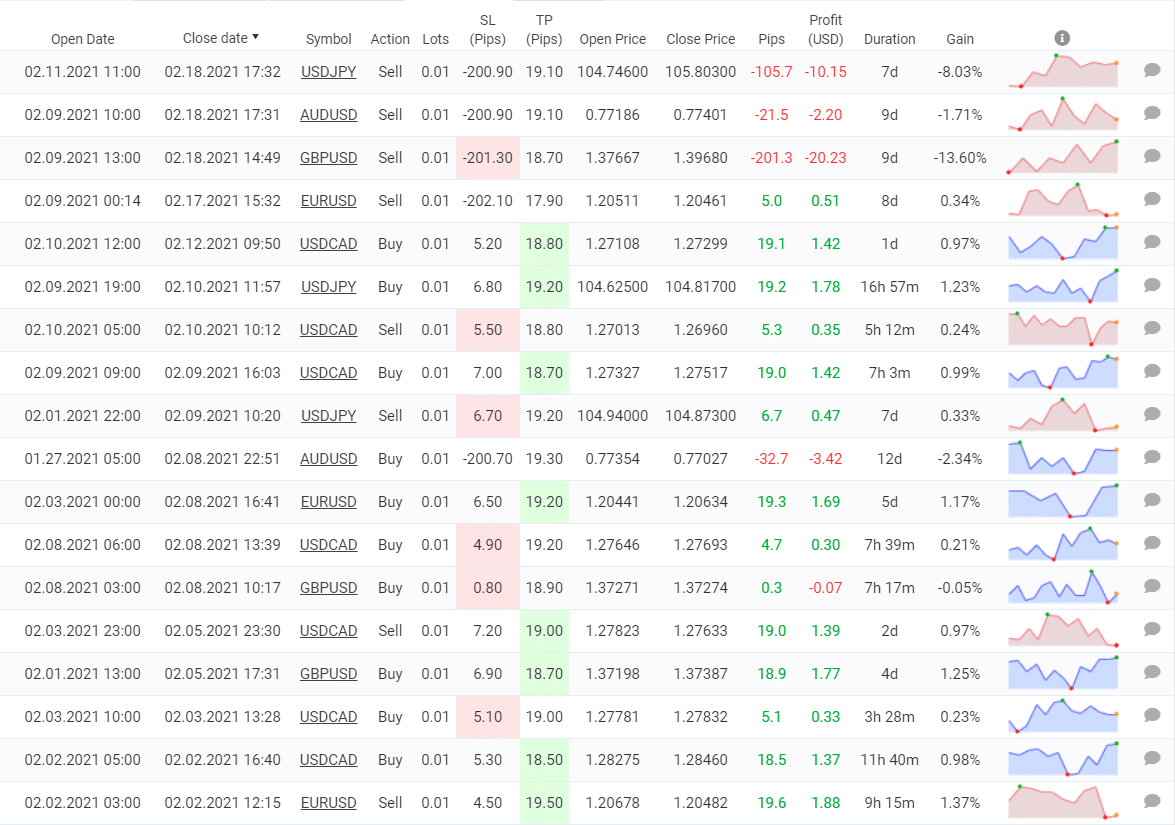 The robot trades with huge Stop Loss levels of -200 pips. To recover after reaching them, the system has to close over fifteen deals in a row with profits.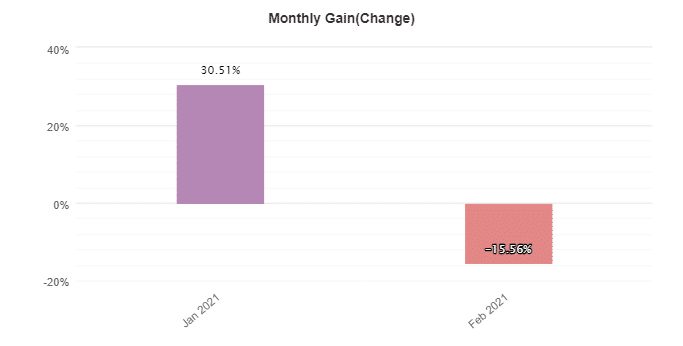 Now, the robot is a scam.
High Drawdowns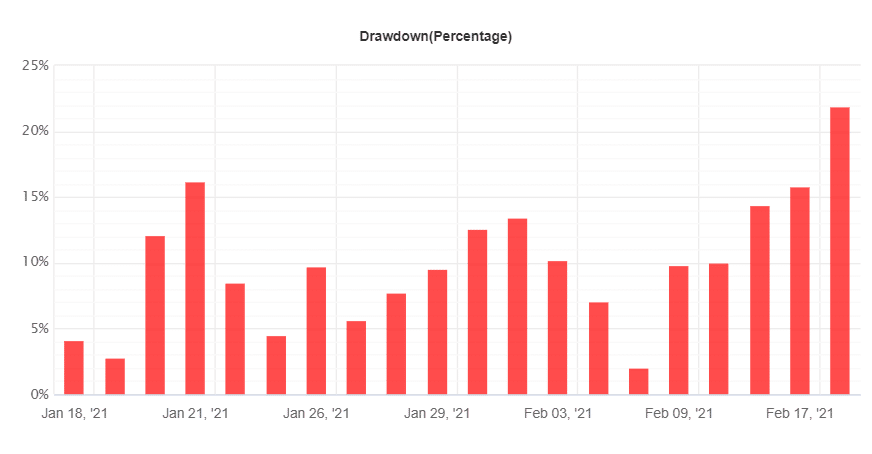 Redshift trades with consistent and significantly high drawdowns.
Vendor Transparency
The vendor has a medium level of transparency because we don't see his photo. For funding his myfxbook account, we have to google, and there are no signal services connected to his MQL5 account.
People feedback


As we can see, people experience several loss deals that reached Stop Losses. As a result, they noticed that it's risky and requires many profitable deals to recover after.
Other notes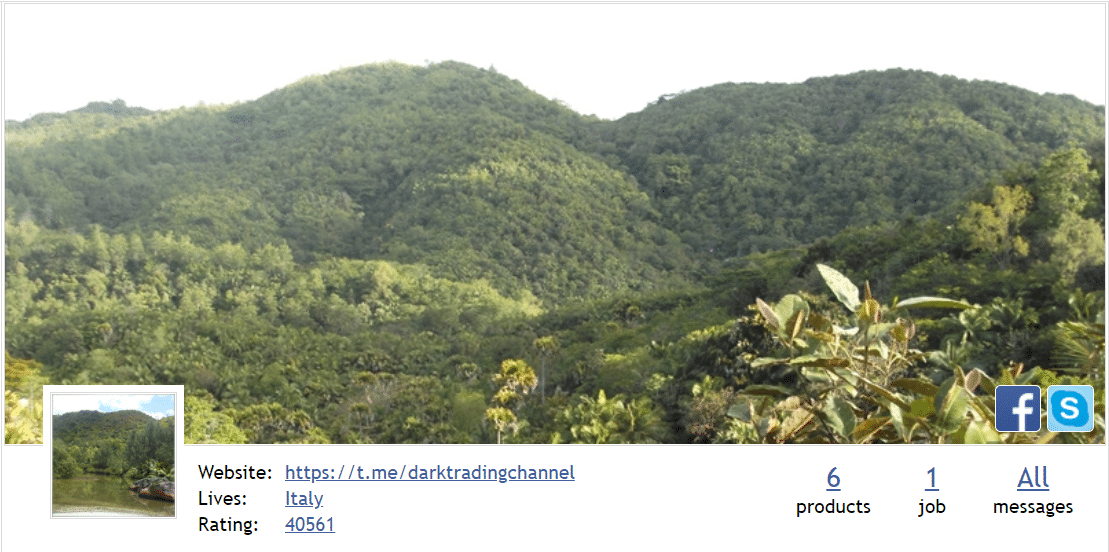 Marco Solito's profile has a big rate – 40561, but any account is connected to this profile. So, people can use signals from him to check if the robots behind them are profitable.